AlamogordoTownNews.com Roadrunner Emporium Donates to COPE
Image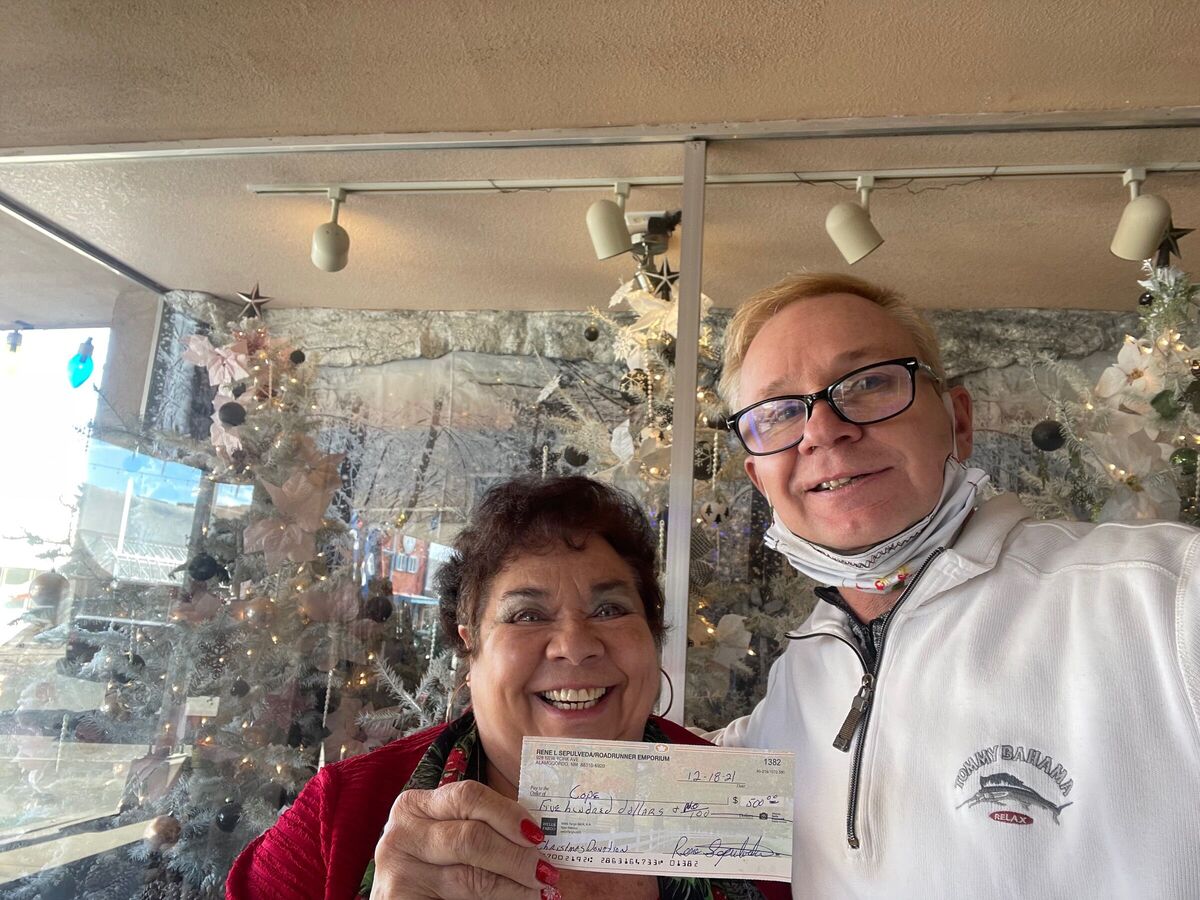 Roadrunner Emporium under the direction of owners Rene Sepulveda and Chris Edwards partnered with our over 70 in-house artists to create decorative trees for charity via its showcase "festival of trees." 
This year Roadrunner Emporium at 928 Néw York Avenue is decked out with trees on the roof, trees in the window displays and the largest live tree on New York Avenue along with a series of table top trees all dedicated with raising awareness and funds for local charities.
The first of the multiple charities that are benefiting from this effort to be awarded a check is the local community service organization called COPE. Cope is granted a $500.00 gift for the wonderful work they do in our community. Accepting the check on behalf of COPE was board Vice President Judith Pingle accepting from Roadrunner Emporium co-owner Chris Edwards.
Roadrunner Emporium is honored to be in a position to help support multiple nonprofits this year thanks to the community support of our community of artists within our collaborative. Shop New York Avenue as New York Avenue businesses matter and give a larger proportion to non-profits, schools and community organization then the big box retailers. Shop Alamogordo Main Street to keep small businesses alive.
The Center of Protective Environment, Inc. (COPE), is a comprehensive domestic violence agency that offers a full range of domestic violence services in Otero and Lincoln Counties, New Mexico.
With offices at 909 Florida Ave in Alamogordo this is the go to agency for crisis intervention, shelter, advocacy and counseling services offering safety, freedom from abuse, and helping to foster the skills to rebuild lives for survivors of violence  and their children
If one finds themself at risk from domestic violence this is the go to organization for Otero county with help for those in providing a safe environment and resources…
IF You find yourself in an EMERGENCY, CALL 911
For totter services call:

More information:
WHAT IS COPE ALL ABOUT?
COPE, Inc. (Center of Protective Environment) is a non-profit organization founded in 1980 to address the problems of family and relationship violence. From the beginning, COPE has been dedicated to intervention and prevention of family and relationship violence by offering a range of services including crisis intervention, shelter, advocacy, support, outreach, education and counseling.
​
COPE VISION A community knowledgeable about domestic violence and abuse and fully engaged and committed to its eradication.
​
COPE MISSION To help people affected by domestic violence and other forms of abuse in Otero and Lincoln Counties, New Mexico.
COPE Does THIS BY:
• Providing a comprehensive array of direct services, including shelter,
• Engaging others in effectively addressing these issues in our community,
• Promoting safe and healthy relationships through awareness and prevention.
Services include: shelter and housing advocacy to reduce homelessness, crisis intervention, legal advocacy and counseling services.
WHAT IS FAMILY AND RELATIONSHIP VIOLENCE?
Any act of forceful control of a partner or family member. This violence is the least reported crime in the country and is our nation's number one public health problem. Everyone involved in the family or relationship violence is adversely affected.
Please join Roadrunner Emporium and the AlamogordoTownNews.com organizations and take a moment to support COPE's efforts in stopping Domestic Violence
Roadrunner Emporium is located at 928 Néw York Avenue, Alamogordo, Néw Mexico and is open daily 10 to 8 pm. Come join live musician Lenore and Don Thorpe Saturday from 10 am to 2 pm and the Christmas Sidewalk Sale.