AlamogordoTownNews.com New York Avenue's Pins and Needles New Owner Susan Bollinger
Image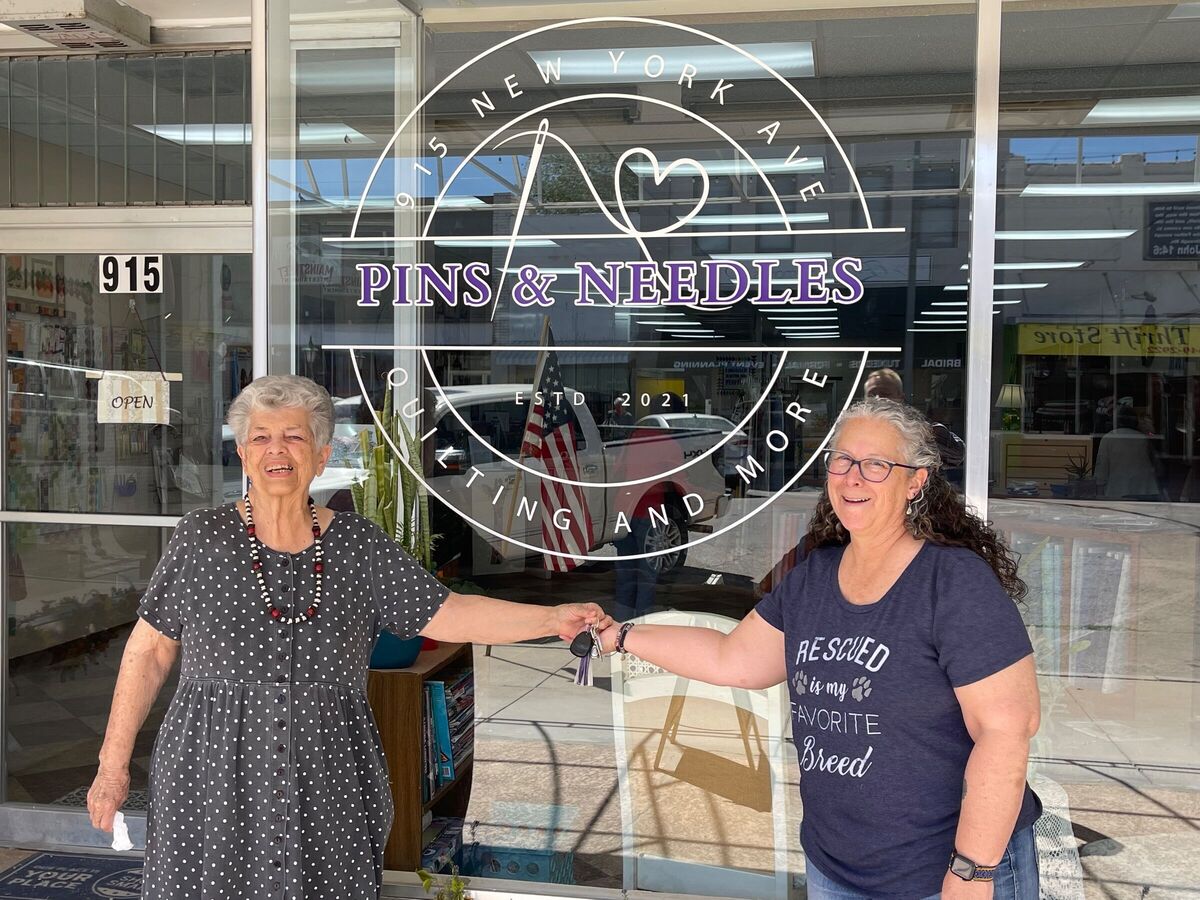 On April 1st Alamogordo's Main Street New York Avenue welcomed a familiar face, but in a new role, as a new business owner in this historic Alamogordo Main Street District. Pins and Needles at 915 New York Avenue, transitioned its ownership from Victoria Alamogordo's proprietor Mrs. Alice Weinman, to that of her former "fabrics manager" Susan Bolinger and her business partner Penny Maurer.
Mrs. Alice Weinman is the veteran of Alamogordo's New York Avenue having begun her adventure on New York Avenue almost 40 years ago. Mrs. Alice Weinman's adventure in Alamogordo and on New York Avenue began as a result of the oil and gas bust of the mid 1980's. She first set foot on New York Avenue in Alamogordo, New Mexico in October 1985. She said because she has been running three large ladies ready to wear stores in Texas she was bored to death after arriving in Alamogordo.
According to Mrs. Weinman also known affectionately on the street as "Mrs. Alice" when she came to Alamogordo, the Victoria store was already in operation but not doing well. She said she went into the store and said, "Hi, I am Alice Weinman, and I am here to help you." The owner at the time responded, "Hi, I am Jatonne and I can't pay you." Ms. Alice says when she left the store that day, she had "the keys in her hand."
Several years later she purchased Victoria at 913 New York Avenue. Over the next 37 years the business evolved and prospered and became a family business that included her husband, son and daughter Barbara; each assisting and working the business to grow. The business did indeed evolve and grow.
Alice and her family are the longest continuously operating business owners on New York Avenue, with businesses that have grown, survived and prospered, over almost 4 decades.
Ms. Alice has modified and tweaked the business over the years to ensure sustainability with the evolving taste of her customer base. That evolution has continued over the decades and in October of 2019 she had the idea of getting into the fabrics and the quilting business. She converted the vault area of her store into a sales area focused on quilting and fabrics. She hired a "fabrics manager" Susan Bollinger to lead the new part of her business. 
Susan Bollinger is an Alamogordo native that worked in a frame shop for many years. She had an eye for art and colors, is a hobbyist artist and always admired Ms. Alice and wanted to go to work with her. That opportunity came about in October of 2019 when Ms. Alice hired her to manage to lead the "fabrics section" in the vault. The business was a success and grew and they made the decision to make Pins and Needles at Victoria into a separate business and acquired the building at 915 New York Avenue and renamed it simply, Pin and Needles.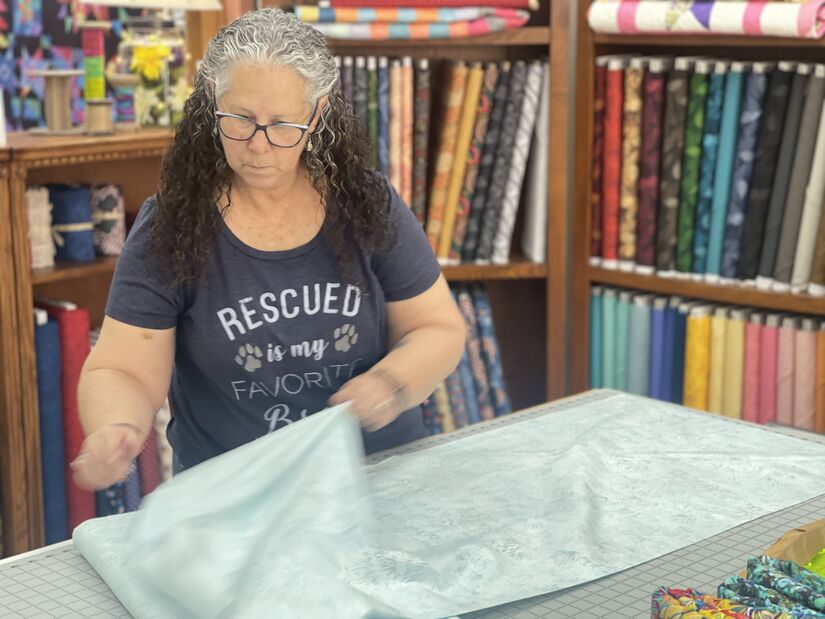 Susan Bolinger continued to run the business and expand it under the watchful eye and mentorship of Ms. Alice. 
The new store opened in January of 2021 offering an expanded line of the highest quality fabrics and more, and to include quilt making classes from quality experienced quilting and sewing educators. 
Both businesses evolved and prospered, and both survived the turbulence of Covid-19 with tweaks to the business offering along the way.
Ms. Alice's daughter Barbara jokes, but is correct in her assessment, that the Roadrunner Emporium and the Local Bodega, both newer businesses on the street, that market themselves as small business incubators, are indeed incubators; but that her mother, "Ms. Alice was incubating and mentoring before it was a trendy buzzword on New York Avenue."  Brenda Barber continued that, "she is excited and proud to see Susan fly the coup, so to speak, having been incubated by Ms. Alice and the family operators of Victoria."
Susan Bolinger is very complimentary of her relationship with Ms. Alice and the family operation of Victoria Alamogordo. She says that she always admired Ms. Alice's grit, stamina and the care she shows for her staff and her customers. "Ms. Alice is one very special person and a treasure to New York Avenue and to Alamogordo," according to Susan.
Susan Bollinger came to New York Avenue to assist Ms. Alice and grew under her leadership and mentoring. Susan has partnered with Penny Maurer in the acquisition of Pin and Needles. "Penny brings her accounting background to assist in our growth which helps me a lot," according to Susan Bollinger.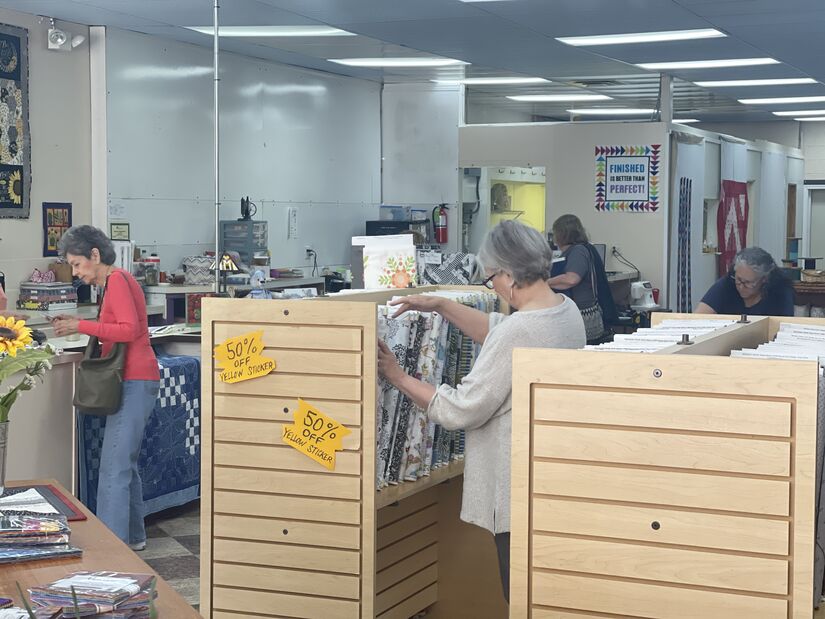 Susan says that her "years of framing experience, the mentoring by Ms. Alice and her eye for color is what provides her the strength to want to own and build upon the brand of her own business."
It appears that Susan is also making the business a "family affair" in the transition to her ownership that took effect April 1st. She is hitting the ground running with a store that is busy and as of today has new signage and a new logo. Susan's daughter Meg Bolinger designed a brand-new logo and sign that was installed in the front window today. The new logo for Pins and Needles is sleek, trendy and current but with a nod to "the love and compassion of the art of sewing." The needle threading a heart in the new signage is symbolic of Susan's love of quilting and needle arts.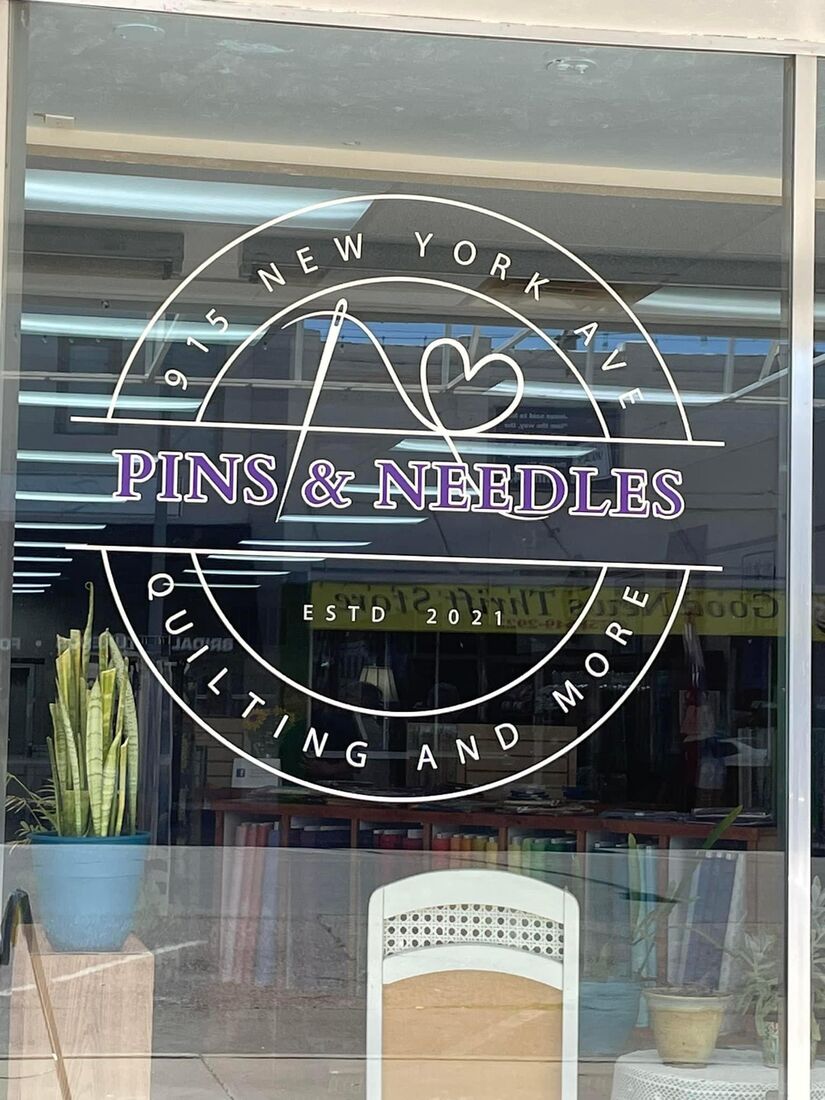 Both Susan and her business partner have the bug for quilting and needle arts. Her business partner Penny Mauer started sewing and quilting during the Covid-19 lockdown and caught the "quilting bug" about two years ago.
When asked what makes Pins and Needles such a success, Susan said, "it is absolutely about providing the highest quality fabrics that are not found in big box retailers at the mall or online, and it's about getting to know the customer by name and understanding their needs and their projects."
Pins and Needles, Alamogordo, at 915 New York Avenue, offers classes and workshops, it is focused on a quality offering that cannot be found online nor at big box stores. Individual attention, knowing the customer's name, understanding their project and how to help facilitate that project is what makes Pins and Needles successful and sustainable for the long run.
Congratulations to Susan Bolinger and her partner Penny Mauer on acquiring Pins and Needles, Alamogordo. Congratulations to Alice Weinman for her mentorship of this business venture. Congratulations to New York Avenue, for having another business success, that is transitioning to the next generation of business ownership that has the wisdom of history, traditions and an appreciation for the artisan skills of quilting and the art of the needle. 
More News from Alamogordo