AlamogordoTownNews.con Thrive Benefit Concert with Jeff Carson
Image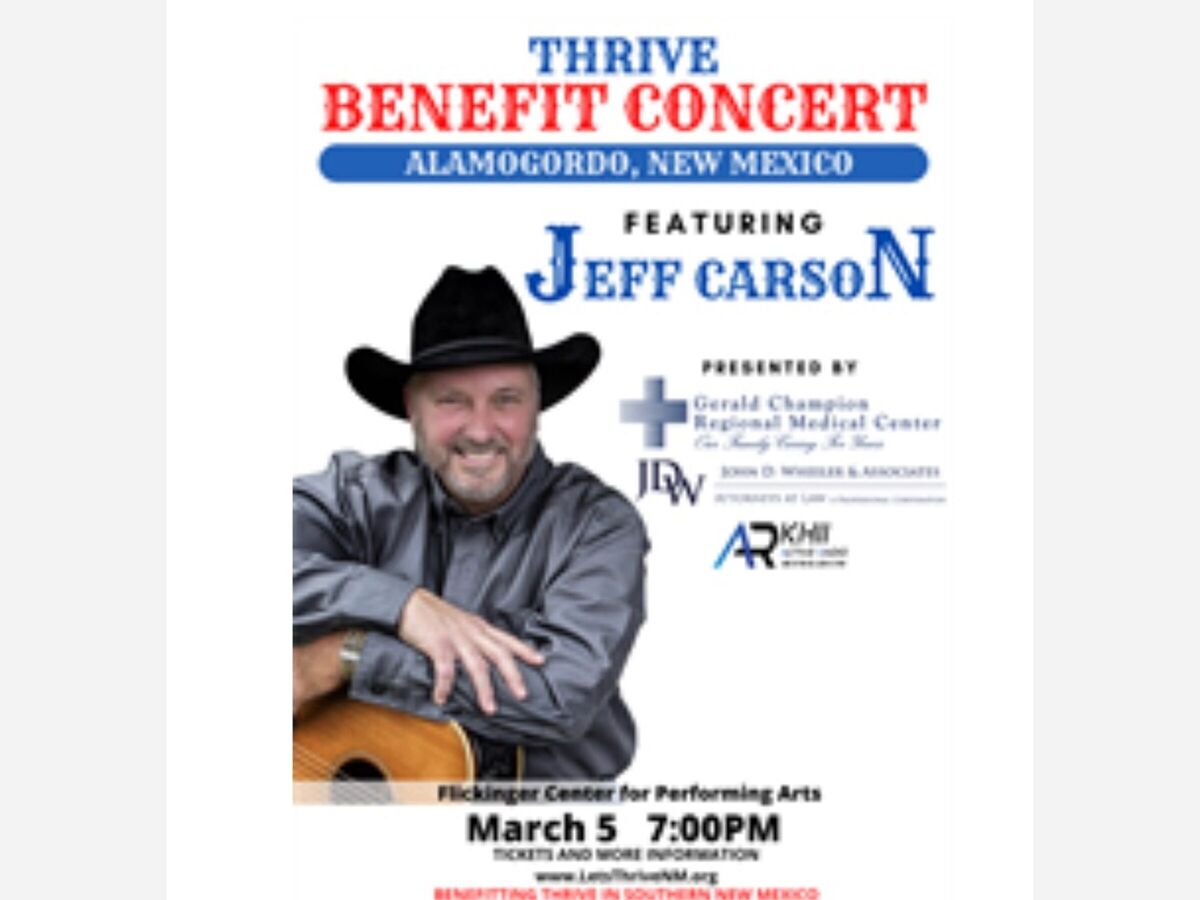 Nashville Recording Artist and CMA Winner, Jeff Carson, is coming to the Tularosa Basin on Saturday, March 5 to play his number 1 hits on behalf of THRIVE in Southern New Mexico at the Flickinger Center for the Performing Arts at 1110 New York Avenue, Alamogordo, New Mexico. 
Advancing the Common Good Creating Opportunities for a Better Life for All is the Goal of Thrive
Everyone deserves opportunities to have a good life: a quality education that leads to a stable job, enough income to support a family through retirement, and good health. That's why Thrive in Southern New Mexico's work is focused on the roots for a good life:
Education – Helping Children and Youth Achieve Their Potential
Income – Promoting Financial Stability and Independence
Health – Improving People's Health
Thriving is about helping individuals, organizations and our entire community to live better lives and helping to create systems to help all of us. We are all connected and interdependent. We all win when a child succeeds in school, when families are financially stable, when people are healthy. Thrive in Southern New Mexico's goal is to create long-lasting changes by addressing the underlying causes of these problems. Living united means being a part of the change. It takes everyone in the community working together to create a brighter future.
Thrive in Southern New Mexico brings diverse people and resources together to address the most urgent issues that our community faces. By focusing on the most critical local needs, Thrive in Southern New Mexico moves beyond the surface of our community problems to tackle the underlying causes and make the greatest possible impact, focusing on:
Strengthening and Supporting Families
Promoting Self-Sufficiency
Helping Children and Youth Succeed
Building Vital and Safe Neighborhoods
Supporting Vulnerable and Aging Populations
As a caring and thinking person, you realize there is life outside your daily activities. You see people in our community you'd like to help. At the end of the day, you'd like to do more. But the bottom line is - your day is already finished. So how can you fit it all in? Quickly. Simply. Confidently. We're your trusted partner for wise social investing. Local volunteers from all walks of life identify programs with proven methods that best match our community's needs. So, at the end of the day, you'll know you've been both generous and wise.
About the performer:
Jeff Carson was born in Tulsa, Oklahoma and raised in Gravette, Arkansas. In his childhood, he played harmonica and guitar and sang in church. In high school, he and some friends formed a band. They won second place at a local talent show for performing the song "Seven Bridges Road". After graduating, he moved on to another talent competition held at a park in Rogers, Arkansas. The winner of that competition then asked Carson to play in his band, which he did for four years until the band split up.
Carson later moved on to Branson, Missouri, where he found work playing bass guitar in local bands, in addition to writing songs. While in Branson, he met his then-future wife, who persuaded him to move to Nashville, Tennessee, which he did in 1989. In Nashville, he found work with a band that played at the Opryland Hotel, before convincing the hotel to book him as a solo act. He eventually recorded demos for other artists, before he was discovered by record producer Chuck Howard in 1994 and signed to Curb Records
For more information, go to LetsThriveNM.org.