Election Night Events & Republicans & Democrats Strong Early Voting Number
Image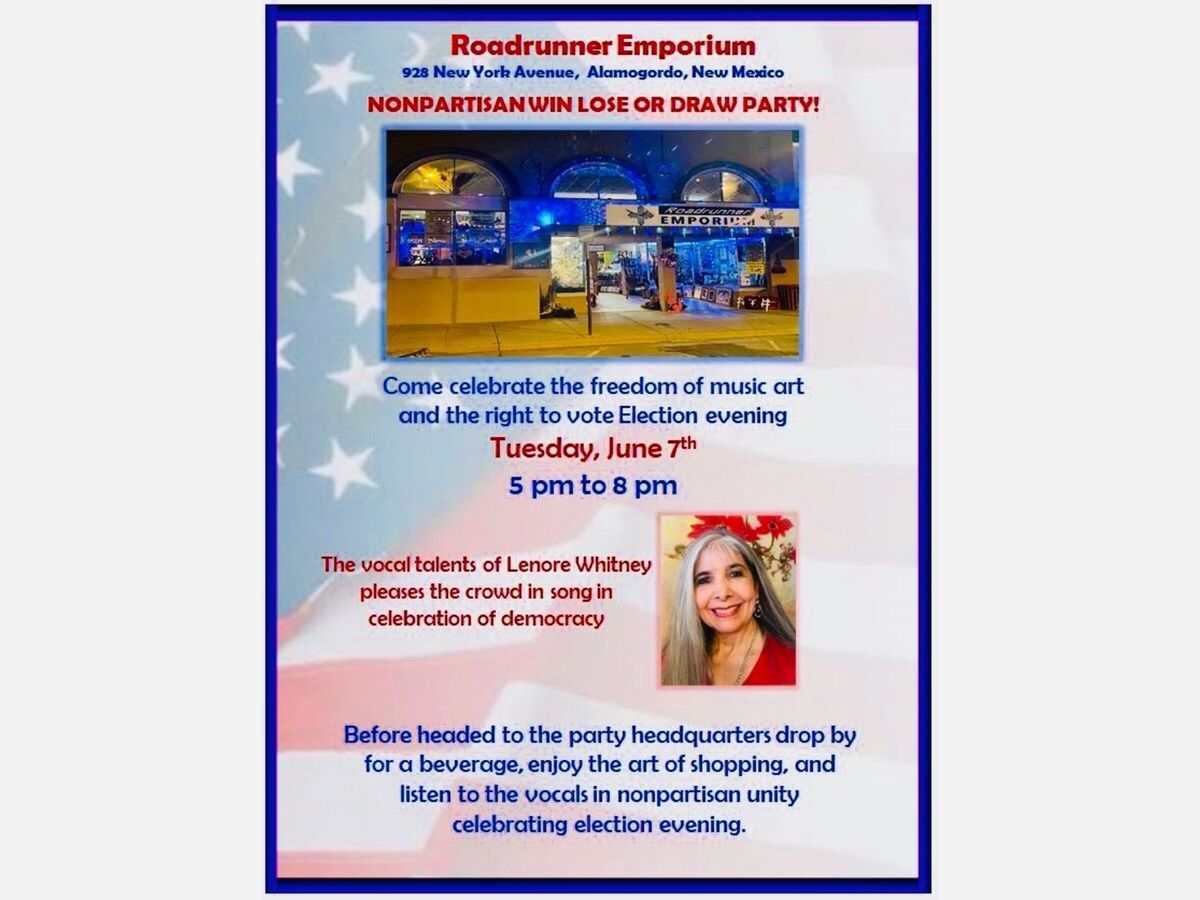 Election night events planned to Alamogordo to celebrate the end of the primary. 
Roadrunner Emporium is hosting a nonpartisan celebration of democracy through the arts party tonight with beverages and live music by Lenore Whitney 5 pm to 8 pm 928 New York Avenue, Alamogordo's Cultural Arts District 
The Alamogordo Center of Commerce is hosting a nonpartisan Election Central Party till the results are in White Sands Blvd
The Republican Headquarters is hosting a party this evening celebrating the election. 
Early and absentee voting ended Saturday across the state of New Mexico as 26,779 Republicans voted early in Chaves, Eddy, Otero, and Lea counties.
A combined 2,064 Democrats voted early in the four counties, according to figures released by the New Mexico Secretary of State.
Thirty-seven Libertarians voted early across Southeast New Mexico during the early and absentee voting period.
Absentee voting in New Mexico started May 10 and early in person voting started May 21.
Across New Mexico, 69,686 Democrats voted absentee or in person. Republicans voting absentee or in person totaled 51,962 and 477 Libertarians voted early or absentee, read early voting data.
Chaves County Republicans led the four counties in early and absentee voting with 2,569.
Otero County had 2,466 Republicans vote early or absentee.
Lea County was third with 1,723 and Eddy County was last with 1,443 Republicans voting early or absentee, records show.
Otero County had the most Democrats vote early or absentee in the region with 805 ballots cast. 
Chaves County had 595 Democrats Democrats vote early, and Eddy County had 421 and Lea County had 243.
New Mexico Republicans led Democrats in same day registration voting 1,841 to 1,805. Same day registration allowed people to vote or update existing registration at any county clerk's office in New Mexico.
Otero County Democrats led Republicans in absentee requests 305 to 301.
Republicans requesting absentee ballots in Chaves, Otero and Eddy counties were ahead of Democrats 827 to 540, read Secretary of State figures.
The contested races between Amy Barella and GB Oliver and the race between John Block and Rachael Black are driving heavier interest and turnout according to Republican insiders
On the Democratic side the contested race between David Greenwald and Stephanie Louise DuBois is driving the most attention.