Jornada Research Institute (JRI) Conference Planned
Image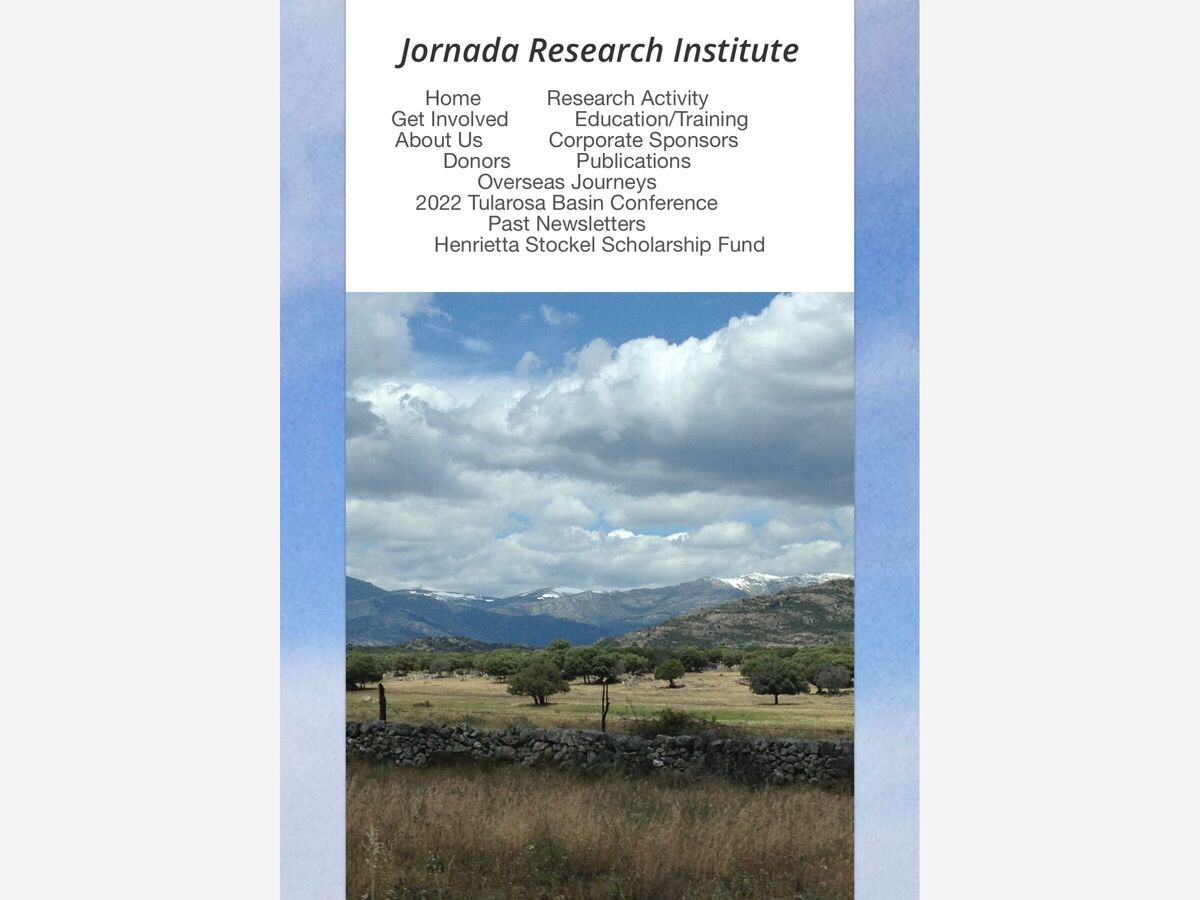 Otero County is home to the Jornada Research Institute (JRI) which has as its mission the study of the archaeological, ethnohistoric, and natural resources of the northern Chihuahuan Desert of Arizona, New Mexico, the Trans Pecos west and adjacent regions. JRI is committed to the protection and preservation of these resources so that current and future generations may benefit from their research and educational values. JRI is represented by a group of talented researchers from diverse backgrounds, allowing the institute to focus on multi- disciplinary approaches while sharing and engaging the public through a variety of educational and training opportunities
They will be hosting an upcoming Tularosa Basin Conference.
Posted below is a list of the Titles of the various papers and the Presenters for the upcoming Tularosa Basin Conference. Beginning Thursday evening, June 2, at 6:00 pm, Deni Seymour will be presenting on her recent research in southern Arizona on sites associated with the Coronado Expedition. The title of her presentation is Men of Iron, Gods of Thunder and Lightning: Coronado in Arizona. If you have not registered for the conference, attached is the registration form and conference flyer for your convenience. Please return the registration form to me at the address on the form/flyer.

Details about and payments can be made via check or go to our website and use the donate button: jornadaresearchinstitute.com
List of Titles and Presenters
Chasing the Plumed Serpents of the Southwest by Ron Barber, Stone Calendar Project Founder
When Lightning Strikes Twice: Correlating Lightning Strikes and Rock Art Imagery by John Pitts, Research Associate, New Mexico Museum of Indian Art and Culture
Pecked in Stone: Birds and Waterways of the Prehistoric Southwest by Carol Chamberland,
BLM Rock Art Recording Volunteer and Independent Researcher
The Rock Art of Water Canyon by Lay Powell, Jornada Research Institute
Gypsum Overlook: A Structural Early Archaic Site on the Eastern Shore of Paleo Lake Otero by Mathew Cuba, AmaTerra Environmental, Inc., and Joel Butler, Westwood Professional Services, Inc.
Frogs in the Desert: Stone Effigies of the Jornada Mogollon by William Dunsmore and Alexander Kurota, Office of Contract Archeology, University of New Mexico
Remotely Sensing with Unmanned Aircraft Systems: Supporting Archaeology and Preserving Cultural Heritage by Nickolas D. "Dan" Macchiarella, Ph.D., and Kevin A. Adkins, Ph.D., Embry-Riddle Aeronautical University, Daytona Beach, FL
Preliminary Findings at Deeply Buried Site LA 112766 by Toni Goar, TRC Companies
Grider Ranch Archaeological Survey: A Small Sampling of the Northern Tularosa Basin by Mark Sechrist, Full Circle Heritage Services
Temporal Division of El Paso Polychrome: Introducing New Ceramic Subtypes by Thatcher Seltzer-Rogers and Alexander Kurota, Office of Contract Archeology, University of New Mexico, and Lora Jackson Legare, Four Corners Research, Inc.
Mid-16th through 19th Century Apache Occupation on Seco Creek, New Mexico by Christopher D. Adams, East Zone Archaeologist, Gila National Forest; Charles M. Haecker, Archaeologist Consultant; Larry Ludwig, Historian (Retired NPS)
TORGAC'S: A POSSIBLE CAVE-RELATED PREHISTORIC SHRINE COMPLEX by Mike Bilbo & Andrew Wright, Jornada Research Institute
Documenting the Cold War in the Tularosa Basin: Historic Context Development and Documentation at White Sands Missile Range, New Mexico by William Godby, White Sands Missile Range
LA 38326: An Unusual Settlement Along the Pecos River by James Railey, Ph.D., SWCA
Tularosa Canyon Great Kivas: Function, Symbolism and Implications by David H. Greenwald, Jornada Research Institute
Archaeological Survey of the Hart Mine Portrays Image of Lives of Miners During the Early 20thCentury by Alexander Kurota, Office of Contract Archeology, University of New Mexico
The Rediscovery of Papaipema dribi Barnes & Benjamin, 1926 (Lepidoptera: Noctuidae) after 95 Years and Notes on the First Illustration of a Moth from New Mexico by Eric H. Metzler, National Museum of Natural History, Smithsonian
Back to the Beginning: Captain Paul Dowlin and the Founding of Ruidoso by Frank Potter, Wingfield House Heritage Center
The Fragrance of Love: A "Flower World" presence at Three Rivers Petroglyph Site by Joan E. Price, Jornada Research Institute
Lost bones: In search of Wesley Hurt's Mammoth, Salinas Pueblo Missions National Monument's Quarai Unit, central New Mexico by David M. Rachal, Tierra Vieja Consulting and Jornada Research Institute, and Ronald C. D. Fields, National Park Service, Arkansas Post National Memorial
Creating a Legacy: The Development of and Establishment of the Wingfield House Heritage Museum by Tim Roberts, Village of Ruidoso - Wingfield House Heritage Center
Paleolithic Caches from the Blackwater Draw Site by JoAnna Schultz, Eastern New Mexico University, Portales
The Spanish Colonial Occupation of Tijeras Canyon by Paul R. Secord, University of New Mexico and Friends of Tijeras Pueblo
Trackways of Lake Lucero by David Bustos, National Park Service, White Sands National Park
for  more information visit https://jornadaresearchinstitute.com/2022-tularosa-basin-conference/
To join the organization see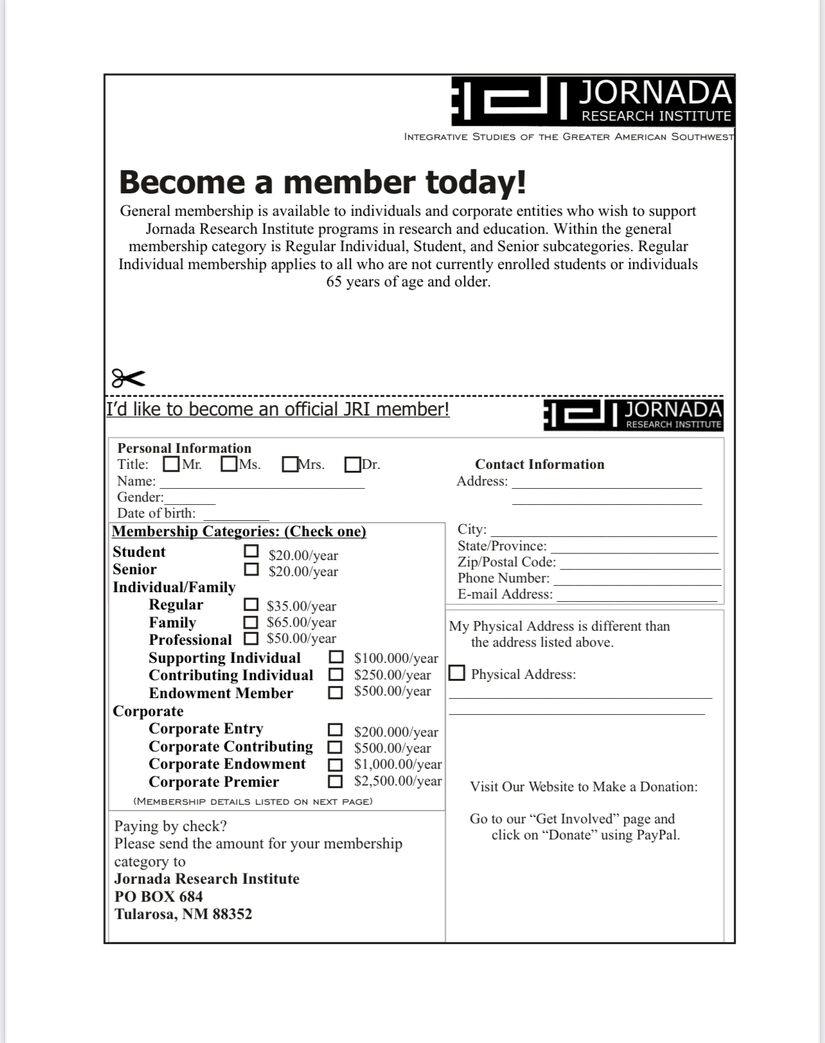 More News from Alamogordo