Flickinger Center Hosted THE PURPLE PIANO with more planned for April & May
Image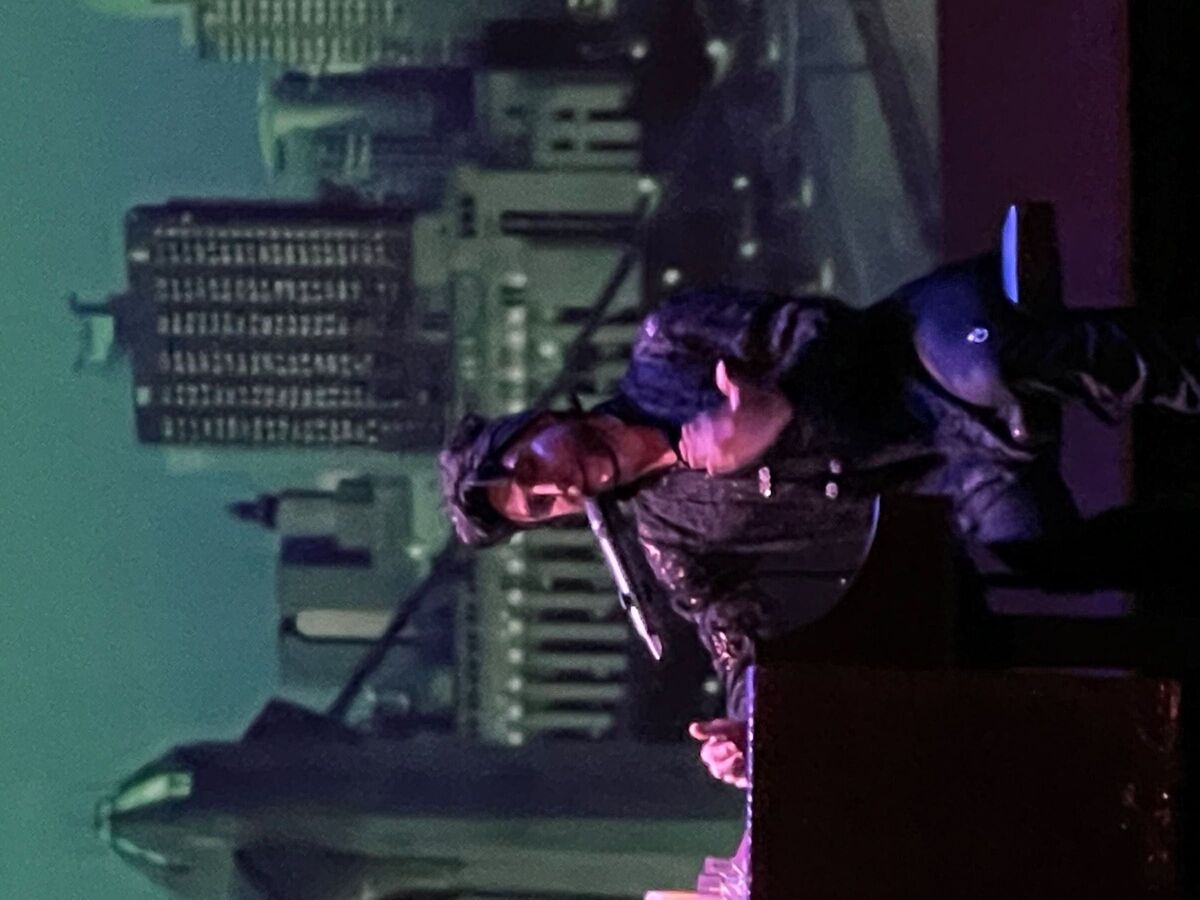 Alamogordo's the Flickinger Center for the Performing Arts hosted an awesome show last night with more awesomeness in store through May.
THE PURPLE PIANO"  was last nights performance showcasing Prince's hits, masterfully delivered with vocals and solo a piano.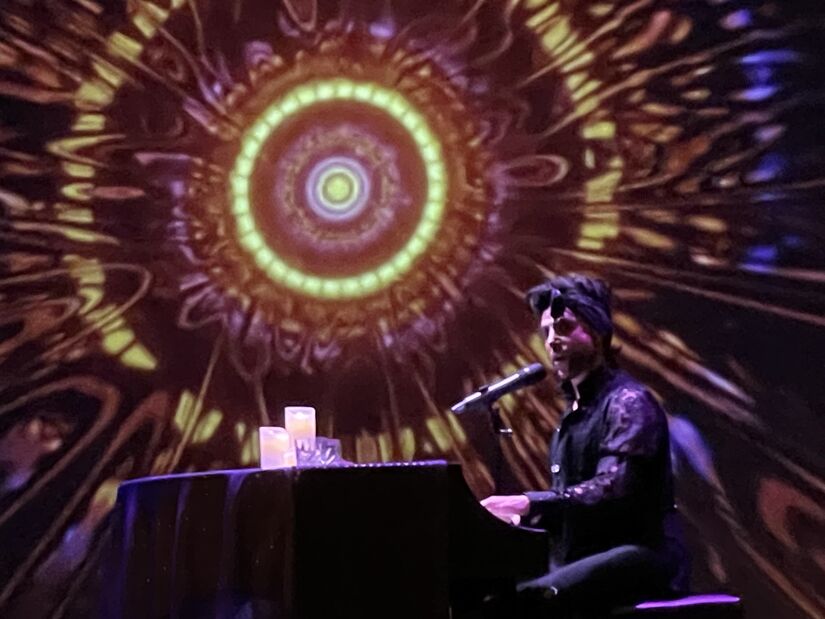 Live from his Las Vegas Residency, Marshall Charloff brought the audience an interactive, intimate, and highly entertaining show. Audience members sang along and a few joined him on stage.
For over a decade, Marshall has established his dominance as the world's leading Prince Tribute Artist.
Coming from fronting the greatest Prince tribute show in the world, working with the Atlanta Rhythm Section and writing and producing the Commodores, Marshall Charloff created his solo tribute to Prince–the only production of its kind in the world. "The Purple Piano" is so enthusiastically-received that it landed a full-time residency in Las Vegas–delighting Prince fans from across the globe and to several hundred lucky ticket holders in Alamogordo, they too got to experience a show to delight the senses.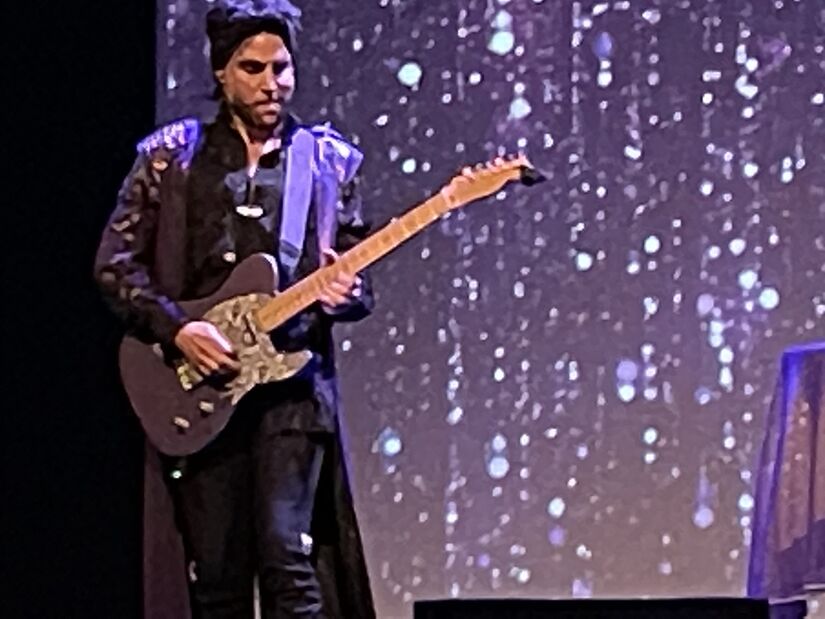 With a nod to other great artists the show peaked with the Prince Tribute and a happy and engaged audience.
More performance at the Flickinger include:
THURSDAY, APRIL 28, 2022 AT 7 PM
Jarabe Mexicano
Jarabe Mexicano invites audiences on a joyride through a versatile songbook of Mexican Folk as well as Rock & Roll, Tex-Mex, Latin Rock, and Reggae-Cumbia. Performing on stringed folk instruments accompanied by lively percussion, Jarabe's dramatic, harmonized vocals in Spanish and English have gained them the admiration from audiences across the country.
The quintet, with its eclectic border spirit, stands out with performances by lead vocalist Gustavo Alcoser, José Martín Márquez on requinto, Kevin Lomes on vihuela, Chris Behrens with his guitarrón, and musical director Danny Brito on percussion. Cultural anthropologist, distinguished author, and admirer Dr. Alejandro Lugo raves that Jarabe's musicians "are truly excellent and bring new blood to the musical traditions they perform... their version of La Malagueña is simply the best I've heard in decades, if not ever."
An Evening Under the Stars Street Party and VIP Reception April 30th. Street Party Free and open to the public VIP reception tickets needed for special foods and entertainment special for the VIP guests:
https://www.etix.com/ticket/p/2363700/an-evening-under-the-stars-alamogordo-flickinger-center-for-performing-arts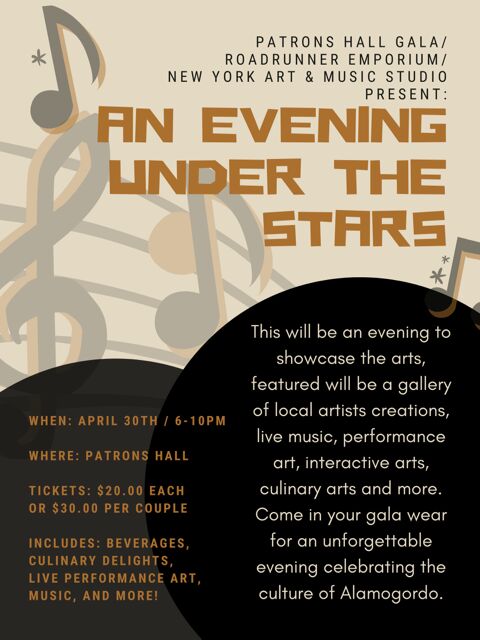 Then FRIDAY, MAY 6, 2022 AT 7 PM – Tickets start @ $20 - Flickinger Center for Performing Arts -
Los Chicos del 512: The Selena Experience - It is a mind-blowing experience and the closest you can get to live a Selena concert. Simply, the best Selena tribute band out there! All of its band members have lived and played to the remarkable music that Selena brought to us for at least 15 years. After living through her music, they wanted to have an opportunity to bring this incredible show to all of her fans.
SATURDAY, MAY 14, 2022 AT 4 PM – 10 PM – FREE EVENT -
Atomicon 2022 - 800 to 1100 Block of New York Ave
Alamogordo MainStreet in partnership with Flickinger Center of Performing Arts is happy to bring to you ATOMICON, Alamogordo's version of Comic Con!
Costume contest, entertainment, vendors, food trucks, live music and much more!
Children's Music Theatre presents - The Hobbit, a musical play" ready for the community
Show dates are May 13, 14, 20, & 21, at 7pm, with a matinee on May 15, at 2pm.
Tickets will be $10 for adults, $5 for 12 & under, and will be available at www.FlickingerCenter.com, or at the Flickinger office, and at the box office.
More information visit:
https://www.etix.com/ticket/v/17205/flickinger-center-for-performing-ar…