Lenore Whitney to Perform at Roadrunner Emporium 2-25-22
Image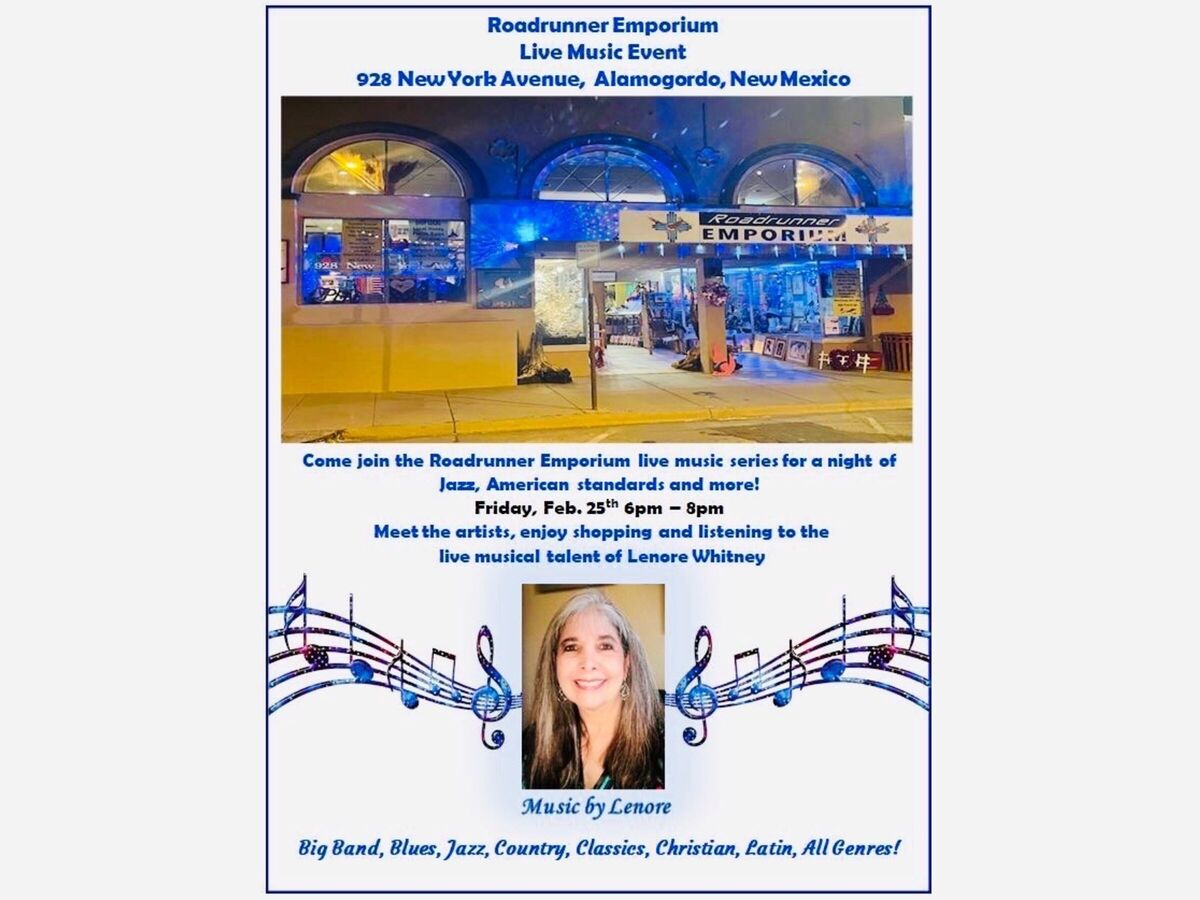 The live vocal talents of Lenore Whitney will be on display Feb 25th , 6 pm to 8 pm on New York Avenue at Roadrunner Emporium, 928 New York Avenue, Alamogordo, New Mexico
Lenore Whitney has been called a "vocal gem of Southern New Mexico."   Lenore has performed with regional bands, area churches and in performances at Parton's Hall and other regional venues. Her reportaré of vocal sensations range from jazz, American Standards, gospel and pop. Her approachable style and big smile welcomes all to enjoy her musical talents.
This is a FREE public event as part of Roadrunner Emporium's community outreach to expand community support of the New York Avenue Cultural Arts & Historic District.
Roadrunner Emporium, proprietors, Rene Sepulveda & Chris Edwards, believe the intersection of 10th Street & New York Avenue as the historic Main Street of Alamogordo, is the true crossroads and cultural center of art, history and entrepreneurship for Alamogordo and Otero County.

Roadrunner Emporium showcases the best in talent vía a variety of mediums from performance art, to traditional crafts, local authors, photography, paintings, sculptures, Antiques and Collectibles, local made and estate jewelry and Native American arts.
As an incubator for entrepreneurs of all ages, in the arts and entertainment, antiquing and collectibles  community and in partnership with a variety of community organizations; Roadrunner Emporium empowers over 77 entrepreneurs to showcase their creativity  as a center of community.
Come check out the creative entrepreneurs of New York Avenue showcased at Roadrunner Emporium and live musical performances twice monthly 6 pm to 8 pm. 
Also while visiting New York Avenue check out the artists of New York Avenue Music and Arts at 1120 New York Avenue next to the Flickinger Center. For a day stroll down Néw York Avenue check out Victoria 913 and Pins and Needles, The Local Bodega, Globug, Blush Beauty and Vintage 914, Elite Memories Boutique, Mia's Collectibles, Rocket City Game Lounge, D & H Stamp & Sign Company, MoniCakes, Sherwin Williams.
At night for the kids drop them off at Alamo Jump on New York Avenue or Raz Dance studio then browse Roadrunner Emporium at night till 8 pm.
Come see the history of New York Avenue coming back to life as the center of Alamogordo culture.