The City of Alamogordo Reminds Residents of the Laws Around Fireworks
Image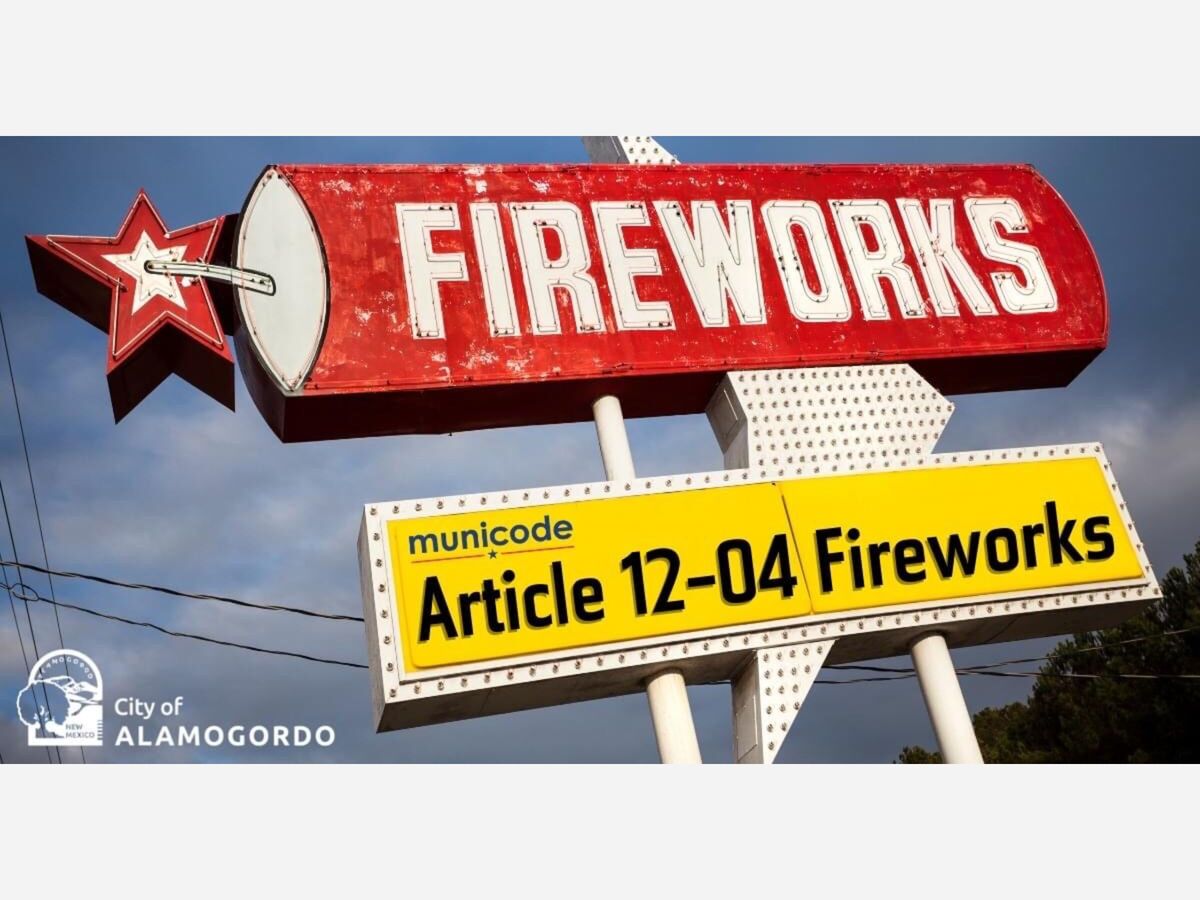 The city of Alamogordo issued the following statement:
 As we move closer to the New Year, the City of Alamogordo would like to remind you that we have an ordinance related to fireworks. You can find the full ordinance on our Municode website at the below link. Please remember that Fire & Police staff are limited and we appreciate your cooperation in following the City ordinance and helping to keep our community safe.
ARTICLE 12-04. FIREWORKS
https://library.municode.com/.../codes/code_of_ordinances...
The actual code reads:
ARTICLE 12-04. - FIREWORKS
12-04-010. - Definitions.
The following terms are defined for the purpose of this article:
Aerial device shall be defined as a fireworks device that, upon ignition, propels itself or an insert more than ten (10) feet into the air, but does not include a firework that produces a shower of sparks. "Aerial device" includes, but is not limited to, sky rockets and bottle rockets, missile-type rockets, helicopters, spinners, Roman candles, mines and shells.
Fireworks shall be defined as any composition or device for the purpose of producing a visible or audible effect by combustion, deflagration or detonation.
Ground audible device shall be defined as a fireworks device intended to function on the ground and produce an audible explosion sound louder than a paper pistol cap.
Permissible fireworks shall be defined as fireworks which are legal for sale and use in New Mexico under the provisions of the Fireworks Licensing and Safety Act.
(Code 1960, § 7-4-1; Ord. No. 850, § 1, 4-14-92; Ord. No. 882 (part); Ord. No. 1563 , 4-24-18)
Cross reference— Rules of construction and definitions generally, § 1-2.
12-04-015. - Dates of use.
No person may use or set off any fireworks except from July 1 to July 6, December 28 to January 1, May 5 (Cinco de Mayo) and the three days preceding and including Chinese new year. No fireworks shall be set off between the hours of 10:00 p.m. and 06:00 a.m., with the exception of New Year's Eve (December 31) where fireworks shall be permissible on December 31 ending at 01:00 a.m. on January 1. (All fireworks must comply with the City's noise ordinances found at 11-05-270.)
(Ord. No. 882 (part); Ord. No. 1563 , 4-24-18; Ord. No. 1576 , 10-9-2018)
12-04-020. - Sale or use prohibited.
(a)It shall be unlawful for any person to sell, offer to sell, possess, transport or discharge any fire-crackers or any type or form of explosives commonly known as fire-works unless such item is a permissible fireworks and is not an aerial device or a ground audible device.(b)It shall be unlawful for any person to sell permissible fireworks without first obtaining a city permit.(c)It is unlawful to offer for sale or to sell any fireworks to children under the age of twelve (12) years, or to any intoxicated person.(d)No fireworks shall be stored, kept, sold, or discharged within fifty (50) feet of any gasoline pump, or gasoline bulk station, or any building in which gasoline or volatile liquids are sold in quantities in excess of one (1) gallon, except in stores where cleaners, paints, and oils are handled in sealed containers only.(e)No fireworks shall be discharged within one hundred fifty feet (150') of any fireworks retail sale location.(f)No person shall ignite any fireworks within a motor vehicle or throw fireworks from a motor vehicle, nor shall any person place or throw any ignited article of fireworks into or at a motor vehicle, or at or near any person or group of people.
(Code 1960, § 7-4-2; Ord. No. 850, § 1, 4-14-92; Ord. No. 1563 , 4-24-18)
AlamogordoTownNews.com reminds people to be considerate of those with dogs and animals nearby. Also be careful and especially cautious with children to ensure no burns or hurt limbs or eyes. New Years should be a joyous occasion but caution with fun.