Halloween Collectibles JACK-O'-LANTERN BLOW MOLDS AND CANDY PAILS
Image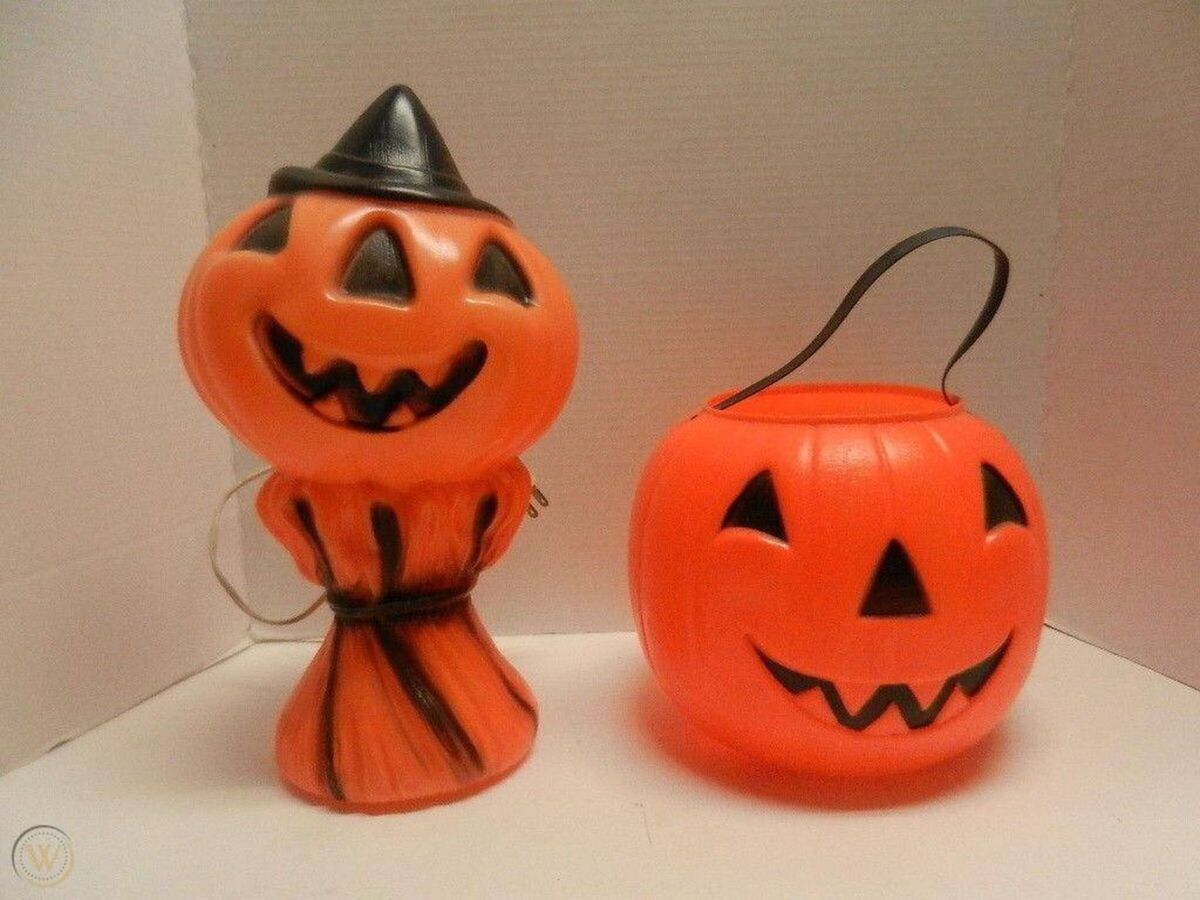 As Halloween approaches, so do indications of the spooky holiday. Decorations like ghosts, jack-o'-lanterns, skeletons, spiders, and witches start popping up on front lawns across America. This year, many of those decorations are vintage or retro-inspired. In addition, stores like Target and Walmart are selling new Halloween decorations based on the holiday décor of times past.
As a vintage collector, I prefer displaying the original. That's why, during a recent visit to a thrift store, I leaped with joy when I found a jack-o'-lantern candy pail marked on the bottom with copyright "Empire Plastic Corp. 1968."
Lawn Ornament Leader
Founded in 1953, Empire Plastic Corporation (also Empire Plastics) was the sister company of the larger Carolina Enterprises. The American company specialized in the manufacture of plastic blow molds, candy pails, and toys. During their heyday, Empire Plastics was considered the leader in the lawn-ornament industry. Besides jack-o'-lantern designs, the company also created other designs for Halloween, Christmas, Easter, and everyday use. Undoubtedly, their Halloween and Christmas designs were the most popular.
The company continued its success through the 1980s. However, due to decreased sales during the 1990s, Empire Plastics downsized in 2001 and ceased their blow mold and candy pail production. The company's original molds and machinery were sold at auction. Some were purchased by General Foam Plastics (who later auctioned them off again). Interestingly, many molds were purchased by independent buyers and may still exist today.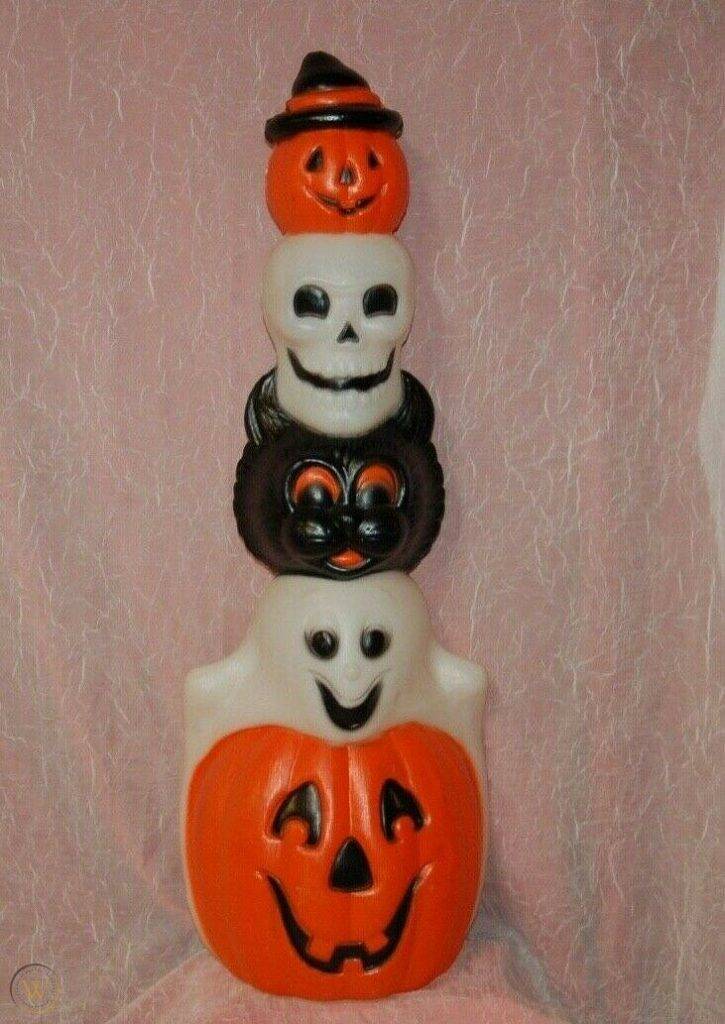 Jack-O'-Lantern Collecting
Some of the biggest sellers produced by Empire Plastics included jack-o'-lantern blow molds and candy pails. The company created several variations of the jack-o'-lantern for their products. Their jack-o'-lantern blow molds (called pumpkin lamps) included pumpkin heads with various carved faces, pumpkin heads with a body (pumpkin man, haystack, scarecrow, and cat), stacked pumpkin heads (pumpkin totem pole), and pumpkin heads with ghosts, black cats and other creatures. The company's jack-o'-lantern candy pails (called pumpkin baskets) also came in various carved faces, shapes. Some included a witch hat on top or a ghost peeking out of it.
As with any successful product, Empire Plastics jack-o'-lantern blow molds and candy pails have many look-alikes on the market. Companies like Bayshore Industries, Blinky Products, Union Products, and others made their versions. As well, they copied some of Empire's other products. There are also "new" reproductions being sold as vintage. Collectors should become acquainted with the company's markings to easily recognize the genuine article.
Identifying the Original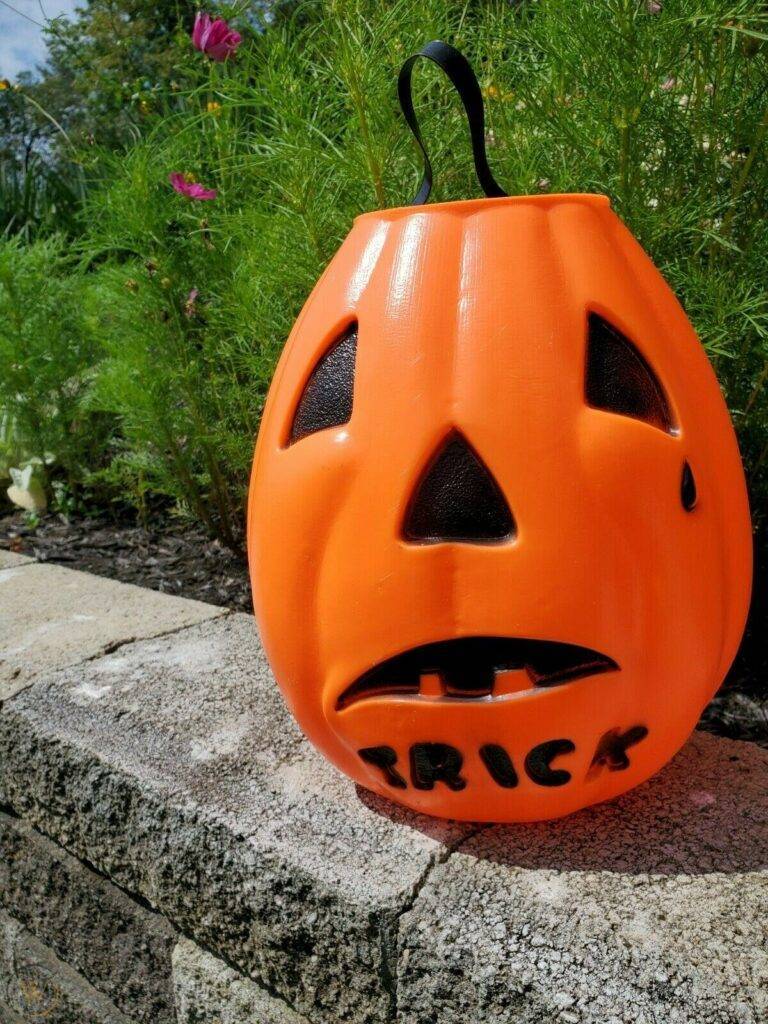 Empire Plastics marked some blow molds and candy pails with a stamp on the bottom that included the copyright date, the "Empire Plastic Corp." name, and the company logo. Some of their products only had the Empire name and copyright date. Products manufactured after 1972 included the copyright date and the parent company name "Carolina Enterprises Inc." instead of Empire Plastic Corp.
The first version of the Empire Plastics logo included the "Empire" name in lowercase font. From 1973-1994, the logo had "Empire" in all caps with Tarboro, NC below it and an uppercase "E" with a crown above it. In 1995, the logo changed to the "Empire" name in all caps with a wavy ribbon above it.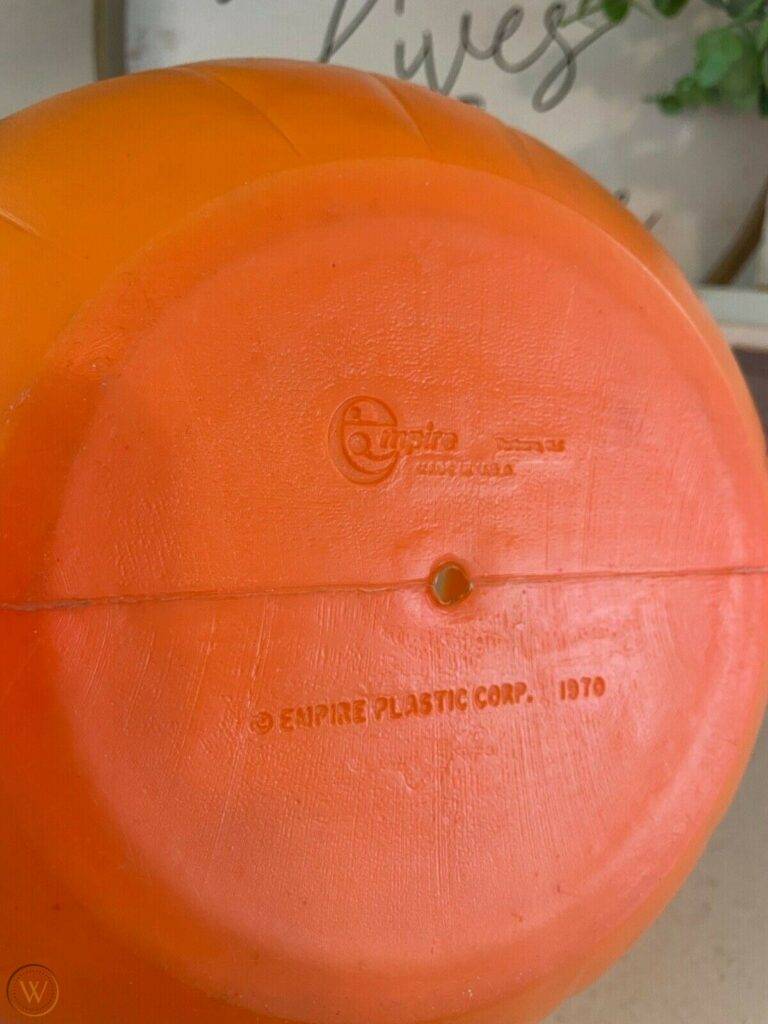 Vintage Halloween blow mold and candy pail collecting are very popular today. As a result, demand is greater, which brings a higher price tag. Most Empire Plastics jack-o'-lantern blow molds typically sell for $15 to $200 each, depending on age, condition, and rarity. Likewise, most Empire Plastics jack-o'-lantern candy pails usually sell for $10 to $100 each, depending on age and condition. They can often be found at flea markets, antique shops, online sites, or, if you're lucky, at yard sales and thrift stores
A Jagged Grin
I fondly recall Halloweens of my youth, dressed in costume, carrying my jack-o'-lantern candy pail and uttering "trick or treat" to neighbors. Unfortunately, I no longer own my original jack-o'-lantern candy pail. It probably cracked and was discarded long ago. Although I would love to still own it, I'm now the proud owner of an Empire Plastics pail that I can display during the spooky holiday. It might not be my "original," but it's "an original," and that puts a jagged grin on my face.
Karen Weiss is a freelance writer and enjoys decorating her home with vintage finds from her many collections. She also has an Etsy shop called SimplePatinaFinds.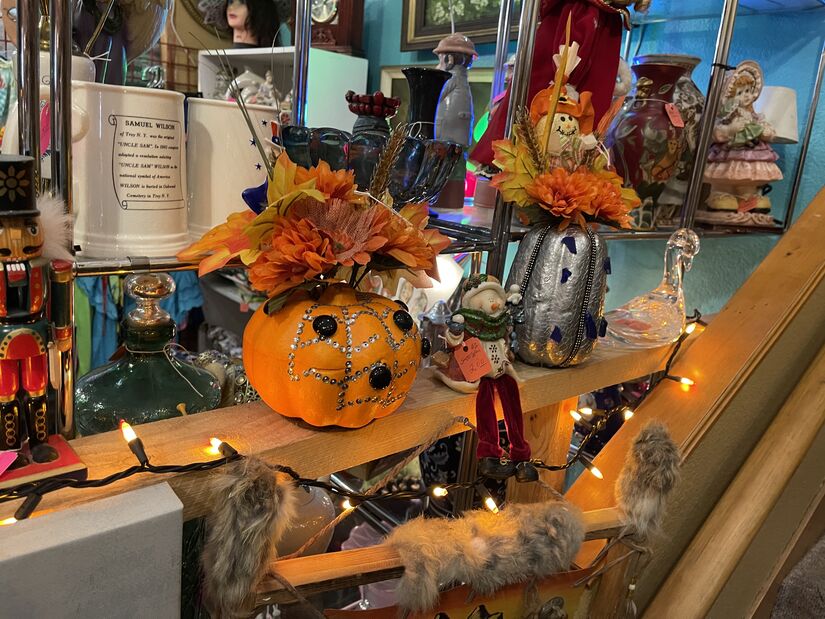 Roadrunner Emporium 928 Néw York Avenue Alamogordo has many vintage Halloween costumes, decorations and other holiday decor vintage as well as new creations from local artist and crafters.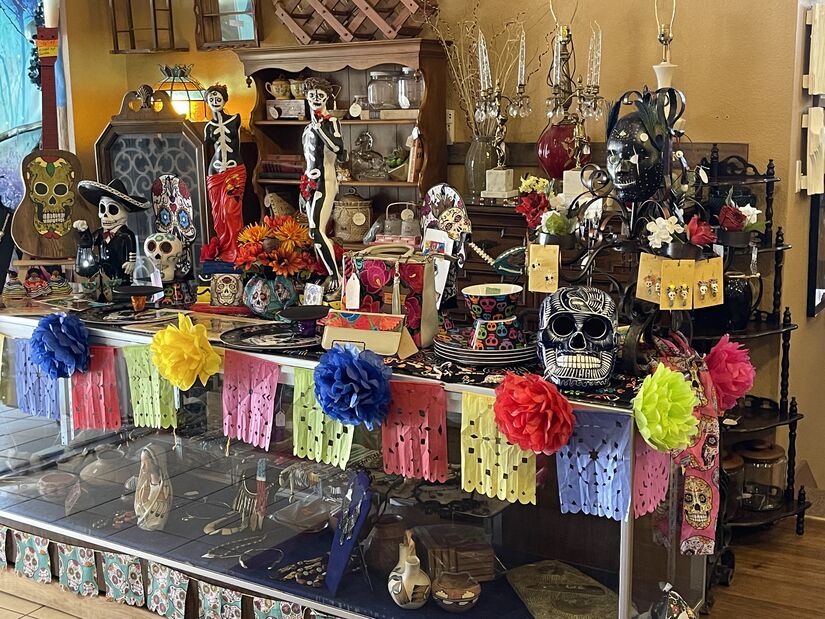 Crafter Amy Green has created some very popular and unique wall and tabletop Halloween decor,  original paintings and creations with a Day of the Dead themes by artist Marty Torres are located in our downstairs gallery location, and even an original Frankinstien acrylic and black and white original that's sure to provoke conversation by Delia Lopez Holloway are showcased along with awesome Day of the Dead and Halloween displays. Come check out the finds at Roadrunner Emporium 928 Néw York Avenue, Alamogordo, Néw Mexico Open Monday thru Saturday 10 am to 8 pm.