APS Tiger Care Center Serves Homeless and At Risk Children
Image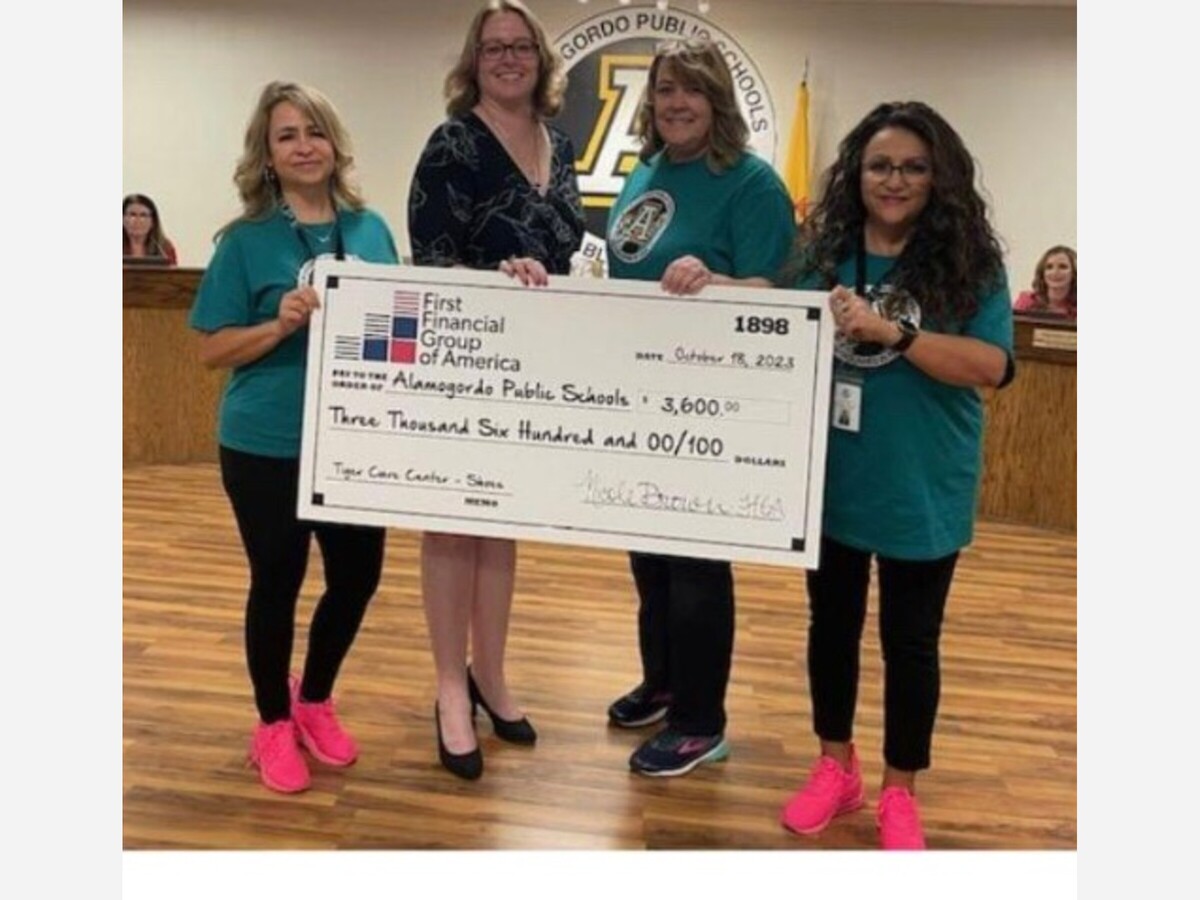 Through grants and a public private partnership the Alamogordo Public School Systems provides health and hope to homeless and at risk students.
Districts and schools have special legal obligations to students experiencing homelessness as defined by 42 U.S.C. § 11434a(2) in subtitle VII-B of the McKinney-Vento Homeless Assistance Act. These obligations extend to students in unstable living situations (doubled up with other people, couch surfing, in motels, homeless shelters); inadequately housed students (those without utilities or in substandard housing); and unaccompanied youth.
The exact number of homeless and housing insecure youth is notoriously difficult to estimate.
Data collected by the federal Housing and Urban Development department only includes youth reported by homeless shelters or those on the streets. But experts say this doesn't account for the many ways youth can experience homelessness.
According to the Voices of Youth Count, a national survey conducted by the University of Chicago, up to half of homeless youth ages 13 to 25 were exclusively bouncing between temporary accommodations with friends or family.
Limited data that does exist points to thousands of vulnerable young people. According to a 2020 survey, some 9,500 New Mexico public school students between 11 and 18 were homeless or housing insecure. That number does not account for youth who have dropped out of school or those who are reluctant to self-report homelessness.
In Alamogordo, the Alamogordo Public School System has been working on multiple fronts to assist the homeless student population with their struggles. From Telehealth services to the newly established Tiger Care Center, services to at risk youth are available and evolving.
The Alamogordo Public School District has recently opened its new "comprehensive space," the Tiger Care Center, a building that houses necessities for students in need.  The center has assisted over 150 of Alamogordo's unhoused students, according to a news release by the district.
The Tiger Care Center is located on 13th Street next to the Stepping Stones Preschool. The Tiger Care Center was established using funds from the McKinney Vento Act, an act geared towards supporting unhoused students and private donations from individuals and the broader business community such as a $3600 contribution from The Financial Group of America as pictured above. 
The public or other business can assist and drop off donations at The Hub, 805 12th Street with the Health Services team. If you have questions you can call 575-430-0191
During the 2022 and 2023 school year, Alamogordo Public School reported 180 students were considered unhoused.
"When we see children in need of basic necessities and are unable to assist, or we are digging in a garbage bag of donated items to see what is there, it can be disheartening for everyone," Alamogordo Public Schools Lisa Patch said in a news release.
School Board President Judy Rabon says students are able to pick up a sweater if the weather is cold and they may be struggling to stay warmly clothed during the season. She said not only does the center provide all these options, but she said it also provide a shower for students who need it.
"There is a shower facility just for them and if they need to talk to a counselor about finding a future home, we have our social worker," Rabon said.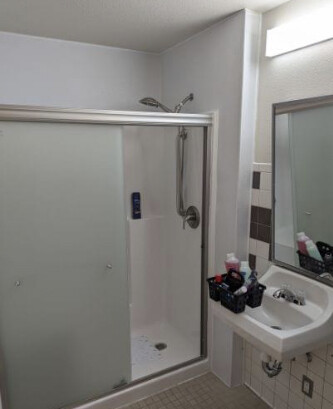 "The creation of the Tiger Care Center stands as a testament to our dedication to supporting our students and families who may face challenges with basic needs," Pam Renteria, interim superintendent, said via a press statement. 
The Alamogordo Public School District would like to remind the community that the Tiger Care Center is by appointment only by calling 575-430-0191. Students without phone access may make appointments via school liaisons or teachers to coordinate a visit. 
The mission of the Alamogordo Public School System is to ensure that all student acquire the knowledge, skills, and attitudes to become productive citizens. The Tiger Care Center is just another new offering as a tool and a resource to help with better student outcomes and success.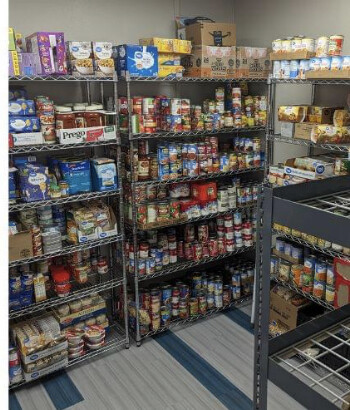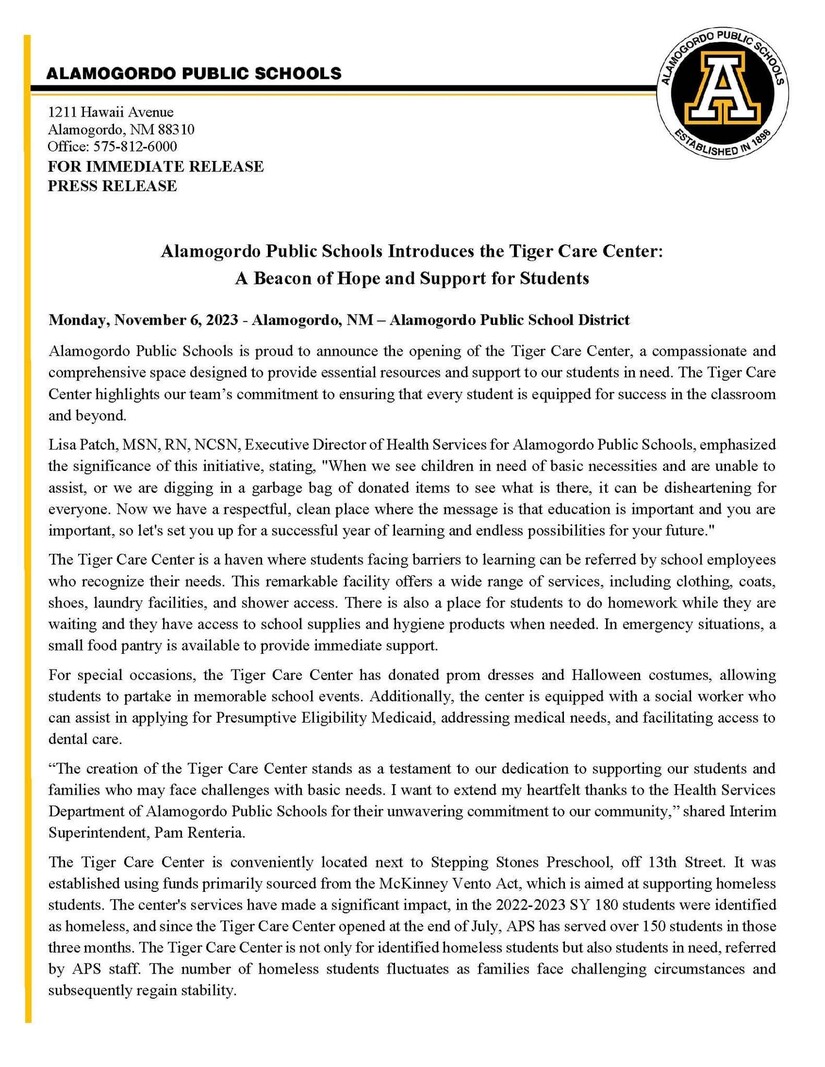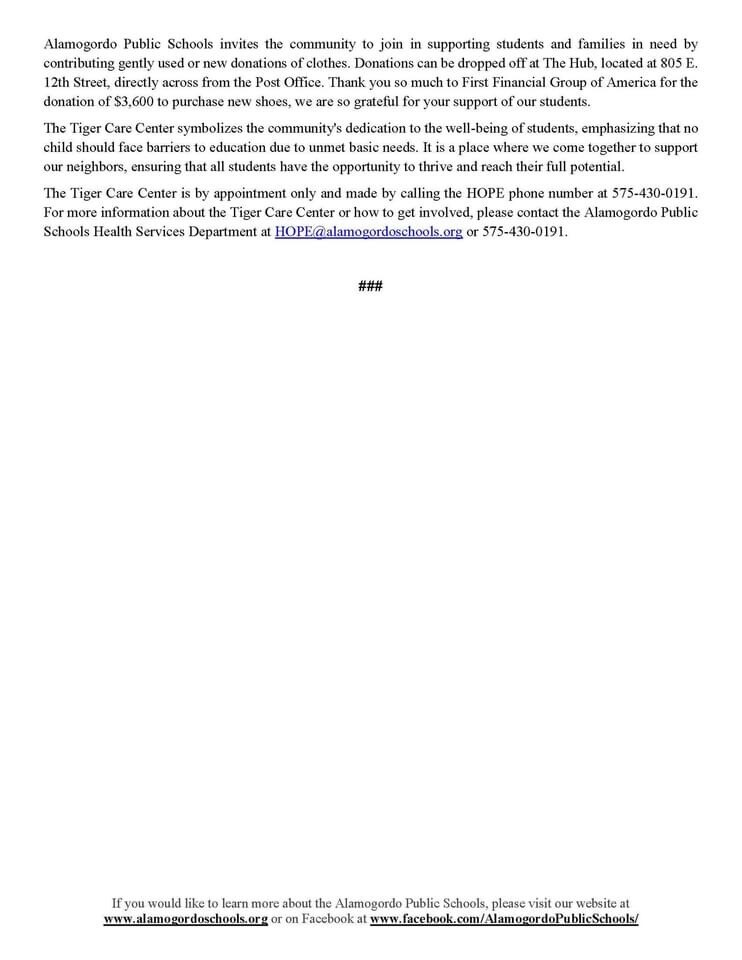 More News from Alamogordo