Child Sexual Abuse Prevention Is Everyone's Responsibility
Image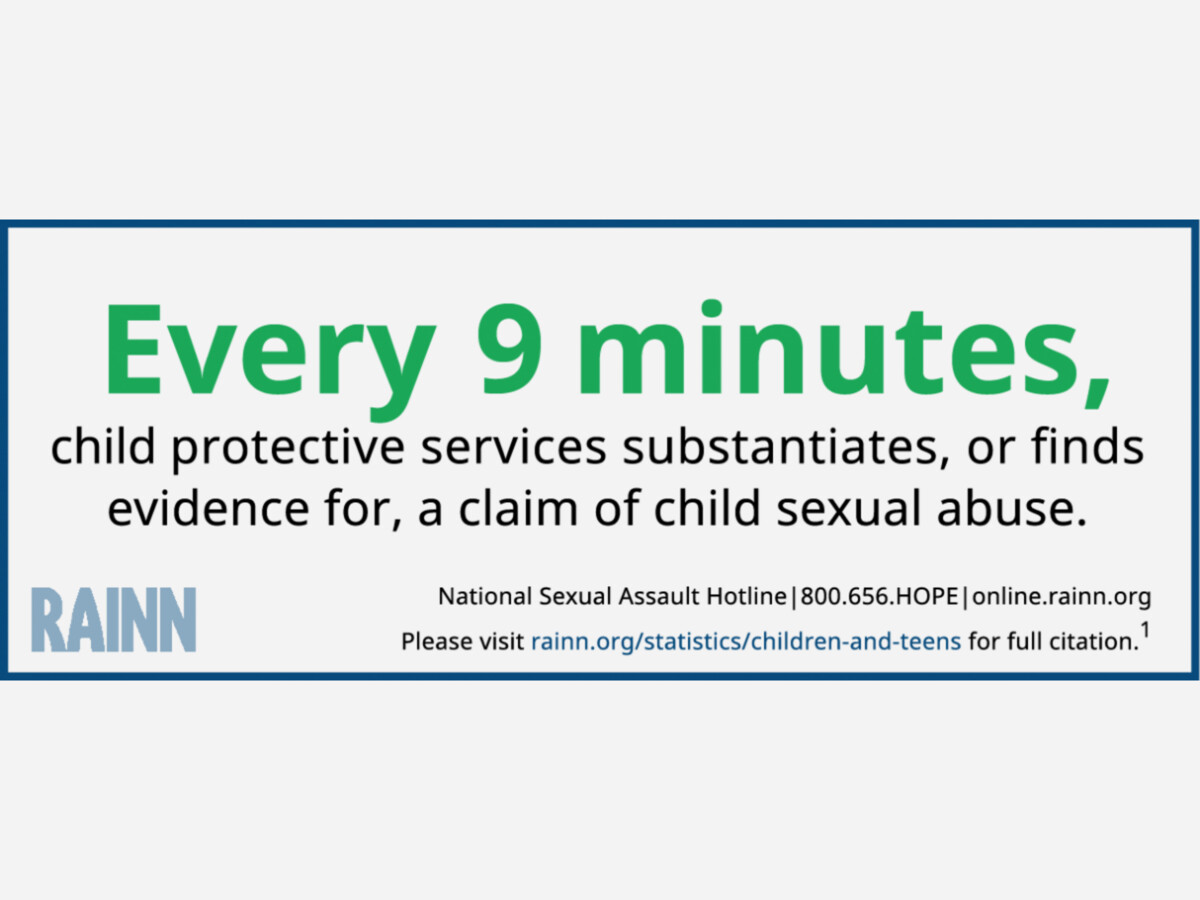 Child sexual abuse in the United States, in New Mexico and even in Alamogordo locally is a significant problem. Police are ever more engaged in investigations of domestic abuse and domestic violence.
Nationally
One in 9 girls and 1 in 20 boys under the age of 18 experience sexual abuse or assault.
82% of all victims under 18 are female.
Females ages 16-19 are 4 times more likely than the general population to be victims of rape, attempted rape, or sexual assault.
The effects of child sexual abuse can be long-lasting and affect the victim's mental health. Victims are more likely than non-victims to experience the following mental health challenges:
About 4 times more likely to develop symptoms of drug abuse
About 4 times more likely to experience PTSD as adults
About 3 times more likely to experience a major depressive episode as adults
What are the Signs of Possible Sexual Abuse?
Most victims do not display physical evidence of their abuse because of the body's ability to heal rapidly. However, any genital irritation, infections or painful bowel movements should be investigated immediately. Behavioral signs are more common and can include depression, anxiety, anger, loss of appetite, withdrawal from normal activities, substance abuse, self-mutilation, fear of certain places or people, bed-wetting, night sweats, nightmares and thoughts of suicide. Also be aware of sexual acting out and language that is not age-appropriate.
What are the Long Term Consequences of Child Sexual Abuse for Society?
Few have ever given thought to the tremendous impact child sexual abuse has on the economy and social fabric of our society. Child sexual abuse is at the root of many societal problems. If we examine each of the common individual consequences of child sexual abuse in light of the prevalence rate, we can see how child sexual abuse has ramifications for each and every one of us.
FACT: Child sexual abuse plays an important role in the cost of mental health services.
The direct cost of mental health is more than $97 billion annually in 2010 dollars (Mark, et. al., 1998). Indirect costs add another $110 billion or more annually in 2010 dollars (Rice & Miller, 1996). If child sexual abuse victims have a doubled risk for mental health conditions (Rohde, et. al., 2008; Dube,et. al., 2005; Waldrop, et. al., 2007; Day, et. al., 2003; Kendler, et. al., 2000; Voeltanz, et. al., 1999), logic suggests that child sexual abuse is responsible for annual mental health costs of at least $20 billion.
FACT: Teen pregnancy is a long-term, expensive societal problem. Child sexual abuse is a major factor in teenage pregnancy rates.
The U.S. government estimates that teen pregnancy costs the nation over $9 billion annually (National Campaign to Prevent Teen Pregnancy, 2004). If the applicable research (Noll, Shenk, & Putnam, 2009) is accurate, logic suggests that over $2 billion of this is attributable to child sexual abuse.
The public and educators can help. Be on the lookout for signs and alert authorities of suspicious behaviors or potential abuse. 
SANE of Otero & Lincoln Counties provide compassionate and comprehensive medical examination and forensic evaluation for victims of sexual assault.  Sexual assault is unwanted sexual contact of any kind. This includes situations where force, violence, or weapons are used as well as situations where the victim is too intoxicated or scared to give consent. If you've been assaulted, call SANE of Otero & Lincoln Counties' 24 Hour Hotline at 575-430-9485. 
More News from Alamogordo