Alamogordo Police Arrest Yields Guns, Explosives and Drugs and Police Department Adds New Staff
Image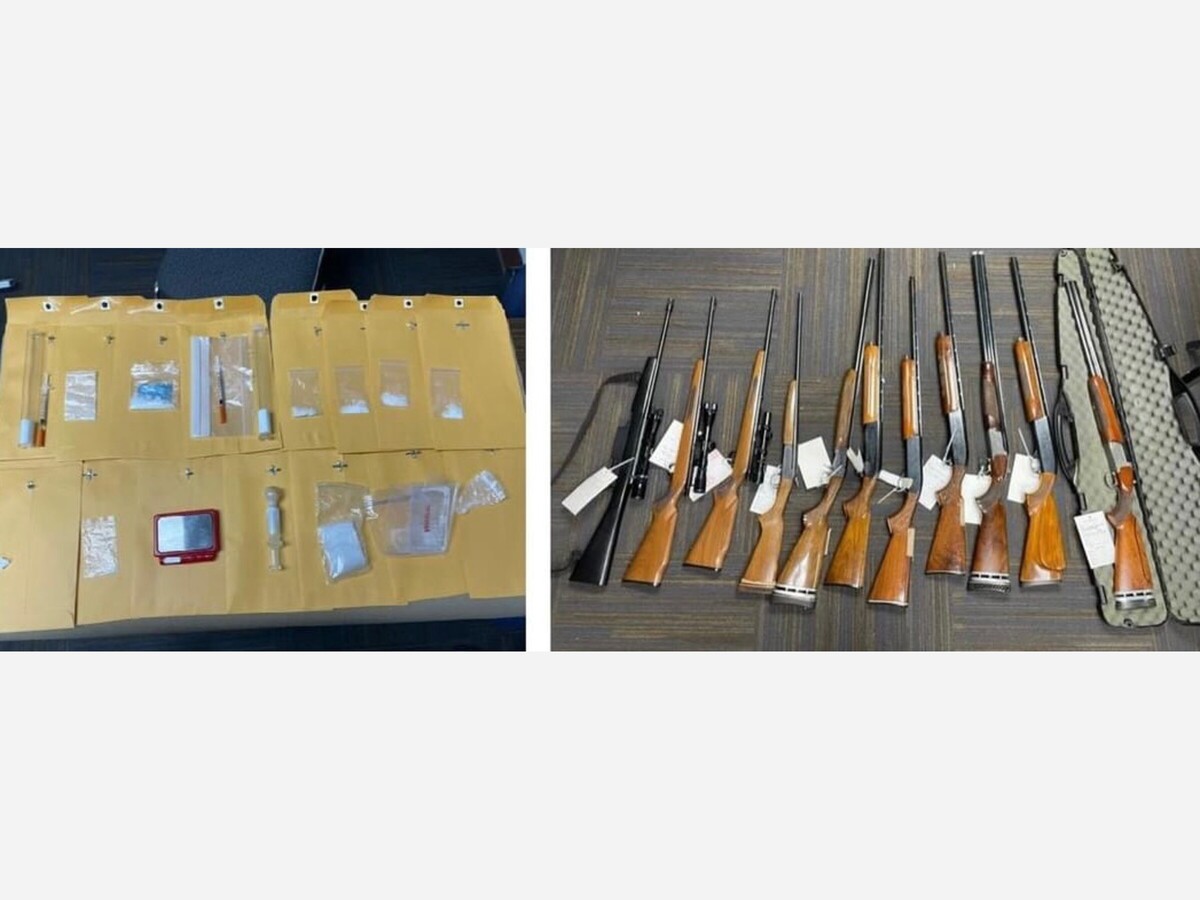 Drugs, guns and explosive devises seized during the servicing of an arrest warrant in Alamogordo. 
An arrest on January 7th, 2023, was a joint police collaboration of the Alamogordo Police Department with assistance of an explosive detection dog from Holloman Air Force Base, the Dona Ana County Bomb Unit and the ATF.
Per a press release from the Alamogordo Police Department:
"On January 7, 2023, at approximately 1019 hours, Officers with the Alamogordo Police Department arrested 60-year-old Ryan Foor on a District Court Warrant for Violations of Conditions of Release at his residence in the 1500 block of Arizona. 
A Patrol Explosive Detection Dog Team from Holloman Air Force Base, the Dona Ana County Bomb Unit, and the Bureau of Alcohol, Tobacco, Firearms, and Explosives (ATF) assisted with the execution of the search warrant. As a result, Officers and Agents located and seized two improvised explosive devices (PVC bombs), 20 firearms, cocaine, and methamphetamine. 
Mr. Foor has been additionally charged with two counts of Trafficking a Controlled Substance, two counts of Possession of a Firearm or Destructive Device by a Felon, and Possession of Drug Paraphernalia. 
Mr. Foor was incarcerated at OCDC pending his appearance in court. The explosives were turned over to ATF for further investigation."
Alamogordo Police Department adds Staff and New Unit:
In other news from the Alamogordo Police Department a new unit of "Service Aids" has been implemented to assist with minor nonviolent issues.
Police Service Aides are the newest unit within the Alamogordo Police Department. Police Service Aides are an additional resource to the community and to the Department. 
The duties of the Service Aides are to respond to certain types of non-emergent calls for service that do not necessarily require a certified Police Officer type of response. They will respond to minor traffic crashes, traffic hazards, assists to the public, among several other things. 
They have the authority to issue certain citations for certain types of traffic violations. The do not have any arrest authority. The Department has been approved for four Service Aide
positions. 
The two current filled positions are held by Police Service Aide Villa
and Police Service Aide Melendrez. They will be visible traveling in specially marked pickup trucks or vehicles designated as " Alamogordo Police Department Service Aide."