Ringing in 2023 a Non-traditional New Years Seeded in History
Image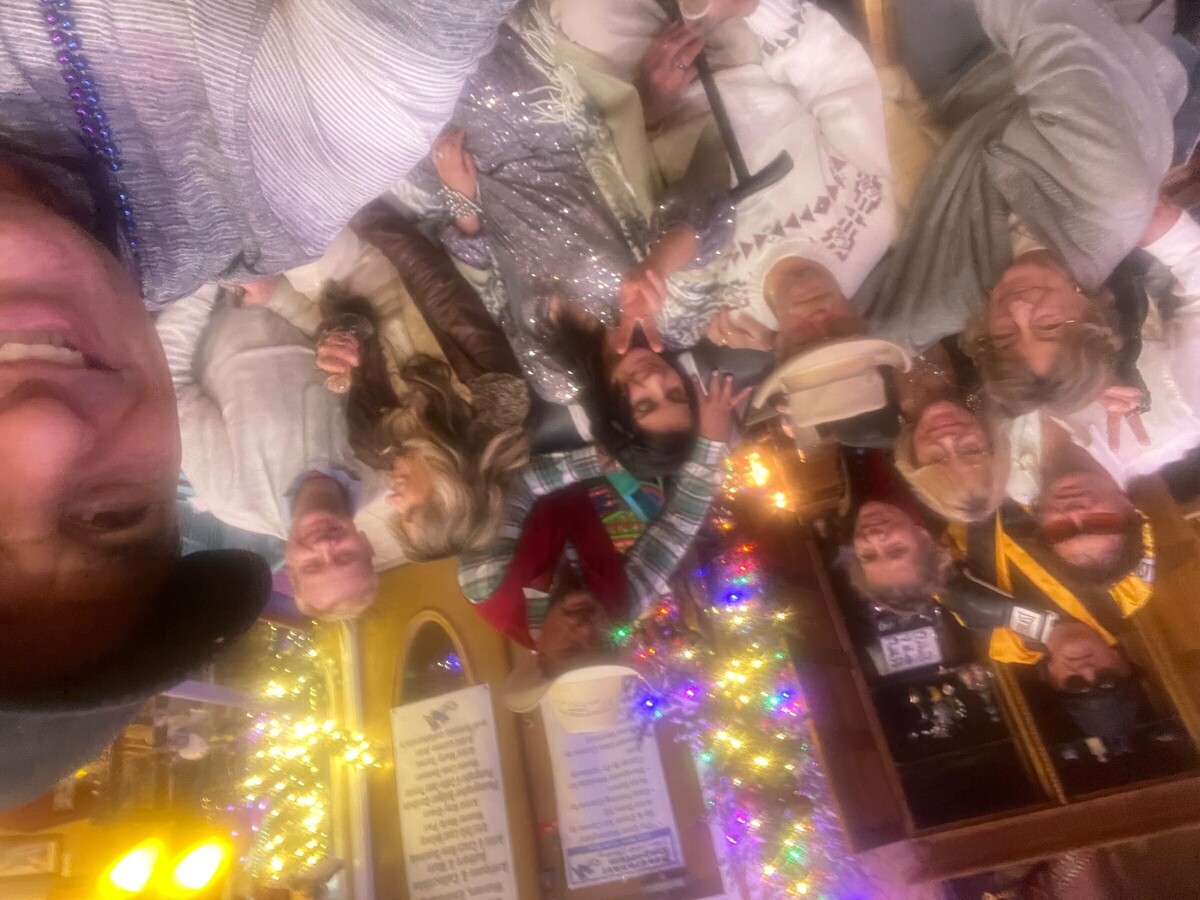 A non-traditional New Years became one seeded with deep history, reflection and meaning as we left 2022 and entered 2023. For 2022 my partner Rene Sepulveda, the kitties; Aretha and Tina Marie and our dog Blanco look back and we can certainly say it's been a ride full of adventures.
We feel blessed our circle of love in Alamogordo expanded from not only close connections to the Sepulveda clan, as family and deepest warmth and support felt all year long by Fred and Rita Sepulveda; but also great love of our expanded local chosen family. Bobby and Johnie, Maria and Wade, Wendy, Emmanuel and Lydia, Cecilia and Cesar, Linda and Jeff, Cindy, Reverend Robinson; Kathryn and Mic, daily you've made us laugh, picked us up when down, cried and hugged us depending upon the day. There was no better way to spend News Years Eve then with a hug and a drink or a laugh with each of you.
Personally for Rene and myself the year has been a challenge but also an adventure. Challenging was the withering away of the mind of and eventual death of my mom, witnessing my father battle cancer and feeling the stress of being pulled in so many directions. Rene I could not have made it through without you.
There are those friends and family members of the past that feel neglected but know you are in our hearts, Lynn, Chris, Gretchen, Deb, Quinn, Alva and others and thought of daily but time and life sometimes gets in the way of conversation and contact. We feel you and your support though we may not acknowledge it as often as we should.
In business it's been a hell of a year! We are deeply humbled by the support of our Alamogordo circle of friends and supporters that have allowed us to expand upon a vision of a path of inclusion circled around culture, fitness, education, information and the arts. When we acquired Roadrunner Emporium we never for a moment thought we would grow as we have and had no idea the venture would lead us into 7 different businesses and a partnership with Emmanuel and Lydia to open ReneFit New Mexico, acquired the Sands Theater and even a radio station KALH 95.1 Alamogordo. 
Lydia and Emmanuel Renteria you lift us up daily with your smiles, laughter, hugs and occasional tears and we love you as our chosen family.
So, New Years Eve night 2022 fittingly began with drinks, dinner and laughter. Emmanuel Renteria fittingly dressed all night long as a boxer or prize fighter. Remembering the grit of his dad, the love of his mom but fighting to knock out 2022 and symbolically show 2023 we are all up for the battles ahead; strong, resilient and determined but with compassion, heart, soul and laughter. Not taking ourselves too serious but fighting ahead with purpose daily.
As the night progressed we were invited by Reverend Robinson to Owens AME for " Watch Services." None of us knew what that was. Except for myself, none of our clan had ever been to a service at Reverend Robinson's church. It's also safe to say none of us had even spent the stroke of midnight in a Church.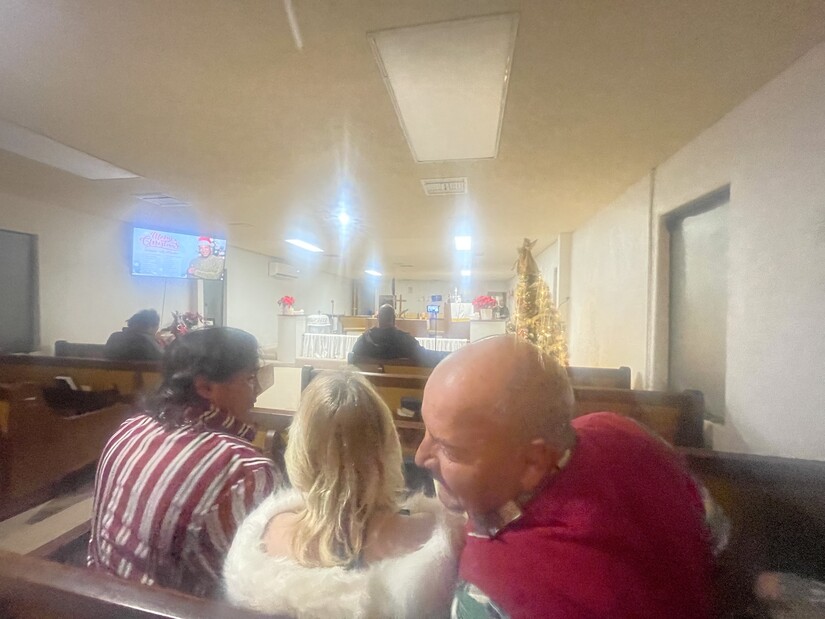 The service was short but a powerful 30 minutes. We remembered, we were educated, we prayed. Rene did a special prayer for healing of our friend Ronda Merrick in her fight with Cancer. We ended the year around a candle of reflection and of light reminded to carry light forward into 2023. We sang horribly off key and could not help but laugh during song by how off key we were. Obviously our singing lessons earlier this year failed miserably but the tears and spirit of the song with the small confines of Owens AME will be a memory never to be forgotten. We were each led to this place and to each other by fate. We may never fully understand the reason but we're blessed to share the moments together.
We left the service reconnected for more drinks, dance and more laughter, ended the night at 3 am with hugs and hope. Our hope is for the laughter and love of the evening to carry forward as a light to others in the new year. May 2023 bring us each love, prosperity, health and happiness.
As an educational component to this commentary of hope below explains "Watch Night." To those who read this far and on down, you will then better understand why this service and its meaning truly fit our clans thirst and how history plays an important role into shaping our today and our tomorrows…
On the night of December 31, 1862, enslaved and free African Americans gathered, many in secret, to ring in the new year and await news that the Emancipation Proclamation had taken effect. Just a few months earlier, on September 22, 1862, President Abraham Lincoln issued the executive order that declared enslaved people in the rebelling Confederate States legally free. However, the decree would not take effect until the clock struck midnight at the start of the new year. The occasion, known as Watch Night or "Freedom's Eve," marks when African Americans across the country watched and waited for the news of freedom. Today, Watch Night is an annual New Year's Eve tradition that includes the memory of slavery and freedom, reflections on faith, and celebration of community and strength.
Watch Night service is rooted in African American religious traditions. During the first Watch Night, many enslaved African Americans gathered to pray, worship, sing, and dance. At the time, enslaved black people could find little respite from ever-present surveillance, even in practicing their faith. White enslavers feared that religion, which was often used to quell slave resistance, could incite the exact opposite if practiced without observance. They wrote laws that restricted worship and large gatherings, such as that in the 1848 Georgia Slave Code:
No person of color . . . shall be allowed to preach, to exhort, or join in any religious exercise with any persons of color, either free or slave, there being more than seven persons of color present. - 1848 Georgia Slave Code
Despite these laws, enslaved people sought to exercise their own religious customs, including Christianity, Islam, and indigenous faith practices reflective of the homes from which they were stolen. They convened at praise houses on plantations or secretly gathered in the woods, where they practiced their faith under the protective cover of the trees and brush in what became known as "hush harbors." As Charlotte Martin, a formerly enslaved woman from Florida, recounted, "[The plantation owner] would not permit them to hold religious meetings or any other kinds of meetings, but they frequently met in secret to conduct religious services." Charlotte's own brother was beaten to death for participating in such secret worship meetings. But enslaved people persisted in their faith practices as forms of resistance and freedom.
This spirit is still visible in Watch Night services today as we witnessed last night at Owen Chapel AME in Alamogordo.
The Watch Night service typically begins around 7pm on December 31 and lasts through midnight, as faith leaders guide congregants in praise and worship. Ours was abridged 11:30 to midnight but in theory began outside of the confines of the church with our feast prior to the services.
Many congregants across the nation bow in prayer minutes before the midnight hour as they sing out "Watchman, watchman please tell me the hour of the night." In return the minister replies "it is three minutes to midnight"; "it is one minute before the new year"; and "it is now midnight, freedom has come," to bless their transition into the new year.
At our service 3 minutes prior to midnight candles were lit, prayers were made and love filled the air. At the stroke of midnight we hugged, and smiled and laughed and gave thanks to the Reverend for teaching us and welcoming our motley clan into his house with open arms.
Initially meant to welcome emancipation, today the Watch Night service encourages reflection on the history of slavery and freedom, as well as reflection on the past year—both its trials and triumphs—while also anticipating what the new year will have in store. It is a continuation of generations of faith that freedom and renewal lie ahead. 
A tradition created by those that survived slavery and generations later the same ritual being exercised in towns across America on that cool evening of 1862 is carried forward. The individuals that began the ritual never in their wildest dreams would have imagined a service that was as diverse as last nights or envisioned a diverse motley crew such as ours, in a little town like Alamogordo. In their memory we give honor and thanks and look to carry their flame of hope into 2023.
May all; rather friend or foe, find grains of hope, seek bridges of collaboration and put hate aside to find love in 2023.