AlamogordoTownNews.com Welcome Home Honor Flight & Reception Saturday Oct 1, 2022, 8 pm New York Avenue
Image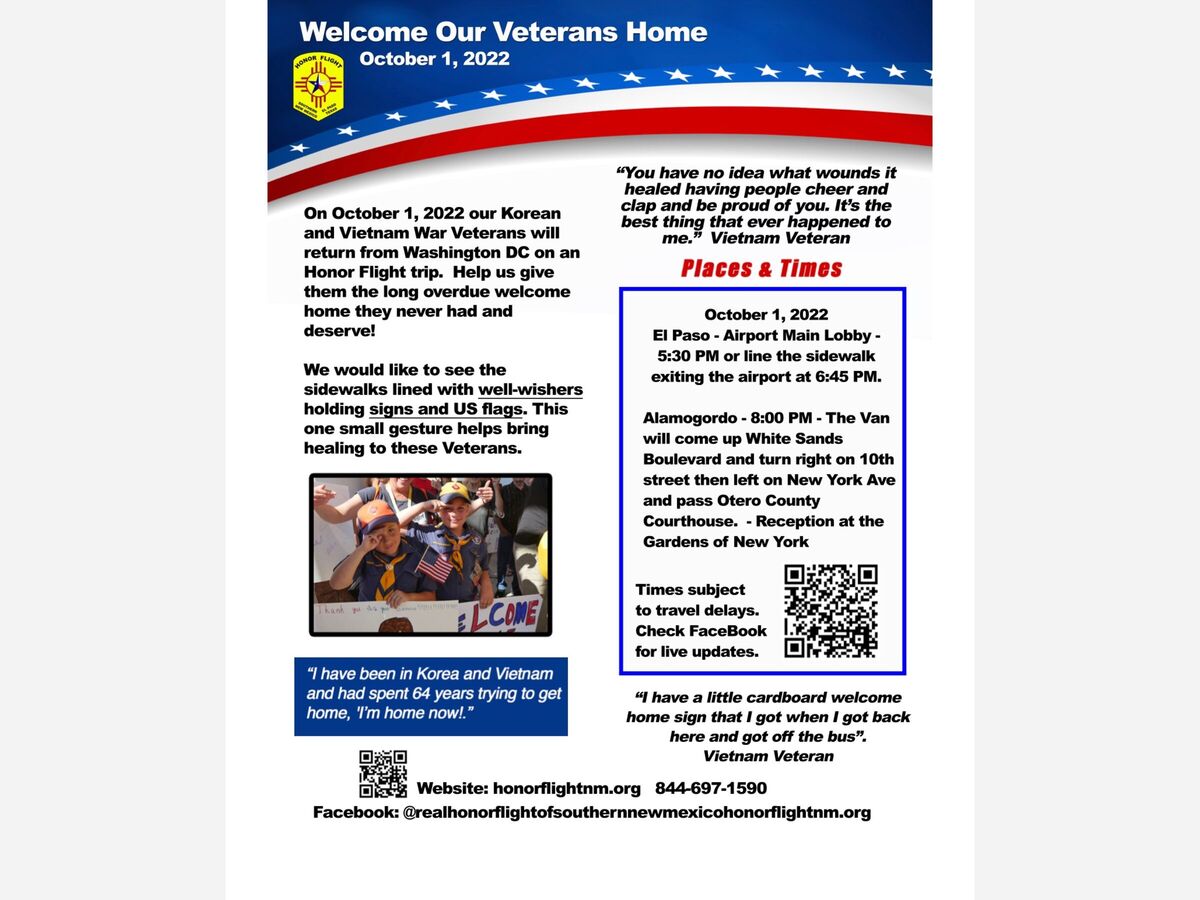 Alamogordo - 8:00 PM - The Van will come up White Sands Boulevard and turn right on 10th street then left on New York Ave and pass Otero County Courthouse. - Reception at the Gardens of New York 1120 New York Avenue 8 pm Saturday, October 1st.
We will have a police escort through Alamogordo and will bring the Veterans back to The Gardens of New York 1120 New York Avenue past the county courthouse around 8 pm. Reception from about 8-10pm.
The two local veterans returning from the honor flight are David Hatcher, he retired as an E-7 (Master Sargent) and was a helicopter maintenance tech. His AFSC was 43150D, and he worked on air rescue helicopters during his time in Vietnam. He served in Vietnam from '70-'71 and then retired in 1993 as a Master Sergeant with 23 years of service. He lives in Alamogordo with his wife June who will be traveling with us on Saturday to welcome him at the airport.
Roger Bredy and his wife Cathy, live in Alamogordo as well. Roger retired here in Alamogordo after 25 years of service as an E-9. He was an A/A missile weapons troop who moved here from Florida in 1984 and then retired here in 1989.
We would like to see the sidewalks lined with well-wishers holding signs and US flags. This one small gesture helps bring healing to these Veterans.
"You have no idea what wounds it healed having people cheer and clap and be proud of you. It's the best thing that ever happened to me." Vietnam Veteran
Honor Flight of Southern New Mexico and El Paso transports America's World War II, Korean and Vietnam War Veterans to Washington DC to visit the memorials built to honor and remember those who served. This trip of a lifetime provides closure, healing and the welcome home these heroes deserve. Every Veteran is taken on the flight at no cost to themselves.
This Alamogordo Flight was funded by Alamogordo 100 Women that Care and celebration coordination and veteran sponsorship for the Honor Flight by the US Veterans Motorcycle Club New Mexico Chapter. 
 The US Veterans Motorcycle Club New Mexico Chapter received the grant from the 100 Women that Care Alamogordo Chapter and opted to use the funds to support local veterans on the Honor Flight. The US Veterans Motorcycle Club New Mexico Chapter consists of members who are all honorably discharged, and their mission statement is "Veterans Helping Veterans." The club says that when they heard that the Honor Flight was looking for sponsorship of a couple of local veterans it was a "natural fit to support the local veterans given the clubs mission."
So, show your appreciation for these older veterans as they return home from a trip to DC for their honor flight. Join us and the New York Avenue business community as we honor these returning veterans with a celebration and meet and greet. 
Location is at the New York Art and Music's Gardens of New York at 1120 New York Avenue, Alamogordo, New Mexico, Time 8 pm October 1st - 1120 New York Avenue.
More News from Alamogordo