AlamogordoTownNews.com Freddie Durand Headlines First Friday New York Avenue Friday 6 to 8 pm
Image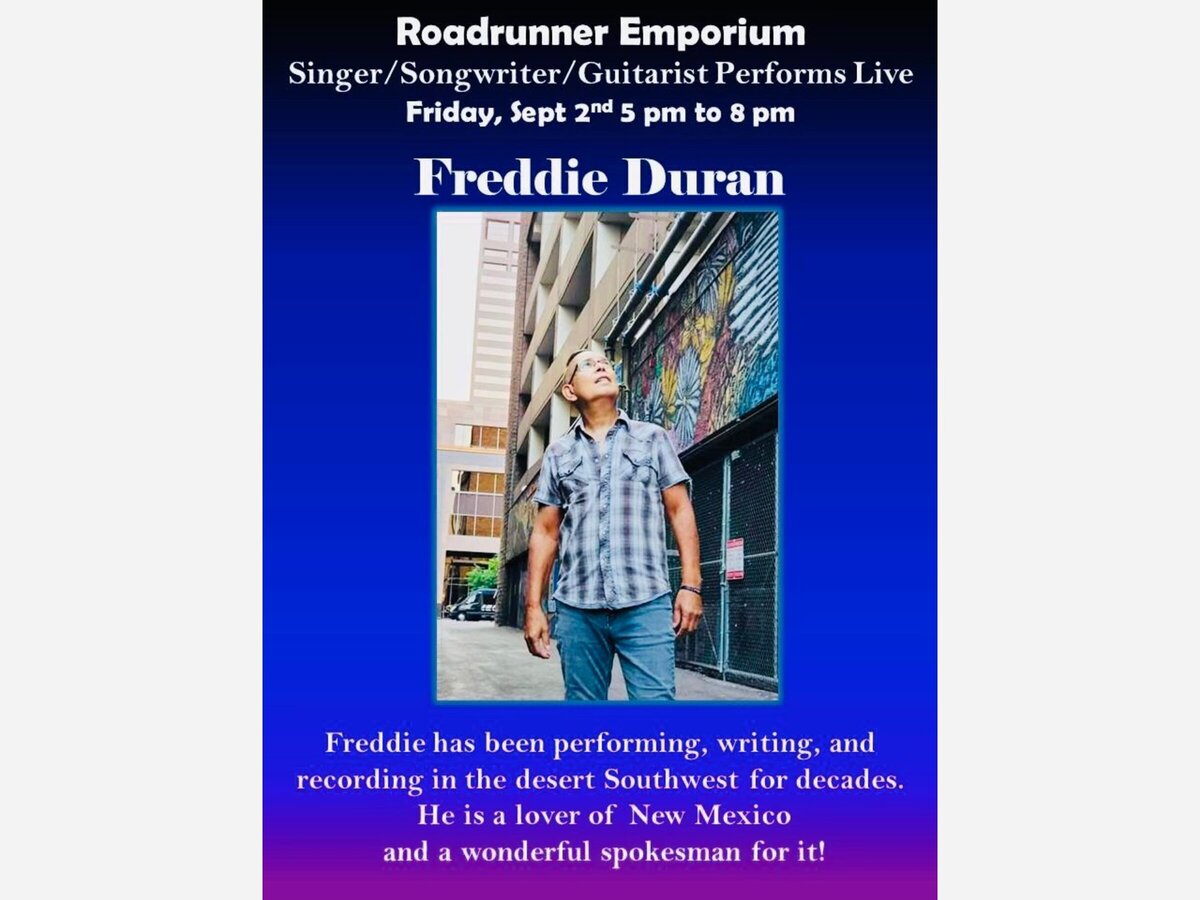 Friday September 2nd marks the first Downtown Nights of the Fall Season for the New York Avenue merchants. All merchants are open till 8 pm with Food Trucks and the live music of Freddie Durand for his last Alamogordo area performance of the year before going back to Arizona.
Blush Beauty Bar and Vintage 79 on the backside of the Roadrunner Emporium building at 10th and New York will be offering complimentary ice cream and drinks and will be hosting signature drinks from Kape.
Victoria 913 will be hosting a DJ and along with Pins and Needles offering special priced offerings and new arrivals showcased.
All merchants are open till 8 pm with special offers. The highlight of the is the musical talents of Freddie Durand
Freddie Duran is an American born singer/songwriter/entertainer hailing from Alamogordo, New Mexico and now residing and performing throughout the Phoenix area. His vast repertoire consists of both original and cover songs sung in English and Spanish. Once awarded Arizona Songwriter of the Year, he is working on his next two music videos directed by longtime band member/guitarist Carole Pellatt. They're looking at mid to late June premiers and releases for his singles, "Questions For God" and "New Mexico Midnight."
Freddie's two music videos "La Llorona" & "Where the Birds Sing in Spanish" can be seen here and were directed by John Koop.
Winner of the "TEMPE SONGWRITING CONTEST", FREDDIE DURAN has been performing and recording in and around the desert southwest for most of his life (other than three years in the L.A. area.) Back when STAR SEARCH was having local tryouts in Phoenix, he got 2nd place to none other than David Spade. Originally from Alamogordo, New Mexico - he draws upon the beauty and culture of the southwest for much of his inspiration. Thus the label "Adobe Rock" describing his musical style. He also likes to write about the "politics of love and life", creatively blending his musical and verbal vocabulary skills to construct a number of intriguing situations and thought provoking themes. And Freddie's dynamic voice is the ultimate messenger to deliver all of this information to your ears. Freddie was invited to perform the National Anthem at the Arizona Cardinal's – Kansas City Chiefs game as part of their Hispanic Heritage Celebration during their inaugural season.
Come check out the live music and shop at Roadrunner Emporium 928 New York Avenue, Alamogordo and all of the merchants of New York Avenue for Downtown Nights September 2 from 5 to 8 pm.