AlamogordoTownNews.com Tiger Girls Win Coach Bob Sepulveda Invitational Complete Results
Image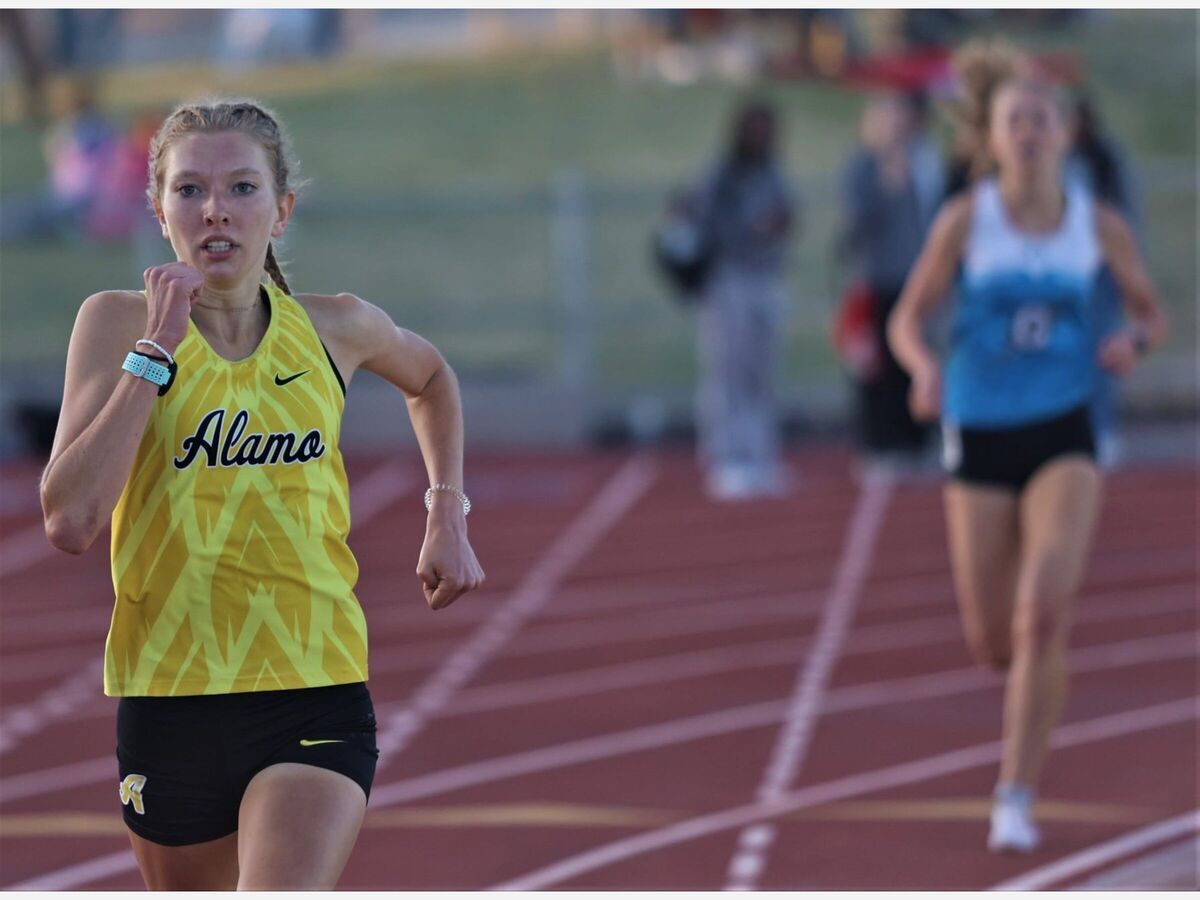 Monday Alamogordo Tigers hosted the Coach Bob Sepulveda Invitation Track Meet in honor of Coach Bob Sepulveda. Coach Bob Sepulveda was New Mexico Coach of the Year for boy's track; 1982, 1991 and 1996. Received the NHSACA Region 8 Coach of the Year in 1982, 1991 and 1996, Section 6 Coach of the Year in 1991 and 1996. Along with his wife Marilyn, both, received the New Mexico High School Coaches Association Level IV Coaching Milestone ring in 1989. He and his wife Marilyn were inducted into the Alamogordo Tiger Hall of Fame in 1988. Coach Sepulveda was the winningest coach in Alamogordo history winning 4 state track titles in a row and a total of 5 state track titles.
"Coach Bob Sepulveda is just a good, hard-working coach and a good responsible person who cared about the kids in his charge. That for anyone who's paying attention, is all the message that's necessary," per a Commentary in the Albuquerque Journal by Rick Wright titled Message There for Those who Watch, Listen, Friday May 13, 1994, written in his honor.
The Bob Sepulveda track meet on Monday was another success for the record books. The Alamogordo Girls won the meet title and the Boys finish 3rd at Monday's Invitational Meet. The Tularosa Girls finished tied for 8th and Boys were 8th.
State Qualifiers - Maycee Griffin (Triple Jump), Layla Gaston (Javelin), Joey Marquez (Pole Vault)
Full Results - https://nm.milesplit.com/.../460388-bob.../results...
Alamogordo Girls
100 - Yvonne Stinson 1st (12.44), Alyssa Esquero 4th (13.71)
200 - Yvonne Stinson 1st (25.37)
800 - Janae Shaklee 1st (2:26.54)
1600 - Ellary Battle 1st (5:18.47), Janae Shaklee 2nd (5:45.62)
3200 - Ellary Battle 1st (11:46.89), Kylin Starkovich 5th (14:12.28)
High Jump - Yvonne Stinson 1st (5-02)
Long Jump - Yvonne Stinson 1st (17-02), Alyssa Esquero 3rd (16-04)
Triple Jump - Alyssa Esquero 1st (34-03), Lynley Koehler 2nd (32-06.75)
4x100 Relay - 1st (Eniola Komolafe, Alyssa Esquero, Sydney Thomas, Yvonne Stinson - 49.63)
4x800 - 2nd (Lynley Koehler, Natalie Rodriguez, Kylin Starkovich, Saung Soe - 10:45.85)
300 Hurdles - Anna Riordan 2nd (51.81), Saung Soe 3rd (52.36)
4x400 Relay - 2nd (Janae Shaklee, Abby Vazquez, Sydney THomas, Ellary Battle - 4:16.83)
400 - Ameriona Waobia 3rd (1:04.31)
Pole Vault - Marie Fillmore 3rd (7-00), Ava Holloway T6th (6-06)
100 Hurdles - Anna Riordan 3rd (17.53), Saung Soe 4th (18.56), Lexi Puente 5th (18.91)
Shot Put - Teeya Gordon 4th (31-08), Jacqueline Vera 5th (30-05), Rebecca Adams 6th (29-00)
Javelin - Jacquline Vera 4th (101-3.50)
4x200 Relay - 5th (Eniola Komolafe, Alyssa Esquero, Sydney Thomas, Abby Vasquez - 1:51.09)
Discus - Jacqueline Vera 6th (97-09)
Tularosa Girls
Triple Jump - Maycee Griffin 3rd (32-01.50), Haylee Hill 5th (30-11)
Javelin - Layla Gaston 5th (99-10)
4x400 Relay - 6th (Maycee Grifin, Haylee HIll, Delilah Tripp, Geoff Sailer - 4:50.72)
Alamogordo Boys
110 Hurdles - Zach Sell 1st (16.00), Matthew Sell 2nd (16.91)
300 Hurdles - Zach Sell 1st (42.34)
Javelin - Jimmy Bowen 1st (153-09)
Discus - Christian Kennedy 2nd (133-06)
800 - Omar Enriquez 2nd (2:06.84)
Pole Vault - Joey Marquez 2nd (12-06)
4x400 - 2nd (Isaiah Dalmas, Zach Sell, Amaryon Bynum, Omar Enriquez - 3:37.23)
400 - Omar Enriquez 3rd (54.13)
4x800 - 2nd (Thomas Bond, Gabe Kotter, Angel Avila, Isaiah Dalmas - 8:40.83)
1600 - Celso Garcia 3rd (4:35.87)
3200 - Celso Garcia 3rd (10:04.42), Angel Avila 6th (10:59.67)
Triple Jump - Amaryon Bynum 3rd (38-10.5)
4x200 Relay 4th (Adam Shock, Zach Sell, Isaiah Dalmas, JonHenry Sifuentes - 1:37.72)
Shot Put - Christian Kennedy 5th (42-05)
Tularosa Boys
400 - Matthew Barraza 4th (54.77)
300 Hurdles - Israel Ortega 5th (45.96)
Triple Jump - Colton Gililland 5th (37-10.25), Israel Ortega 6th (37-09)
4x100 Relay - 6th (Colton Gililland, Kani Mathis, Israel Ortega, Isaiah Reyes - 45.60)
4x400 Relay - 6th (Matthew Barraza, Colton Gililland, Israel Ortega, Isaiah Reyes - 3:51.91)
Complete results for the Bob Sepulveda Invitational of all student participants 2022 - 4/25/2022
Bob Sepulveda Track at Tiger Stadium, Alamogordo, New Mexico Results 2022
Girls 100 Meter Dash
===================================================================================
Name Year School Seed Finals H# Points
===================================================================================
Finals
1 Stinson, Yvonne Alamogordo H 12.15 12.44 5 7
2 Davis, Kassile Las Cruces H 12.96 13.45 5 5
3 Duran, Jadyn Centennial H 13.65 13.61 4 4
4 Esquero, Alyssa Alamogordo H 13.39 13.71 5 3
5 Miller, Ashley Centennial H 13.67 13.81 4 2
6 Portillo, Saile Santa Teresa 13.93 13.85 4 1
7 Shreves, Lucy Clovis High 13.45 14.12 5
8 Komolafe, Eniola Alamogordo H 13.44 14.16 5
9 Coheto, Laura Chaparral Hi 13.14 14.19 5
10 Ruiz, Jazlene Mayfield Hig 14.60 14.24 2
11 Melendrez, Sarai Gadsden High 14.05 14.30 4
12 Caro, Kristen Organ Mounta 13.41 14.32 5
13 Castaneda, Mia Centennial H 14.07 14.50 4
14 Corrales, Abigail Mayfield Hig 14.62 14.66 2
15 Foggie, Joselyn Clovis High 13.59 14.69 4
16 Holguin, Nevaeh Organ Mounta 14.54 14.88 3
17 Moya, DeAnza Las Cruces H 15.72 14.90 2
18 Rogers, Taylor Mayfield Hig 14.30 14.95 3
19 Shaw, Aubrey Las Cruces H 14.11 14.97 4
20 Zamora-Travis, Natalia Clovis High 14.68 15.03 2
21 Geoff, Sailer Tularosa Hig 14.27 15.21 3
22 Garcia, Arely Organ Mounta 15.92 15.25 1
23 Majalca, Mariely Deming High 15.79 15.31 2
24 Tripp, Delilah Tularosa Hig 14.36 15.35 3
25 Hernandez, Victoria Gadsden High 14.12 15.91 3
26 Lindsay, Aubree Tularosa Hig 14.19 15.93 3
27 Peralta, Laisha Santa Teresa 15.23 16.12 2
28 Garcia, Brandy Santa Teresa 16.00 16.29 1
Girls 200 Meter Dash
===================================================================================
Name Year School Seed Finals H# Points
===================================================================================
1 Stinson, Yvonne Alamogordo H 25.40 25.37 5 7
2 Davis, Kassile Las Cruces H 26.90 26.97 5 5
3 Foggie, Gabrielle Clovis High 27.17 27.01 5 4
4 Gunn, Devyn Centennial H 27.03 27.65 5 3
5 Travis, Nariah Clovis High 27.26 28.55 5 2
6 Enriquez, Damaris Chaparral Hi 29.37 29.04 4 1
7 Koehler, Lynley Alamogordo H 28.28 29.11 4
8 Caro, Kristen Organ Mounta 29.12 29.43 4
9 Adams, Rebecca Alamogordo H 28.12 29.65 4
10 Cardenas, Jeorjinah Organ Mounta 29.59 29.80 3
11 Ocampo, Lauren Centennial H 29.34 29.94 4
12 Ortiz, Marissa Santa Teresa 30.22 30.18 3
13 Melendrez, Sarai Gadsden High 30.12 30.51 3
14 Crawford, Charlotte Centennial H 30.50 30.56 2
15 Esparza, Areli Las Cruces H 30.50 30.79 2
16 Martinez, Josselyn Chaparral Hi 31.06 30.93 2
17 Zamora-Travis, Natalia Clovis High 29.58 31.25 3
18 Tripp, Delilah Tularosa Hig 31.13 31.42 2
19 Shaw, Aubrey Las Cruces H 31.55 1
20 Noriega, Savanna Deming High 30.31 31.96 3
21 Peralta, Laisha Santa Teresa 31.39 32.08 2
22 Lindsay, Aubree Tularosa Hig 30.89 32.48 2
23 Ramirez, Amy Santa Teresa 34.81 33.39 1
Girls 400 Meter Dash
===================================================================================
Name Year School Seed Finals H# Points
===================================================================================
1 Ramirez, Kamilah Santa Teresa 1:01.41 1:02.39 4 7
2 Noopila, Maija Las Cruces H 1:04.55 1:04.07 4 5
3 Waobia, Ameriona Alamogordo H 1:03.03 1:04.31 4 4
4 Torres, Ericka Chaparral Hi 1:04.46 1:04.35 4 3
5 Cuylear, Katrina Las Cruces H 1:05.12 1:05.18 4 2
6 Mijairez, Ezril Organ Mounta 1:04.08 1:05.62 4 1
7 Thieman, Avery Mayfield Hig 1:06.42 1:05.79 4
8 Apodaca, Felicia Centennial H 1:07.00 1:06.96 3
9 Sugamosto-Clay, Innocenc Organ Mounta 1:07.40 1:07.17 3
10 Linnares, Tatum Las Cruces H 1:07.22 1:07.38 3
11 Rios, Karen Gadsden High 1:08.01 1:08.15 3
12 Quezada, Paulina Organ Mounta 1:07.33 1:08.79 3
13 Varela, Odeth Gadsden High 1:09.98 1:09.23 2
14 Chavez, Emilee Santa Teresa 1:07.99 1:10.30 3
15 Lopez, Analia Clovis High 1:11.41 1:11.20 2
16 Martin, Olivia Alamogordo H 1:10.76 1:11.27 2
17 Rodriguez, Natalie Alamogordo H 1:09.77 1:11.60 2
18 Aragon, Annika Mayfield Hig 1:12.89 1:12.63 2
19 Greene, Randi Tularosa Hig 1:15.15 1:14.61 1
20 Hudson, Dallas Tularosa Hig 1:14.56 1:17.35 1
21 Sedor, Khrystal Centennial H 1:21.59 1
22 Amador, Catrianna Centennial H 1:13.71 1:23.34 1
23 Monsivaiez, Arielle Mayfield Hig 1:28.00 1:31.05 1
Girls 800 Meter Run
===================================================================================
Name Year School Seed Finals H# Points
===================================================================================
1 Shaklee, Janae Alamogordo H 2:27.05 2:26.54 2 7
2 Munoz, Joscelyn Las Cruces H 2:31.28 2:33.16 2 5
3 Garcia, Daniella Chaparral Hi 2:43.52 2:40.39 2 4
4 Reinhold, Delia Las Cruces H 2:43.28 2:44.80 2 3
5 Doan, Margee Organ Mounta 2:51.85 2:52.21 2 2
6 rivera, jewel Las Cruces H 3:10.83 2:57.06 1 1
7 Paz, Adrianna Centennial H 2:49.36 2:57.52 2
8 Laws, Morgan Organ Mounta 2:54.23 2:57.99 2
9 Martin, Olivia Alamogordo H 3:05.33 1
10 Varga, Gabriella Santa Teresa 3:04.08 3:06.14 1
11 Islava, Marianna Organ Mounta 2:50.34 3:07.54 2
12 Jimenez, Nayeli Deming High 2:59.00 3:07.95 1
13 Parra, Brianna Gadsden High 3:10.95 3:08.34 1
14 Cardona, Viviana Chaparral Hi 3:06.61 3:13.59 1
15 Pastran, Amber Gadsden High 3:19.04 3:14.34 1
16 Espinoza, Emma Deming High 3:06.69 3:16.63 1
17 Garcia, Bryanna Santa Teresa 3:20.13 1
Girls 1600 Meter Run
================================================================================
Name Year School Seed Finals Points
================================================================================
1 Battle, Ellary Alamogordo H 5:09.43 5:18.47 7
2 Shaklee, Janae Alamogordo H 5:37.53 5:45.62 5
3 Ochoa, Josslynn Organ Mounta 5:59.58 6:04.14 4
4 Bloomfield, Tea Organ Mounta 6:14.40 6:19.62 3
5 Crespin, Lauren Las Cruces H 6:26.79 6:21.66 2
6 Garcia, Daniella Chaparral Hi 6:11.72 6:23.66 1
7 Lazarin, Layla Mayfield Hig 6:03.55 6:27.43
8 Barrera, Emma Las Cruces H 6:25.60 6:30.76
9 Salazar-lucero, Jazlyn Clovis High 6:28.34 6:40.07
10 Hofacket, Wren Organ Mounta 6:11.36 6:43.02
11 Rojas, Hillary Centennial H 6:21.73 7:03.40
12 Cervantes, Marisa Las Cruces H 7:12.59
13 Varga, Gabriella Santa Teresa 7:02.91 7:17.60
14 Ramirez, Gisele Mayfield Hig 6:49.58 7:20.42
15 Parra, Brianna Gadsden High 7:09.37 7:32.51
16 Pastran, Amber Gadsden High 7:25.19 7:43.76
17 Cardona, Viviana Chaparral Hi 7:12.90 7:50.34
18 Garcia, Bryanna Santa Teresa 8:00.18
-- Compean, Nailah Mayfield Hig DNF
Girls 3200 Meter Run
================================================================================
Name Year School Seed Finals Points
================================================================================
1 Battle, Ellary Alamogordo H 11:31.79 11:46.89 7
2 Garcia, Daniella Chaparral Hi 13:47.97 13:50.74 5
3 Tree, Kira Clovis High 14:52.54 13:57.35 4
4 Lazarin, Layla Mayfield Hig 13:35.25 14:05.09 3
5 Starkovich, Kylin Alamogordo H 13:53.46 14:12.28 2
6 Davis, Emma Organ Mounta 14:01.85 14:40.63 1
7 Hill, Makaila Organ Mounta 14:04.55 14:57.44
8 Hofacket, Wren Organ Mounta 13:32.25 15:03.20
Girls 100 Meter Hurdles
===================================================================================
Name Year School Seed Finals H# Points
===================================================================================
1 McDonald, Jalyn Mayfield Hig 17.50 17.11 3 7
2 Linn, Zoe Clovis High 17.58 17.47 3 5
3 Riordan, Anna Alamogordo H 17.25 17.53 3 4
4 Soe, Saung Alamogordo H 18.47 18.56 3 3
5 Puente, Lexi Alamogordo H 18.54 18.91 3 2
6 Sanchez, Stephanie Gadsden High 19.36 19.19 2 1
7 Bowron, Elora Santa Teresa 19.73 19.47 2
8 Fierro, Joselyn Organ Mounta 18.51 19.82 3
9 Soffera, Shayla Organ Mounta 19.64 19.89 2
10 Snead, Madison Las Cruces H 21.85 21.47 1
11 Brown, Dashani Organ Mounta 20.43 21.51 2
12 Long, Jamie Clovis High 20.67 21.80 2
13 Monroe, Savannah Centennial H 22.78 21.96 1
14 marrufo, cheyenne Las Cruces H 22.94 22.30 1
15 Rivas, Victoria Gadsden High 20.83 22.70 2
Girls 300 Meter Hurdles
===================================================================================
Name Year School Seed Finals H# Points
===================================================================================
1 Linn, Zoe Clovis High 51.51 51.60 4 7
2 Riordan, Anna Alamogordo H 51.29 51.81 4 5
3 Soe, Saung Alamogordo H 53.98 52.36 4 4
4 Fierro, Joselyn Organ Mounta 51.01 52.41 4 3
5 Scholljegeraes, Ellie Las Cruces H 54.27 53.32 4 2
6 Petner, Gizelle Clovis High 51.78 54.56 4 1
7 Sanchez, Stephanie Gadsden High 54.83 55.51 4
8 Thomison, Alexia Santa Teresa 54.94 56.94 3
9 Puente, Lexi Alamogordo H 56.34 57.04 3
10 marrufo, cheyenne Las Cruces H 56.91 57.83 3
11 Caesar, Mariah Centennial H 58.16 2
12 Soffera, Shayla Organ Mounta 59.53 58.34 3
13 Zavala, Emma Organ Mounta 1:00.13 58.98 2
14 Bowron, Elora Santa Teresa 55.77 1:00.86 3
15 Kinkade, Liberty Clovis High 1:01.66 1:01.70 2
16 Miller, Ashley Centennial H 1:01.96 1
17 Rivas, Victoria Gadsden High 1:02.83 1:02.92 2
18 Monroe, Savannah Centennial H 1:03.87 1:04.23 2
Girls 4x100 Meter Relay
===================================================================================
School Seed Finals H# Points
===================================================================================
1 Alamogordo High School 'A' 49.54 49.63 2 10
1) Komolafe, Eniola 2) Esquero, Alyssa
3) Thomas, Sydney 4) Stinson, Yvonne
2 Organ Mountain High School 'A' 51.09 49.90 2 8
3 Clovis High School 'A' 50.77 50.28 2 6
1) Travis, Nariah 2) Batts, Avrie
3) Shreves, Lucy 4) Foggie, Gabrielle
4 Centennial High School 'A' 51.40 50.68 2 4
1) Randazzo, Angelina 2) Barrio, Audrey
3) Duran, Jadyn 4) Gunn, Devyn
5 Mayfield High School 'A' 53.63 52.71 2 2
1) McDonald, Jalyn 2) Gutierrez, Jessi
3) Rogers, Taylor 4) Roberts, Kimberly
6 Santa Teresa High School 'A' 54.83 54.58 2 1
1) Vega, Mia 2) Ortiz, Marissa
3) Mendoza, Esther 4) Portillo, Saile
7 Chaparral High School 'A' 54.59 54.69 1
8 Gadsden High School 'A' 55.56 54.74 1
1) Melendrez, Sarai 2) Sanchez, Stephanie
3) Rios, Karen 4) Hernandez, Victoria
9 Tularosa High School 'A' 56.67 57.06 1
1) Griffin, Maycee 2) Hill, Haylee
3) Voorbach, Haleigh 4) Lindsay, Aubree
-- Las Cruces High School 'A' 50.76 DQ 2
1) Tapia, Leah 2) Padilla, Maya
3) Reinhold, Alegra 4) Barrera, Isabella
Girls 4x200 Meter Relay
===================================================================================
School Seed Finals H# Points
===================================================================================
1 Organ Mountain High School 'A' 1:47.74 1:48.15 2 10
2 Clovis High School 'A' 1:48.31 1:48.30 2 8
1) Batts, Avrie 2) Shreves, Lucy
3) Travis, Nariah 4) Foggie, Gabrielle
3 Las Cruces High School 'A' 1:47.83 1:48.86 2 6
1) Davis, Kassile 2) Noopila, Maija
3) Reinhold, Alegra 4) Barrera, Isabella
4 Centennial High School 'A' 1:48.97 1:49.05 2 4
1) Randazzo, Angelina 2) Gunn, Devyn
3) Duran, Jadyn 4) Barrio, Audrey
5 Alamogordo High School 'A' 1:47.11 1:51.09 2 2
1) Komolafe, Eniola 2) Esquero, Alyssa
3) Thomas, Sydney 4) Vazquez, Abby
6 Mayfield High School 'A' 1:55.25 1:55.15 2 1
1) McDonald, Jalyn 2) Gutierrez, Jessi
3) Kincaid, Ava 4) Thieman, Avery
7 Chaparral High School 'A' 1:54.31 1:55.72 2
8 Santa Teresa High School 'A' 2:01.49 2:00.96 1
1) Ortiz, Marissa 2) Mendoza, Esther
3) Peralta, Laisha 4) Portillo, Saile
9 Tularosa High School 'A' 1:58.87 2:02.68 1
1) Griffin, Maycee 2) Geoff, Sailer
3) Voorbach, Haleigh 4) Hill, Haylee
10 Gadsden High School 'A' 2:02.84 2:04.06 1
1) Hernandez, Victoria 2) Melendrez, Sarai
3) Rios, Karen 4) Varela, Odeth
Girls 4x400 Meter Relay
===================================================================================
School Seed Finals H# Points
===================================================================================
1 Las Cruces High School 'A' 4:14.85 4:16.05 2 10
1) Davis, Kassile 2) Gutierrez, Linette
3) Reinhold, Alegra 4) Barrera, Isabella
2 Alamogordo High School 'A' 4:10.48 4:16.83 2 8
1) Shaklee, Janae 2) Vazquez, Abby
3) Thomas, Sydney 4) Battle, Ellary
3 Organ Mountain High School 'A' 4:14.87 4:19.47 2 6
4 Centennial High School 'A' 4:28.87 4:29.14 2 4
1) Gunn, Devyn 2) Barrio, Audrey
3) Castaneda, Mia 4) Ocampo, Lauren
5 Clovis High School 'A' 4:16.51 4:33.10 2 2
1) Batts, Avrie 2) Travis, Nariah
3) Foggie, Gabrielle 4) Linn, Zoe
6 Tularosa High School 'A' 4:27.32 4:50.72 2 1
1) Griffin, Maycee 2) Hill, Haylee
3) Tripp, Delilah 4) Geoff, Sailer
7 Mayfield High School 'A' 4:49.00 4:53.96 1
1) Aragon, Annika 2) Ortiz, Diyanara
3) Granados, Alyssa 4) Mascorro-Michel, Cecilia
8 Santa Teresa High School 'A' 4:36.27 5:00.53 1
1) Chavez, Emilee 2) Varga, Gabriella
3) Bowron, Elora 4) Mendoza, Esther
Girls 4x800 Meter Relay
================================================================================
School Seed Finals Points
================================================================================
1 Las Cruces High School 'A' 10:56.24 10:30.92 10
1) Barrera, Emma 2) Gutierrez, Linette
3) Nielsen, Lyla 4) Munoz, Joscelyn
2 Alamogordo High School 'A' 10:19.92 10:45.85 8
1) Koehler, Lynley 2) Rodriguez, Natalie
3) Starkovich, Kylin 4) Soe, Saung
3 Clovis High School 'A' 11:26.26 11:30.74 6
1) Gallegos, Kiaya 2) Patton, Nicole
3) Petner, Brynn 4) Salazar-lucero, Jazlyn
4 Organ Mountain High School 'A' 10:57.97 11:34.25 4
5 Mayfield High School 'A' 13:25.18 13:55.31 2
1) Odom, Kylie 2) Ramirez, Gisele
3) Thieman, Avery 4) Lazarin, Layla
Girls High Jump
================================================================================
Name Year School Seed Finals Points
================================================================================
1 Stinson, Yvonne Alamogordo H 5-08.00 5-02.00 7
2 Davis, Kassile Las Cruces H 5-00.00 5-00.00 5
3 Odom, Kylie Mayfield Hig 4-08.00 4-08.00 4
4 Sowards, Claire Mayfield Hig 4-06.00 4-06.00 2
4 Zacarias-Ortiz, Alondra Centennial H 4-08.00 4-06.00 2
4 Lustig, Anniston Centennial H 4-08.00 4-06.00 2
7 Kincaid, Ava Mayfield Hig 4-08.00 J4-06.00
8 Hill, Makaila Organ Mounta 4-00.00 J4-06.00
8 De La Rosa, Amanda Clovis High 4-10.00 J4-06.00
-- Zamora-Travis, Natalia Clovis High 4-06.00 NH
-- Gonzales, Aja Clovis High 4-10.00 NH
-- Fierro, Joselyn Organ Mounta 4-08.00 NH
-- Cuylear, Katrina Las Cruces H 4-06.00 NH
-- Scholljegeraes, Ellie Las Cruces H 4-06.00 NH
-- Sever, Liv Organ Mounta 4-06.00 NH
-- Miller, Ashley Centennial H 4-06.00 NH
-- Oechsner, Caitlynn Alamogordo H 4-06.00 NH
-- Symmons, Sierra Alamogordo H 4-06.00 NH
-- Vega, Mia Santa Teresa 4-08.00 NH
-- Lindsay, Aubree Tularosa Hig 4-02.00 NH
Girls Pole Vault
================================================================================
Name Year School Seed Finals Points
================================================================================
1 McDonald, Jalyn Mayfield Hig 9-06.00 9-06.00 7
2 Moore, Victoria Centennial H 8-00.00 7-06.00 5
3 Fillmore, Marie Alamogordo H 7-00.00 7-00.00 4
4 Fernandez, Gia Organ Mounta 6-06.00 J7-00.00 2.50
4 Noriega, Savanna Deming High 6-06.00 J7-00.00 2.50
6 Holloway, Ava Alamogordo H 6-00.00 6-06.00 0.33
6 Odom, Kylie Mayfield Hig 6-00.00 6-06.00 0.33
6 Davis, Emma Organ Mounta 7-00.00 6-06.00 0.33
-- Parkin, Madison Clovis High 11-00.00 NH
-- Bates, Trezure Alamogordo H 8-06.00 NH
-- Ramirez, Kamilah Santa Teresa 6-06.00 NH
-- Costin, Kylee Organ Mounta NH
-- Long, Jamie Clovis High 8-06.00 NH
-- Bowron, Elora Santa Teresa 6-06.00 NH
Girls Long Jump
================================================================================
Name Year School Seed Finals Points
================================================================================
1 Stinson, Yvonne Alamogordo H 18-07.50 17-02.00 7
2 Barrera, Isabella Las Cruces H 17-07.50 16-07.00 5
3 Esquero, Alyssa Alamogordo H 16-04.00 16-04.00 4
4 Tapia, Leah Las Cruces H 16-09.50 16-01.00 3
5 Miller, Ashley Centennial H 15-03.00 15-03.00 2
6 Kincaid, Ava Mayfield Hig 15-05.00 14-06.00 1
7 Fernandez, Gia Organ Mounta 15-02.00 J14-06.00
8 Vega, Mia Santa Teresa 13-10.00 14-05.75
9 Riordan, Anna Alamogordo H 15-05.50 14-05.25
10 Shreves, Lucy Clovis High 15-05.00 14-02.25
11 Petner, Gizelle Clovis High 14-09.50 14-00.00
11 Griffin, Maycee Tularosa Hig 15-02.00 14-00.00
13 Lustig, Anniston Centennial H 14-05.00 13-10.00
14 Zavala, Emma Organ Mounta 13-03.50 13-07.00
15 Crawford, Charlotte Centennial H 14-00.00 12-10.25
16 Geoff, Sailer Tularosa Hig 12-05.00 12-05.50
17 Munoz, Ana Organ Mounta 12-10.50 12-03.00
18 Aragon, Annika Mayfield Hig 15-05.75 11-10.00
19 Corral, Kaylee Santa Teresa 11-01.50 11-08.00
20 Nevarez, Evangeline Mayfield Hig 10-11.00 11-02.00
21 Kinkade, Liberty Clovis High 10-00.00 11-01.50
-- Johnson, Reilly Tularosa Hig 11-03.25 ND
-- Cuylear, Katrina Las Cruces H 15-01.00 ND
-- Varga, Gabriella Santa Teresa 11-07.50 ND
Girls Triple Jump
================================================================================
Name Year School Seed Finals Points
================================================================================
1 Esquero, Alyssa Alamogordo H 35-10.25 34-03.00 7
2 Koehler, Lynley Alamogordo H 32-06.00 32-06.75 5
3 Griffin, Maycee Tularosa Hig 33-02.50 32-01.50 4
4 Amador, Catrianna Centennial H 29-11.00 30-11.00 3
5 Hill, Haylee Tularosa Hig 31-08.00 J30-11.00 2
6 Riordan, Anna Alamogordo H 32-00.00 30-01.75 1
7 Linn, Zoe Clovis High 31-04.00 29-08.25
8 Fernandez, Gia Organ Mounta 31-02.50 29-06.50
9 Caesar, Mariah Centennial H 28-02.50 28-11.50
10 Granados, Alyssa Mayfield Hig 27-05.50 27-08.00
11 Ortiz, Diyanara Mayfield Hig 28-07.00 26-09.25
12 Ramirez, Giselle Mayfield Hig 23-07.00
-- Travis, Nariah Clovis High 31-05.00 ND
-- Soffera, Shayla Organ Mounta 28-11.00 ND
-- Washington, Keeyana Las Cruces H 28-06.00 ND
-- Munoz, Ana Organ Mounta 29-07.00 ND
-- Foggie, Gabrielle Clovis High 31-07.00 ND
Girls Shot Put
================================================================================
Name Year School Seed Finals Points
================================================================================
1 Pili, Aveolela Centennial H 39-10.50 38-08.00 7
2 Pili, Agalelei Centennial H 38-09.00 38-00.00 5
3 Baca, Victoria Deming High 34-11.00 33-09.50 4
4 Gordon, Teeya Alamogordo H 31-02.00 31-08.00 3
5 Vera, Jacqueline Alamogordo H 32-05.00 30-05.00 2
6 Adams, Rebecca Alamogordo H 29-08.00 29-00.00 1
7 Swift, Emelee Centennial H 30-00.50 28-09.50
8 Sanchez, Bethany Organ Mounta 27-08.00 27-09.00
9 Araujo, April Santa Teresa 28-09.50 27-08.00
10 Evans, Danae Tularosa Hig 28-10.00 27-07.00
11 Bundy, Kaia Mayfield Hig 29-06.00 26-09.50
12 Richmond, Desiree Deming High 24-08.00 26-04.00
13 Abeyta, Gabriela Organ Mounta 28-10.00 26-01.50
14 Kowatch, Angel Tularosa Hig 28-08.00 26-00.00
15 Lonasee, Caitlyn Organ Mounta 27-07.00 25-07.00
16 Chavez, Leah Gadsden High 26-05.00 25-06.50
17 Reyna, Samantha Gadsden High 24-08.50 25-02.00
18 Munoz, Danae Gadsden High 25-02.00 25-01.00
19 Gaston, Layla Tularosa Hig 27-11.00 25-00.00
20 Smith, Xaphire Mayfield Hig 18-01.00 22-08.50
21 Harris, Paige Clovis High 24-03.00 22-07.50
-- Ashida, Lila Las Cruces H 33-00.00 ND
-- Mascorro-Michel, Cecilia Mayfield Hig 27-05.00 ND
Girls Discus Throw
================================================================================
Name Year School Seed Finals Points
================================================================================
1 Pili, Agalelei Centennial H 126-03 120-00 7
2 Vela, Prisila Las Cruces H 04-08.50 110-10 5
3 Ocampo, Lauren Centennial H 124-00 110-01 4
4 Pili, Aveolela Centennial H 124-10 106-00 3
5 Baca, Victoria Deming High 98-01 99-06 2
6 Vera, Jacqueline Alamogordo H 107-07 97-09 1
7 Gaston, Layla Tularosa Hig 82-05 89-10
8 Bundy, Kaia Mayfield Hig 92-03 84-08
9 Fillmore, Ariel Alamogordo H 107-04 82-03
10 Evans, Danae Tularosa Hig 80-09 80-10
11 Lonasee, Caitlyn Organ Mounta 81-00 80-00
12 Gigler, Madison Alamogordo H 85-00 73-00
13 Araujo, April Santa Teresa 74-08 72-00
14 Salopek, Shaylie Las Cruces H 68-10 70-02
15 Sanchez, Bethany Organ Mounta 63-04 68-06
16 Harris, Paige Clovis High 65-02.50 63-11
17 Kowatch, Angel Tularosa Hig 81-04 63-00
18 Smith, Xaphire Mayfield Hig 51-07 55-04
19 Richmond, Desiree Deming High 54-08 55-01
20 Abeyta, Gabriela Organ Mounta 70-03 54-04
21 De La Rosa, Amanda Clovis High 61-10.50 52-00
22 Compeon, Guadalupe Mayfield Hig 48-03 43-07
Girls Javelin Throw
================================================================================
Name Year School Seed Finals Points
================================================================================
1 Munir, Shaolin Organ Mounta 130-11 137-11.50 7
2 Ocampo, Lauren Centennial H 124-00 125-06 5
3 Pili, Aveolela Centennial H 111-04 113-11 4
4 Vera, Jacqueline Alamogordo H 106-03 101-03.50 3
5 Gaston, Layla Tularosa Hig 78-10 99-10 2
6 Swift, Emelee Centennial H 96-03 96-10 1
7 De La Rosa, Amanda Clovis High 84-11 96-05
8 Voorbach, Haleigh Tularosa Hig 77-00 90-05
9 Snead, Madison Las Cruces H 86-09 88-00
10 Lonasee, Caitlyn Organ Mounta 89-07 85-04
11 Sanchez, Stephanie Gadsden High 73-09 84-09.50
12 Almaguer, Samantha Mayfield Hig 87-08 83-00
13 Bundy, Kaia Mayfield Hig 94-01 76-10
14 Fillmore, Ariel Alamogordo H 96-03 74-10
15 Gordon, Teeya Alamogordo H 80-00 66-07
16 Abeyta, Gabriela Organ Mounta 69-06.50 66-05
17 Harris, Paige Clovis High 81-04 57-09
18 Ramos, Desiree Mayfield Hig 72-11 45-07
Boys 100 Meter Dash
===================================================================================
Name Year School Seed Finals H# Points
===================================================================================
1 Majalca, Ivan Deming High 11.29 11.47 5 7
2 Lundien, Deven Centennial H 11.23 11.57 5 5
3 Barela, David Las Cruces H 11.38 11.68 5 4
4 Reza, Joseph Deming High 11.68 11.77 4 3
5 Reyna, Fabian Deming High 11.50 11.84 5 2
6 Rodriguez, Ricky Gadsden High 11.40 11.85 5 1
7 Rios, Misael Santa Teresa 11.81 12.00 4
8 Mejia, Cuauhtemoc Mayfield Hig 11.91 12.01 4
9 Hobbs, Tyson Organ Mounta 11.92 12.08 4
10 Maldonado, Isaiah Organ Mounta 11.91 12.26 4
11 Torres, Anthony Mayfield Hig 11.98 12.32 3
12 Donaghe, Blaine Mayfield Hig 12.03 12.37 3
13 Castellanos, William Chaparral Hi 12.53 12.52 2
14 George, Darius Alamogordo H 12.37 12.56 3
15 Mata, Ruben Las Cruces H 11.92 12.57 4
15 Lewis, TyHeed Alamogordo H 12.41 12.57 2
17 Dominquez, Erik Organ Mounta 12.44 12.60 2
18 Rodriguez, Israel Chaparral Hi 12.43 12.70 2
19 Galindo, Angel Santa Teresa 12.67 12.72 2
20 Hood, Michael Tularosa Hig 12.00 12.75 3
21 Mathis, Kani Tularosa Hig 12.06 12.78 3
22 Vigil, Darien Tularosa Hig 12.11 12.81 3
23 Abeyta, Isaiah Centennial H 11.97 12.84 4
24 Mercado, Esteban Gadsden High 12.53 12.87 2
25 Shock, Adam Alamogordo H 12.59 12.89 2
26 Giron, Allen Las Cruces H 12.33 13.03 3
27 Hawkins, Isaack Santa Teresa 11.13 13.14 5
28 Salazar, Jaime Chaparral Hi 13.09 13.16 1
29 Morales, Silvestre Gadsden High 13.08 13.31 1
Boys 200 Meter Dash
===================================================================================
Name Year School Seed Finals H# Points
===================================================================================
1 Majalca, Ivan Deming High 22.91 23.15 5 7
2 Lopez, Gabriel Organ Mounta 23.70 24.09 5 5
3 Matthews, Casey Mayfield Hig 24.02 24.13 5 4
4 Rodriguez, Ricky Gadsden High 24.78 24.45 4 3
5 Maldonado, Isaiah Organ Mounta 24.96 1 2
6 Cobos, Steven Gadsden High 24.44 25.07 4 1
7 Garcia, David Chaparral Hi 24.08 25.28 5
8 Vigil, Darien Tularosa Hig 25.00 25.48 3
9 Trevizo, Valdemar Mayfield Hig 25.63 25.60 3
10 Shock, Adam Alamogordo H 24.88 25.67 4
11 Rodriguez, Israel Chaparral Hi 25.35 25.88 3
12 Vallejos, Isaiah Centennial H 24.27 25.89 4
13 Lewis, TyHeed Alamogordo H 24.90 25.97 3
14 Mata, Ruben Las Cruces H 25.51 26.12 3
15 Martinez, Cody Mayfield Hig 24.45 26.17 4
16 Lasley, Matthew Las Cruces H 25.67 26.21 2
17 Baca, Xavier Deming High 25.00 26.22 3
18 Balderama, Diego Alamogordo H 25.00 26.27 3
19 Mercado, Esteban Gadsden High 25.92 26.72 2
20 Salazar, Jaime Chaparral Hi 26.60 26.80 2
21 Alvarez, Michael Santa Teresa 26.18 26.98 2
22 Giron, Allen Las Cruces H 25.82 26.99 2
23 Mendoza, Luis Santa Teresa 27.05 27.26 1
24 Umphress, Jonathan Centennial H 26.98 28.29 2
Boys 400 Meter Dash
===================================================================================
Name Year School Seed Finals H# Points
===================================================================================
1 Limon, James Organ Mounta 51.69 51.89 4 7
2 Pineda, Alexander Centennial H 51.73 53.06 4 5
3 Enriquez, Omar Alamogordo H 53.03 54.13 4 4
4 Barraza, Matthew Tularosa Hig 54.23 54.77 3 3
5 Ortiz, Christian Centennial H 53.58 54.88 4 2
6 Monsivaiz, Robert Mayfield Hig 54.09 54.96 3 1
7 Bynum, Amaryon Alamogordo H 54.83 55.24 3
8 Leyva, Nohi Organ Mounta 55.38 55.44 3
9 Gilliland, Colton Tularosa Hig 53.18 55.46 4
10 Reyes, Isaiah Tularosa Hig 53.14 56.15 4
11 Felix, Salvador Mayfield Hig 56.25 56.47 3
12 Miller, Kristian Organ Mounta 55.80 56.83 3
13 Mercado, Joseph Gadsden High 57.15 56.88 2
14 Guadalupe, Gabriel Alamogordo H 56.88 57.96 2
14 Bernal, Eric Las Cruces H 56.87 57.96 3
16 Martinez, Andre Las Cruces H 58.17 58.47 2
17 Vargas, Enzi Santa Teresa 59.99 58.93 2
18 Lara, Nathan Centennial H 1:04.61 59.03 1
19 Muniz, Rudy Gadsden High 57.79 1:00.69 2
20 Torres, Adrian Chaparral Hi 59.43 1:00.86 2
21 Talavera, Zachary Gadsden High 1:02.68 1:02.13 1
22 Gurule, Xavier Las Cruces H 59.81 1:02.49 2
23 Martinez, Nicholas Santa Teresa 1:02.74 1:02.94 1
Boys 800 Meter Run
===================================================================================
Name Year School Seed Finals H# Points
===================================================================================
1 Wisner, Jeron Organ Mounta 2:04.66 2:04.17 2 7
2 Enriquez, Omar Alamogordo H 2:09.38 2:06.84 2 5
3 Padilla, Gustavo Gadsden High 2:09.45 2:09.02 2 4
4 Ratliff, Logan Santa Teresa 2:09.55 2:09.78 2 3
5 Parks, Andrew Organ Mounta 2:08.95 2:10.32 2 2
6 Au, Esau Deming High 2:10.93 1 1
7 Lara, Aaron Centennial H 2:16.26 2:11.95 2
8 Jarry, Jotham Centennial H 2:15.62 2:12.45 2
9 Hernandez, Joaquin Mayfield Hig 2:16.16 2:12.79 2
10 Quintero, Adrian Chaparral Hi 2:11.50 2:16.67 2
11 Torres, Jonthan Organ Mounta 2:35.15 2:16.73 1
12 Maes, Gavin Tularosa Hig 2:15.79 2:23.18 2
13 Valdez, Jonathan Las Cruces H 2:26.01 2:23.46 1
14 Galicia, Javier Gadsden High 2:27.20 2:23.49 1
15 Epperson, Anthony Centennial H 2:34.96 2:24.76 1
16 Chavez, Ethan Las Cruces H 2:31.10 2:24.78 1
17 Casares, Cayden Alamogordo H 2:23.22 2:26.08 1
18 Talavera, Zachary Gadsden High 2:28.62 2:28.13 1
19 Bond, Thomas Alamogordo H 2:12.23 2:31.85 2
20 Torres, Adrian Chaparral Hi 2:34.25 2:32.62 1
Boys 1600 Meter Run
================================================================================
Name Year School Seed Finals Points
================================================================================
1 Coombs, Corbin Organ Mounta 4:42.25 4:29.63 7
2 Bybee, Brett Organ Mounta 4:35.81 4:32.14 5
3 Garcia, Celso Alamogordo H 4:39.11 4:35.87 4
4 Rios, Dax Centennial H 4:55.73 4:56.58 3
5 Parks, Andrew Organ Mounta 4:46.62 4:56.65 2
6 Rogers, Eaven Centennial H 4:48.14 5:01.67 1
7 Kotter, Gabe Alamogordo H 5:19.00 5:21.78
8 Hallbeck, Jack Alamogordo H 5:32.83 5:21.80
9 Quintero, Adrian Chaparral Hi 5:18.73 5:23.16
10 leachman, pierce Las Cruces H 5:32.34 5:31.47
11 Epperson, Anthony Centennial H 5:22.10 5:34.24
12 Navarro, Christopher Chaparral Hi 5:44.63 5:41.93
13 Chavez, Ethan Las Cruces H 5:40.78 5:48.31
14 Pichardo, Owen Santa Teresa 6:00.78 5:48.89
15 Carlos, Damian Santa Teresa 5:59.24 5:53.34
16 Montoya, Levi Las Cruces H 5:52.92 5:59.46
17 Zuniga, Fabian Mayfield Hig 5:56.66 5:59.73
18 Galicia, Javier Gadsden High 5:35.96 6:03.51
19 Mendoza, Sergio Gadsden High 6:41.47 6:38.42
Boys 3200 Meter Run
================================================================================
Name Year School Seed Finals Points
================================================================================
1 Bybee, Brett Organ Mounta 9:57.78 9:59.93 7
2 Coombs, Corbin Organ Mounta 10:13.40 10:02.13 5
3 Garcia, Celso Alamogordo H 9:54.90 10:04.42 4
4 Wisner, Jeron Organ Mounta 10:33.33 10:21.11 3
5 Widner, Ben Las Cruces H 10:25.69 10:40.85 2
6 Avila, Angel Alamogordo H 10:37.47 10:59.67 1
7 Krizek, Matthew Las Cruces H 10:34.94 11:05.47
8 Rios, Dax Centennial H 10:25.63 11:13.53
9 Rutherford, Liam Centennial H 11:54.23 11:38.06
10 Pederson, Tristan Alamogordo H 12:08.78 12:13.89
11 Navarro, Christopher Chaparral Hi 12:40.60 12:35.41
12 Pichardo, Owen Santa Teresa 13:02.24 12:40.05
13 leachman, pierce Las Cruces H 15:02.00 12:41.32
14 Medina, Onni Centennial H 13:21.10 13:38.74
Boys 110 Meter Hurdles
===================================================================================
Name Year School Seed Finals H# Points
===================================================================================
1 Sell, Zack Alamogordo H 15.96 16.00 3 7
2 Sell, Matthew Alamogordo H 16.69 16.91 3 5
3 Mitchell, Aiden Centennial H 17.96 17.69 3 4
4 Runyan, Cole Centennial H 19.04 17.88 2 3
5 Ortega, Angel Deming High 17.35 18.08 3 2
6 Wallace, Allen Las Cruces H 18.58 18.91 2 1
7 Hernandez, Daniel Centennial H 17.44 18.92 3
8 Baeza, Isaac Deming High 17.96 19.02 3
9 Del Ferraro, Trevon John Organ Mounta 18.14 19.25 2
10 Vasquez, Erick Gadsden High 19.05 19.60 2
11 Gonzalez, Andrew Santa Teresa 19.91 1
12 Chavez, Ismael Gadsden High 19.45 20.01 2
13 Carreon, Abraham Gadsden High 20.21 21.06 1
14 Uranga, Adrian Santa Teresa 20.65 21.57 1
15 Luna, Emmanuel Santa Teresa 22.56 21.92 1
-- Baca, Jaden Organ Mounta 20.09 DQ 2
Boys 300 Meter Hurdles
===================================================================================
Name Year School Seed Finals H# Points
===================================================================================
1 Sell, Zack Alamogordo H 42.25 42.34 3 7
2 Mitchell, Aiden Centennial H 43.26 43.42 3 5
3 Del Ferraro, Trevon John Organ Mounta 42.37 43.86 3 4
4 Wallace, Allen Las Cruces H 43.36 44.71 3 3
5 Ortega, Isreal Tularosa Hig 46.14 45.96 2 2
6 Vasquez, Erick Gadsden High 47.30 46.36 2 1
7 Runyan, Cole Centennial H 46.44 1
8 Sell, Matthew Alamogordo H 44.70 46.54 2
9 Sifuentes, JonHenry Alamogordo H 48.54 46.72 2
10 Hernandez, Daniel Centennial H 44.51 47.46 3
11 Uranga, Adrian Santa Teresa 47.88 49.31 2
12 Marquez, Sean Chaparral Hi 49.36 49.32 1
13 Carreon, Abraham Gadsden High 50.62 52.53 1
14 Monarrez, Luis Chaparral Hi 51.35 52.85 1
15 Dominquez, Erik Organ Mounta 43.37 53.07 3
16 Gonzalez, Andrew Santa Teresa 56.67 1
17 Luna, Emmanuel Santa Teresa 53.86 57.03 1
Boys 4x100 Meter Relay
===================================================================================
School Seed Finals H# Points
===================================================================================
1 Centennial High School 'A' 44.07 43.54 2 10
1) Gutierrez, Mikah 2) Ortiz, Christian
3) Vallejos, Isaiah 4) Lundien, Deven
2 Organ Mountain High School 'A' 43.86 43.57 2 8
3 Deming High School 'A' 44.60 43.75 2 6
4 Las Cruces High School 'A' 44.66 44.61 2 4
1) Hamilton, Chris 2) Banda, German
3) Keonog, William 4) Barela, David
5 Mayfield High School 'A' 45.60 45.24 2 2
1) Mejia, Cuauhtemoc 2) Donaghe, Blaine
3) Torres, Anthony 4) Orona, Kevin
6 Tularosa High School 'A' 45.73 45.60 2 1
1) Gilliland, Colton 2) Mathis, Kani
3) Ortega, Isreal 4) Reyes, Isaiah
7 Chaparral High School 'A' 47.51 46.27 1
8 Gadsden High School 'A' 45.86 46.36 2
1) Cobos, Steven 2) Rodriguez, Ricky
3) Mercado, Esteban 4) Mercado, Joseph
9 Alamogordo High School 'A' 46.01 46.49 1
1) Lewis, TyHeed 2) Dalmas, Isaiah
3) Sifuentes, JonHenry 4) Bynum, Amaryon
10 Santa Teresa High School 'A' 46.76 46.87 1
1) Hawkins, Isaack 2) Galindo, Angel
3) Ratliff, Logan 4) Rios, Misael
Boys 4x200 Meter Relay
===================================================================================
School Seed Finals H# Points
===================================================================================
1 Organ Mountain High School 'A' 1:31.99 1:33.37 2 10
2 Mayfield High School 'A' 1:35.61 1:34.96 2 8
1) Mejia, Cuauhtemoc 2) Donaghe, Blaine
3) Orona, Kevin 4) Torres, Anthony
3 Centennial High School 'A' 1:34.00 1:36.89 2 6
1) Vallejos, Isaiah 2) Mitchell, Aiden
3) Hernandez, Daniel 4) Ornelas, Arturo
4 Alamogordo High School 'A' 1:36.91 1:37.72 2 4
1) Shock, Adam 2) Sell, Zack
3) Dalmas, Isaiah 4) Sifuentes, JonHenry
5 Deming High School 'A' 1:33.48 1:39.23 2 2
6 Chaparral High School 'A' 1:39.68 1:39.48 1 0.50
6 Tularosa High School 'A' 1:37.93 1:39.48 2 0.50
1) Barraza, Matthew 2) Maes, Gavin
3) Mathis, Kani 4) Vigil, Darien
8 Santa Teresa High School 'A' 1:43.31 1:44.55 1
1) Alvarez, Michael 2) Barceleau, Andrew
3) Urueta, Fabian 4) Mendoza, Luis
9 Gadsden High School 'A' 1:42.10 1:47.01 1
1) Orozco, Christopher 2) Morales, Silvestre
3) Gonzales, Christian 4) Gallegos, Angel
-- Las Cruces High School 'A' 1:35.24 DQ 2
1) Kapkirwok, Denzel 2) Banda, German
3) Keonog, William 4) Barela, David
Boys 4x400 Meter Relay
===================================================================================
School Seed Finals H# Points
===================================================================================
1 Organ Mountain High School 'A' 3:36.12 3:32.46 2 10
2 Alamogordo High School 'A' 3:36.01 3:37.23 2 8
1) Dalmas, Isaiah 2) Sell, Zack
3) Bynum, Amaryon 4) Enriquez, Omar
3 Centennial High School 'A' 3:34.79 3:42.44 2 6
1) Ortiz, Christian 2) Lundien, Deven
3) Ornelas, Arturo 4) Pineda, Alexander
4 Mayfield High School 'A' 3:43.76 3:45.56 2 4
1) Lujan, Chandler 2) Matthews, Casey
3) Hernandez, Joaquin 4) Saenz, Felix
5 Las Cruces High School 'A' 3:41.98 3:48.86 2 2
1) Banda, German 2) Wallace, Allen
3) Bernal, Eric 4) Hamilton, Chris
6 Tularosa High School 'A' 3:45.12 3:51.91 2 1
1) Barraza, Matthew 2) Gilliland, Colton
3) Ortega, Israel 4) Reyes, Isaiah
7 Santa Teresa High School 'A' 4:10.59 4:28.21 1
1) Navarrete, Leonardo 2) Vargas, Enzi
3) Luna, Emmanuel 4) Gonzalez, Andrew
Boys 4x800 Meter Relay
================================================================================
School Seed Finals Points
================================================================================
1 Centennial High School 'A' 8:38.31 8:31.80 10
1) Rios, Dax 2) Ornelas, Arturo
3) Rogers, Eaven 4) Pineda, Alexander
2 Alamogordo High School 'A' 8:36.75 8:40.83 8
1) Bond, Thomas 2) Kotter, Gabe
3) Avila, Angel 4) Dalmas, Isaiah
3 Las Cruces High School 'A' 9:10.81 9:01.25 6
1) Krizek, Matthew 2) salopek, jason
3) Widner, Ben 4) Weir, Levi
4 Organ Mountain High School 'A' 8:22.80 9:07.58 4
5 Gadsden High School 'A' 9:52.28 10:31.17 2
1) Talavera, Zachary 2) Muniz, Rudy
3) Andrade, Alfredo 4) Carpio, Gael
Boys High Jump
================================================================================
Name Year School Seed Finals Points
================================================================================
1 Smith, Davion Mayfield Hig 6-02.00 6-03.00 7
2 Pineda, Alexander Centennial H 5-10.00 5-08.00 5
3 Hobbs, Tyson Organ Mounta 5-10.00 5-06.00 3.50
3 Riverra, Dorian Organ Mounta 6-02.00 5-06.00 3.50
5 Mendoza, Aidan Organ Mounta 5-02.00 J5-06.00 2
6 Flores, Josh Mayfield Hig 5-06.00 5-04.00 0.50
6 Runyan, Cole Centennial H 5-04.00 5-04.00 0.50
8 Jaquez, Aidan Deming High 5-00.00 J5-04.00
9 Sell, Matthew Alamogordo H 5-08.00 J5-04.00
-- Barreza, Diego Las Cruces H 5-08.00 NH
-- Sell, Zack Alamogordo H 6-00.00 NH
-- Uranga, Adrian Santa Teresa 5-00.00 NH
-- Kotter, Gabe Alamogordo H 6-00.00 NH
-- Kapkirwok, Denzel Las Cruces H NH
Boys Pole Vault
================================================================================
Name Year School Seed Finals Points
================================================================================
1 Torres, Jonthan Organ Mounta 13-06.00 13-09.00 7
2 Marquez, Joey Alamogordo H 12-00.00 12-06.00 5
3 Runyan, Cole Centennial H 11-03.00 12-00.00 4
4 Hamilton, Chris Las Cruces H 11-09.00 11-06.00 3
5 Whitelock, Paul Centennial H 12-06.00 J11-06.00 2
6 Mitchell, Aiden Centennial H 9-09.00 10-00.00 0.50
6 Ochoa, William Alamogordo H 10-06.00 10-00.00 0.50
8 Melendrez, Xavier Alamogordo H 10-00.00 9-06.00
9 Perez, Josef Organ Mounta 9-00.00
-- Bason, Elijah Organ Mounta NH
-- Farano, Michael Deming High 7-06.00 NH
-- Barceleau, Andrew Santa Teresa NH
-- Hawkins, Isaack Santa Teresa 8-06.00 NH
-- Ratliff, Logan Santa Teresa 12-00.00 NH
Boys Long Jump
================================================================================
Name Year School Seed Finals Points
================================================================================
1 Chavez, Nathanyal Organ Mounta 20-06.50 20-04.00 7
2 Ortiz, Christian Centennial H 19-05.00 19-08.25 5
3 Pineda, Alexander Centennial H 19-07.50 4
4 Rue, Jevon Mayfield Hig 19-06.00 19-02.50 3
5 Vasquez, Erick Gadsden High 17-07.00 19-00.00 2
6 Rios, Rudy Centennial H 20-01.00 J19-00.00 1
7 Trevizo, Valdemar Mayfield Hig 17-11.00 18-04.75
8 Barraza, Matthew Tularosa Hig 19-00.50 18-00.75
9 Luna, Matthew Santa Teresa 18-09.50 17-09.50
10 Barreza, Diego Las Cruces H 17-03.50 17-08.75
10 Vigil, Darien Tularosa Hig 17-04.00 17-08.75
12 Guadalupe, Gabriel Alamogordo H 18-05.00 17-04.50
13 Lewis, TyHeed Alamogordo H 18-05.50 17-02.75
14 Zavala, Gabriel Organ Mounta 17-00.00 16-10.50
14 Miller, Kristian Organ Mounta 17-02.00 16-10.50
16 Uranga, Adrian Santa Teresa 16-09.75 16-06.00
17 Sifuentes, JonHenry Alamogordo H 17-00.00 16-02.50
18 Carreon, Abraham Gadsden High 16-08.00 15-11.75
19 Munoz-Fernandez, Anthony Mayfield Hig 16-04.50 15-05.50
20 Gurule, Xavier Las Cruces H 15-02.50
21 Galindo, Angel Santa Teresa 15-01.00
-- Ramirez, Marcos Deming High 15-02.00 ND
-- Kapkirwok, Denzel Las Cruces H 16-10.00 ND
Boys Triple Jump
================================================================================
Name Year School Seed Finals Points
================================================================================
1 Hernandez, Daniel Centennial H 39-06.25 7
2 Hobbs, Tyson Organ Mounta 41-06.00 39-03.50 5
3 Bynum, Amaryon Alamogordo H 39-10.50 38-10.50 4
4 Beasley, David Centennial H 38-07.00 3
5 Gilliland, Colton Tularosa Hig 39-00.00 37-10.25 2
6 Ortega, Israel Tularosa Hig 38-08.00 37-09.00 1
7 Trevizo, Valdemar Mayfield Hig 37-00.25 37-05.75
8 Barreza, Diego Las Cruces H 37-02.00 36-09.50
9 Maes, Gavin Tularosa Hig 37-09.00 35-05.50
10 Padillia, Diego Organ Mounta 34-10.25 35-03.25
11 Martinez, Andre Las Cruces H 34-07.50 35-01.25
12 Parra, Alekzaiah Gadsden High 37-04.50 34-01.25
13 Miller, Kristian Organ Mounta 34-00.00 33-04.50
14 Dalmas, Isaiah Alamogordo H 34-06.25 33-02.00
15 Zubia, Ever Las Cruces H 34-03.50 33-00.25
16 Luna, Matthew Santa Teresa 32-09.00
17 Carranza, Adrian Santa Teresa 29-05.00 28-01.75
-- Chavez, Daniel Mayfield Hig 34-02.00 ND
-- Aguilar, Isaac Centennial H 36-03.50 ND
Boys Shot Put
================================================================================
Name Year School Seed Finals Points
================================================================================
1 Ortiz, Ian Deming High 47-10.00 47-02.00 7
2 Abeyta, Diego Organ Mounta 44-06.75 44-08.00 5
3 Holland, Julian Centennial H 43-08.00 43-04.50 4
4 Hensley, Ezra Deming High 42-02.00 43-03.50 3
5 Kennedy, Christian Alamogordo H 42-05.00 42-05.00 2
6 Moreno, Isaiah Chaparral Hi 38-09.00 41-01.00 1
7 Ramirez, Marcos Deming High 40-02.00 40-10.00
8 Martinez, Jeremiah Tularosa Hig 40-07.50 40-04.00
9 Cojo, Koy Tularosa Hig 40-07.00 39-07.00
10 Lopez, Nathaniel Gadsden High 40-05.00 38-11.00
11 Gonzalez, Izaiah Centennial H 36-11.00 38-05.00
12 Ibarra, Isaiah Organ Mounta 38-00.00 37-05.50
13 Franz, Keith Mayfield Hig 42-02.00 37-02.00
13 Myers, Sam Alamogordo H 35-02.00 37-02.00
15 Flores, Aaron Gadsden High 35-10.50 36-09.50
16 Mendez, Jayden Tularosa Hig 37-08.00 36-08.00
17 Arellano, Alejandro Santa Teresa 39-05.00 36-07.00
18 Bleimeyer, Andrew Mayfield Hig 36-07.00 35-06.00
19 Arenas, Khalif Centennial H 32-08.00 35-01.00
20 Ortiz, Daniel Mayfield Hig 33-03.50 33-09.50
21 Tarrango, Stephen Organ Mounta 36-00.00 33-08.50
22 Monarrez, Luis Chaparral Hi 30-00.00 31-09.00
23 Hernandez, Jose Gadsden High 35-00.00 30-11.00
24 Porras, Danial Santa Teresa 31-02.00 30-01.00
25 Coyazo, Jozziah Alamogordo H 27-03.00 27-01.00
26 Hernandez, Jesus Chaparral Hi 27-01.00 24-08.00
Boys Discus Throw
================================================================================
Name Year School Seed Finals Points
================================================================================
1 Ortiz, Ian Deming High 133-00 139-02 7
2 Kennedy, Christian Alamogordo H 143-07 133-06 5
3 Montano, Julein Centennial H 110-04 120-08 4
4 Bleimeyer, Andrew Mayfield Hig 131-10 120-05 3
5 Sell, Matthew Alamogordo H 117-02 118-11 2
6 Perez, Thomas Centennial H 13-00.50 115-09 1
7 Alley, Kash Las Cruces H 11-10.50 115-03
8 Cojo, Koy Tularosa Hig 111-06 108-09
9 Martinez, Jeremiah Tularosa Hig 113-08 108-02
10 Abeyta, Diego Organ Mounta 110-04 106-05
11 Mendez, Jayden Tularosa Hig 115-06 104-02
12 Fiest, Ashton Las Cruces H 104-04 103-04
13 Hensley, Ezra Deming High 112-04 100-01
14 Ramirez, Marcos Deming High 114-03 99-02
15 Ortiz, Daniel Mayfield Hig 83-08 98-09
16 Villalobos, David Mayfield Hig 88-11 90-05
17 Coyazo, Jozziah Alamogordo H 95-00 87-05
18 Carter, Sincere Centennial H 99-01 84-11
19 Hernandez, Jesus Chaparral Hi 82-05 83-03
20 Navarez, Luis Las Cruces H 85-06 81-11
21 Wilson, Thomas Organ Mounta 85-07 80-00
22 Salas, Devon Gadsden High 81-07 77-00
23 Guerra, Jorge Chaparral Hi 76-06 74-00
24 Ortiz, Nathan Organ Mounta 103-06 71-08
25 Porras, Danial Santa Teresa 75-10 71-02
26 Barreto, Evan Gadsden High 61-04.50 59-05
-- Carbajal, Chris Chaparral Hi 111-08 ND
-- Bowron, Jaxon Santa Teresa 80-07.50 ND
-- Luna, Matthew Santa Teresa 80-02 ND
-- Lopez, Nathaniel Gadsden High 100-00 ND
Boys Javelin Throw
================================================================================
Name Year School Seed Finals Points
================================================================================
1 Bowen, Jimmy Alamogordo H 133-00 153-09 7
2 Bowron, Jaxon Santa Teresa 140-06 143-08 5
3 Garcia, Ali Alberto Organ Mounta 157-08 143-01 4
4 Burgos, Silverio Las Cruces H 129-07 140-06 3
5 Runyan, Cole Centennial H 120-00 137-07 2
6 Davis, Zaiden Centennial H 113-03 136-07 1
7 Kazhe, Seth Tularosa Hig 146-06 130-03
8 Chaiera, Omar Las Cruces H 132-02 127-04
9 Hernandez, Daniel Centennial H 135-07 122-06
10 Luna, Matthew Santa Teresa 125-05 120-10.50
11 Estrada, Aaron Gadsden High 135-00 117-10
12 Hanway, Esau Organ Mounta 113-02 113-02
13 Zoha, Frank Alamogordo H 110-01 110-04
14 Varela, Eduardo Organ Mounta 122-10 110-03.50
15 Monarrez, Luis Chaparral Hi 04-05.50 105-10.50
16 Carbajal, Chris Chaparral Hi 91-10 105-07
17 Navarrete, Leonardo Santa Teresa 113-04 104-00
18 Kennedy, Christian Alamogordo H 109-00 101-10.50
19 Thieman, Benjamin Mayfield Hig 103-06 100-07
20 Hererra, Robert Mayfield Hig 104-05 98-02
21 Guerra, Jorge Chaparral Hi 75-02 91-11
22 Lujan, Joseph Las Cruces H 104-06 90-02
23 Cojo, Koy Tularosa Hig 105-00 84-05
24 Zuniga, Fabian Mayfield Hig 90-02 78-06