AlamogordoTownNews.com Critics Review MARIACHI CHRISTMAS at Flickinger Center
Image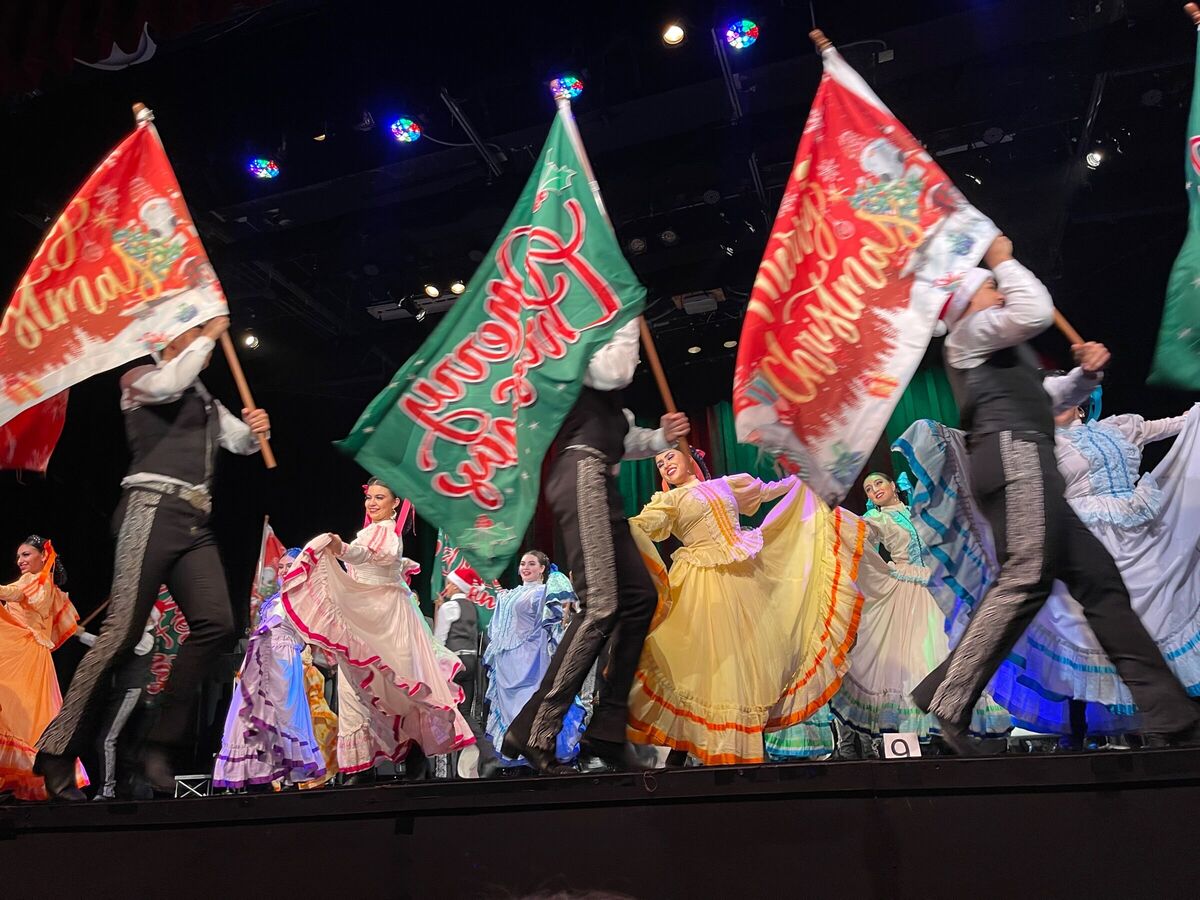 9:30 am Wednesday, December 15th, 2021 928 New York Avenue, the shop owners are opening their doors and suddenly a stream of 150 excited elementary school kids and their escorts steam by on their way to the Flickinger Center for the Performing Arts.
A  part of the mission of this fine performance arts venue is to educate and to expose the children of Otero County to the world best in entertainment via student outreach programs by visiting artists.
This group of streaming kids, along with several bus loads from area schools to include several public and private schools in Alamogordo,  Tularosa and the Mescalero Apache schools were treated to an abridged version of the sold out performance from last evening of UNIVERSITY OF TEXAS RIO GRANDE VALLEY's Mariachi Christmas program.
These approximately 300 plus lucky students were treated for FREE to an educational outreach program which was entertainment, a celebration of the arts of music and dance and carried a moral message of hope from the holiday season.
This writer went to the Flickinger Center, this morning, first hand to witness an audience full of children cheering and in awe of the wonderful visuals and sounds before them.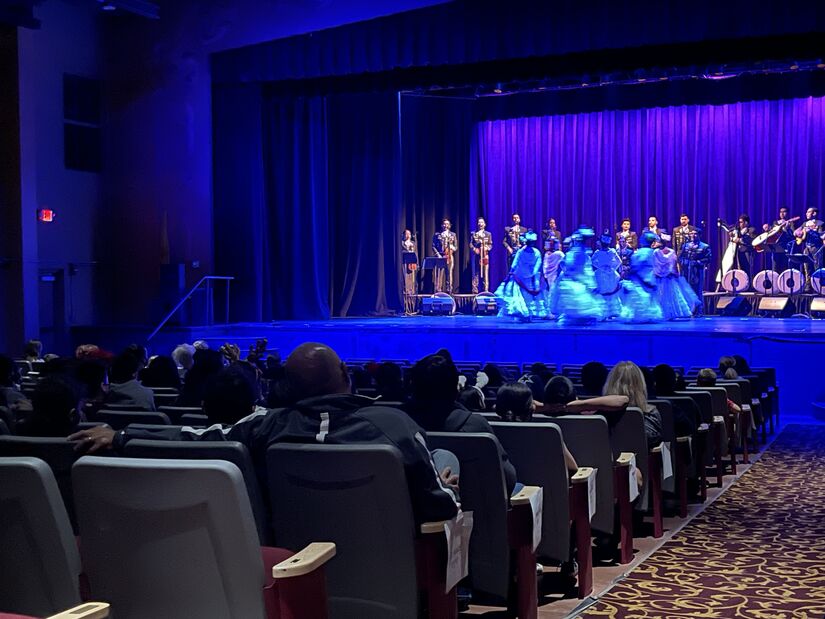 Having attended last nights sold out performance this writer and critic was ecstatic to see the children of our community exposed to this culturally important show that celebrated the diversity of our community through a cultural program that educated and entertained.
As an individual that has served on a boards of cultural organizations in other states and has attended 1000s of plays, musicals and concerts over the decades, I was thrilled with the performance of last evening and that Alamogordo has the treasure of the Flickinger Center and the foresight to host this quality of entertainment for it's citizens.
It provided me hope for the future to see a venue filled to the rim with locals cheering on quality entertainment.
The performers on stage that brought the audience to smiles included…
Francisco Loera - Director
VIOLINS
Alex Treviño II, Student Assistant Director
Nathan Fernández
Joel Sánchez
Alexis Pérez
Joe Flores
Priscilla Espinoza
Kassandra Juárez
Samantha Marín
TRUMPETS
Eduardo A. Martínez
Carlos I Toledo
Neri Fuentes
Jesús Villegas
- Guitarrón
Rodolfo de Santiago
- Vihuela
Luis Ángel Chávez
- Guitar
Pedro García III
Alejandro Vázquez
Natalie Carmona
- Harp
Jacob Contador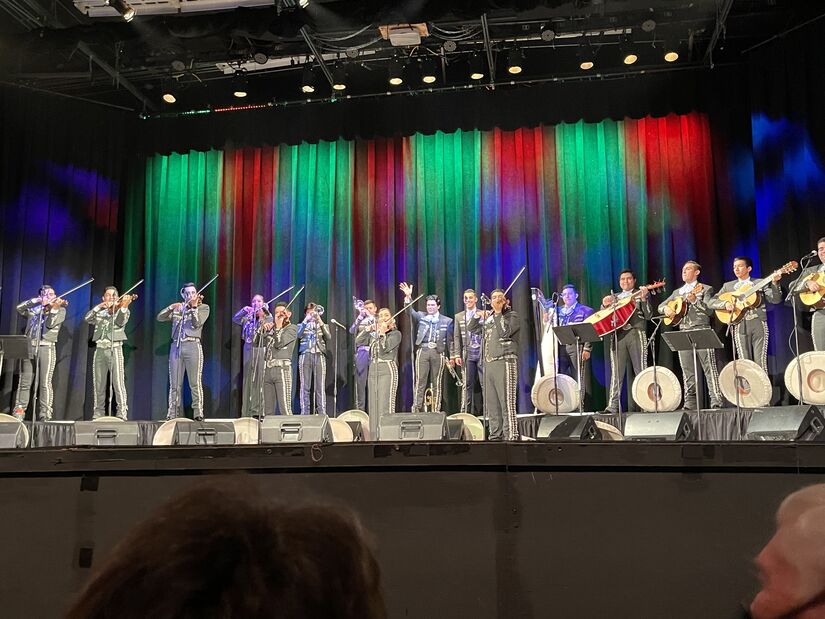 The program was partly a history lesson, partly a celebration of the various regions of Mexico and a lesson of hope and inspiration provided by the hope of Christmas.
The program was intense, dynamic, colorful and entertaining and all about music and dance.
The PROGRAM began with 
"MEXIKATL"
"Cuando Mexico Canta"/"Viva Mexico","Ay Mi Mexico" this was an awesome display of dance showcasing the culture of Spanish dance in competition with Aztec dance. This dance was a haunting reminder of the European influence over the Aztecs but showcased and made a touching point via dance.
The program continued with…
"Por Las Calles de Chihuahua", "Amor Eterno"
EL CHARRO MEXICANO
Popurri A Los Charros
"El Charro Mexicano", "Jorge Torres", "El Coleadero",
"El Caporal de Chihuahua"
"La Charreada"
"El Toro Relajo
"Cuando Yo Quiera Has De Volver", "Un Mundo Raro"
NAVIDAD MEXICANA
"Xochipitzahuatl"-Procession, "Popurri de Las Mañanitas", "Ave María", "Noche de Paz", "Las Posadas", Nacimiento, "Que Niño es Ese", "Los Tres Reyes Magos" "El Niño del Tambor",  Juego de Niños y Piñata
INTERMISSION
VERACRUZ
"La Bruja", "Mara Chuchena", "El Colas"
"México Lindo"/ "Amo Esta Tierra", "El Día Que Me Quieras", "Flor Sin Retoño"/"Amorcito Corazón"
JALISCO
"Las Olas, "La Negra", "La Culebra"
Popurri a Jose Alfredo Jimenez
"Ella", "Si Nos Dejan", "La Que Se Fue", "El Rey",
"Yo Te Extrañare",
"El Siete Leguas"
CHRISTMAS CAROLS
"Sleigh Ride"
"Rudolph the Red Nose Reindeer"
"White Christmas"
"Feliz Navidad
The program took the audience on a cultural tour of Mexico traveling via song and dance to Chihuahua, Xochipitzahuatl, Veracruz, Jalisco and beyond. 
Most of the musicians treated the audience to the talents of their instruments, but also with song and voices that radiated the audience to smiles and thundering applause.
Each musician had talent but the vocals of Natalie Carmona stood out for her command of the microphone, her perfect tone and her ability to belt a tune out with little effort and a huge smile. Keep an eye on this young lady, remember her name and the beauty of her voice; we will see her on the charts as a professional very soon!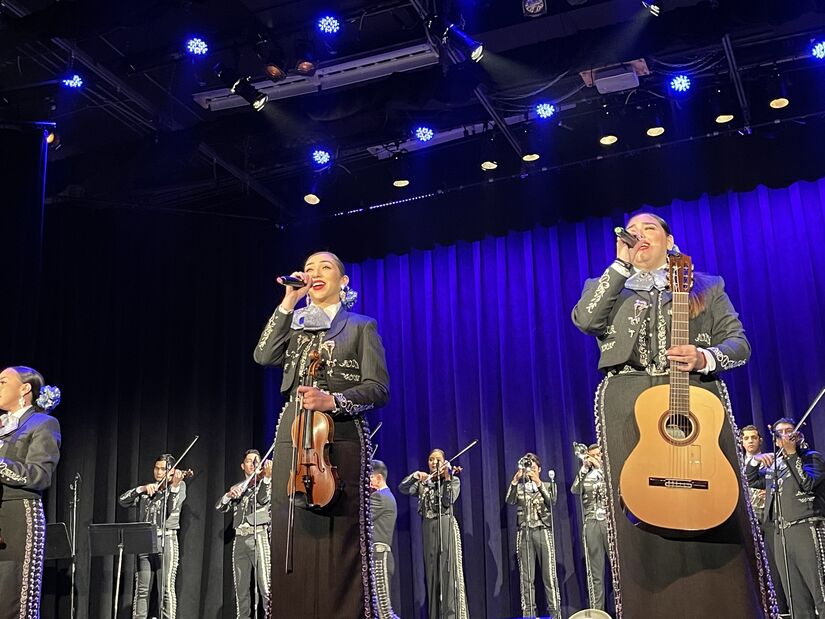 After the intermission the audience was moved with a tearful celebration of life through song in honor of the 100s of thousands that have died of Covid-19. The tears and cracking emotional voice of Jacob Contador and his accompaniment made for an audience that could feel the passion and raw emotion.
Complementing the Marachi troupe was the dance troupe of BALLET FOLKLÓRIO UNIVERSITY OF TEXAS RIO GRANDE VALLEY, a thirty four member company comprised of University students who are pursing degrees in a variety of disciplines. The Ballet presents student and public concerts annually and travels to present programs for local, state, national and international private and public events. The Ballet was previously honored as one of ten top choreographies presented for adjudication at the American College of Dance Festival. In 2012, 2014, 2016 and 2018 Ballet Folklórico UTRGV won national recognition at the biennial National College Dance Festival held at the JFK Center for the Performing Arts in Washington, DC and these honors were on full display at last nights performance.
From awesome choreography, that kept the audience at the edge of their seats, to the vibrancy and beauty of the colorful costuming these professionals did not disappoint.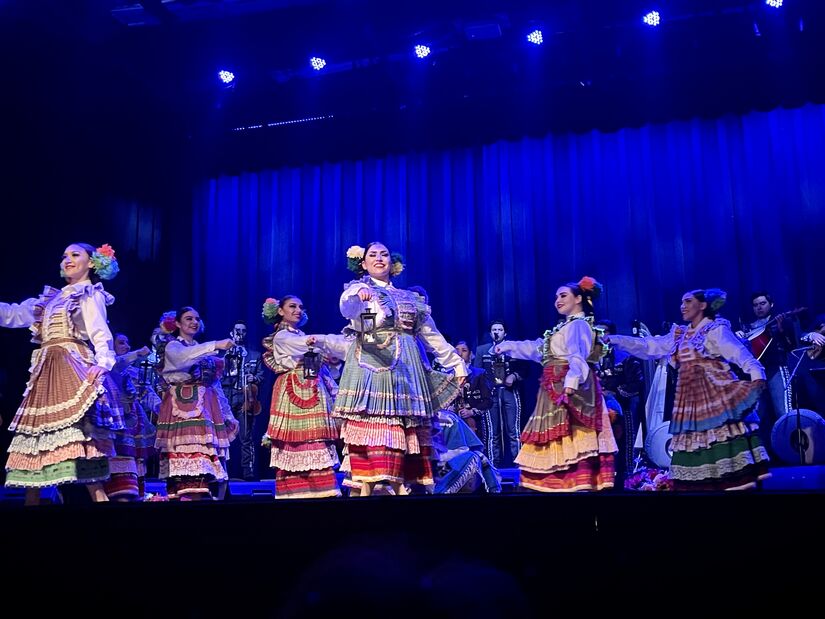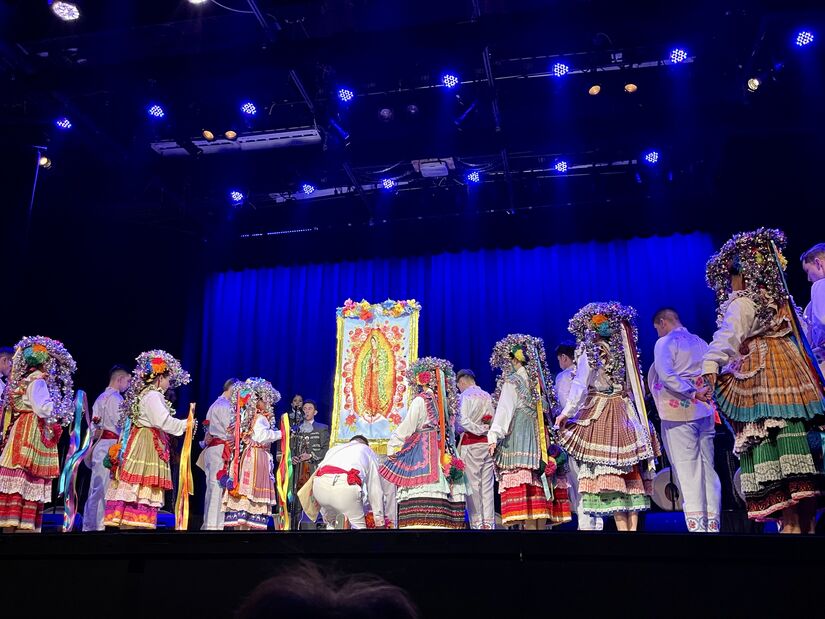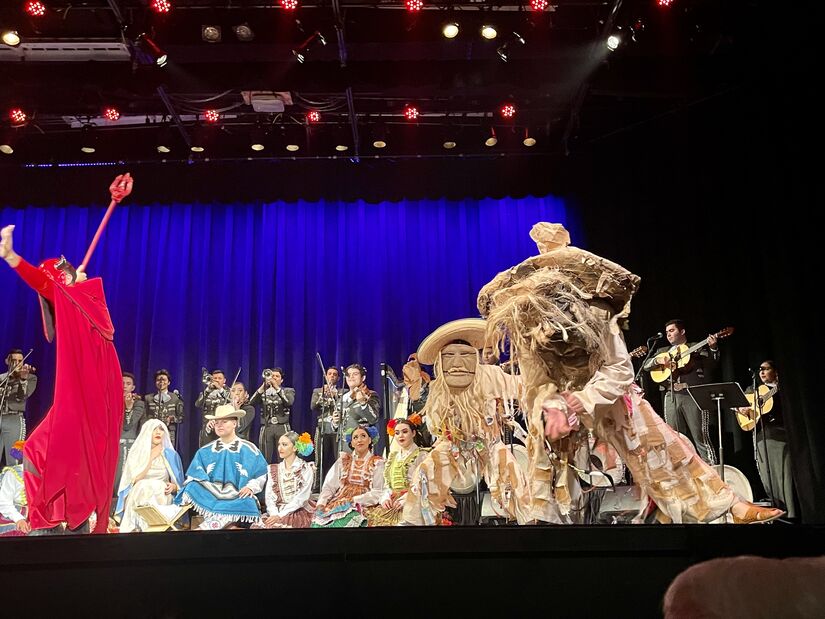 BALLET FOLKLÓRICO Under the direction of MIGUEL PEÑA M.F.A., M.S.E.E. - ARTISTIC DIRECTOR/ DANCE LECTURER the groups consisted of:
Sergio De León
Ramiro Silva
Yovan Zamora
Emmanuel Peralez
Raul Passamentt
Juan Jose Gonzalez
Ameyali Uriegas
Renay López
Alejandra Ramos
Valerie De Leon
Leila Banda
Elizabeth Stanattio
Elsa Vazquez
Maria Garcia
Brizaida Garcia
Abigail Cantu
Jonathan Caserez
Omar Lopez
Juan Javier Salinas
Ezra Alcocer
The program was a complete and total success with every step danced, song sung and note played.
To any student that witnessed the performance today, and to the sold out audience last night, you were one of the lucky ones, treated to world class entertainment in Alamogordo on the historic New York Avenue, of all places.
The citizens of Otero county and Alamogordo should not take this venue for granted. This holiday season we should all celebrate the fact that the Flickinger Center is an important part of the Alamogordo Community.
This authors birthday is coming up soon and in celebration of my birthday let's contribute to keep the Flickinger Center alive, updated and supported so that it can continue to provide the wonders of performance art as it did this weekend…