2021 Football New Mexico High School Coaches Association All-Star Selections
Image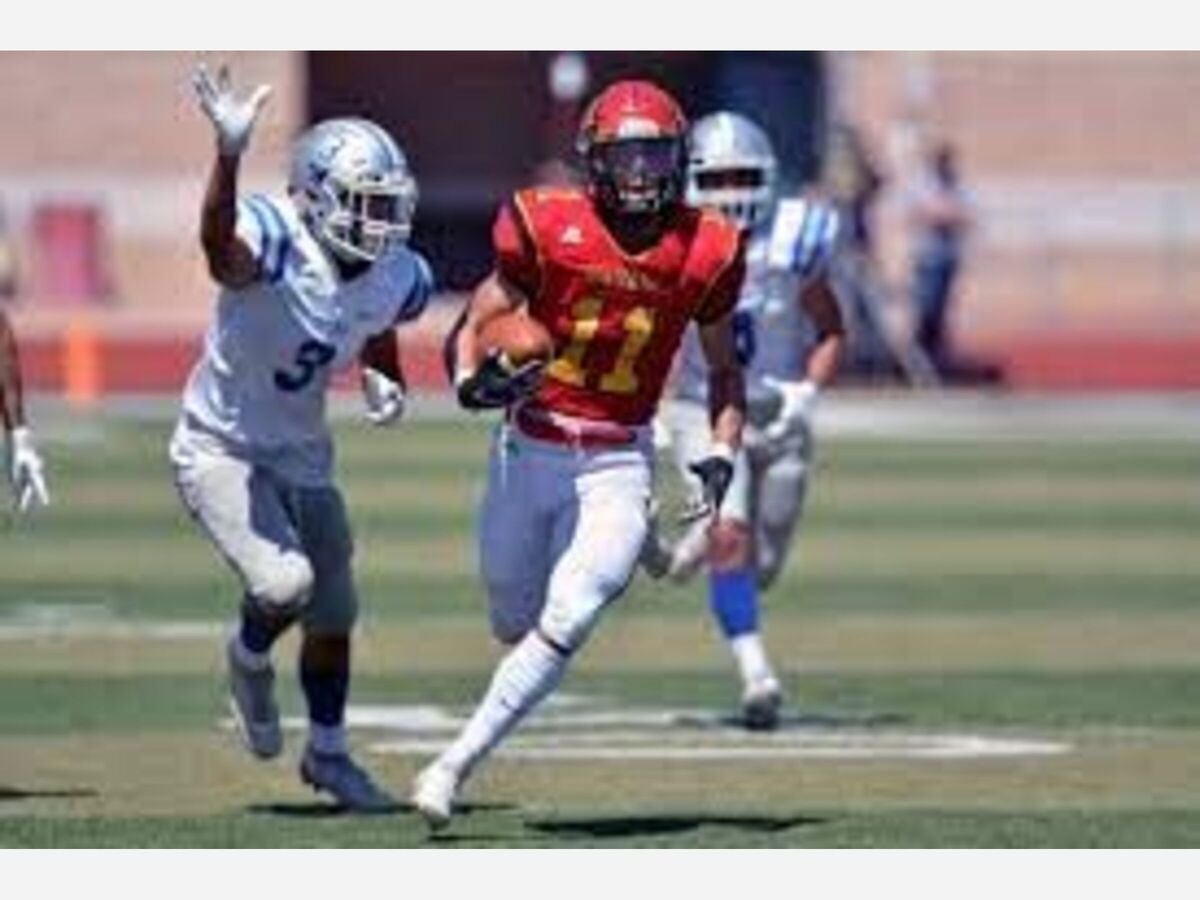 The 2021 Football New Mexico High School Coaches Association All-Star Selections are in. Locally the following individuals are recognized...
Large School - Alamogordo Red Team Selection Jonathan Audette (OL)
Small School - Tularosa Red Team Selection Colton Gilliland (DE/OLB) 
Israel Ortega (Secondary)
Green Team Selection
 Jeremiah Martinez (OL)
Darian Vigil (ILB)
Both all-star games will be played Saturday December 4th at the Wool Bowl in Roswell. 
The small school game time is at 12 PM and the large school game time at 3 PM.
Congrats to all selected members.
2021 LARGE SCHOOL GREEN FOOTBALL TEAM
| | | | | | |
| --- | --- | --- | --- | --- | --- |
| Position | First Name | Last Name | School | Coach First name | Coach Last Name |
| Quarterback | Brandon | Furbee | Farmington | Jeff | Dalton |
| Quarterback | Dallas | Boyd | Las Cruces | Mark | Lopez |
| Running Back | Jake | Berrera | Artesia | Jeremy | Maupin |
| Running Back | Marco | Ybarra | St. Pius | David | Montoya |
| Running Back | Zach | Thomas | Kirtland Central | Jeff | Schaum |
| Offensive Lineman | Braden | Castillo | Los Lunas | Greg | Henington |
| Offensive Lineman | Keith | Franz | Mayfield | Michael | Bradley |
| Offensive Lineman | Charles | Sanchez | Cleveland | Heath | Ridenour |
| Offensive Lineman | Matt | Franco | Las Cruces | Mark | Lopez |
| Offensive Lineman | Edgar | Cuevas | Las Cueva | Brandon | Back |
| Center | Pablo | Zaragoza | Goddard | Chris | White |
| Center | Jayden | Brown | Manzano | Stephen | Johnston |
| Receiver | Nathan | Lopez | Cibola | Rod | Williams |
| Receiver | Patrick | Shay | Farmington | Jeff | Dalton |
| Receiver | Tristen | Ludi-Herrea | Bernalillo | John | Cobos |
| Receiver | Jeremiah | Hartzel | Los Alamos | Garett | Williams |
| Tight End | Kienen | Cordova | Volcano Vista | Chad | Wallin |
| Slot | Dalton | Spies | Sandia | Chad | Adcox |
| Kicker | Adam | Aguilera | Lovington | Anthony | Gonzales |
| Punter | Tyler | Wilson | Academy | Shaun | Gehres |
| Defensive Line | Gavin | Brumley | Hobbs | Ken | Stevens |
| Defensive Line | Jeff | Irish | Roswell | Jeff | Lynn |
| Defensive Line | Kolby | Burton | La Cueva | Brandon | Back |
| Defensive Line | Julius | Espinosa | Ruidoso | Kief | Johnson |
| Inside Linebacker | Tyler | Martinez | Volcano Vista | Chad | Wallin |
| Inside Linebacker | Zander | Doyle | Los Lunas | Greg | Henington |
| Inside Linebacker | Alex | Aldape | Mayfield | Michael | Bradley |
| Inside Linebacker | Dominic | Vasquez | Cleveland | Heath | Ridenour |
| DE/Outside Linebacker | Brody | Jacquez | Belen | Andrew | McCraw |
| DE/Outside Linebacker | Landon | Williams | Albuquerque HS | Timothy | Johnson |
| DE/Outside Linebacker | Gonzalo | Garcia | Roswell | Jeff | Lynn |
| DE/Outside Linebacker | Layton | Victor | Goddard | Chris | White |
| Secondary | Lucas | Lucero | Rio Rancho | Gerard | Pannoni |
| Secondary | Kevin | Orona | Mayfield | Michael | Bradley |
| Secondary | Martel | Mora | Santa Fe | Andrew | Martinez |
| Secondary | Jonathan | Fuentes | Carlsbad | Gary | Bradley |
| Secondary | Cayden | Dunn | Moriarty | Gabe | Romero |
| Secondary | Angel | Segovia | West Mesa | Anthony | Ansotigue |
| At Large | Zaiden | Lopez | Artesia | Jeremy | Maupin |
| At Large | Dillion | Rivera | Organ Mountain | Stephen | Castille |
Head Coach: Jeff Dalton, Farmington
2021 LARGE SCHOOL RED FOOTBALL TEAM
| | | | | | |
| --- | --- | --- | --- | --- | --- |
| Position | First Name | Last Name | School | Coach First name | Coach Last Name |
| Quarterback | Ian | Lopez | Centennial | Aaron | Ocampo |
| Quarterback | Daniel | Ayala | West Mesa | Anthony | Ansotigue |
| Running Back | Jose | Montoya | Mayfield | Michael | Bradley |
| Running Back | Bracxton | Hall | Ruidoso | Kief | Johnson |
| Running Back | Aidan | St John | Eldorado | Charles | Dotson |
| Offensive Lineman | Cayden | Romero | Rio Rancho | Gerard | Pannoni |
| Offensive Lineman | Justin | Gonzales | Cibola | Rod | Williams |
| Offensive Lineman | Jonathan | Audette | Alamogordo | AJ | Cisco |
| Offensive Lineman | Royce | Paulk | Las Cruces | Mark | Lopez |
| Offensive Lineman | John | Fahey | Eldorado | Charles | Dotson |
| Center | Aiden | Valdez | Cleveland | Heath | Ridenour |
| Center | Dillon | Hein | Las Cruces | Mark | Lopez |
| Receiver | Kaden | Valdez | Volcano Vista | Chad | Wallin |
| Receiver | Cameron | Sowards | Mayfield | Michael | Bradley |
| Receiver | Isaac | Hinson | Lovington | Anthony | Gonzales |
| Receiver | Diego | Nunez | Goddard | Chris | White |
| Tight End | Chance | Carrillo | Farmington | Jeff | Dalton |
| Slot | Seth | Chavez | Centennial | Aaron | Ocampo |
| Kicker | Cristian | Holguin | Pojoaque | Pat | Mares |
| Punter | Connor | Lawson | Clovis | Cal | Fullerton |
| Defensive Line | Kendal | Ulmer | Cleveland | Heath | Ridenour |
| Defensive Line | Jose | Maez | Cleveland | Heath | Ridenour |
| Defensive Line | Julian | Holland | Centennial | Aaron | Ocampo |
| Defensive Line | Joaquin | Medina | St. Pius X | David | Montoya |
| Inside Linebacker | Hunter | Haemker | La Cueva | Brandon | Back |
| Inside Linebacker | Ethan | Estrada | Centennial | Aaron | Ocampo |
| Inside Linebacker | Isaiah | Carreon | Las Cruces | Mark | Lopez |
| Inside Linebacker | Manny | Bustillos | Clovis | Cal | Fullerton |
| DE/Outside Linebacker | Devon | Dyer | La Cueva | Brandon | Back |
| DE/Outside Linebacker | Braden | Mignard | Portales | Jaime | Ramirez |
| DE/Outside Linebacker | Kavin | Colebrook | Farmington | Jeff | Dalton |
| DE/Outside Linebacker | Aldo | Argot | Hobbs | Ken | Stevens |
| Secondary | Collis | Bousliman | La Cueva | Brandon | Back |
| Secondary | Chris | Fox | Rio Rancho | Gerard | Pannoni |
| Secondary | Luis | Pando | Artesia | Jeremy | Maupin |
| Secondary | Tayten | Hilliard | Lovington | Anthony | Gonzales |
| Secondary | Eli | Ogas | Las Cruces | Mark | Lopez |
| Secondary | Richie | Madrid | Las Cruces | Mark | Lopez |
| At Large | Max | Gillert | Cleveland | Heath | Ridenour |
| At Large | Devin | Rice | Rio Rancho | Gerard | Pannoni |
Head Coach: Cal Fullerton, Clovis
SMALL SCHOOL RED ALL-STAR FOOTBALL TEAM
| | | | | | |
| --- | --- | --- | --- | --- | --- |
| Position | First Name | Last Name | School | Coach First Name | Coach Last Name |
| Quarterback | Matthew | Gonzales | Robertson | Leroy | Gonzalez |
| Quarterback | Maverick | Contreras | Lordsburg | Dale | Hooper |
| Running Back | Gabe | Hayes | Capital | Joaquin | Garcia |
| Running Back | Jordan | Armijo | Socorro | Damien | Ocampo |
| Running Back | Hayden | Mullins | Tatum | Brent | Satterwhite |
| Offensive Lineman | Roger | Carreon | Jal | Dusty | Giles |
| Offensive Lineman | Henry | Coronado | Raton | Tory | Giacomo |
| Offensive Lineman | Mosis | Castillo | Socorro | Damien | Ocampo |
| Offensive Lineman | Jeremiah | Terrazas | Hatch Valley | Louis | Howell |
| Offensive Lineman | Joaquin | Sanchez | West Las Vegas | Adrian | Gonzales |
| Center | Emmanuel | Cardenas | Dexter | Arturo | Duran |
| Center | Joaquin | Billy | Magdalena | Ryan | Romero |
| Receiver | Devin | Flores | St. Michaels | Joey | Fernandez |
| Receiver | Andreas | Lujan | Jal | Dusty | Giles |
| Receiver | Jorge | Ortega | Eunice | Greg | Jackson |
| Receiver | Dustin | Bridge | Cuba | Gilbert | Dominguez |
| Tight End | Levi | Burelsmith | Estancia | Stewart | Burnett |
| Slot | Doryan | Galvan | Hagerman | Guy | Rivers |
| Kicker | Logan | Fuller | Hope Christian | Fernando | Salinas |
| Punter | Gavin | Placenico | Cobre | Jerry | Martinez |
| Defensive Line | Jurrien | Burelsmith | Estancia | Stewart | Burnett |
| Defensive Line | Devin | Ramirez | Raton | Tory | Giacomo |
| Defensive Line | Arthur | Quintana | Cobre | Jerry | Martinez |
| Defensive Line | Brody | McAlister | Melrose | Caleb | King |
| Inside Linebacker | Daymon | Lujan | St. Michaels | Joey | Fernandez |
| Inside Linebacker | Ethan | Stone | Escalente | Thomas | Royston |
| Inside Linebacker | Jonah | Bejarano | Hagerman | Guy | Rivers |
| Inside Linebacker | Kyler | Clytso | Navajo Prep | roderick | denetso |
| DE/Outside Linebacker | Orion | Rottman | Socorro | Damien | Ocampo |
| DE/Outside Linebacker | Colton | Gililland | Tularosa | Partick | Ward |
| DE/Outside Linebacker | Dylan | Quartieri | Raton | Tory | Giacomo |
| DE/Outside Linebacker | AJ | Quintana | Clayton | Dakota | Montoya |
| Secondary | Eric | Brock | Dexter | Arturo | Duran |
| Secondary | Chance | Middlebrook | Raton | Tory | Giacomo |
| Secondary | Isaac | Archuleta | Escalente | Thomas | Royston |
| Secondary | Isreal | Ortega | Tularosa | Patrick | Ward |
| Secondary | Perry | Ellerbe | Newcomb | Tarik | Embrack |
| Secondary | McKay | Evans | Ramah | Shane | Evans |
| At Large | Jaron | Sanchez | Santa Rosa | David | Chavez |
| At Large | Zack | Byrd | Logan | Dwayne | Roberts |
Head Coach: Leroy Gonzales, Robertson High School
021 SMALL SCHOOL GREEN FOOTBALL TEAM
| | | | | | |
| --- | --- | --- | --- | --- | --- |
| Position | First Name | Last Name | School | Coach First name | Coach Last Name |
| Quarterback | James | Jenkins | Hope Christian | Fernando | Salinas |
| Quarterback | Conagher | Pierle | Eunice | Greg | Jackson |
| Running Back | Damien | Gallegos | West Las Vegas | Adrian | Gonzalez |
| Running Back | Juan | Fuentes | Dexter | Arturo | Duran |
| Running Back | Micah | Tippett | Eunice | Greg | Jackson |
| Offensive Lineman | Jeremiah | Martinez | Tularosa | Patrick | Ward |
| Offensive Lineman | Andrew | Owen | Hope Christian | Fernando | Salinas |
| Offensive Lineman | Grant | Jenkins | Texico | Bob | Gilbreath |
| Offensive Lineman | Jeremiah | Dickman | Gateway Christian | Shaun | Wigley |
| Offensive Lineman | Dillon | Herring | Capitan | John | O'Miera |
| Center | Jordan | Bernal | St. Mikes | Joey | Fernandez |
| Center | Julius | Woods | Eunice | Greg | Jackson |
| Receiver | Adadrian | Jackson | Socorro | Damien | Ocampo |
| Receiver | Darrell | Ochieng | NMMI | Randy | Montoya |
| Receiver | Abraham | Duran | Tatum | Brent | Satterwhite |
| Receiver | Reyes | Hernandez | Texico | Bob | Gilbreath |
| Tight End | Matt | Quartieri | Raton | Tory | Giacomo |
| Slot | Diego | Armendariz | St. Mikes | Joey | Fernandez |
| Kicker | Sebastian | Miereles | Hagerman | Guy | Rivers |
| Punter | Fenyx | Morningdove | Santa Fe Indian | Bill | Moon |
| Defensive Line | Antonio | Granandos | Eunice | Greg | Jackson |
| Defensive Line | Khobie | Salavador | Tucumcari | Wayne | Ferguson |
| Defensive Line | Eli | Hendrix | Lordsburg | Dale | Hooper |
| Defensive Line | Jesse | Woodruff | Elida | Jerem | Woodruff |
| Inside Linebacker | Brayden | Bender | Texico | Bob | Gilbreath |
| Inside Linebacker | Logan | Devaney | Melrose | Caleb | King |
| Inside Linebacker | Diego | Hernandez | NMMI | Randy | Montoya |
| Inside Linebacker | Darian | Vigil | Tularosa | Partick | Ward |
| DE/Outside Linebacker | Adrian | Lucero | Estancia | Stewart | Burnett |
| DE/Outside Linebacker | Raul | Sigala | Dexter | Arturo | Duran |
| DE/Outside Linebacker | Ovi | Ontiveros | Eunice | Greg | Jackson |
| DE/Outside Linebacker | Jeremiah | Livingston | Navajo Prep | Robert | Denetso |
| Secondary | Isaac | Ruiz | St. Mikes | Joey | Fernandez |
| Secondary | Cade | Collins | Texico | Bob | Gilbreath |
| Secondary | Jeriah | Garcia | Cobre | Jerry | Martinez |
| Secondary | Josh | Gonzales | West Las Vegas | Adrian | Gonazales |
| Secondary | Dontrell | Donesto | Navajo Prep | Roderick | Denetso |
| Secondary | Blaine | Long | Tohatchi | Landon | Benally |
| At Large | Sam | Harris | Tatum | Brent | Satterwhite |
| At Large | Runley | Kreuger | Tatum | Brent | Satterwhite |
Head Coach: Dusty Giles, Jal High School
The link to the full teams - https://www.nmhsca.com/page/show/5548715-nmhsca-all-stars