National Art News: Frida Kahlo Self-Portrait Sells for $34.9 Million
Image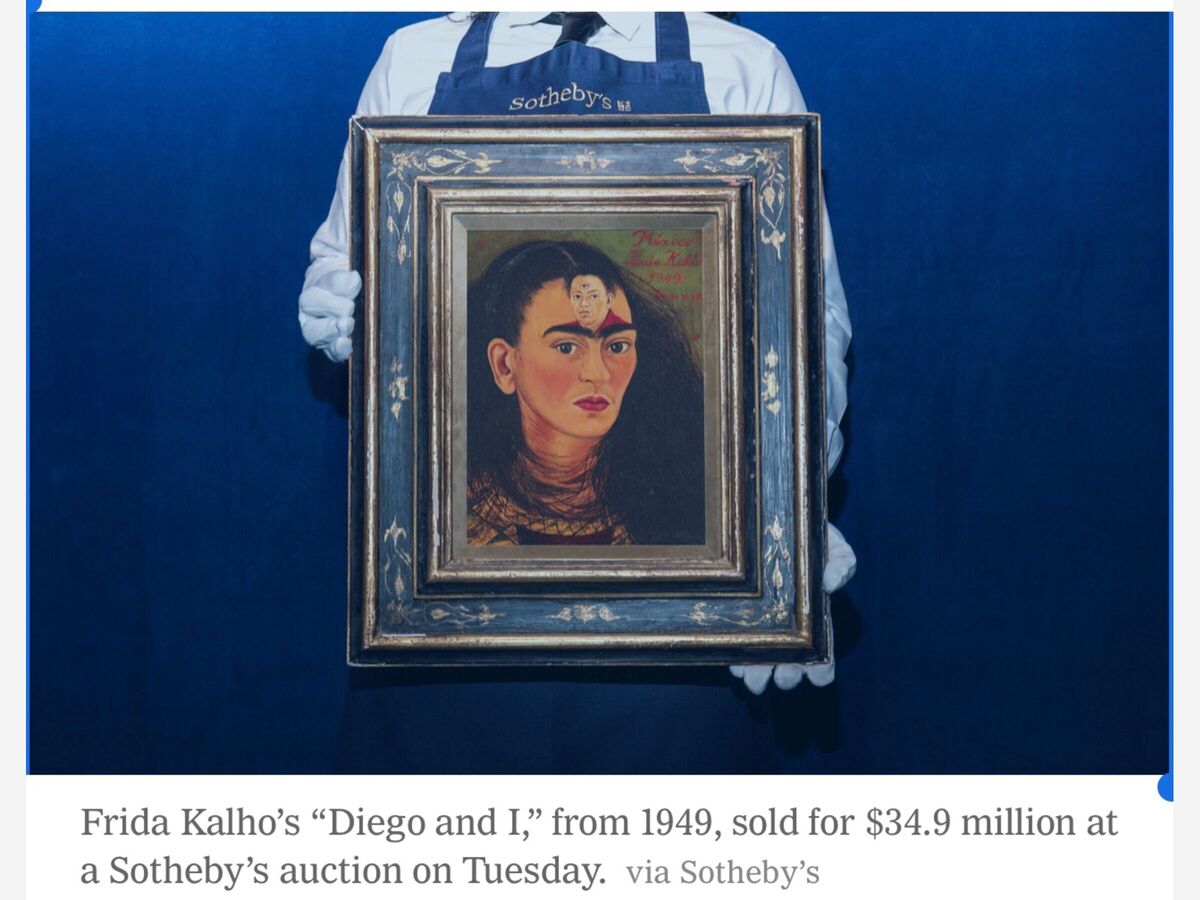 A récord $34.9 million was spent at  a Sotheby's auction on Tuesday night, setting an auction benchmark for the most expensive artwork by a Latin American artist with the sale of  a self-portrait by Frida Kahlo. She is an artist known for her raw emotional intensity and is probably the most famous Latin American female artist of all time due to the intensity of her works.
The piece was completed about five years before her death in 1954. The work is an oil painting titled "Diego and I," and is is one of Kahlo's final self-portraits and an example of the unsettling intimacy that has attracted collectors to her paintings.
The work offers a window like look into eyes and soul from her turbulent marriage with the Mexican muralist Diego Rivera, who is depicted in it just above the artist's tearful and sad eyes.
In setting a new high for a Latin American artist at auction, Kahlo surpassed a benchmark set by Rivera in 2018, when one of his paintings sold at auction for $9.76 million — or the equivalent of $10.75 million today, accounting for inflation.
Referring to "Diego and I," Adriana Zavala, who curated a 2015 Kahlo exhibition at the New York Botanical Garden, told the New York Times, "This is an important late work from a period where her physical suffering had intensified and her painting became erratic."
Kahlo, who was born in 1907 in Mexico City, began painting in 1926 while recovering from a bus accident that had left her with chronic pain. She developed a rich iconography touching on the realms of life and death, mixing violence and vulnerability in ways that often shocked viewers by pushing gender norms. She died at 47.
A Sotheby's spokesman declined to any media source to reveal the identities of either the painting's consignor or its buyer; high levels of anonymity are typical in the auction world. The winning bid for $34.9 million after fees was taken by Anna Di Stasi, Sotheby's director of Latin American art. A big sale had been assured even before the auction started because Sotheby's had accepted both a guarantee and an irrevocable bid, meaning that a third party had already placed a bid that it could not withdraw.
Some admirers watching the auction regarded Kahlo's ability to surpass her husband's record as a sign of the times with attitudes towards the behavior or misbehaviors or men driving the agenda of some artistic valuations.
As an admirer of the fine arts and one who has seen several of her fine and intense works I believe her works stand on their own merit of artistic intensity and passion. Her eyes tell the story and her sullen expressions tell the tale.
Congratulations to the bidder for his or her acquisition and to the legacy of Kahlo's artistic endeavors.