Alamogordo Cancels Balloon Festival But Larger Hatch Chile Festival Proceeds...
Image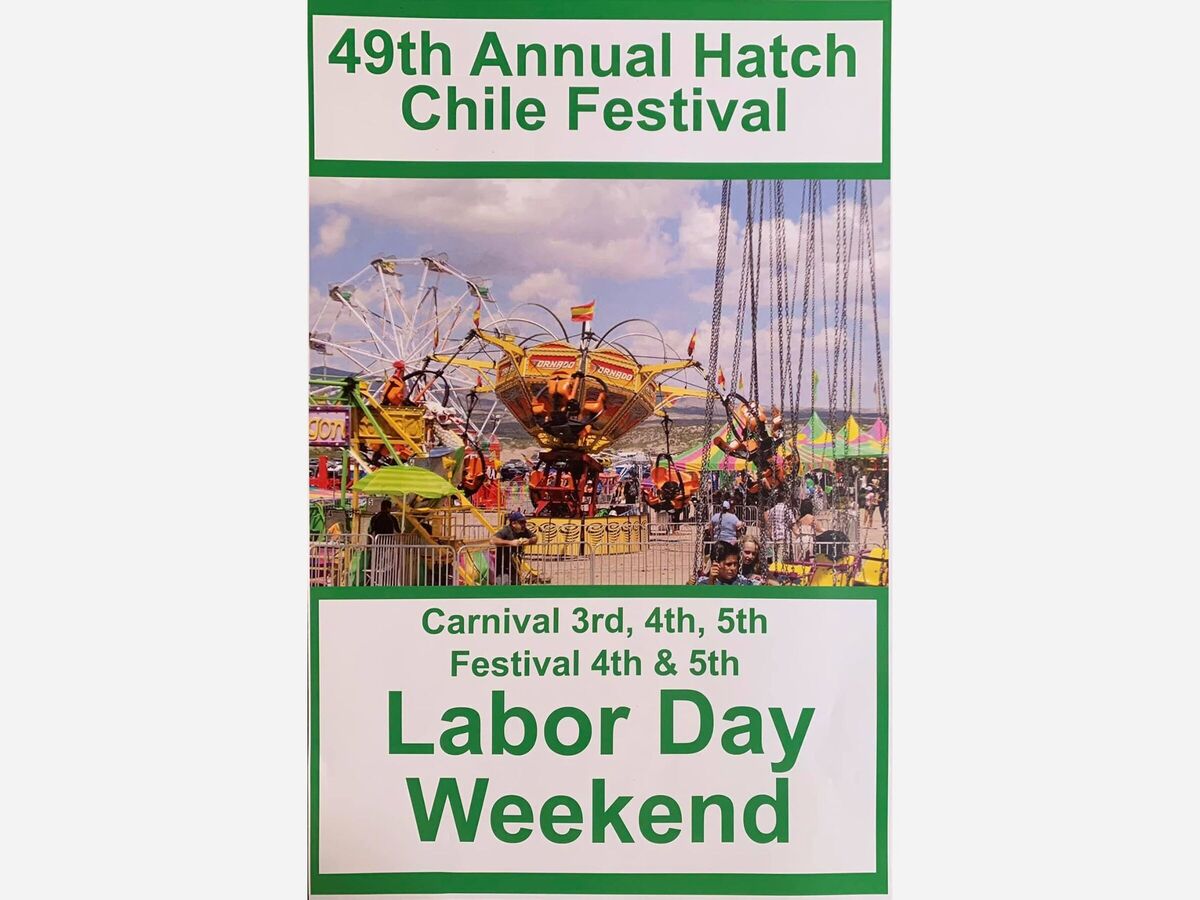 As summer cools down, the Village of Hatch heats up. Labor Day weekend heralds the annual Hatch Chile Festival, a two-day celebration of our world-famous crop. The festival attracts over 30,000 visitors from all over the United States, including such notables as the Food Network and the BBC. Festival goers can sample famed Chile recipes, watch the crowning of the Chile festival queen, or toss a horseshoe in celebration of our most famous crop. The event also features Chile ristra contests, artisan and food booths, and a carnival.
Complete details are found at
https://hatchchilefestival.org/
ABOUT THE 2021 HATCH CHILE FESTIVAL
Where
Are we done with Covid! Yes!!! The Festival is ON!!
Please come and celebrate our Hatch Chile Festival this year in the Village of Hatch, NM. Festivities will be ongoing throughout Saturday and Sunday of Labor Day weekend in Hatch, NM. Festivities start about 9AM each day.
Parking
Parking will be in and around the Hatch High School. There will be signage to direct you there. There will be a $10 charge to park. That fee will help us keep the Festival going for you to enjoy. There is no additional fee above the parking fee.
What to Expect
The Festival will be held in the Village this year. Chile roasting, restaurants, food vendors, craft vendors, entertainment, contests, and fun for the kids. All doors will be thrown open to welcome you to Hatch, NM - The Chile Capital of the World.
Replies
I'm still not understanding why the governor's office required proof of vaccination at the White Sands balloon festival, but not the Hatch Chile festival.
The Governor did not require one set of rules for Otero County and another for Hatch Festival. The powers that be felt they could work within the health mandates at Hatch and at ever other ongoing festival in the state to include the Apple Festival next month in Otero County. The issue was the powers that be felt the rules too cumbersome to be executed and made more of a political statement as a board decision. Of course impacted small businesses downtown and hotels were not polled but that appears to be the power structure in place at present.