3 Rivers Fire Update 19% Containment Red Flag Warning
Image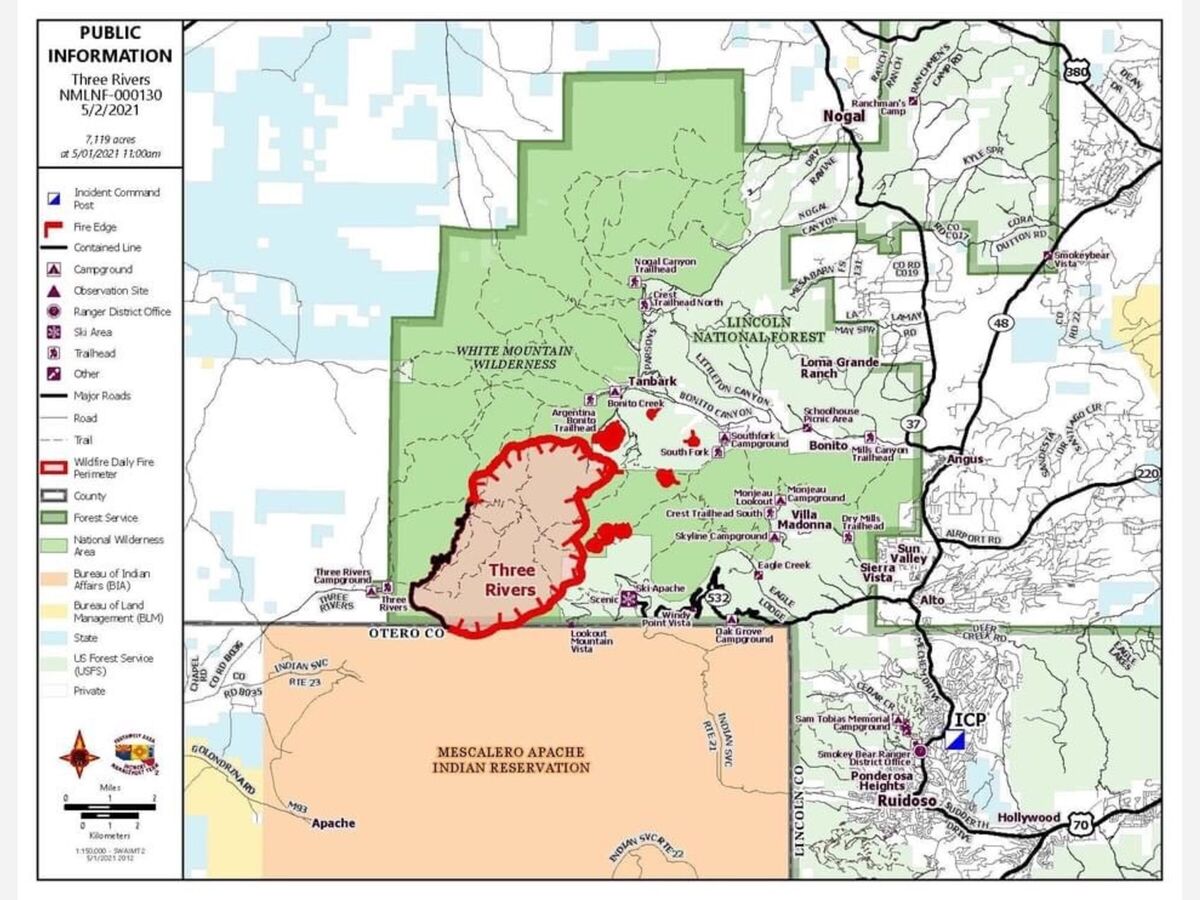 Three Rivers Fire Update – May 2, 2021
Acres: 7,119
Percent Containment: 19%
Date/Time Detected: 8:42 am, April 26, 2021
Resources: 361
Vegetation: Grass, dead/down timber, mixed conifer
Cause: Unknown, under investigation
Origin/Location: ½ mile north of Three Rivers
Ruidoso, New Mexico – A Red Flag Warning has been issued by the National Weather Service for today. This means warm temperatures, very low humidity, and stronger winds will combine to increase fire danger risk. Multiple lingering fires inside the perimeter continue to burn. As fuels dry out due to warmer temperatures and increasing winds from the southwest, smoke from these fires may be visible from the west side of the Crest Trail.
Yesterday's favorable weather allowed for a reconnaissance flight, allowing firefighters to get an aerial view of the fire. The flight showed there are still areas of combustion and smoke. With Red Flag conditions, it is possible that the weather can contribute to fire growth. The potential for an increase in smoke production is predicted for today, and with the southwest winds, the public can see and smell smoke, especially in the northeast area of Ruidoso.
Other areas that are complex and unsafe for firefighters to access will continue to be monitored. Additionally, helicopters are available for water drops to aid in reducing the growth of any hot spots located within the fire area.
While curiosity takes control when wildfires and smoke break out, this can lead to dangerous situations for all involved. With an increase in smoke and wind, visibility can become an issue. Please help us protect the community by avoiding the closed areas.
Ready Set, Go! Residents are encouraged to be "Ready" by taking personal responsibility for themselves, their family, and their property, to be "Set" with situational awareness, and to "Go" and act early. It is extremely important for residents and visitors to remain vigilant and be prepared for evacuations if fire behavior increases.
Although most of the Lincoln National Forest is still open to visitors, the forest, the Mescalero Apache Tribal lands, and surrounding areas are currently under Fire Restrictions. See the link below for additional information on Fire Restrictions.
ROAD CLOSURES
• Bonito Canyon Road past the Bonito Lake Dam
• Nogal Canyon Road past the Nogal Peak trailhead
• Three Rivers Trailhead and Campground
• Monjeau Lookout at Sierra Vista
CENTER HOURS: 800 am to 8 pm
Fire Information Public Phone Line: 575-386-5077
Fire Information Media Phone Line: 575-386-5108
Ready Set Go: http://www.emnrd.state.nm.us/SFD/FireMgt/documents/FINAL-new-mexico-RSG…
InciWeb: https://inciweb.nwcg.gov/incident/7440/
Facebook: https://www.facebook.com/ThreeRiversFire2021
Lincoln National Forest: https://www.fs.usda.gov/lincoln
Wildfire Smoke and COVID-19: https://www.cdc.gov/coronavirus/2019-ncov/php/smoke-faq.html
###
More News from Alamogordo