Things to do in Alamogordo and More!
Image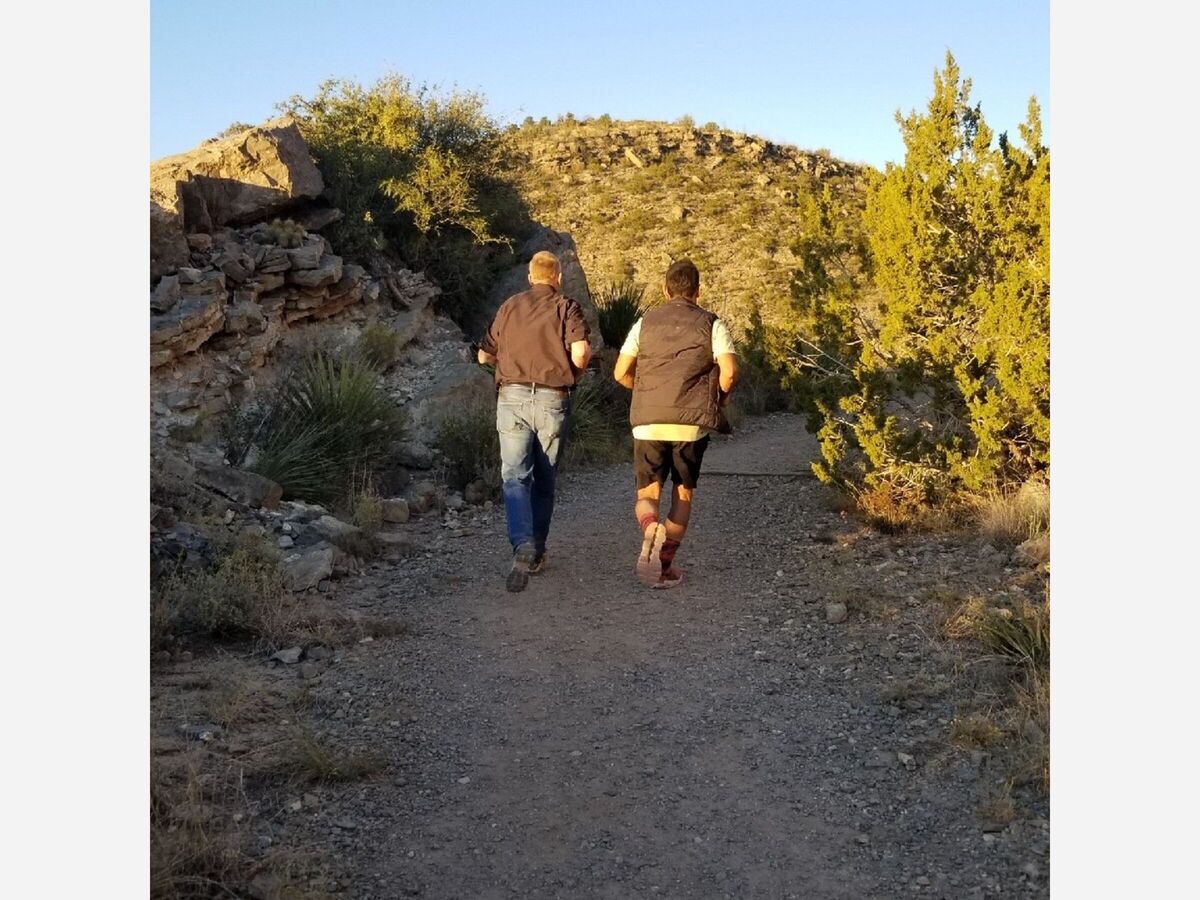 With Covid-19 waning, often we are asked by newcomers and tourists visiting the area, what is there to do in Alamogordo. Locals and tourists alike should not miss out on the many things to see and do. There area is rich in natural beauty and is a hikers paradise. From easy trails along Scenic Drive, to White Sands or more moderate to steeper trails such as at Oliver Lee State Park, Frenchy's Cabin in Dog Canyon, or if heading towards the mountains of Cloudcroft there is Bailey Canyon or Bridal Veil Falls. With each hiking or running adventure there are tons of ecosystems and microclimates to enjoy with each mile trekked.
In addition to hiking and camping there are fun things to do in the city and near the city such as...
Alameda Park Zoo -
Few towns the size of Alamogordo have a zoo. Fewer have one that has been around for decades.
Home to nearly 200 animals representing 60 species, the 12-acre Alameda Park Zoo offers an education center, picnic area, playground, and gift shop that's perfect for families and visitors of all ages. With a mission to promote education in the environmental fields of study, conservation, recreation and biological research, the zoo connects humans with animals through audio, visual and tactical experiences. Visit a Species Survival Plan Captive
Facility for the Mexican Gray Wolf, take a guided tour, enroll in a docent program, or attend a
lecture. Check the calendar for the annual Earth Day celebration, concerts, and other events.
Open Daily 9am to 5pm
Closed Christmas & New Year's Day 1321 N. White Sands Blvd. Alamogordo, NM
(575) 439-4290
New Mexico Museum of Space & History or The International Space Hall of Fame
Did you know that New Mexico's Tularosa Basin is the cradle of America's space program? Or that Alamogordo hosts a world-class museum devoted to the history, science, and technology of space travel? Sitting high above the city at the base of the Sacramento Mountains, the New Mexico Museum of Space History is a must-see for space lovers of all ages. Inside the golden eight story building, space adventure awaits! Exhibits feature a real moon rock brought
back on Apollo 17, an authentic replica of Sputnik, real and imagined spacesuits, fun interactives, and much more. Founded in 1976 as the International Space Hall
of Fame, the museum continues its original mission to recognize the accomplishments of men and women from around the world who contributed to humankind's quest to explore the universe and showcases more 170 Inductees. Explore the museum grounds and discover the grave of HAM the Astrochimp, the Daisy Track Exhibit, John P. Stapp Air & Space Park,
Astronaut Memorial Garden, and Rocketeer Playground.
10am to 5pm – M, W, Th, F, & Sat Noon to 5pm – Sun, Closed Tues Closed Christmas & Thanksgiving. 3198 State Rte 2001, Off of Scenic Drive by the New Mexico State University, Alamogordo, NM (575) 437-2840 or (877) 333-6589
New Horizons Giant Screen Dome Theater & Planetarium At The Space Hall of Fame
Let your imagination soar to new heights at this dazzling planetarium, named for the NASA spacecraft that flew past Pluto. Take in the vast beauty of the universe in the world's first Spitz Scidome 4k Laser full-dome planetarium projection system, offering two digital planetarium shows daily as well as a live star show and giant screen films. Explore the solar system, stars and the universe with museum educators and learn the stories behind the constellations, the causes of the seasons and why planets appear to move backwards in the night sky.
3198 State Rte 2001, Off of Scenic Drive by the New Mexico State University, Alamogordo, NM (575) 437-2840 or (877) 333-6589
Toy Train Depot Train Ride and Model Trains
If you miss the train at the Toy Train Depot, there's another 30 minutes later. The small-scale train ride departs every 30 minutes and circles Alameda Park. Inside the century-old depot you'll find hundreds of scale models of train locomotives as well as passenger and freight
cars, along with the world's smallest scaled working train. A 1,000-square-foot HO layout
depicts 1940s-era Alamogordo.
Open 12 to 5pm Wednesday through Sunday, 1991 N. White Sands Blvd. Alamogordo NM
(575) 437-2855
Tularosa Basin Museum of History
With exhibits that focus on the history of the Tularosa Basin, the Tularosa Museum of History preserves and promotes the local history of Alamogordo, Tularosa, La Luz, Cloudcroft, and other Sacramento communities. Learn about the early Native Americans who lived in the
area, White Sands National Park, the local railroad, examples of — and the storied past of — highly-collectible La Luz pottery, ranching, the legend of the Atari video game burial and more. View artifacts and stories from the days of early man to Alamogordo's role in the atomic
and space ages. Call to find out about scheduled tours of the historical La Luz Pottery Factory in La Luz, NM & visit their beautiful gift shop. Open 10am to 4pm Monday through Saturday. Closed Sundays. 1004 N. White Sands Blvd. Alamogordo, NM (575) 434-4438
White Sands National Park
Rising from the heart of the Tularosa Basin is one of the world's great natural wonders — the glistening white sands of New Mexico. At White Sands National Park, oceans of white gypsum sands and magnificent wave-like dunes, cover 275 square miles of desert, only 15 minutes west of Alamogordo. Today the panoramic sky & mountain views, beautiful sunsets and full moon walks attract people from all over the world, but for thousands of years, people have called White Sands home, from early Native Americans to Spanish settlers, ranchers, and the U.S. Military. The world's largest gypsum field, White Sands has unique weather conditions and it
shelters some 800 species of animals, including badgers, foxes, coyotes and roadrunners. Learn more during one of their nature and education programs. Trails through the dunes include the raised Interdune Boardwalk and the Dune Life Nature Trail, dotted with interpretive exhibits on wildlife and other features. Stop by the visitors center and gift shop to plan your visit to hike, bike, camp, drive, picnic and sled your way through an incredible natural wonder.
Open year-round, except for Christmas Day. 19955 Highway 70 West, Alamogordo, New Mexico,(575) 479-6124.
Oliver Lee State Park,
Visit the restored 19th-century ranch house of Oliver Lee, an influential settler in the New
Mexican territory and the namesake of the Oliver Lee Memorial State Park. Take the long hike to Frenchy's cabin a moderate hike adjacent to the park and hosting the cabin of the first European settler to Southern New Mexico. Situated south of Alamogordo in the foothills of the Sacramento Mountains, the park lies at the mouth of Dog Canyon, where a trail
takes you to a perennial stream and a retreat beneath shady cottonwoods. The Dog Canyon
Recreational Trail offers striking views of the Tularosa Basin to the west and the Organ Mountains to the south. The park offers plenty of opportunities for hiking, camping,
picnics, and wildlife sightings. Park Open year-round
Visitor Center Open daily 9am to 4pm 409 Dog Canyon Rd. Alamogordo, NM (575) 437-8284
Three Rivers Petroglyphs - A Native American Heritage Site
Not far from Alamogordo is a must see site of significant historical relevance and a must see. The Three Rivers Petroglyph Site offers direct access to more than 21,000 glyphs of birds, animals, fish, insects, plants, and humans as well as geometric and abstract designs, all scattered across 50 acres of the northern Chihuahuan Desert. The petroglyphs date to between 900 and 1400 AD and were created by the Jornada Mogollon people, who used stone tools to remove the dark patina on the exterior of the rocks. Pick up a petroglyph guide at Three Rivers Petroglyph Site, which also offers hiking and backpacking trails as well as picnic and camping areas. Open year-round 3 Rivers Rd. Tularosa, NM (575) 525-4300
The Lincoln National Forest
The Lincoln National Forest offers about 1.1 million acres in south central New Mexico for hunting, camping, biking, hiking, winter sports and much more. Stretching north from Texas to the Capitan Mountains, the forest landscape varies from rugged canyons
to gently sloping foothills. Elevations range from 4,200 feet to 11,500 feet. The Lincoln was first set aside as a forest reserve in 1902 to protect and conserve recreation values and water. Today,
the Lincoln National Forest is one of 154 forests (and grasslands) that are managed for sustaining health, diversity, and productivity to meet the needs of present and future generations. New Mexico's hunting opportunities are as abundant and diverse as its terrain and
habitat—whether you're hunting grouse, squirrels, quail or waterfowl, or holding out for that elusive trophy bull elk, mule deer or pronghorn. New Mexico also offers hunting opportunities not found anywhere else, including hunts for exotic species including Persian Ibex, Oryx
and Barbary sheep. The Lincoln's headquarters is in Alamogordo, and its District Offices are located in Ruidoso, Cloudcroft and Carlsbad. Come out and enjoy the great outdoors! Open year-round Sacramento District (575) 682-2551
The Sunspot Astronomy & Visitors Center
Located within the Lincoln National Forest, 18 miles south of Cloudcroft, at an elevation of 9200 feet (2800 m). It was named after the nearby National Solar Observatory on Sacramento Peak. The sole road that drives into Sunspot is New Mexico State Road 6563, named for the brightest wavelength of hydrogen emission, H-alpha, one of the most important spectral lines in astrophysics. The night-time Apache Point Observatory and Sloan Digital Sky Survey telescope is about 1/2 mile from Sunspot, on an adjacent peak.
The Richard B. Dunn Solar Telescope, abbreviated as the DST, is a unique vertical-axis solar telescope, located on the western edge of Sunspot overlooking the Tularosa Basin. The optical path starts at a heliostat on top of a 136-foot-tall (41 m) concrete tower and continues 193 feet (58.8 m) more underground to the primary mirror, which is 64 inches (1.6m) in diameter. It then returns to one of six quartz optical windows in the floor of an optical laboratory at ground level, where the scientific instruments are located. The entire optical path is kept at a vacuum to eliminate distortion due to convection in the telescope that would otherwise be caused by the great heat produced by focusing the light of the sun. The telescope tube, optical laboratory, and instruments are connected as a single freely-rotating platform, weighing 350 tons and floating on over 120 gallons of liquid mercury. Originally named the Vacuum Tower Telescope at Sacramento Peak, it was renamed in 1998 in honor of the retiring solar astronomer Richard B. Dunn who was the driving force behind its construction.
The telescope was originally built by the United States Air Force, completing construction in 1969. Following several years of operation, ownership of the observatory was transferred to the National Solar Observatory (NSO), part of the National Science Foundation, in 1976. The NSO carried out research into the Sun as an astronomical object in Sunspot from 1976 to 2017. The telescope was highly prolific scientifically, and during the height of operations a new instrument setup was built roughly every ten days. From 2016 to 2018 the New Mexico State University, funded by NSF, initiated a drive to upgrade and update the telescope, with the goal to form the Sunspot Solar Observatory Consortium that has run the telescope since late 2017. For More information call the Visitor Center State Road 6563, Sunspot. New Mexico at 575-434-7190.
Art Galleries, Antiques, Performance Art and More
Flickinger Center for Performing Arts - Live Music, Community Theater and More

The Flickinger Center for Performing Arts is a 612-seat theater in historic downtown on the infamous New York Avenue, (Alamogordo's Main Street) Alamogordo. The auditorium is
host to a wide variety of events. During the Premier Series Season, Fall to Spring, the
Flickinger Center presents eight to nine professional productions. The premier
shows are unique, diverse, and represent a vast array of performance genres from all
over the world. After the dynamic Premier Season, the Flickinger Center takes things outdoors, to enjoy the beautiful weather with the "Tailgate Summer Concert Series," in the parking lot of
the New Mexico Museum of Space History. Parton's Hall & Heritage Gallery are located right next door to the Flickinger Center and exists to support their mission. Stop in for a specialty coffee or tea, incredible ice cream or in-house made soup! While there check out some beautiful local art and grab a ticket for the next Flickinger concert or show!
1110 N. New York Ave. Alamogordo, NM (575) 437-2202
Roadrunner Emporium
Alamogordo has an art gallery and a shop with over 40 partnered vendors that sells everything from, Cholla Art, Lava rock sculptures, root art, fallen tree trunk art sculptures, home spun yarns, an antique colonial style spinning wheel, Cashmere Hopi wool clothing, Tibetan Yak Down Coats, Native American influenced masks and cozies, Natural Farms Bath Bombs, soaps and oils, silver and turquoise jewelry and more. Roadrunner Emporium, 928 New York Avenue, (Alamogordo's Main Street) Alamogordo, New Mexico. Open Daily 10 to 5 Closed Sundays.