"Alamogordo Proud" Recognizes Peter Stauffer & NMSBVI Making Space Study Fun!
Image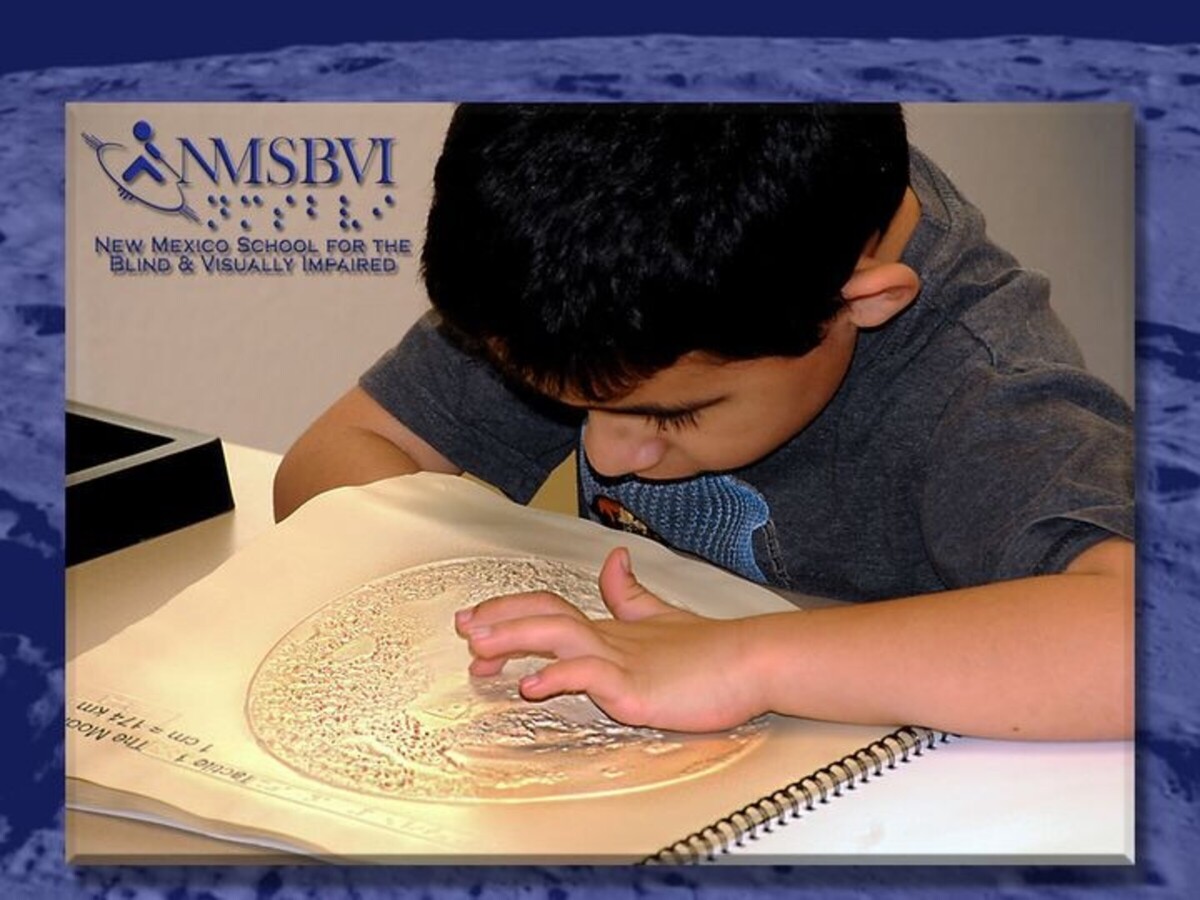 As a part of our ongoing series via KALHRadio.org, conceptualized by Kathy Ramsey and in partnership with AlamogordoTownNews.com we present another local citizen involved and making a difference in the lives of those among us. A relative newcomer to Alamogordo; Mr. Peter Stauffer is an excellent example of positivity spotlighted as a part of our "Alamogordo Proud" Campaign. 
On 8 March, Mr. Peter Stauffer, a volunteer with the NM School for the Blind and Visually Impaired (NMSBVI), facilitated a Space Science, Technology, Engineering, and Mathematics (STEM) day. Mr. Stauffer works for LinQuest Corporation supporting various space programs and is Teacher Liaison with the Space Foundation. Peter visited NMSBVI's Alamogordo campus for a Community Based Instruction (CBI) focused on studying the moon and Mars.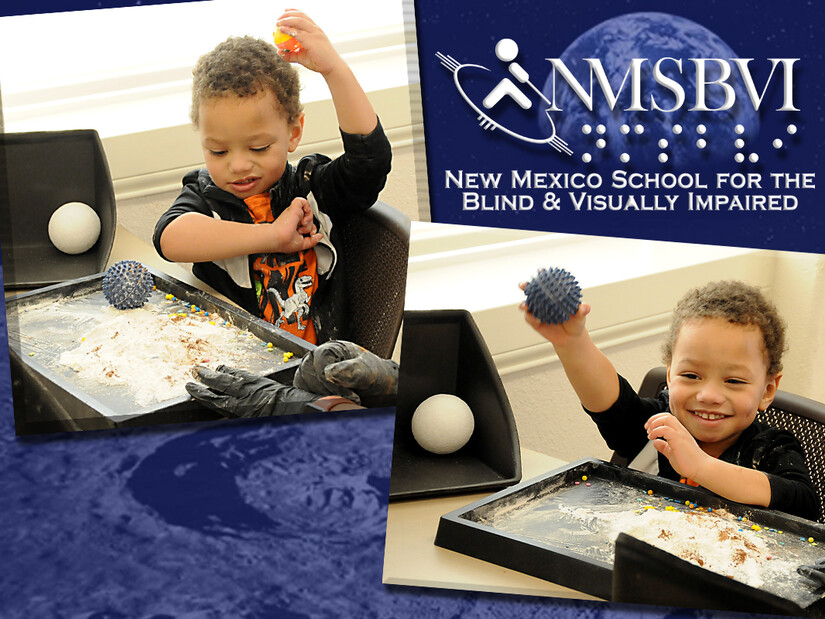 The lesson was very interactive with student and adult participants. Above pictured is a  young space explorer about to experience what happens when an asteroid slams into the moon and makes a crater, (as well as a lot of flying moon dust!) 
As part of the lesson, students also practiced vocabulary such as "bumpy", "soft", "circle" and "crash."
Community Based Instruction (CBI) activities incorporate many skills and concepts related to the Core Curriculum and the Expanded Core Curriculum (ECC).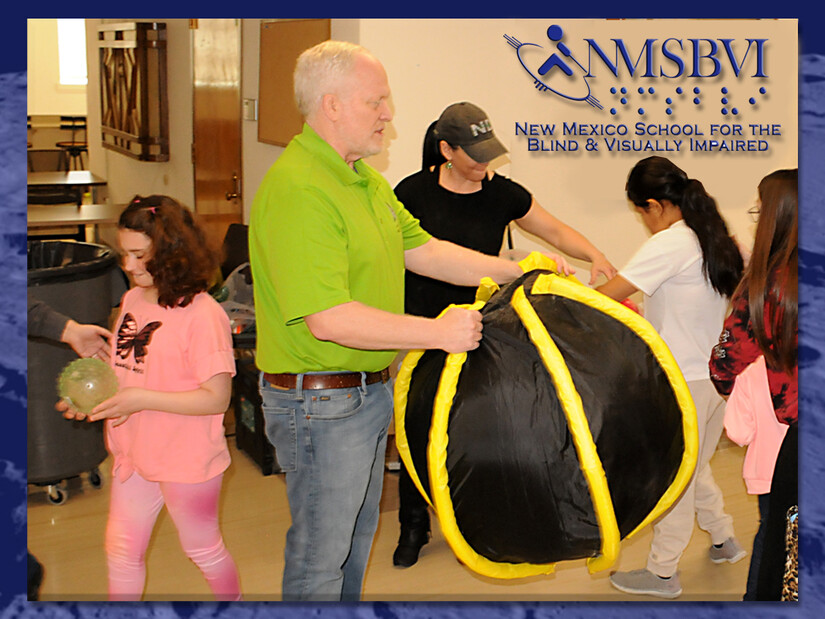 There were many interactive exercises as a part of the lessons to include as pictured above instructor Peter Stauffer holding a large tactile ball representing Earth while students rotated around him holding a smaller ball to represent the moon. The students also had the opportunity to punch or kick the "Earth" ball to represent an impact that creates a crater.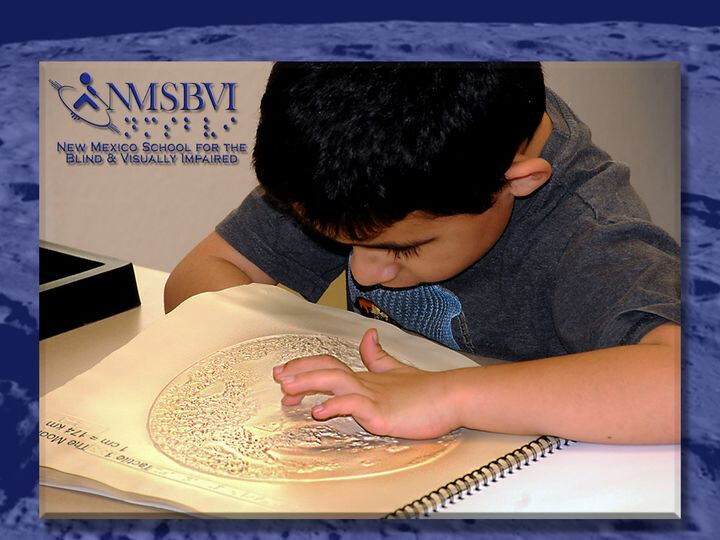 A young boy is seen seated at a table with a tactile representation of the moon's surface in front of him. He is leaning over the tactile moon and using his left index finger to feel the bumps and craters of the tactile moon's surface providing a great sense of what the moon surface is like via the power of the sense of touch.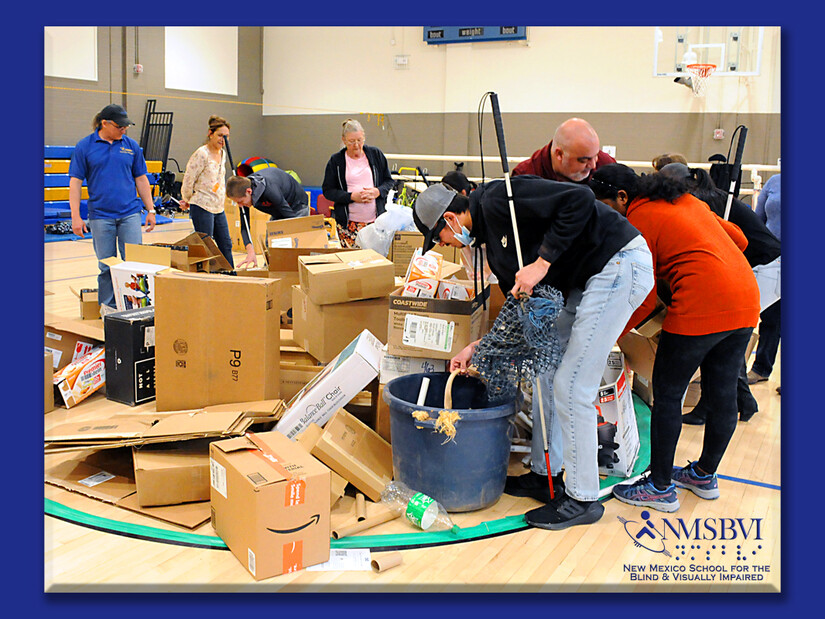 Staff and volunteers contributed a vast assortment of potential building items for the secondary students to create a Mars Habitats, during a Community Based Instruction (CBI) activity led by Peter Stauffer. The schools adult staff personnel observe while several secondary students rummage through a pile of boxes, cardboard, plastic, bins and PVC pipe which they used to construct their Mars Space habitats.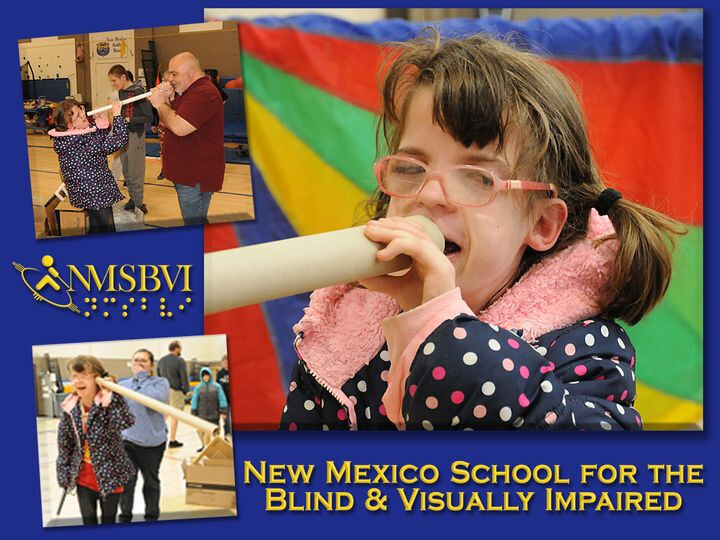 During the building of the Mars Habitats, one of the students found an ingenious new use for one of her building supplies. A space age communication device!
Community partnerships with experts in various fields are important to the education and success of students at the various schools and institutions in Alamogordo. The New Mexico School for the Blind and Visually Impaired is a historically important institution to the fabric of the Alamogordo Community.
AlamogordoTownNews.com and KALHRadio.org 95.1 FM celebrates the positive volunteer spirit of Peter Stauffer and the commitment he has made to sharing his aerospace experience with Alamogordo's New Mexico School for the Blind and Visually Impaired. This is not the first such class he has offered at this fine institution and from the looks of joy in the students and his passion for sharing the wonders of space we know this will not be his last.
Congratulations Peter Stauffer for a job well done and representing the spirit of our "Alamogordo Proud" Campaign.