"Alamogordo Proud" Martha Jones, Alamogordo MainStreet Volunteer of the Year
Image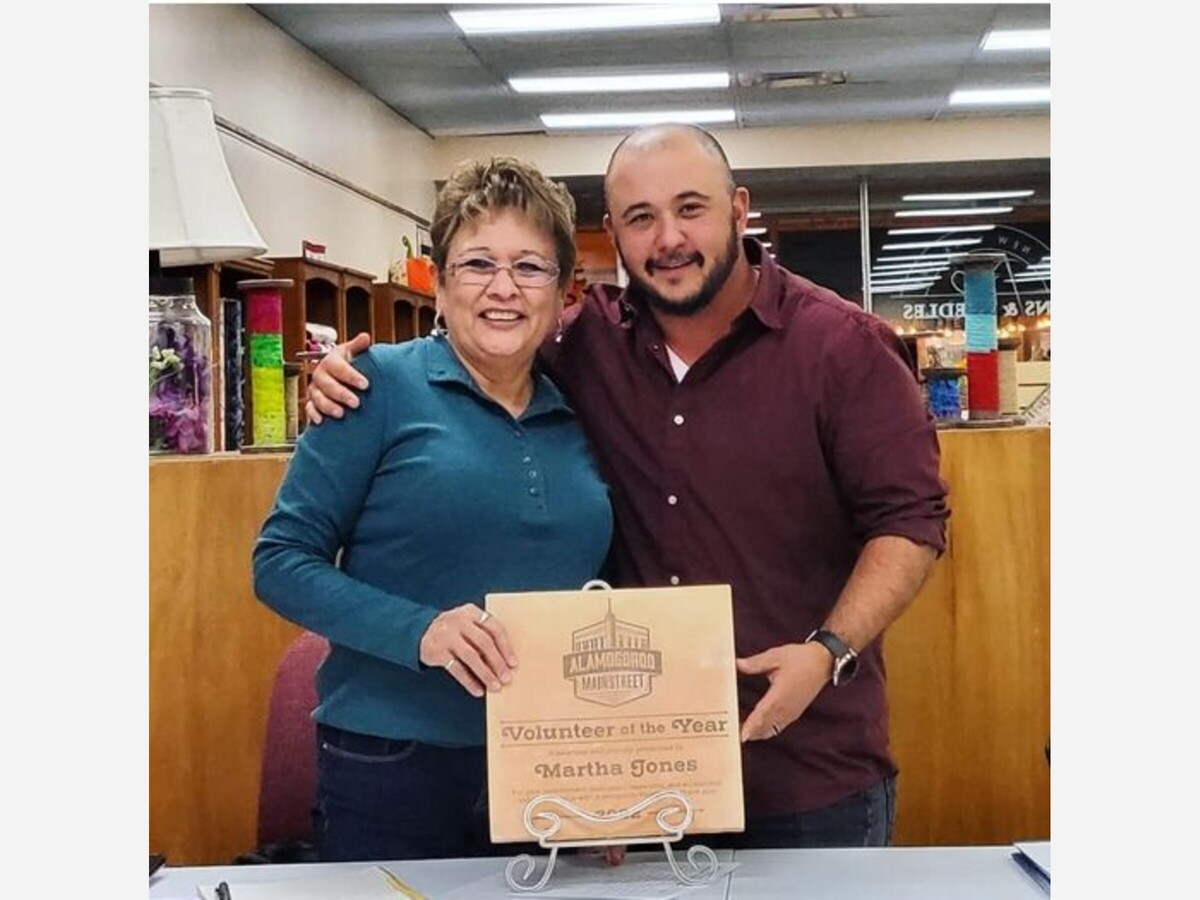 AlamogordoTownNews.com, KALHRadio.org 95.1 FM, along with several citizen leaders are highlighting those people and organizations that represent the best of Alamogordo via our "Alamogordo Proud" Campaign. In collaboration with Alamogordo MainStreet, we recognized their 2022 volunteer of the year, Martha Jones.
Martha Jones is a recognized face on Alamogordo's New York Avenue, having been involved with the street and the Alamogordo Business Community for decades. Martha was born and raised in Alamogordo, a graduate of Alamogordo High School and has always been community oriented and active in helping others since her childhood days.
Martha has been visible as a strong presence in the business community of New York Avenue since beginning a career on the street with Fashion Fabrics in 1973. From there she worked with Bonanza City from 1973 to 1984 which then rebranded as Broadway Fashions, she continued there through 1986.
Martha had a change of scenery for a few years when she moved to Lubbock Texas with her husband for a period of time. But her heart was always in Alamogordo.
She returned and she worked in retail at the mall from 1997 to 2005. It was always New York Avenue that pulled at her heart.
She returned to the district working at the Florist on Delaware, and then in 2012 to 2018 she worked with Vintage Etc. By 2018 she hooked up with Alice Weinman, proprietor of Victoria Alamogordo. She is seen daily at Victoria at 913 New York Avenue, where always greets people with a smile but is task oriented to get the job done.
Martha is not a newcomer to getting things done. She was president of the New York Avenue Downtown Merchants Association from 1984 to 1985. As such she has significant experience organizing, planning, facilitating and politicking with a variety of merchants and constituents to get things done.
According to Alamogordo Main Street Executive Director Nolan Ojeda; "We are thrilled to announce that our very own Alamogordo Main Streets volunteer of the year 2022 is Martha Jones!
Martha has been an integral part of our community for many years, and her tireless efforts have helped to improve numerous projects that make our town a better place. She has made significant contributions to the success of events like Downtown Nights, the New York Avenue Mid-week Alamogordo Farmers Market, and Christmas on MainStreet.
In addition to her many volunteer hours, Martha has an outstanding attitude that is infectious to those around her. She always goes above and beyond to ensure that everyone involved in these projects feels appreciated and valued.
We are incredibly grateful for Martha's dedication and hard work, and we look forward to continuing to work with her to make Alamogordo an even better place to live, work, and play. Congratulations, Martha, on this well-deserved recognition."
Martha has been instrumental in getting food trucks organized, coordinating entertainment and more for events such as the mid-week Alamogordo Farmers Market which returned to New York Avenue last year, and will be coming back to Alamogordo's Main Street District June thru October 2023 on Wednesday evenings.
In addition to Alamogordo MainStreet volunteering, she volunteers for St. Francis Cabrini Catholic School dinners and for Cloudcroft Sparky Boot Fund supporting the Cloudcroft Fire Department.
And mark your calendars for the upcoming Downtown Vintage Carnival hosted by the Downtown Merchants Association May 13th on the 800 and 900 Blocks of New York Avenue. You can count on seeing Martha Jones' big smile and leading the charge to ensure everything is set up, and all are on task, to provide another great day of fun and entertainment on Alamogordo's New York Avenue.
Martha Jones is the perfect example of a great and positive "Community Volunteer" that represents the best of Alamogordo and is "Alamogordo Proud."
Listen to an interview with Martha Jones on the AlamogordoTownNews.com KALHRadio.org edition…
https://anchor.fm/kalhradio-alamogordo/episodes/KALHRadio-org-Alamogord…