AlamogordoTownNews.com: 3 Interesting Otero County Local Political Races: Will They Buck the Mid-Term Curse Dating to FDR?
Image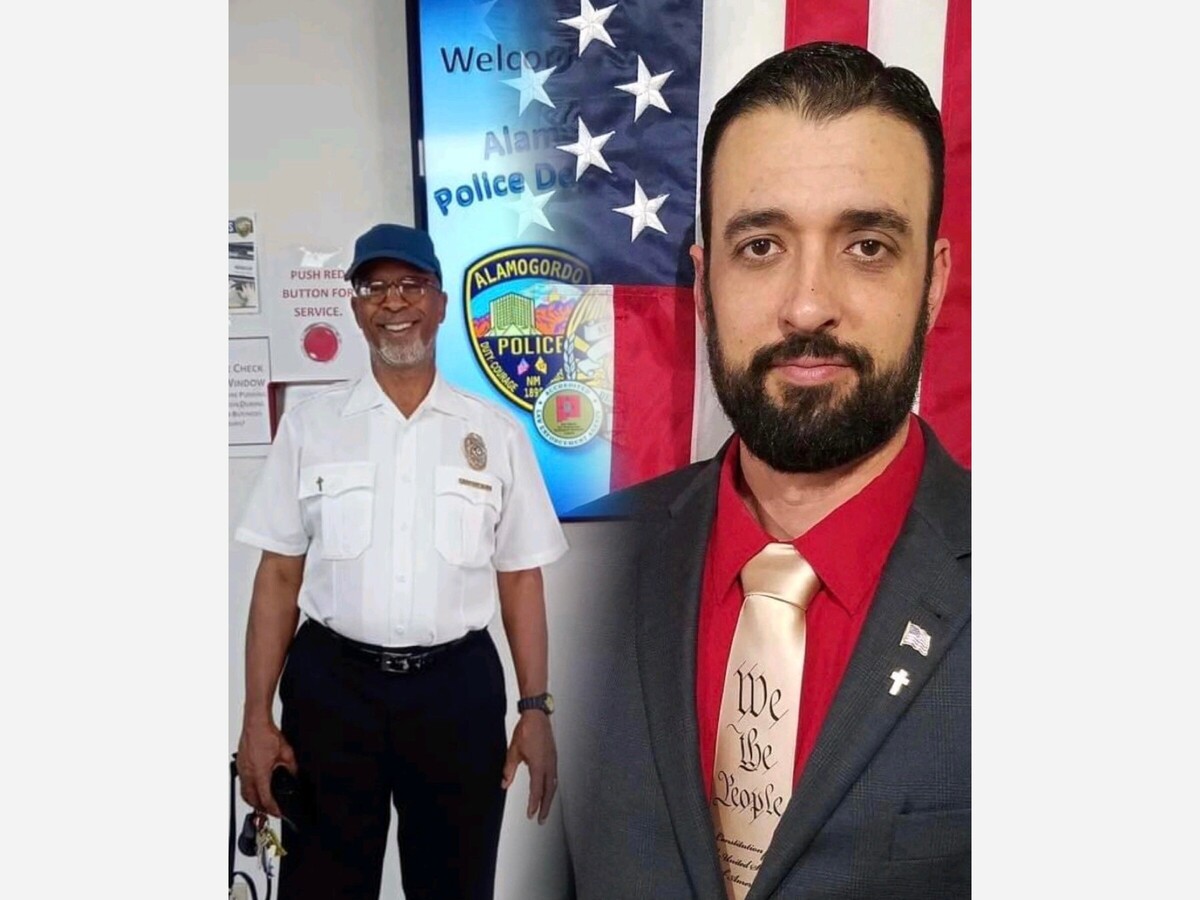 New Mexico joined the Union in January 1912. It has participated in 28 presidential elections through 2020, alternating some extended periods of support for Democratic and Republican candidates. Democrats have now won 7 of the last 8 elections, including Joe Biden's 54% to 44% win over Donald Trump in 2020.
Locally in Alamogordo, Otero County, New Mexico
In Otero County, it appears the Republican stronghold is strong and in place and most races are a given to swing to the Republican candidate with ease. 
However, there are three races of interest this mid-term election that could be seen as competitive for a variety of reasons.
The position of magistrate judge in Otero County is typically a snooze as to what to expect of an outcome. However, this midterm election for magistrate Division One and Magistrate Division Two there are interesting dynamics at play.
The position of magistrate is one that does NOT require a law degree, and candidates typically, are individuals well embedded in the local political party system.
 The position of magistrate in Otero County has historically been made up of candidates that come from the "political machine" and as such, the position has been riddled with controversy, the last several years with political games alleged locally and via former Governor Martinez...
April 2022-

Most recently Otero County Magistrate Judge Steve Guthrie agreed to resign the Division I seat April 25, 2022, ending further disciplinary proceedings related to a judicial inquiry by the New Mexico Supreme Court which began in 2021. Guthrie's resignation became effective April 25, according to New Mexico Supreme Court documents when the court granted a petition for permanent resignation "in lieu of further disciplinary proceedings."
In September 2021 the Judicial Standards Commission asked the court to open a disciplinary inquiry related to a slew of alleged misconducts by Guthrie. The Commission had conducted its own inquiry into the allegations beginning in January 2021. Among the allegations were improper sentences and incarceration for defendants, improper bail issuance, failure to complete required paperwork, engaging in judicial activities without proper jurisdiction, judicial misconduct and violation of a defendant's right to due process. 
 Guthrie was censured prior to that incident in 2019 by the New Mexico Supreme Court for misconduct related to a spat he had with a neighbor.
Link to 2019 Judicial misconduct case: https://www.nmjsc.org/wp-content/uploads/2019/04/2018-031-Pet-to-Accept… 
December 2017- 
Otero County Magistrate Judge Scott Newton officially resigned from the bench and withdrew his candidacy for 12th Judicial District judge. Newton said he was tired of the politics being played at the local and state level because of him taking a leave of absence due to a medical issue. Newton said he was not going to have his good name destroyed or put his family through it. "They're attempting to use this legal absence that I took for a basis that I am unfit to do my job," he said to the Alamogordo Daily News in 2017 "It's a total lie. There's nothing wrong with me. I do have my own personal health issues to deal with, but it's not an issue in terms of being a judge. It's just somebody wants to make it an issue. I am not going to stick my neck out there and get it chopped off. It's just not worth it. Especially with the medical issues that I've been dealing with, I don't have the energy or stamina to fight that fight or put my family through that fight."
Newton was elected to the Magistrate Court Division I judge's seat in 2010 after Judge Richard Stokely retired from the bench.
April 2016
Otero County Magistrate Court Judge Gene C. Galassini hung his robe up in April 2016 also under a cloud of criticism.
Per the Alamogordo Daily News at the time, "Galassini, 59, decided to resign or in his case retire from the bench because of health reason but more importantly to spend time with his three grandchildren. He and his wife, Rocky, also just celebrated their 40th wedding anniversary," at the time of his resignation.
"It's the stressful nature of the job," Galassini said. "I've got three grand babies plus one on the way. It's just time to start spending some time with them."
He was first elected Magistrate Court judge in 2006 then took the bench in January 2007 after 23 years of being an officer with the New Mexico State Police in Las Cruces, Roswell and Alamogordo. Galassini retired as a lieutenant from State Police District 8 in Alamogordo."
However, records with the State Supreme County show that the resignation may of had more to the story; then stress and health issues. 
The New Mexico State Supreme Court granted the State Ethics Commission's Petition to Accept Stipulation in Light of Permanent Resignation from Judicial Office concerning Otero County Magistrate Judge Gene C. Galassini, Supreme Court Case No. S-1-SC-35791, JSC Inquiry No. 2015-074. "The Supreme Court order made Judge Galassini's retirement permanent effective 02/29/16, forever barred him from holding judicial office in New Mexico, and unsealed the Supreme Court's file in the matter.
A link to the Supreme Court File and Mr. Galacini's resignation letter is below:

https://www.nmjsc.org/wp-content/uploads/2016/06/2016-1-Galassini-Order…

Mr. Galassini was hired in 2021 to serve Congressional  Representative Yvette Herrell as her law enforcement liaison and has been paid a salary and other compensation since appointment of $34,833.33 as a member of staff.
You may also like: Heart and Soul of Republican Party
The 2022 Mid Term Otero County Magistrate Matchup:
Magistrate Judge Division One has turned into a very competitive race with the Reverend Warren Robison competing against John R Seacrest III, both candidates have deep roots in Otero County, both have professional, volunteer and business experience and both have campaigned with professionalism, dignity and mutual respect with no negativity in their race for office.
Reverend Warren Robinson Experience: "Reverend Robinson has 20 years of teaching, counseling and community service in Alamogordo to include 3 years' experience with Juvenile Justice Board helping youth with reconciliation for criminal offenses, a wide range of local board experience with non-profit service organizations, Chaplain for both Alamogordo City Police and the Gerald Champion Regional Medical Center, knowledge of the community business leaders and deeply involved in local history and historical preservation" according to his responses to the League of Womens Voters.
John R Secrest III Experience: "What I bring to the courtroom is real life experience and vast knowledge. I am an entrepreneur/small business owner since age 18 with 21 years in Landlord/tenant rights, business contracts, and well versed in DWI/DUI laws. I have also been a plaintiff on several appearances in Mag. Court. To further prepare, I have been mentoring with previous Mag. Judges as well as studying the NM Criminal/Traffic Law manual and NM Constitution. I am a constitutionalist, from the people for the people's court. I live with unwavering morals, integrity, and honesty. I am UNBIASED and fair." according to his responses to the League of Womens Voters
The League of Womens Voters asked both candidate what they would do about the backlog within the Magistrate System?  Their response was...
Reverend Warren Robinson: "Once within the system I'll be thoughtful in listening to staff and reviewing the existing processes, then use my experience interfacing with multiple constituencies to influence process changes to end any backlog."
John R Secrest III: "It is my understanding that Otero County Magistrate Court does NOT have much of a back log. If there is a back log it is primarily due to covid restrictions impeding the court's ability to operate per usual and in that instance, I would say more cases will need to be handled telephonically. There is always room for improvement."
Both candidates demonstrate a passion for community and a sense of ethics that the magistrate's office needs to rebuild its reputation in Otero County.
Magistrate Division 2
The race is between well-known Alamogordo MainStreet and arts advocate and realtor, Claudia Powell, verses Michal Ryan Suggs, the incumbent who was appointed to the Division II Magistrate Judge's seat Feb. 20, 2018, by Gov. Susana Martinez after Judge James Scot Newton resigned from the bench.

Claudia Powell's Experience per her website:" Claudia Powell has been part of this community working tirelessly as a relator since 1986 serving our military with impeccable service since 1986. Mrs. Powell has received the Military Relocation Specialist designation from the National Association of Realtors, Past President Alamogordo MainStreet, Director of the Tularosa Basin Historic Society, Otero County Habitat for Humanity, Past President Otero United Way and Past Director of the Flickinger Center for the Performing Arts."
Michal Ryan Suggs Experience per the League of Women's Voters: "Juris Doctor- Master's degree in criminal justice from New Mexico State University, a graduate of the FBI National Academy in Quantico, Virginia, 21 years law enforcement experience, 6 years adjunct professor of criminal justice and 4 years incumbent as Otero County Magistrate."
When asked what they would do about the backlog within the Magistrate System?
Claudia Powell: "My understanding is the backlog that was created during the Covid-19 crises is now cleared. However, if I were on the bench, I would work with the staff, within the legally bound confines, utilizing my years of collaboration and partnership skills to ensure we did all within our means locally to ease any backlog."
Michal Ryan Suggs Experience per the League of Women's Voters: "I can proudly say, there is no backlog of court cases in Otero County Magistrate Court. The court continued to operate throughout Covid. All of the Judges in the 12th Judicial District work tirelessly to serve the people. Whatever adjustments were needed to the docket to ensure timely access to justice were and continue to be made. Under my leadership as Presiding Judge, the speedy and fair resolution of cases has been and always will be a priority of the Otero County Magistrate Court. Our rights deserve this level of experience, knowledge, and continued commitment."
You may also like: Heart and Soul of Republican Party

The other race that has proven, interesting, is the race for Otero County Commissioner District Two, formerly occupied by the controversial Couy Griffin. The two candidates to win the primaries are Amy Barela on the Republican side, verses Stephanie Dubois, on the Democratic side. Both candidates won a contested primary.
The race was considered initially an easy win for Amy Barela given the district leans heavily Red and heavily conservative. However, politics, judicial rulings and an appointment by the Governor of Ms. Dubois into the seat of which Couy Griffin was removed by judicial order has created many interesting dynamics into the race.
Political scientist and pollsters watching the district competition believed it an easy win for Ms. Barella. Speculation was that there would be a backlash, due to the judicial removal of Couy Griffin, thus a wave of Republican voters activated and to the polls.
Ms. Barella has easily outraised, outspent and outpaced Ms. Dubois in advertising, door knocking and overall visibility. 
Ms. Dubois on the other hand, received an appointment to the vacant position by the Governor with swearing in to occur on 10/28/22.
Ms. Dubois has been much more visible in the recent weeks and attended several events with the Congressional Democratic Candidate and others. Yesterday in Tularosa, a Get Out the Vote event was sponsored by Ms. Dubois, and Independent Candidate Elaine Allen seeking the position for District 56 State Representative was also present.
The campaign within Tularosa has become very competitive with some rumors of foul play, but thus far the campaign has been, overall civil. 
Ms. Dubois appointment by the Governor, received a respectful response by Ms. Barella. However, the response to the appointment by the Republican Party and by the Candidate for State Representative District 51, was aggressive in tone, and filled with negatives that did not benefit candidate Barela, who has shown a level of respect and decorum during the race. 
Several independents and moderate Republicans questioned, said they were leaning toward Ms. Barela but after the Republican Party response, and that of the candidate for District 51, they "opted for Ms. Dubois." One cited, "I've had enough hate from that office, Couy was an embarrassment and brought nothing but trouble to Otero County, the vigor of hate that was espoused by the Party response made me decide to break the party line and vote for Ms. Dubois," a respected and well-known Republican that asked that his name not be used said he really likes Amy but "maybe it's time to shake things up on the commission, and end the rubber stamping of the Steve Pierce mandates, the county budget is a mess, obviously what we have in place is not working."
Will there be a backlash from the Republican Party response to the appointment of Ms. Dubois, will Ms. Dubois be able to elicit enough moderate Republicans, motivated Democrats and Independents to the polls to carry her over to remain in the district 2 seat? Will the curse of mid-terms and the economy play into the results of the local elections? We will know in about 2 weeks.
You may also like: Heart and Soul of Republican Party

The mid-term elections in most states are traditionally, a completely different animal and can lead to all kinds of unexpected results. The mid-term election of 2018 was the year of the woman.
2018, women candidate had broken the records for the number of candidates for governor, U.S. House and U.S. Senate. The U.S. House of Representatives elected a record number of women, with at least 90 women expected to make their way to Washington, D.C. in January.
In 2018 Deb Haaland of New Mexico broke the barrier and became one of the first Native American Women elected to congress. Democrat Deb Haaland, the former chairwoman of New Mexico's Democratic Party, won New Mexico's 1st Congressional District in the 2018 midterms. 
Haaland, a member of the Laguna Pueblo tribe, became one of the first Native American women elected to Congress alongside Democrat Sharice Davids, who won Kansas' 3rd Congressional District. Two Native American men — both Republicans — served in the U.S. House of Representatives prior to 2018.
Expectations for this mid-term election...
It's true that the polls have shifted somewhat toward Republicans in certain key races. On September 15, FiveThirtyEight's forecast gave Democrats a 71 percent chance of holding the Senate, as of midday Wednesday, that number is 61 percent. In other cases, forecasts haven't changed much: FiveThirtyEight has the GOP's House takeover chances still above 70 percent. And there have been some contrary indicators, with surprisingly good poll results for Democrats in redder states like Iowa and Oklahoma.
Yet what amounts to a relatively minor poll shift has been greeted with a sense of impending Democratic doom, for reasons mostly unrelated to the polls themselves. The bad economic news, the historical trend of the president's party performing poorly in midterms, and the tendency of polls to understate Republicans in certain key cycles (especially Senate races) can all be read to suggest that the smart money is on the GOP to do well.
This underlying assumption that Republicans should be the favorites and will end up the favorites means that small poll shifts in the GOP's favor get interpreted as devastating for Democrats. And that assumption could well be correct — there are good reasons to believe it. Alternatively, it remains possible the polls are basically on target, or that election night results could deliver a surprise in the other direction.
You may also like: Heart and Soul of Republican Party
The state of the battle for the Senate
Democrats remain the favorites in the battle for the Senate, according to FiveThirtyEight, but their advantage has shrunk in the past month. When you look under the hood of FiveThirtyEight's model to see why, it mostly comes down to shifts in four contests:
In Nevada, Sen. Catherine Cortez Masto (D) dropped from a 61 percent favorite to a 49 percent slight underdog.
In Pennsylvania, the chances of John Fetterman (D) winning dropped from 83 percent to 68 percent.
Meanwhile, the chances of challengers Mandela Barnes in Wisconsin and Cheri Beasley in North Carolina winning each dropped from about 40 percent to 27 percent.
Other Democratic candidates, like Sens. Mark Kelly (D-AZ) and Raphael Warnock (D-GA), haven't seen similar drops in the past month. Kelly is a 78 percent favorite to win, and Warnock is a 57 percent favorite. In Ohio, Tim Ryan remains a 28 percent underdog.
With the Senate split 50-50, the basic math is that so long as Fetterman picks up that GOP seat in Pennsylvania, Democrats can afford to lose one seat of their own. So, they could lose Cortez Masto or Warnock, but not both. And if Fetterman loses (and no other Democrats campaigning for GOP-held seats win), even losing one Democratic incumbent would flip the chamber.
 Georgia, Nevada, and Pennsylvania look like the most important states in determining Senate control. But there's a problem. Only one of those contests — Georgia — has been frequently polled of late. And it's unclear how useful those polls are, since if neither candidate tops 50 percent of the vote next month, Warnock and Herschel Walker will just head to a runoff in December.
Public polling in the other two key states has been sparse. In Nevada, we've gotten only two public polls conducted in October — one showing Cortez Masto up 2, and one showing her trailing by 2 among likely voters. Meanwhile, in Pennsylvania, the two public polls have both shown Fetterman up just 2. One of those polls is from the Trafalgar Group, while another is a joint effort from one Republican firm and one Democratic firm.
You may also like: Heart and Soul of Republican Party
Since Franklin Delano Roosevelt's sweeping four-term presidency, every president has fallen victim to the "midterm curse."

The "curse" is considered political shorthand at this point—the opposition party to the incumbent leader will wrest control of the House of Representatives or the Senate from the leadership. In fact, the sitting presidential party has lost seats in the House in every single midterm election since FDR's first term, save for three: FDR himself in 1934, Bill Clinton in 1998 during his second term in office, and George W. Bush in 2002 fresh off a hotly contested victory in the 2000 general election. In each of these instances, the presidents had remarkably high approval ratings—around 70%—often due to historic moments that offered an opportunity for landmark leadership, such as FDR's New Deal, Clinton's federal budget surplus, and Bush's handling of the aftermath of 9/11.
There are a variety of explanations as to why parties often face defeat in the midterms after sweeping the floor in the presidential election. Voter apathy and presidential approval ratings play a large part, but voters are not the only ones who sway the outcome of elections. Midterm elections are susceptible to impacts from the re-drawing of districts and gerrymandering that may occur after a presidential election and can work to disenfranchise a party's voting block. This is not a phenomenon isolated to the U.S., either: The parties of political leaders across the globe tend to strengthen early in a presidential term before diminishing later.
With the 2022 midterm elections fast approaching, it can be helpful to look back at the past century of midterms and gauge what patterns may suggest an outcome to this year's election. Stacker used data compiled by The American Presidency Project at the University of California, Santa Barbara, and the U.S. House of Representatives to visualize outcomes of midterm elections on the president's political party in Congress.
You may also like: Heart and Soul of Republican Party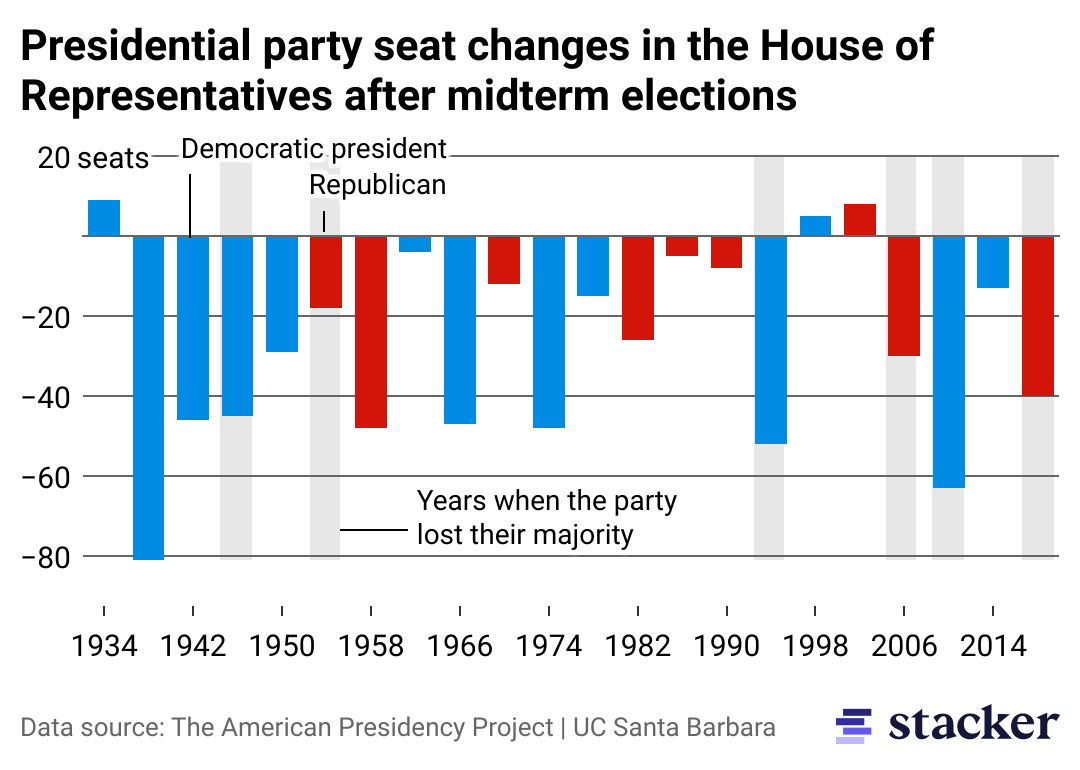 Stacker
The President's party has only gained seats in the House three times since 1934
The incumbent party lost control of either the House or the House and Senate six times since 1934. Only three presidents—FDR, Bill Clinton, and George W. Bush—gained seats in the House of Representatives for their parties at midterms.
In FDR's case, this was thanks to his swift decisions steering the country out of the Great Depression, including the New Deal and various economic relief measures. Clinton's second term in office marked the first Democratic president to gain a second term since FDR. Though his popularity was beginning to falter due to emerging personal scandals—including the Monica Lewinsky situation, which saw Clinton face impeachment for lying to Congress—it hadn't yet hit the low that would follow. Bush's midterms were a narrow race to win an easily swayed power balance, marked by gerrymandering and expensive campaigns that ultimately favored the incumbent party.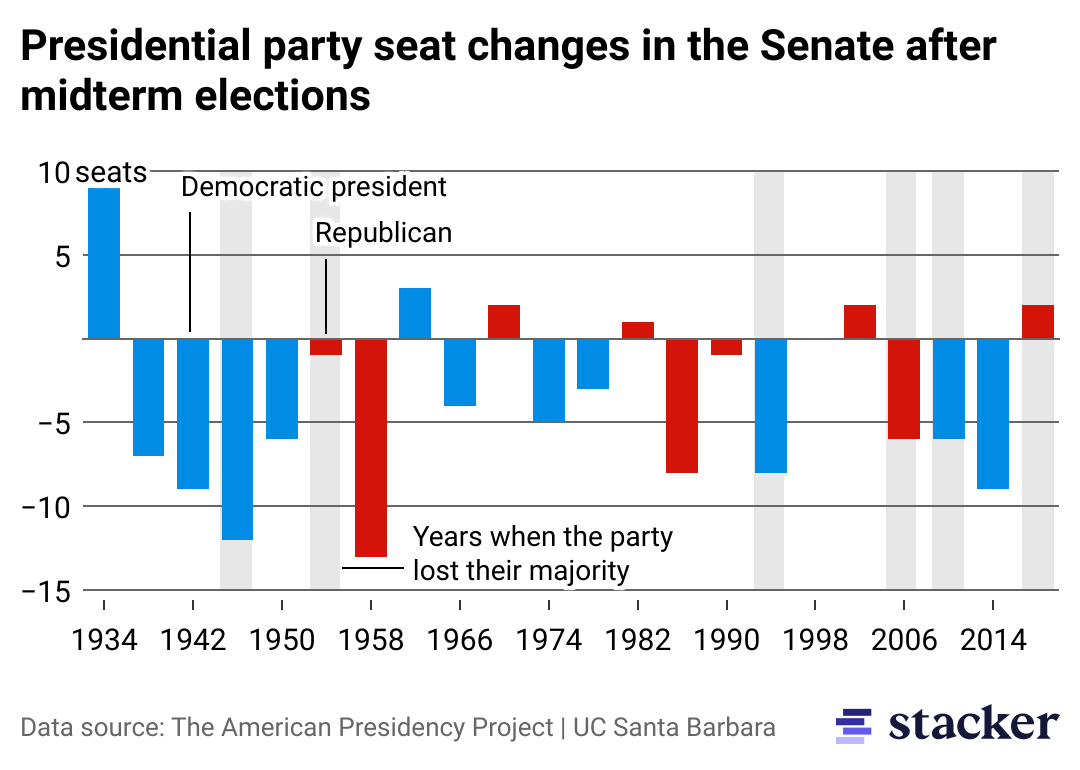 Stacker
The Senate has faired similarly
Statewide Senate races are not impacted by redistricting but still often suffer the same outcome for the president's party. For most of the 20th century, Senate races were often won by the opposite party than the state in question had gone for in the presidential race. In 1986, for instance, the "mismatch rate" of U.S. Senate races was around 59%, meaning over half of states voted into office senators of the opposite party than they had voted for president most recently. This has waned in intensity recently—particularly during Obama's presidency—but still generally held. However, the 2022 election cycle may mark a departure from this tradition, with only 4% of registered voters claiming they planned to vote for a senator from a different party than they had endorsed for president.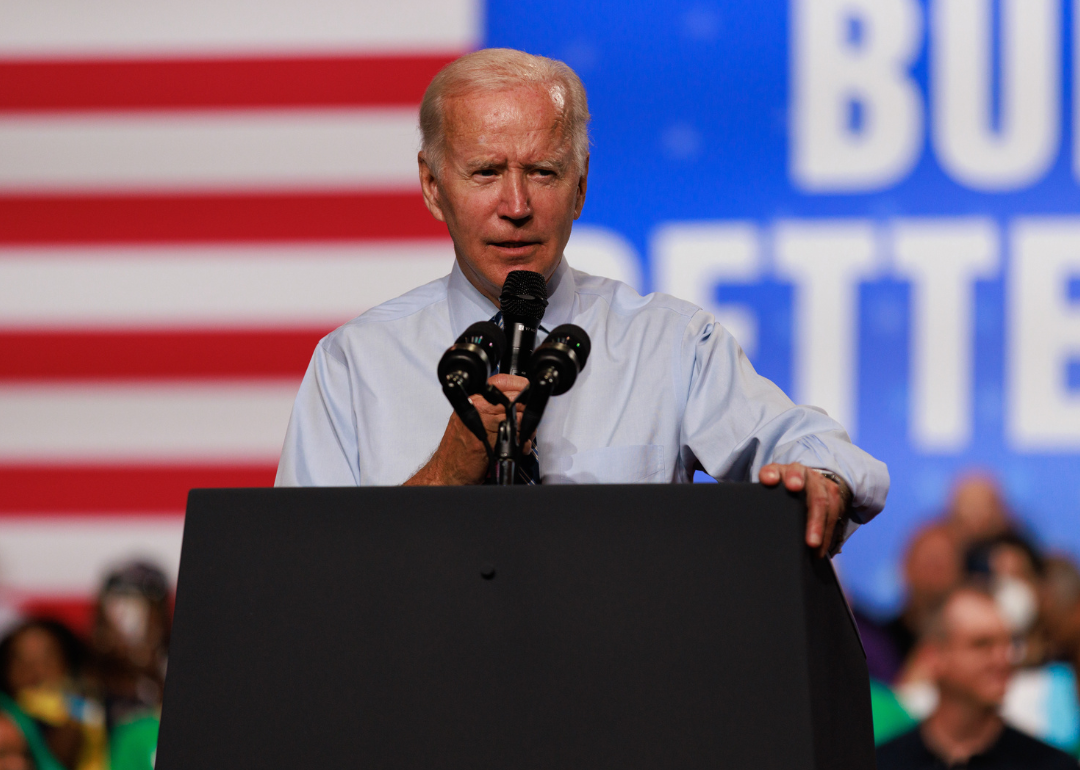 Bryan Dozier/Anadolu Agency via Getty Images
Presidential approval rating is often the clearest predictor of seat changes
Midterm elections tend to be considered referenda on the party in power. As a result, the electability of Congressional members is increasingly tied to the public's attitude toward the president. Swing seats have consistently gone to the nonincumbent party when public approval of the current president is low, and the inverse when the public believes their administration is doing well.
Since FDR's presidency, presidents with a low public approval rating have lost an average of 37 congressional seats during midterms. Only two presidents—Bill Clinton and George W. Bush—have had a public approval rating above 60% during midterm elections; consequently, they have been the only two presidents in recent history to avoid the "midterm curse."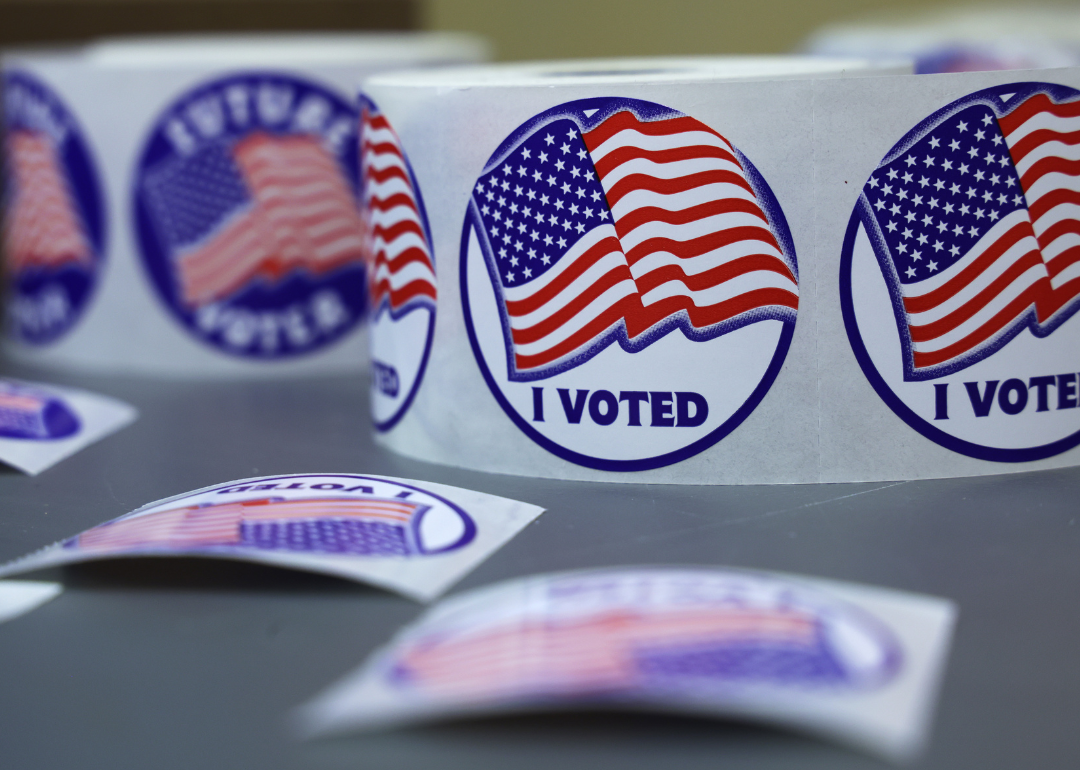 Alex Wong // Getty Images
Voters may be motivated more to turnout when their party is not in power
Voters generally turn out in lower numbers for midterms than for presidential elections. In the 2010 and 2014 midterm elections, respectively, only 4 in 10 eligible voters turned up to the polls, whereas 6 in 10 voted in the 2016 general election. However, the drive to overturn the actions of an unfavorable president can be a powerful antidote to voting apathy. A good example of this was the 2018 midterms, in which, according to an analysis by Catalist, "young voters and voters of color, particularly Latinx voters, were a substantially larger share of the electorate than in past midterms." These voters were majority Democrats, voting in opposition to the Republican incumbent, Donald Trump. That year, midterm surge voting leaped up, and it was "clear that both mobilization and persuasion were critically important in producing this scale of victory for Democrats."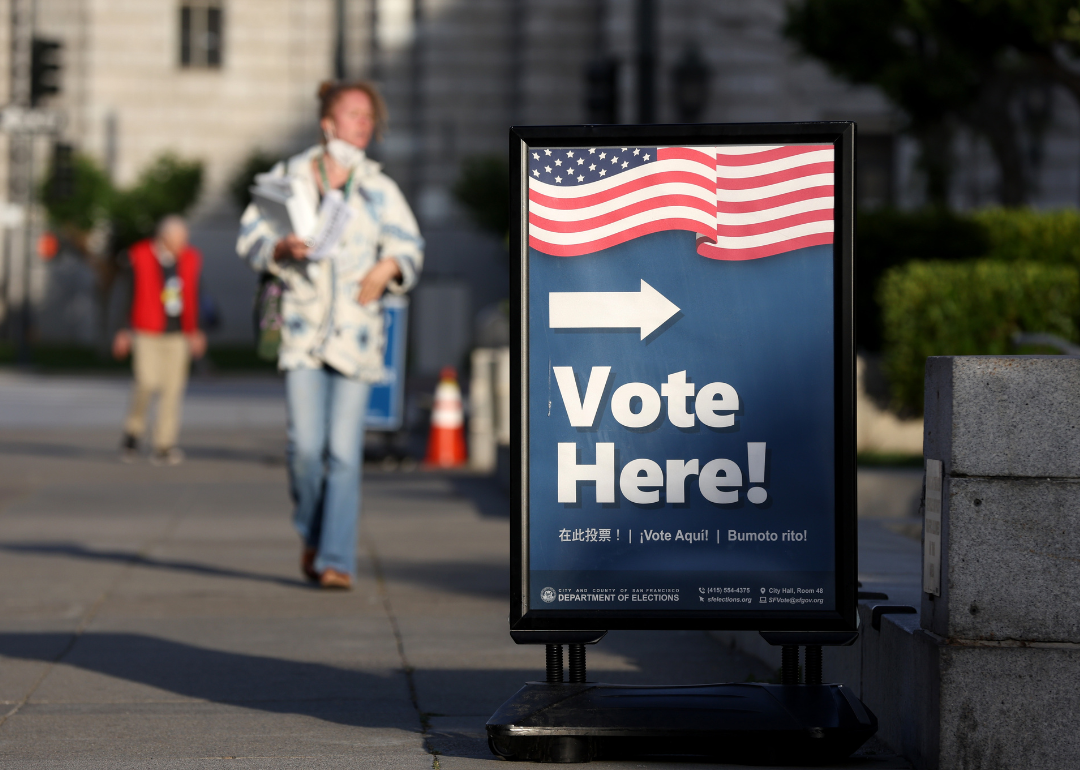 Justin Sullivan // Getty Images
What does this mean for 2022?
In sum, the 2022 midterms will likely follow the patterns laid out here. All seats in the House of Representatives are up for the taking and a third of those in the Senate. President Joe Biden's approval rating—40% as of Oct. 20—is on the lower end of historical midterm rates for an incumbent president, suggesting that, if historic precedent holds, Republicans will gain seats on Nov. 8. However, some factors may exert outside influence on the midterm results. 
The Democratic Party has been experiencing the same mobilization that spurred a midterm surge during Trump's presidency, this time regarding issues such as abortion rights and inflation. Voters in Kansas recently turned up in record numbers to vote down measures that would restrict abortion access; elsewhere in the country, local and state legislatures have taken up steps and earmarked funds protecting the right to choose in repudiation of the Supreme Court's overturning of Roe v. Wade. 
On the other hand, Republican-sponsored extremists are doing what they can to stem this tide, threatening election workers so convincingly that there is a feared shortage of people to work the midterms. Moreover, one recent poll suggests that Democrats' momentum may have begun to stall, particularly among women, who in 2018 turned out to vote in greater numbers than men
You may also like: Heart and Soul of Republican Party
Written by: Andrea Vale National Coverage, local coverage by Chris Edwards and Rene Sepulveda
Description: Stacker used data compiled by The American Presidency Project at the University of California, Santa Barbara, and the U.S. House of Representatives to visualize outcomes of midterm elections on the sitting president's political party in Congress.
More News from Alamogordo