Z-trans services cut unless help jumps in
Image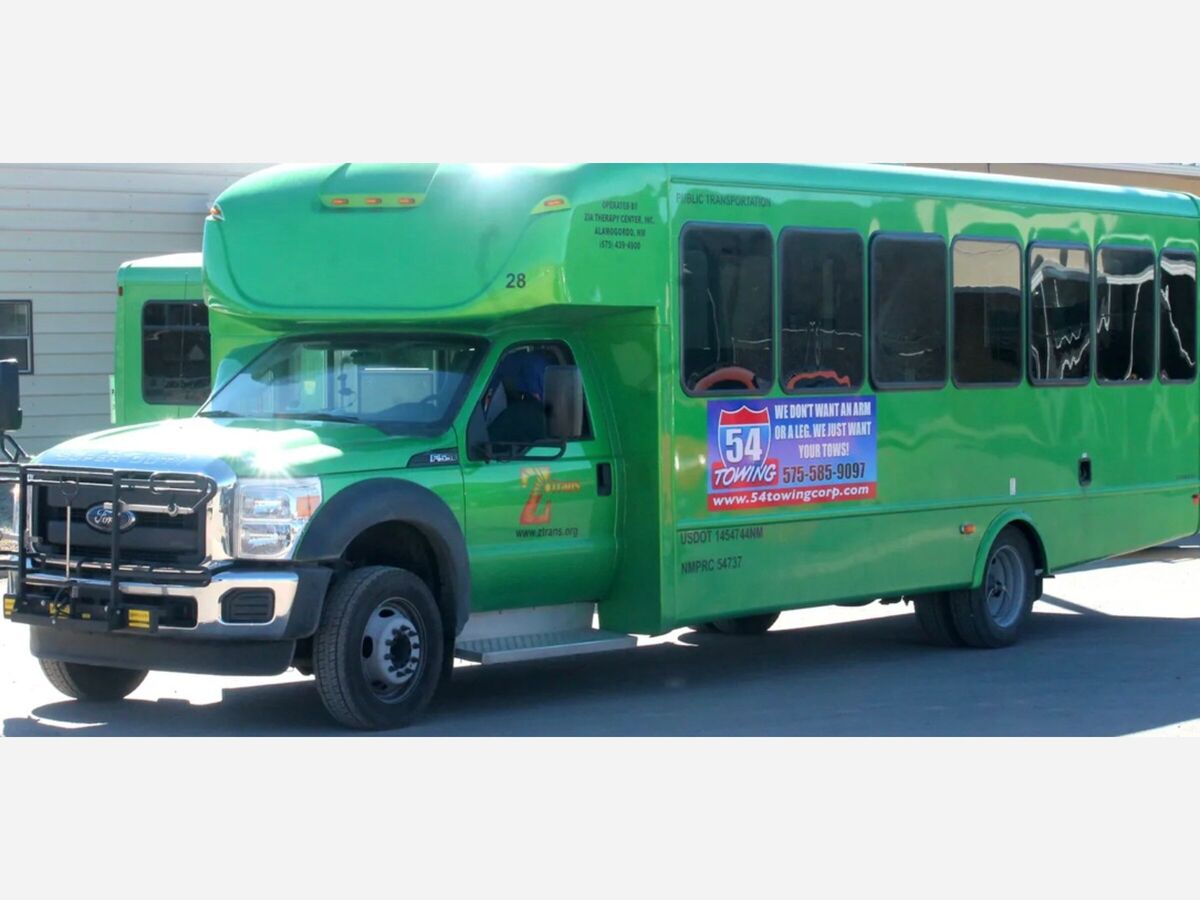 Zia Therapy Center, Inc. is the nonprofit service organization in Alamogordo that provides the local Ztrans Public Transportation service. This service, with the brightly colored busses, has been transporting riders (between 650-700 per month) between Otero County and Doña Ana County (on the Orange Route) for almost 10 years to access Doña Ana Community College, New Mexico State University, health care services, the VA, restaurants, shopping, and social destinations. This affordable system allows riders to travel safely and affordably between Alamogordo and Las Cruces for $1 per trip. (students and seniors ride for .50; veterans ride for free!)
Zia Therapy Center is one of only twononprofit-run public transportation systems in the whole state of New Mexico. We can provide this service onlythrough community funding partners. The contributions of our funding partners are then matched by federal transit dollars to fully fund the system.
All these years, Zia has struggled to keep this much needed route alive. The issue is funding. Recently, we lost critical funding for this route. There is nothing we can do to save this system without adequate recurring funding from community partners. The loss of a funding partner is compounded by the loss of the federal dollars that come with the community match.
Consequently, today starts the countdown to the end of the Alamogordo-Las Cruces route at the end of the day on September 30, 2022.
As you see, there is still time to save this route. Would you like to keep a good thing going? Have you ever wanted to be an agent for good? This is the perfect opportunity. The majority of our Orange Route riders are accessing higher education in Las Cruces to make a better life for themselves and their families. The second highest ridership is people accessing health care specialties not available in our small community. These are quality of life issues for our friends and neighbors.
So what is the magic number? We only need $60,000 of recurring funding to make this system whole and keep the busses running. That's right. For $60,000, this route that runs three times per day, Monday – Friday can keep running. Those funds also allow us to draw down an additional $30,000 in federal money needed to fully fund the route. We're so close, but yet so far.
What's in it for you? Well, if you are in Doña Ana county, know that our riders spend money in your community EVERY time they arrive. (And remember, we average between 650-700 rides per month.) These riders are accessing services that must be purchased (higher ed., health care, shopping, eating, etc.), and their spending in your community increases the GRT of Las Cruces/Doña Ana County.
If you are from the Tularosa Basin, know that our service allows local students to travel safely and affordably between Alamogordo and Las Cruces while they continue to live and pay taxes in our community. That's a huge help for families trying to help their college students through school. It also helps our veterans and senior citizens access health care services not available in our community.
But mostly, this service is a true lifeline for so many. So won't you please consider becoming a recurring Ztrans community funding partner? Let's keep this good thing going! Time is of the essence. If you would like to know more, please feel free to call me at 575.439.4900. We are happy to come talk to you (or your Board of Directors, Councils, Commissioners, etc.) about our needs and how you and/or your organization can help.
Thank you for your consideration,
Margaret S. (Peggy) O'Neill, CEO
More News from Alamogordo