The 49th Wing Holloman Air Force Base Honored 2022 Honorary Commanders April 22, 2022
Image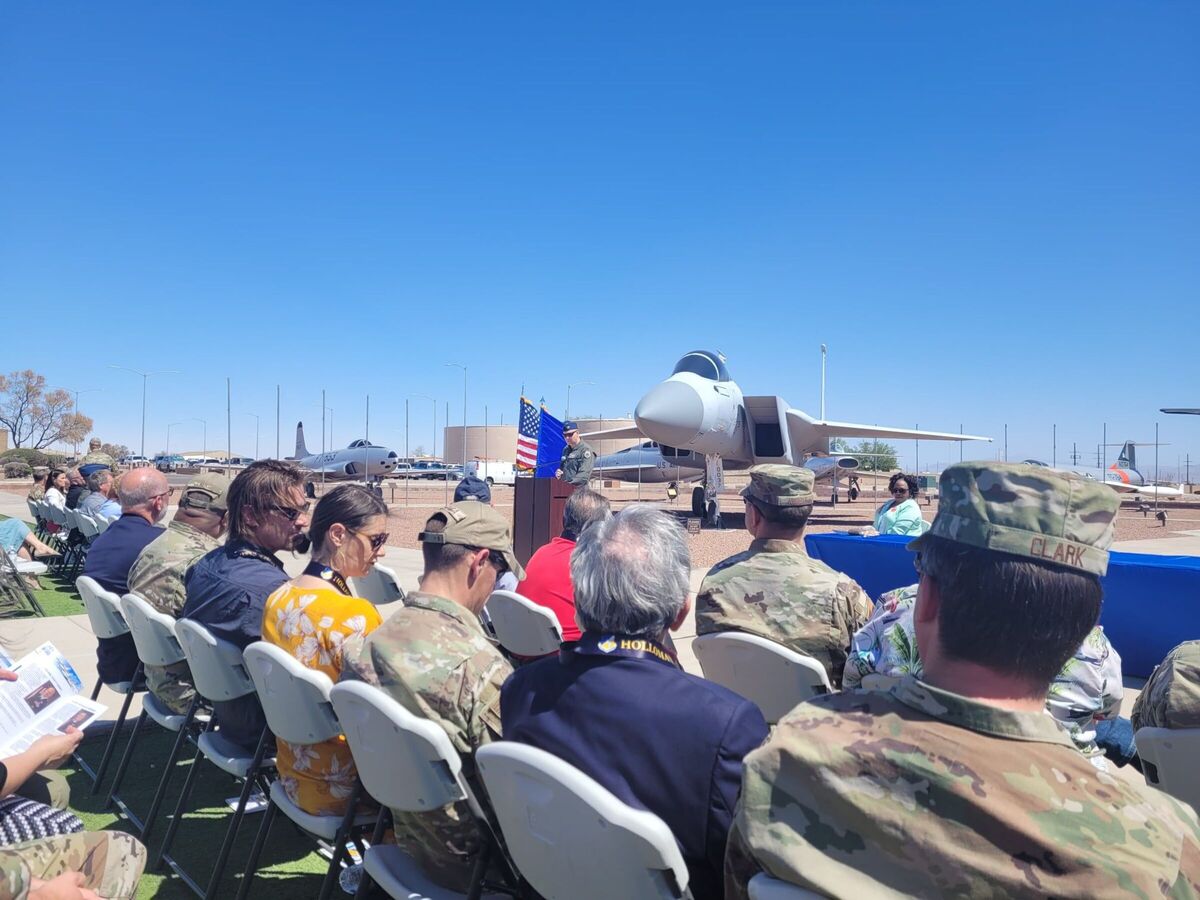 The 49th Wing Holloman Air Force Base honored the 2022 commanders' emeritus and honorary commanders during an induction ceremony here, April 22, 2022.
The honorary commander program establishes and maintains personal relationships with local civic leaders and aids in increasing public awareness of the missions, policies and programs of the Department of Defense and the United States Air Force.
The honorary commander program both educates vital community leaders about their assigned unit's essential mission and fosters supportive relationships with the community; increasing military involvement in civic endeavors and organizations.
The designation of commander emeritus is the highest honor the 49th Wing can present to a civilian civic leader. This distinction honors former honorary commanders who have served a minimum of 15 years and allows them to continue serving the local military community.
The 2022 commanders emeritus
Ed Brabson
Senator Bill Burt
Rosemarie Carroll
John Gardiner
Toots Green
John Green
Bobby Martinez
Bob Pattillo
Randy Rabon
Tim Rabon
The 2022 honorary commanders
Susan Payne, 49th Wing
Dr. Kenneth Moore, 49th Wing Vice
Brandy Murphy, 49th Comptroller Squadron
James Jackson, 54th Fighter Group
Tyler Stuckey, 54th Training Squadron
Brandon Burling, 54th Operations Support Squadron
David/Malah Quinlan, 8th Fighter Squadron
William Arnold, 311th FS
Joshua Ramsey, 314th FS
David Black, 49th Operations Group
Renee French, 6th Attack Squadron
Michael Shinabery, 9th ATKS
Baxter Pattillo, 16th TRS
Nick Paul, 29th ATKS
Tom Stewart, 429th ATKS
Marianne Schweers, 49th Maintenance Group
Barry Thorp, 49th Equipment Maintenance Squadron
Dylan and Molly Olsen, 49th AMXS
Bob Flotte, 49th Component Maintenance Squadron
Darro Panell, 849th AMXS
Craig Danekas, 49th Mission Support Group
Michelle Brideaux, 49th Force Support Squadron
Richard Denton, 49th Security Forces Squadron
Bill Denney, 49th Civil Engineer Squadron
Jamie Prather, 49th Communication Squadron
Remick Ham, 49th Logistics Readiness Squadron
Amy Tillotson, 49th Contracting Squadron
Bashar Naser, 49th Medical Group
Denise Race, 49th Operational Medical Readiness Squadron
Nancy Hudson, 49th Health Care Operations Squadron
Dr. Jim Klump, 635th Material Maintenance Group
Lorrie Black, 635th Material Maintenance Squadron
Trisha Roberts, 635th Materiel Maintenance Support Squadron
G.B. Oliver, 704th Test Group
Tyler Grace, 586th Flight Test Squadron
Rodney Eaton, 586th FTS
David Swinconos, 746th Test Squadron
Cindy Stong, 846th TS
Bud Williams, 82 Aerial Targets Squadron'
Published April 22, 2022, and written by Senior Airman Adrian Salazar 49th Wing Public Affairs Office release.