Alamogordo Art & Commerce were on Display St Patrick's Day
Image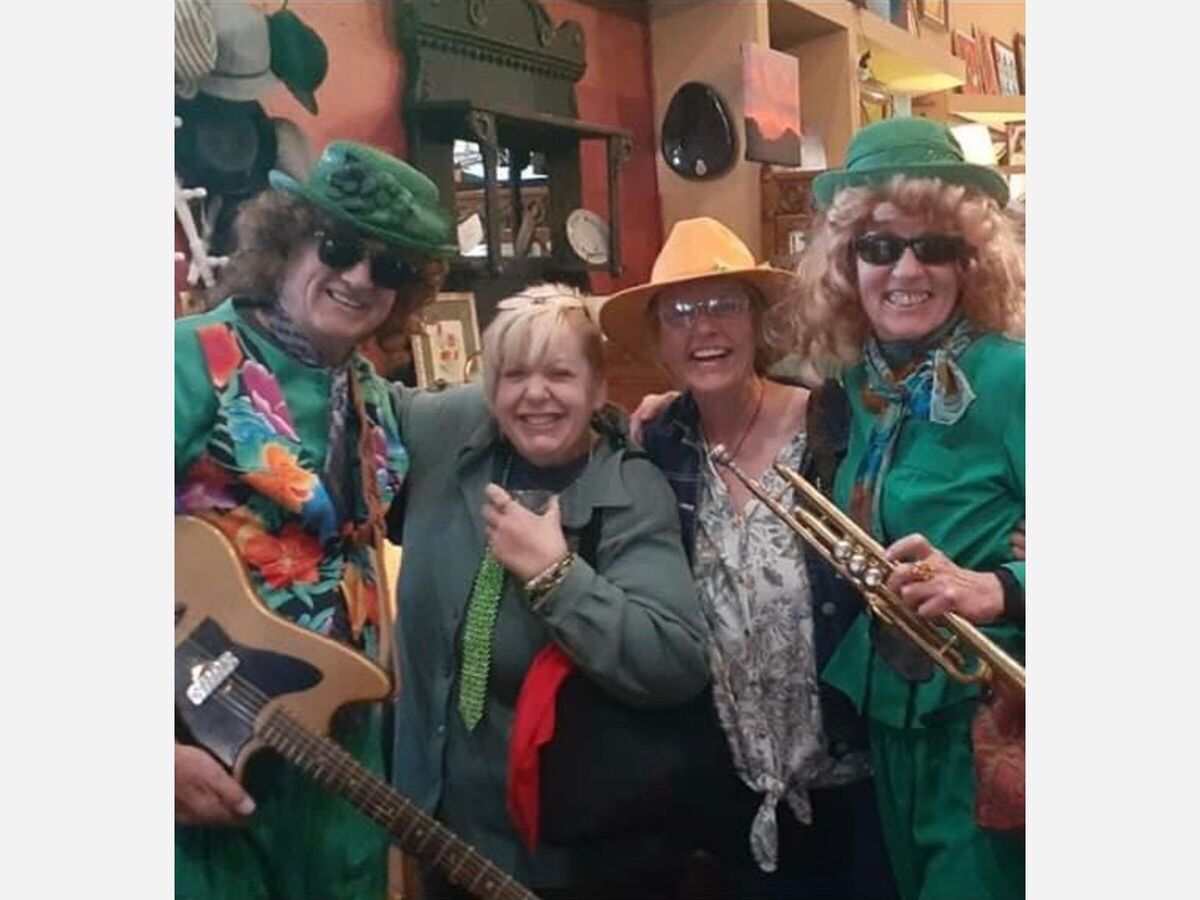 And some say there is nothing going on in Alamogordo. They could not be more incorrect. Thursday night saw three successful events where business, arts, culture came together to mingle, socialize, learn, and have fun.
Thursday night in Alamogordo began for about 50 people at Granada Shopping Center, East 1st Street. From 5 pm to 7 pm in the main Gallery Room adjacent to Clay Time Pottery & Ceramics was a wonderful exhibition of about 60 original works of art Chris Ward showcased. Mr. Ward said he had a "successful turnout and a lot of fun."  The event began the night for several of Alamogordo's fans of the arts and culture as many people traveled onward to two other events.
The Alamogordo Center of Commerce Vibe@5 event was a wonderful showcase of Alamogordo's business community coming together to celebrate business success. The   VIBE @ 5 event was hosted by Green Health CBD, and was St. Patrick's Day Themed in the wonders of green and the luck of the Irish. Participants were entertained by live music by James Ethington, education on CBD products door prizes, food, beer & wine, and networking and more topped off the evening.
From there New York Avenue was the center of entertainment, music, culture and of course shopping at Roadrunner Emporium, 928 New York Avenue, Alamogordo.
The public was greeted at Roadrunner Emporium with a live radio remote, outdoor music and interviews on KALH by Anthony Lucero and Mattie Medlin and team welcoming the masses on air and in person.
From there a list of who's who in Alamogordo dropped by to celebrate St. Patrick's Day and the release of the newest issue of New Mexico Influence Magazine. What an evening!!!
An awesome showcase of talent was on display till well after 10 pm to include the the great musicians; Hannah Peterson, Kelly Hargrove, Lenore Whitney and James David Ethington III who did a second gig by joining Roadrunner Emporium after performing early in the evening. Their  wonderful performances and all the models, writers and contributors who joined us this evening was awesome. Picacho Brewing Company owner Xavier provided delicious food to the Roadrunner Emporium Influence Magazine release party. 
The evening was a showcase of diversity bringing together folks from the judiciary such as Judge Ellen Jessen, 12th District Judge, those from the faith community such as Reverend Warren L. Robinson who happens to be also running for Magistrate Division One. Amy Barela a candidate for County Commission District 2 was on hand with a huge smile and a beautiful puppy. Representatives from the board of directors of Otero Arts Kathy Mabry and others joined. Alamogordo Main Street was well represented with board members, past directors and fellow business owners such as Mia & Wade Martin of Mia's Collectibles, Claudia Loya-Sheppard of Elite Memories Boutique, Michelle McKinstry from the Alamogordo Center of Commerce Board, Cindy Stong, Board President of the Flickinger Center and part of the staff, Lydia Aspen and Emmanuel Renteria from New York Avenue Art & Music Studio in full costume and more. Many artisans, authors, business folks, community supporters, customers and those that just wanted to have fun dropped by to celebrate Meike Schwarz and Cedric Fishers Magazine release and enjoy the wonderful live entertainment on site on New York Avenue. 
When Alamogordo's business and arts community from across the city cross promotes and collaborates then the community as a whole gains. The strength through diversity of Alamogordo is celebrated and is unstoppable when the arts, faith, political and commerce communities work together to build on the each other's strengths and celebrate together.
Thank you Alamogordo for coming together this special St Patrick's Day 2022 at 3 locations as a positive community!