Thrifters. Most Valuable Golf Trading Cards…
Image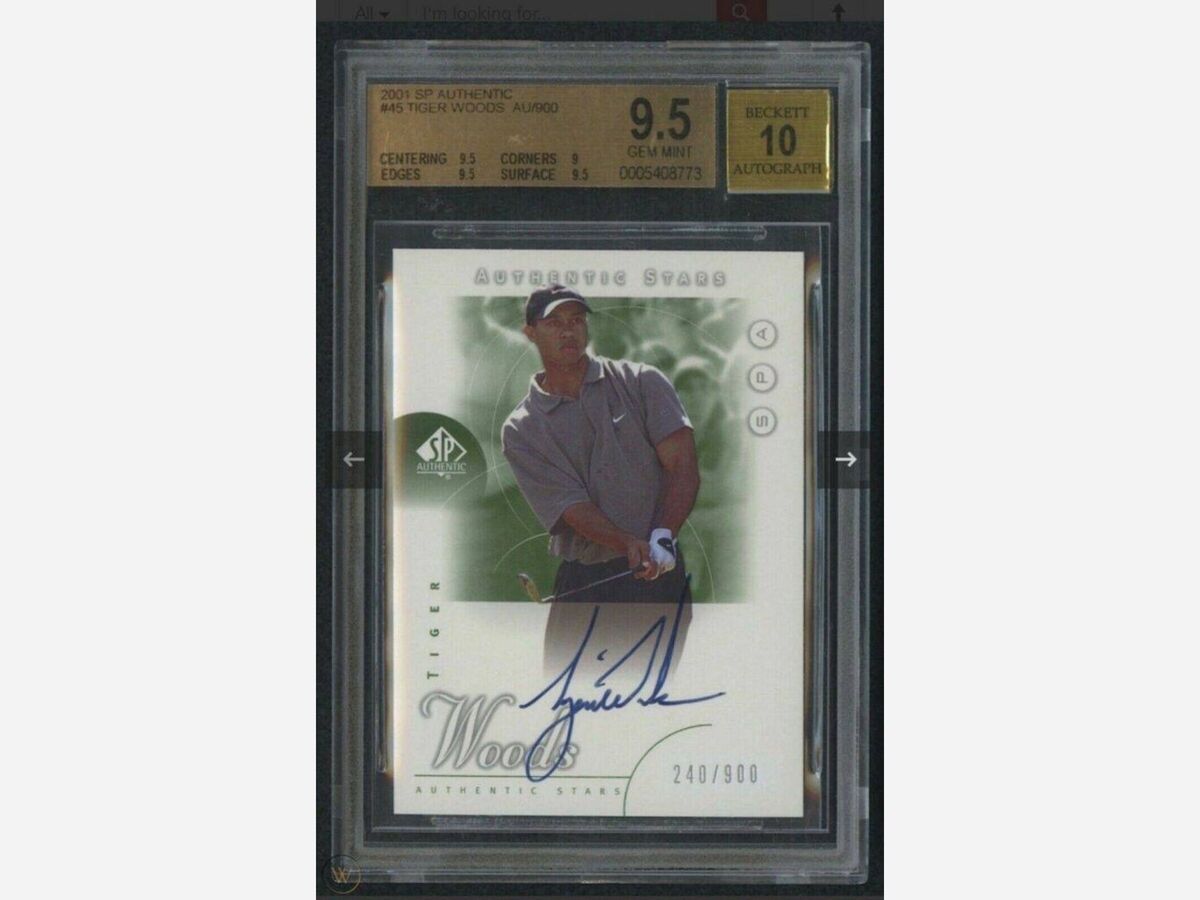 This series will be published from time to time due to the collectibles community and thrifters that live around Alamogordo. Today's topic golf trading cards…
Golf trading cards date back to the early 1900s when Cope Bros. & Co., a tobacco company based in London and Liverpool, issued the 1900 Cope Bros. & Co. Golfers set. The 50-card set featured cartoon images of golfers inserted into their tobacco products.
The appearance of the modern era resulted from 1981 Donruss Golf, starring Jack Nicklaus' rookie card. The next prominent shift in golf cards transpired after the release of the 1997-98 Grand Slam Ventures set, followed by the 2001 Upper Deck SP Authentic Golf set, starring Tiger Woods.
The golf legacy of Tiger woods has significantly influenced the game of golf, particularly golf trading cards. As Tiger holds four of the five most valuable golf cards of all time, let's reveal the top five most valuable golf cards and unveil who else made the cut.
5 1996 Sports Illustrated for Kids Tiger Woods #536
Sports Illustrated for Kids featured a sheet of nine cards with perforated edges that Sports Illustrated inserted in their magazines. Although the card isn't officially licensed, Tiger's card is profoundly nostalgic for sports card collectors.
Tiger's Series 3 card from Sports Illustrated for Kids, graded by Professional Sports Authenticator (PSA), the industry's leading card grading service, merited a 9 out of 10. On May 28, 2021, Tiger's Sports Illustrated for Kids card fetched $32,988.88 on the PWCC Marketplace.
#4 2012 Upper Deck All-Time Greats Michael Jordan/Tiger Woods #ATF2-JW
The 2012 Upper Deck All-Time Greats Sports Edition features 20 legendary athletes from their respective sports, including the United States' four major professional sports leagues (NBA, NFL, NHL, MLB), NASCAR, boxing, surfing, and golf. The 2012 Upper Deck All-Time Greats Sports Edition is remarkably limited, with even the base cards serial-numbered to just 99 cards.
The All-Time Dual Forces Autographed card by Michael Jordan and Tiger Woods, two of the most decorated athletes of all time, is limited to 1/1 and remains the most sought-after card in the set. On January 25, 2021, Beckett Grading Services (BGS), another industry leader in card authentication, graded the coveted card a BGS 9, receiving $45,100 on the PWCC Marketplace.
#3 1997-98 Grand Slam Ventures Champions of Golf Masters Collection
The 1997-98 Grand Slam Ventures Champions of Golf Masters Collection exhibits 63 cards, highlighting previous winners of the Masters Tournament from 1934 to 1998. The Champions of Golf Masters Collection showcases each golfers' journey to their green jacket and the decisive Masters leaderboard.
While Tiger's Sports Illustrated for Kids card precedes the 1997-98 Grand Slam Ventures set, this is Tiger's first recognized traditional sports card. On February 26, 2019, the Grand Slam Ventures Tiger Woods card graded a PSA 10 received $64,316.86 on the PWCC Marketplace.
#2 1932 U.S. Caramel Bobby Jones #3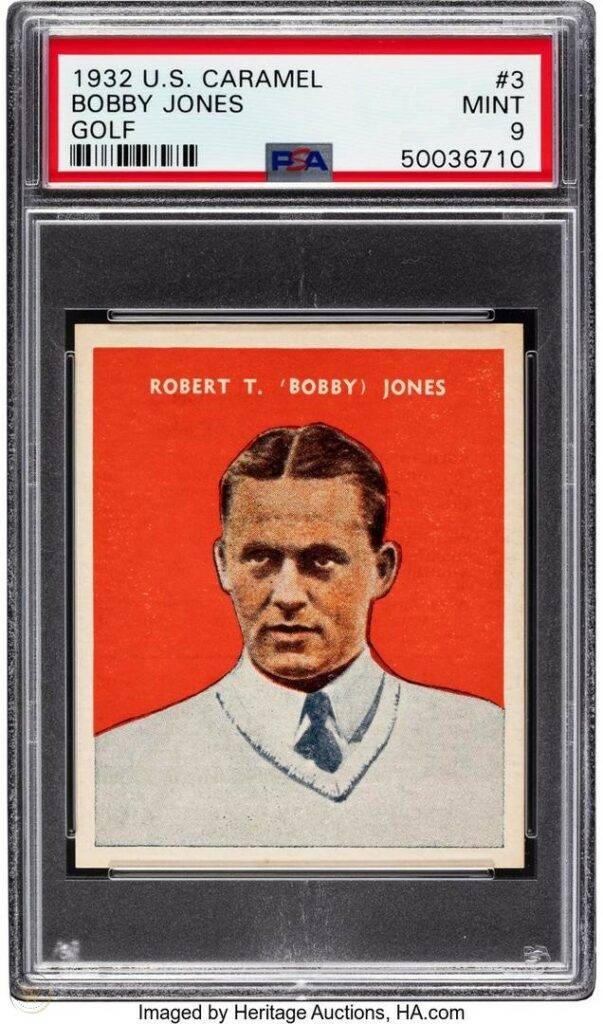 Robert Tyre Jones Jr., better known as Bobby Jones, helped design the Augusta National Golf Club in 1933, the home of the Masters Tournament. In 1930, before Bobby Jones founded the Masters, he became the first golfer to win the Golf Grand Slam, winning the four major tournaments of the year, including the British Open, U.S. Open, British Amateur Championship, and U.S. Amateur Championship. To date, only five other golfers achieved a Golf Grand Slam, including Gene Sarazen, Ben Hogan, Gary Player, Jack Nicklaus, and Tiger Woods.
The U.S. Caramel Company issued 27 baseball cards and five miscellaneous cards in the 1932 Caramel set, including golfers, Gene Sarazen and Bobby Jones. On May 6, 2021, a PSA 9 1932 U.S. Caramel Bobby Jones card sold for $105,000 at Heritage Auctions, becoming the 2nd most valuable golf card.
#1 2001 SP Authentic Golf Tiger Woods Authentic Stars Autograph Gold Rookie Card #45
The most valuable golf trading card of all time features none other than Eldrick Tont "Tiger" Woods. Issued by Upper Deck on August 24, 2001, the highly treasured card emerged from 2001 SP Authentic, starring Tiger Woods' autographed rookie card.
In 2021 at Goldin Auctions Winter Auction occurring March 6-7th, Tiger's PSA 10 graded card introduced a minimum bid of $75,000, ultimately bringing in a record-breaking $336,000. Tiger's SP Authentic card is continuously the most sought-after golf card due to its limited availability, serial-numbered to only 100 cards, and Tiger's unparalleled accomplishments on the golf course.
The Worth of Golf Cards Stays the Course
As you've seen from the cost of the top five most valuable golf cards, collecting golf cards is no longer just a hobby but an investment opportunity. The brilliance of Tiger Woods, from his 18 Majors (two less than Jack Nickalus for most all-time) to his 82 PGA Tour Victories (tied with Sam Snead for most wins in PGA Tour history), are just a glimpse of what Tiger's accomplished as the greatest golfer to play the game. Among all of his accomplishments, Tiger Woods' impact on golf has generated a massive splash in the golf trading card market, where golf cards continue to thrive.
Aside from that, as Tiger rehabs from his car accident, hopefully, we witness the greatness of Tiger Woods on the golf course in the near future as he strives to surpass Sam Snead for the most PGA Tour wins in golf history.
Source: Cameron Joshua is an experienced freelance writer and editor specializing in the fields of psychology and sports. He has been collecting sports and other trading cards since the '90s. When not writing, he enjoys photography, eating breakfast foods, and playing soccer with his daughter.