Alamogordo Kiwanis Club Bug Awards
Image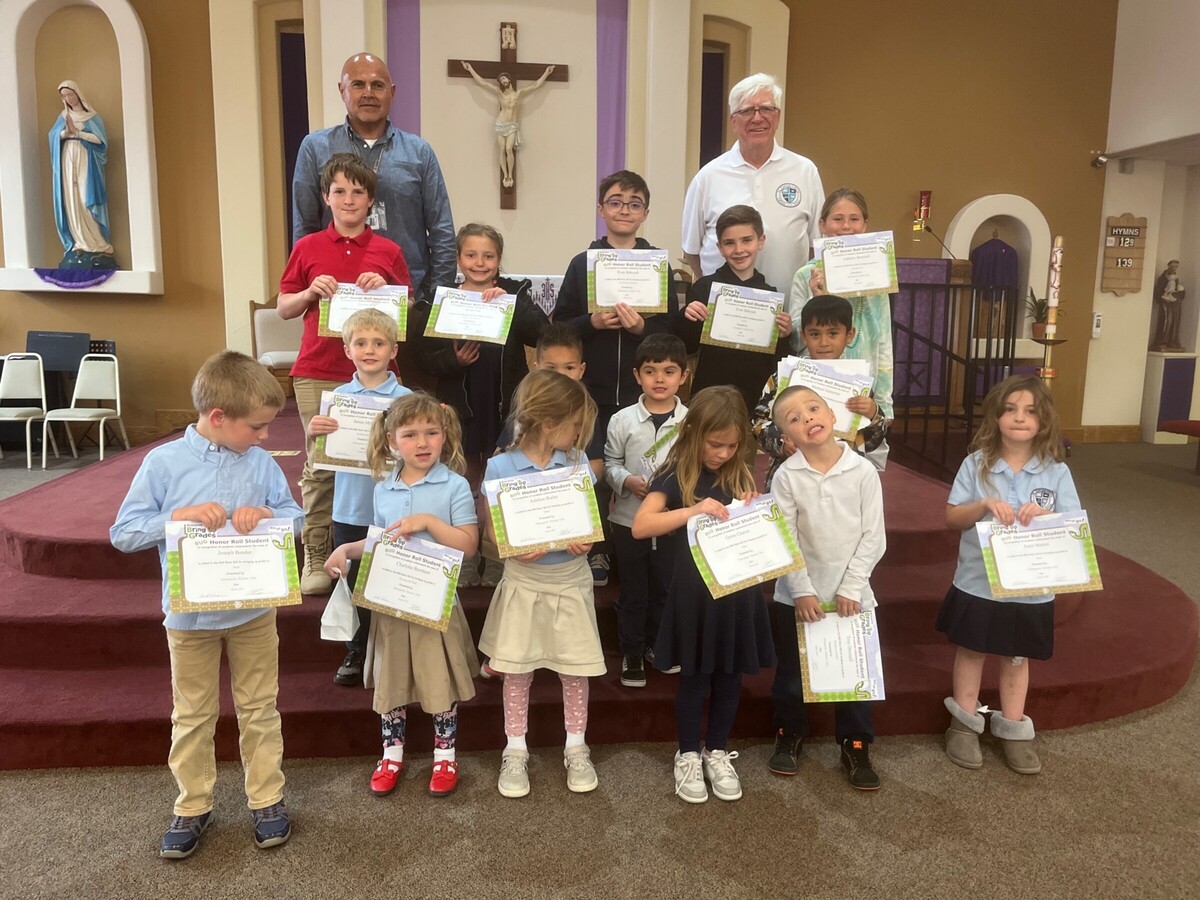 The ​Alamogordo Kiwanis Club recognizes student improvement and assists in enriching the school programs at St. Frances Cabrini Catholic Elementary School.
BUG stands for Bring Up Grades. The purpose of the BUG program is to encourage students by recognizing their efforts to improve their grades.
The Alamogordo Kiwanis Club recognizes fifteen students from Saint Frances Cabrini Catholic Elementary School. The 3rd nine weeks grades are compared to the 2nd nine weeks' grading period.
The Saint Francis Cabrini students who qualified are: Evan and Ryan Babcock, Joseph Bender, Addison Brownell, Charlotte Burnham, Adeline Butler, Quin Chavez, Troy Dressell, Scout Fair, Michael Gutierrez, Lucian King, Josie Matise, James McKenney, Magnus Robere, and Aleister Youngs. Included in the picture are Principal Victor Gonzales and Kiwanis "Bug" man, Ned Kline.
​A BUG Honor Roll is established for the first grading period, according to Principal Victor Gonzalez. "Every student who maintains their grades and raises one subject grade by one letter grade will be recognized on the list."
​"This will encourage students who put real effort into improving their grades." says the BUG man, Ned Kline. "It doesn't matter where they're starting from. We want to encourage them to do their best from here onward."
​Two students were identified as "repeaters", meaning they brought up their grades for both the 2ndand 3rd nine weeks grading periods. They are: Charlotte Burnham and Aleister Youngs.
Kiwanis is looking out for kids in every corner of the globe with more than 550,000 volunteers who serve their community such as the local chapter in Alamogordo.Kiwanis International was founded in 1915 by a group of businessmen in Detroit, Michigan, United States. The organization was originally called the Supreme Lodge Benevolent Order of Brothers but changed its name to Kiwanis a year later.
The name "Kiwanis" was coined from an American Indian expression, "Nunc Kee-wanis," which means, "We trade." In 1920, the motto of Kiwanis became "We Build." It remained the motto until 2005, when members voted to change it to "Serving the children of the world." In the early years, members focused on business networking but in 1919, the organization changed its focus to service — specifically service to children.
Kiwanis became an international organization with the founding of the Kiwanis Club of Hamilton, Ontario, Canada, in 1916. Kiwanis clubs formed in communities across the United States and Canada until the 1960s, when worldwide expansion was approved. Today, Kiwanis clubs are helping children thrive, prosper and grow in nearly 80 nations and geographic locations.
All people are welcome to participate in the Kiwanis movement of improving communities for children. In 1987, women were invited to join. In 2008, delegates approved a resolution that calls for Kiwanis clubs to celebrate and foster inclusiveness.