Arts Update: Alamogordo Cultural Arts District, Otero Arts New Retrospective of Shari Adkisson Opens Friday
Image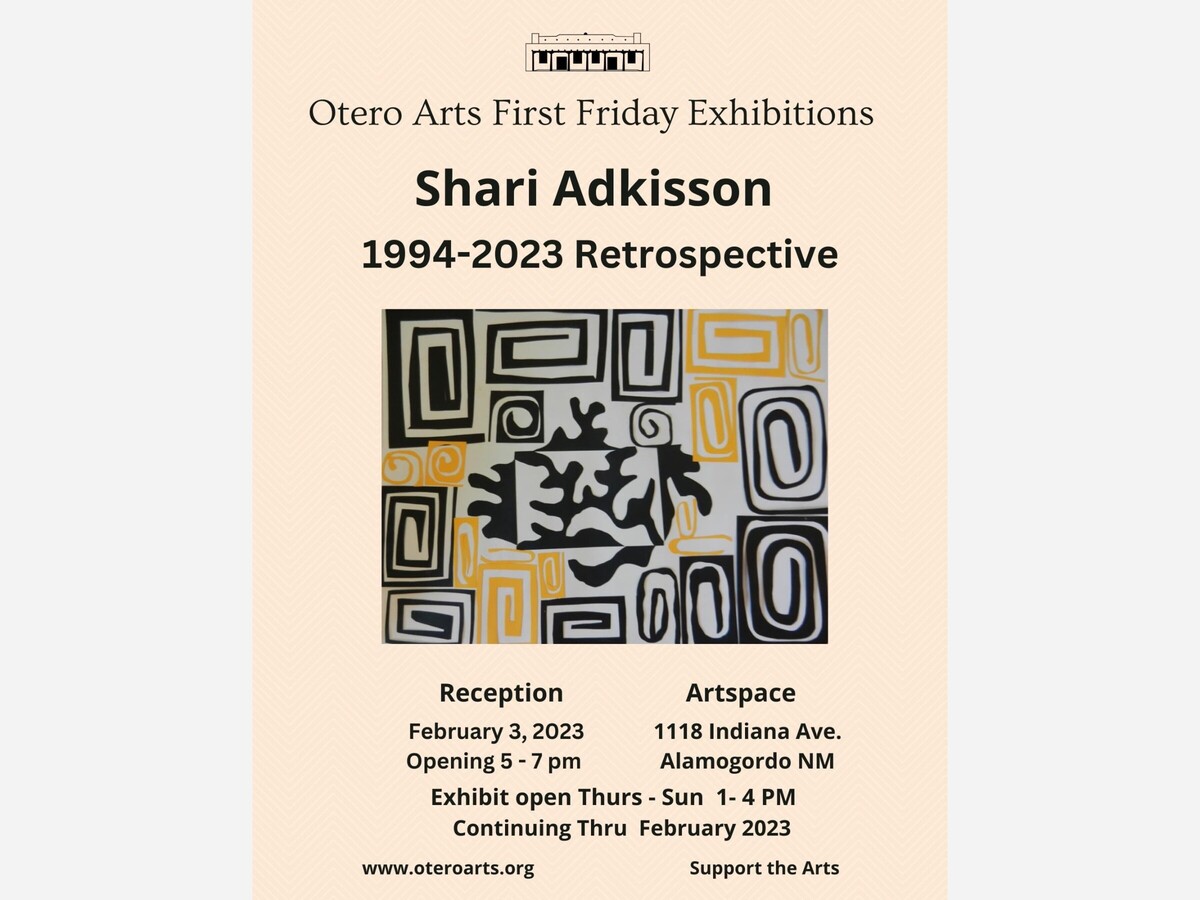 Alamogordo has been selected by the New Mexico MainStreet's JumpStart Program to work towards a State Authorized Arts and Culture District Designation. (ACD).
These districts exist in a number of cities across the state including Albuquerque, Artesia, Las Cruces, Gallup, Las Vegas, Los Alamos, Mora, Raton and Silver City. Plans are underway in Carlsbad, Corrales and Farmington. Alamogordo will join Belen as the second JumpStart participant.
ACDs promote art and history in the state and are made up of local MainStreet organizations, local government and local arts councils. The goal of JumpStart will be to help Alamogordo develop their cultural and art resources in dynamic collaboration with businesses to support a creative economy. The JumpStart program takes 1 - 2 years to complete.
Meetings have started and there will be many opportunities for artists, advocates, arts and cultural organizations, and businesses moving forward.
Stay tuned as we will keep everyone informed of the progress. To learn more https://www.nmarts.org/ arts-and-culture-districts.html
Otero Arts will open a new art show a retrospective of Shari Adkisson with the grand opening reception Friday February 3, 2023 5 pm to 7 pm at 1118 Indiana, Alamogordo in the historic Alamogordo Women's Building now Otero ArtSpace. 
Ms Adkisson spent most of her life since childhood being the "artsy kid" through marriage and now retired, (but not really). Shari's work has gone the gambit but her first love is fibre. She learned quilting when married, creating with friends and usually gave away her work to family and friends, but discovered "Art Quilting", which are the same techniques but smaller and did not require a dedicated room to quilt. She has shown at Intl. Quilt Festivals/Shows, including a 9/11 quilt. Recently, she has taken up collage and art journaling, a true multi-media. Join Otero Arts Friday to meet the artist, explore her creativity and meet local artisans and admirers of art. 
The Alamogordo Experimental Theater Group is in rehearsal for the original musical "Ghost Town" by OAI member Nathan Young. AETC meets on Monday evenings at the Artrspace from 7 - 8:30 pm and is looking for singers, actors, techs, dancers, stagehands and musicians to complete our cast for the May 20th show at the Artspace. Auditions for singers, dancers, stagehands and musicians, ages 14 nd up will be held Feb. 6th and 8th at OAI, For more information, contact Paige Young @ 914-388-4576