Alamogordo Tigers Individual Swim Results & Basketball Boys Defeat Mayfield and Regional Updates
Image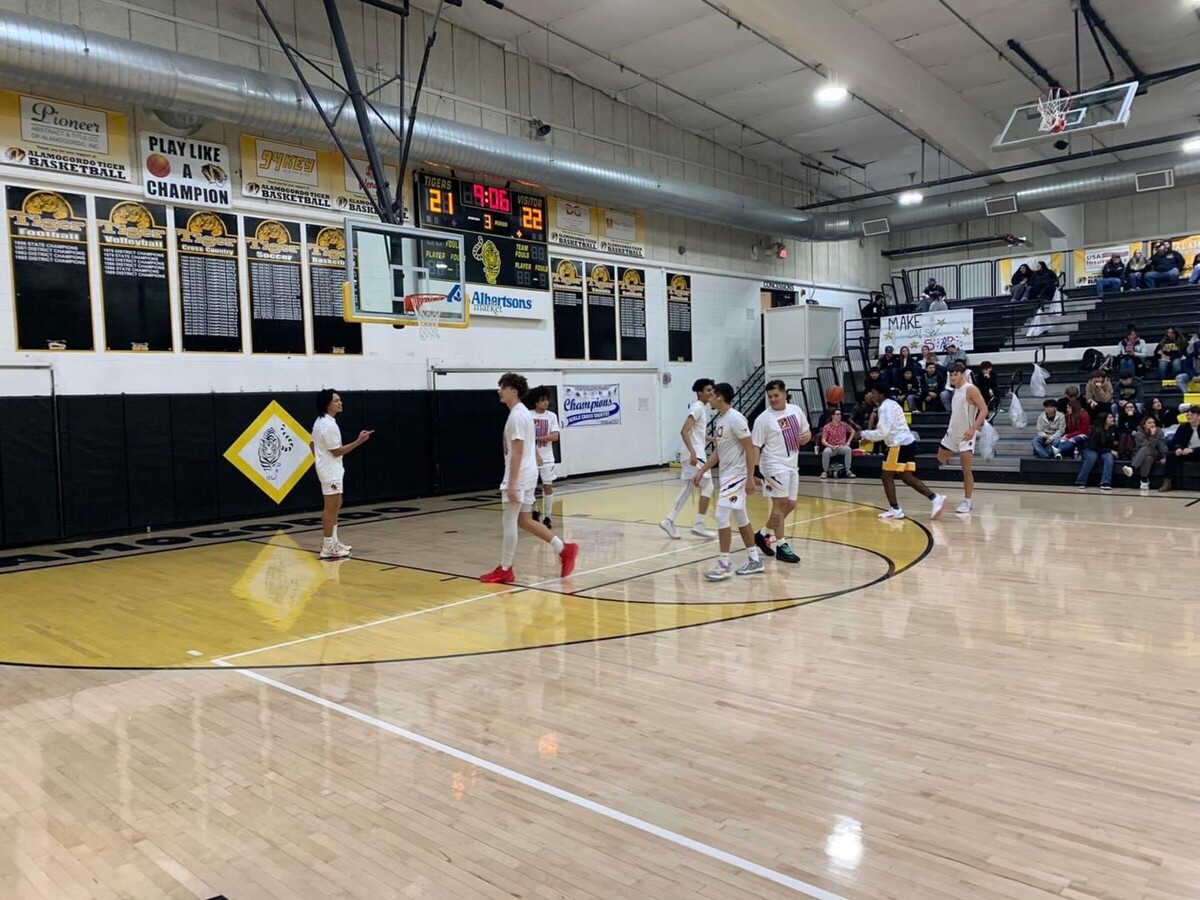 Alamogordo Tiger boys basketball hosted Mayfield this evening. Game highlights Mayfield led Alamogordo 16-8 after the first quarter. Mayfield led Alamogordo 26-20 going into halftime. The tables turned in the 3rd quarter with Alamogordo leading Mayfield 34-30 ending the 3rd quarter. Then victory Alamogordo Boys defeated Mayfield 44-42. Deonta Bynum led the Tigers with 13 points, scored game winning shot with 10 seconds to go.  Davion Smith, Damiran Smith, Zach Sell and Kai Bickham each had 6. The Alamogordo High School Tiger Boys improved their record to 7–8 and  1-2 in district, they next play at Las Cruces on Thursday.
In Alamogordo Girls Basketball the Mayfield Girls defeated Alamogordo 53-40.
Teeya Gordon led the Lady Tigers with 22 points and Abby Vazquez with 12. The Lady Tigers drop to 10-9 and 0-3 in the district, they next host Las Cruces on Thursday.
Girls Basketball Regional Action:
Mescalero Apache Girls defeated Tularosa 32-26. Ivonna Burgess led the Lady Chiefs with 12 points, Skyla Enjady and Kaylionna Rocha each had 6. Maycee Griffin led the Lady Cats with 9 points and Sarina Becchetti had 5. The Lady Chiefs improved their record to 13-6 and are now 1-1 in district, they next host Cloudcroft on Saturday.  The Lady Cats are 8-9 and 0-1 in district they host Capitan on Thursday.
Previously reported Alamogordo High School Tigers Boys and Girls Swim team placed 3rd at the Artesia Invitational on Saturday. Below are Saturday's Artesia Invitational individual results for Tiger team members..
Both teams next compete at District Meet in Hobbs on February 3rd and 4th.
Top finisher in each event
Girls
100 Back - Sonja Davis 2nd (1:09.80)
100 Fly - Elisa Crabtree 3rd (1:30.30)
200 Medley Relay - 3rd (Sonja Davis, Bailey Green, Elisa Crabtree, Maeve Wierzbanowski - 2:25.20)
400 Free Relay - 3rd (Anna Crabtree, Kara Penning, Cheyenne Cerbantes, Phoebe Wierzbanowski - 5:45.77)
500 Free - Elisa Crabtree 4th (7:24.38)
200 Free Relay - 5th (Maeve Wierzbanowski, Haven Daily, Elisa Crabtree, Sonja Davis - 2:12.97)
100 Breast - Bailey Green 6th (1:37.34)
200 Free - Phoebe Wierzbanowski 7th (2:53.81)
200 IM - Sonja Davis 7th (2:47.13)
50 Free - Haven Daily 11th (34.42)
100 Free - Phoebe Wierzbanowski 12th (1:22.97)
Boys
400 Free Relay - 2nd (Haakon Davis, Jack Hallbeck, Chase Rose, Landon Artiaga - 4:46.29)
200 IM - Haakon Davis 3rd (2:52.64)
500 Free - Haakon Davis 3rd (6:45.60)
200 Free Relay - 3rd (Haakon Davis, Cruz Hernandez, Leamon Jones, Isaiah Dalmas - 1:55.91)
200 Medley Relay - 5th (Omar Enriquez, Isaiah Damas, Cruz Hernandez, Leamon Jones - 2:15.80)
100 Fly - Cruz Hernandez 5th (1:38.98)
200 Free - Landon Artiaga 6th (2:34.03)
100 Breast - Isaiah Dalmas 6th (1:19.56)
50 Free - Isaiah Dalmas 7th (27.62)
100 Free - Leamon Jones 7th (1:05.60)
100 Back - Omar Enriquez 10th (1:20.82)