Trinity Site Open House is set for Oct. 2
Image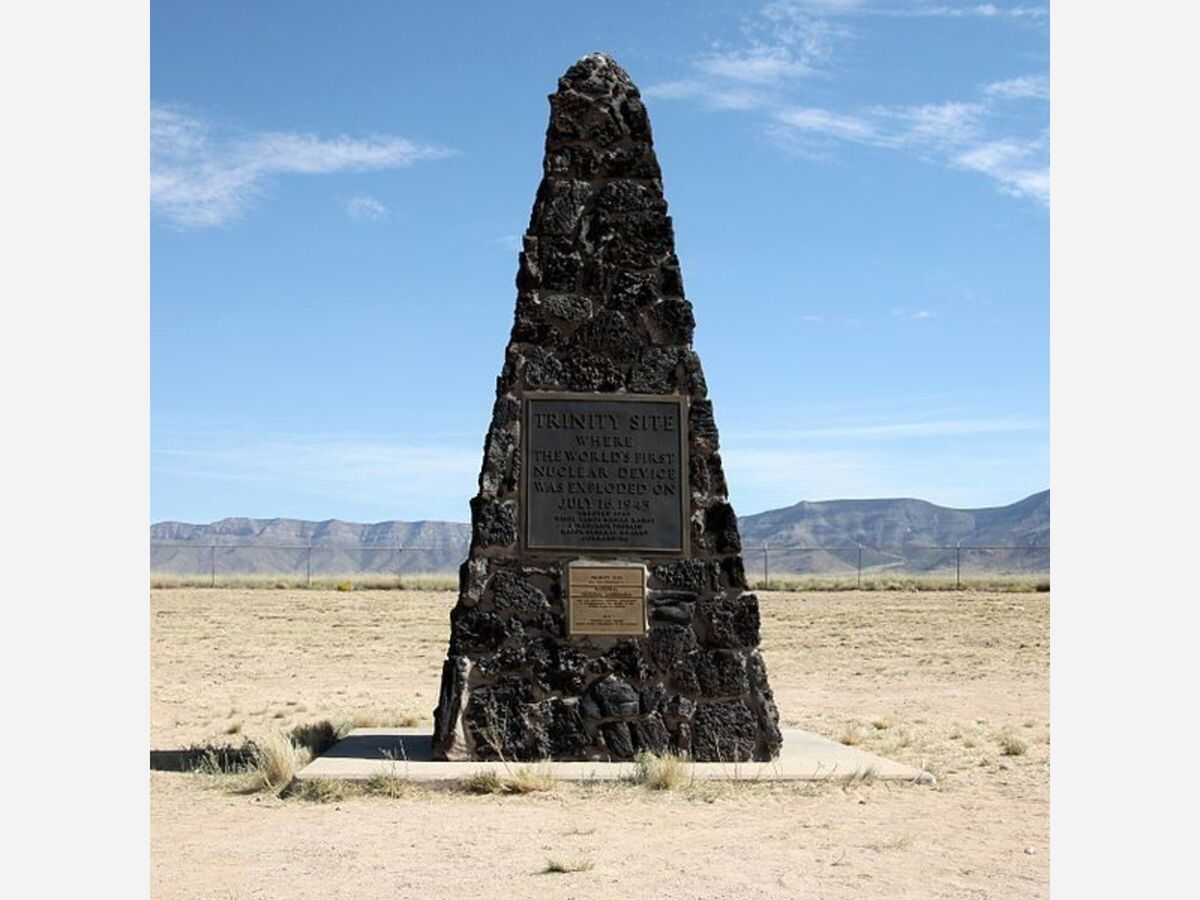 Stallion Gate Entrance
Exit I-25 on mile marker 139 (San Antonio, N.M.) and head 12 miles east or exit U.S. Highway 54 onto U.S. Highway 380 and head west 53 miles of Carrizozo, N.M. Turn south on New Mexico State Highway 525 and head south five miles to the Stallion gate.
Alamogordo Caravan
Alamogordo Alternative - The Alamogordo Chamber of Commerce sponsors a caravan for visitors to Trinity Site. The Alamogordo caravan meeting site is at the Tularosa High School Athletic Field Parking lot. Turn west off Hwy. 54/70 in Tularosa at Higuero St. Proceed west to La Luz Ave. Turn right on La Luz Ave. (north) to athletic field.
Vehicle line up will begin at 7 a.m. Caravan departs at 8 a.m. NO STRAGGLERS WILL BE ALLOWED INTO THE CARAVAN ONCE THE LAST PERSON IN THE CARAVAN HAS BEEN IDENTIFIED.
Visitors entering this way will travel as an escorted group to and from Trinity Site. The drive is 145 miles roundtrip and there are no service station facilities on the missile range. Please make sure you have a full tank of gas.
The caravan is scheduled to leave Trinity Site at 12:30 for the return to Tularosa.
Cameras are allowed at Trinity Site but their use is strictly prohibited anywhere else on White Sands Missile Range.
Official Press Release:
Trinity Site Open House is set for Oct. 2
WHITE SANDS MISSILE RANGE, N.M. (July 9, 2021) – White Sands Missile Range will open Trinity Site to the public after a brief pause in activities due to COVID-19 on Oct. 2. Trinity Site is where the world's first atomic bomb was tested at 5:29:45 a.m. Mountain War Time July 16, 1945.
The open house is free and no reservations are required. At the site visitors can take a quarter-mile walk to ground zero where a small obelisk marks the exact spot where the bomb was detonated. Historical photos are mounted on the fence surrounding the area.
While at the site, visitors can also ride a missile range shuttle bus two miles from ground zero to the Schmidt/McDonald Ranch House. The ranch house is where the scientists assembled the plutonium core of the bomb. Visitors will also be able to experience what life was like for a ranch family in the early 1940s.
The simplest way to get to Trinity Site is to enter White Sands Missile Range through its Stallion Range Center gate. Stallion gate is five miles south of U.S. Highway 380. The turnoff is 12 miles east of San Antonio, New Mexico, and 53 miles west of Carrizozo, New Mexico. The nearest city to make hotel reservations is Socorro, New Mexico. The Stallion Gate is open from 8 a.m. to 2 p.m. Visitors arriving at the gate between those hours will be allowed to drive unescorted the 17 miles to Trinity Site. The road is paved and marked. The site closes promptly at 3:30 p.m.
Media who would like to visit the open house must register by calling the Public Affairs Office at 575-678-1134.
For more information on the open house please visit the Trinity Site website at: Trinity Site Information
White Sands Missile Range, DoD's largest, fully-instrumented, open air range, provides America's Armed Forces, allies, partners, and defense technology innovators with the world's premiere research, development, test, evaluation, experimentation, and training facilities to ensure our nation's defense readiness.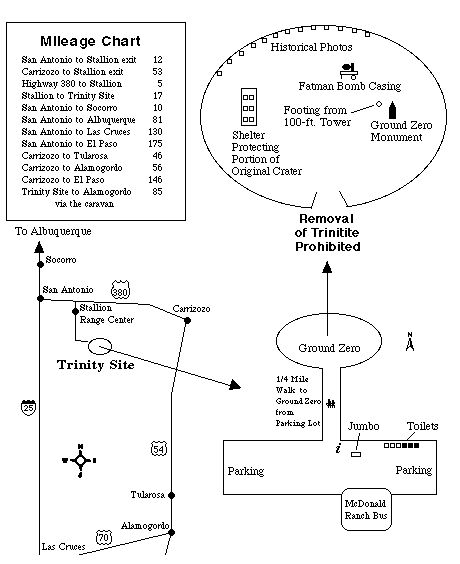 White Sands Missile Range Trinity Site
Stallion Gate Entrance
White Sands Missile Range, NM
United States