Evening Under the Stars Street Fair April 30th
Image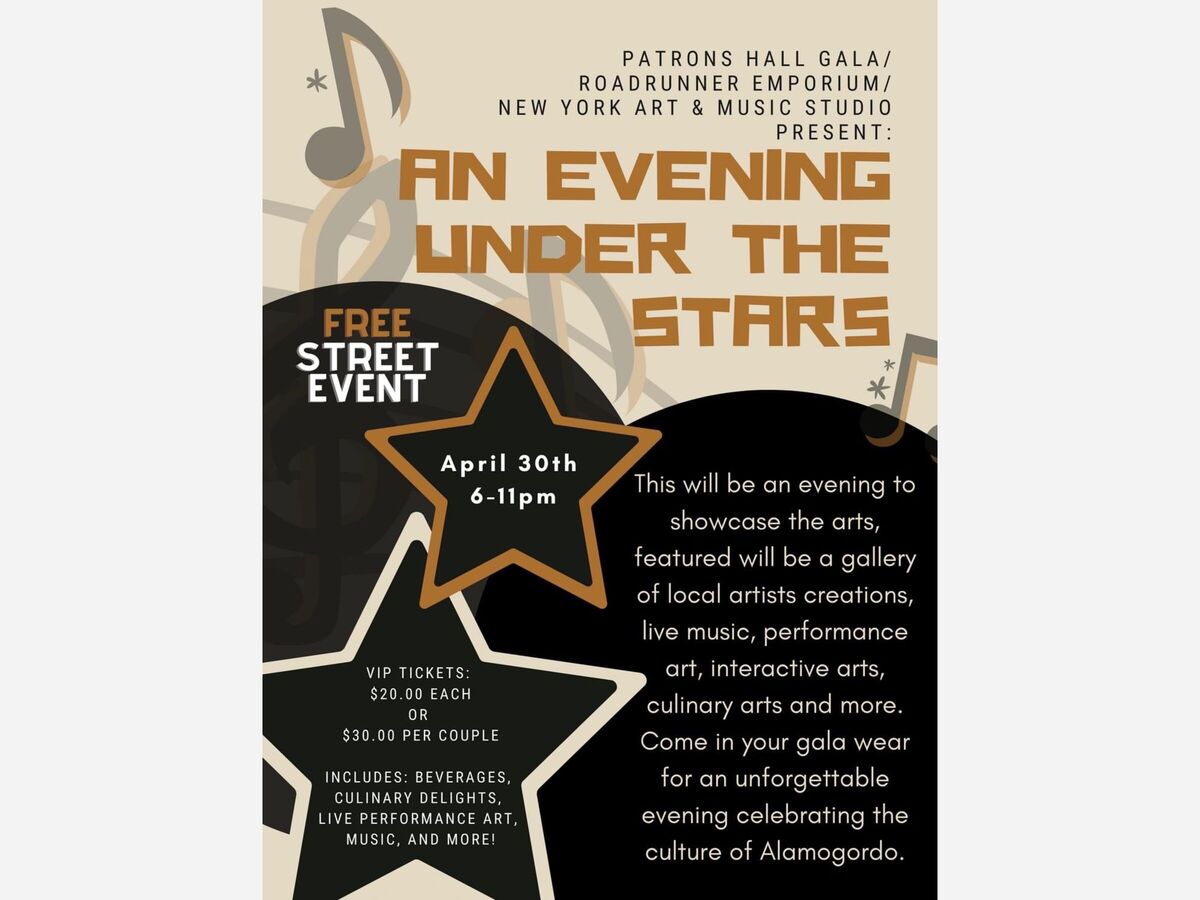 April 30 looks to be a huge day of events in Alamogordo. Begin the day celebrating Earth Day at the zoo. Save some time and drop by Otero Artspace at 7 pm to hear the talents of Kray Van Kirk. Then walk down New York Avenue on the Flickinger Center side for a street party hosted by Roadrunner Emporium, Lydia Emmanuel Productions, New York Avenue Art & Music Studio & Patrons Hall. Alamogordo and Southern New Mexico is invited to an evening under the stars with the local stars, music, mystery street artist and more to celebrate the arts 6 pm to 10 pm
We will be closing off South New York Avenue and showcasing live music, culinary arts, local artisans showcased at our joint galleries and celebrating the diverse arts and music of Otero County.
Dress in your gala wear for an evening under the stars where you will float between the culinary delights and beverages at Patrons Hall, celebrate music, belly dancing and live performance artist in the street and in the galleries of New York Avenue Art and Music.
Musicians include the vocals of Lenore Whitney, Chica and Da Man, Lacy Reynolds on Harp, Doug Gibson and Lillian Pilot host "open mic", Don  Thorpe and Friends, Belly Dancing demonstration by Claudia Powell and more! 
Entrance fee for the street fair event is FREE! With street side will be a beer garden by Picacho Brewing company and food trucks!
The Art Gallery and Gardens of New York Avenue Art and Music will be open showcasing their array of artisan.
Roadrunner Emporium featured artist will be showcased at Patrons Hall to include Delia Lopez Holloway and over 20 new released creations on exhibition, critical acclaimed photography of Janet Thornton will be on display, weaving artist Merle Paul, Gourd Artist Lurene John, spinning and embroidery artisan Linda Swenson, the jewelry creations by of Joanne Blumenthal, creations of Rene Sepulveda, Naturally Balanced Farms Angela Trout, Artist Gillie will be speed painting on the street and more.
The spinners group will showcase old fashioned spinning. 
VIP Tickets will be $20.00 per person, $30.00 per couple for advance tickets and $25.00 per person the night of the event and includes beverages and culinary delights, live music and more. Culinary delights for the VIP experience include Moni Cakes, Bulgarian treats from the Local Bodega, The Board Talk Custom Charcuterie and more.
The VIP experience is limited to a small select few in the back section of Patrons Hall. 
The street fair is FREE
A percentage of proceeds will be awarded to COPE Family Services and the Flickinger Center for the Performing Arts.
Tickets are available through Patrons Hall or may be purchased at Roadrunner Emporium, 928 New York Avenue, Alamogordo, New Mexico
Event Link - https://www.facebook.com/events/499931358346407
More News from Alamogordo