AlamogordoTownNews.com: Armed with Big Red & Flags Flying Couy Griffin Heads to a Day of Judicial Judgement
Image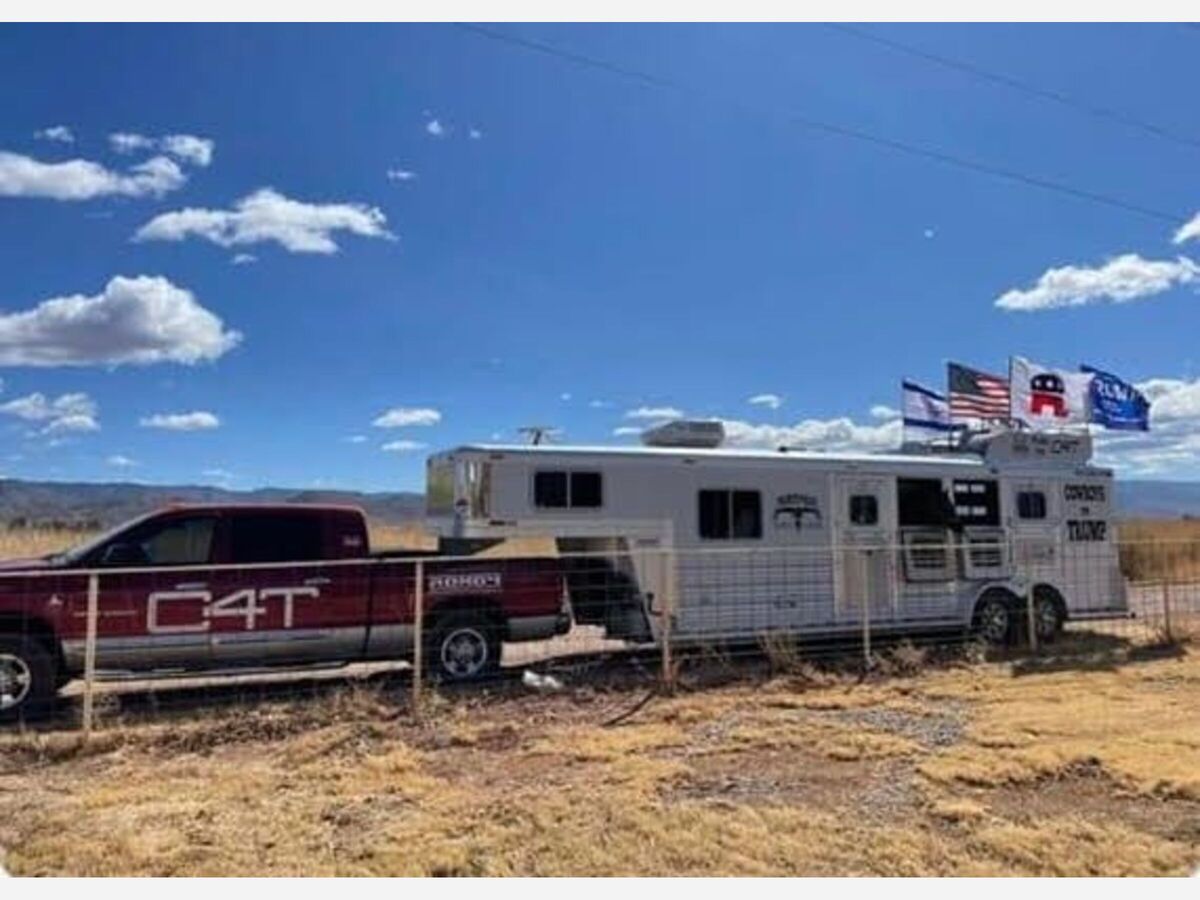 Couy Griffin has a lot on his mind these days as do the primary voters it seems. Mr. Griffin is not running for reelection. When in commission meetings his demeanor of recent has been viewed by many observers as chaotic, angry and at times hostile toward his fellow commissioners. 
Couy Griffin was seen as upset at the most recent County Commission meeting to include "storming off the dais", "stage left," as they use to say, in his theater days.  As he left the dais, one wonders if his mind was really on his upcoming trial date set for March 21st in Washington DC, around his actions at the Capital on January 6th, some refer to as "the insurrection." 
March 14th, Couy posted twitter a photo of his truck and horse trailer and tweeted; "reds loaded, flags are up, and DC is in sights! Praying for a big win and a better day. My trial date is on J/6 charges will be March 21st. Please Pray!
Some people think of Couy Griffin as that young cowboy from his days in France playing the role of a cowboy and an American Hero, others think of Griffin, their face turns red, and they are enraged by his antics, some considering him someone with criminal intent, as pictured in his District of Columbia Department of Corrections ID.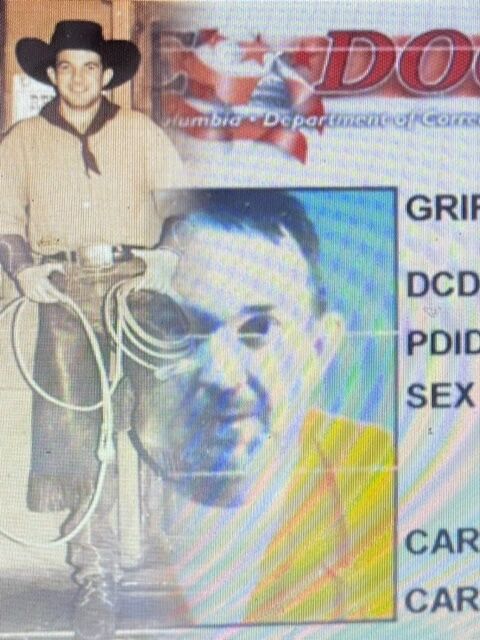 CNN's characterization of Griffin was "Couy Griffin took the Wild West to Europe as an entertainer and across the country as a preacher. But when he hitched his wagon to Trumpism, it flipped his life upside down."  As he attacks the press for unfair characterizations, and fake news; one has to wonder if in his heart he agrees to this synopsis given his lost his wife and family, is broke, lost friends and lost his business. 
The evening of January 6th would nail further coffins in Couy Griffin's political career. He would be sitting alone in a jail cell — solitary confinement. For more than a week, he said, "he was allowed no showers or phone calls, and washed his hair, face and feet in the sink of his cell." Per the DC authorities, after Griffin was arrested, he refused to take a Covid-19 test, and as a result was isolated for 14 days in solitary confinement.
His fellow county commissioners publicly called on him to resign. Griffin stands accused of disorderly conduct and unlawful entry onto the Capitol grounds on January 6. He has pleaded not guilty, and claims his misfortune is the product of persecution for his political beliefs. His critics — and the Justice Department — say he brought it on himself and has become a danger to the public.
Griffin's story also offers a vivid example of how embracing inflammatory rhetoric and over-the-top symbolism in Trump's name could reap thrilling rewards. In Griffin's case, it launched a cowboy from humble beginnings into the national limelight and, ultimately, the good graces of the man in the Oval Office.
But by embracing the conspiracy theories and violent rhetoric that come with the Trump style, Griffin was playing with a combustible mixture, and it blew up in his face. 
Couy's drive toward the theatrics evolved from a Disney Cowboy in France and grew as his religious fervor grew alongside his patriotic convictions. After his return to New Mexico from France, Griffin hopped into his pickup during the tail end of the Bush era and traversed the country, handing out Bibles. He was a street preacher dispensing scripture from atop a horse named Molly and with a miniature mule called Blackjack in tow.
During the Obama years, he became a pastor at New Heart Cowboy Church in Alamogordo. He became a husband, a father and a businessman. Meanwhile, his grievances against government expanded. Griffin started three barbecue restaurants and claims the government hassled him with regulations. The border, he believes, got worse and worse and that feeds into his frenzy to rally a base that is a base similar to the Trumpian ideology in many ways. 
One clear difference Trump is a free man, many following his shadow and leaning are now facing jailtime, investigations and indictments from a variety of courts not just the DC Circuit court from insurrection day.  
On January 6, Griffin and his videographer, Matt Struck, were in the crowd that pushed past the barricade and entered a restricted part of the Capitol grounds, according to an FBI affidavit. Griffin and Struck climbed up a Capitol wall and onto a patio, according to Struck's interview with FBI investigators. They walked up a flight of stairs onto a platform deck overlooking the National Mall below. Both contend they did not set foot inside the Capitol building. Up on the balcony, Griffin borrowed a bullhorn and invited Trump supporters below to join him in prayer.
He says he'd been looking for a way to lead the prayer for much of that day. "Up on the balcony,  he borrowed a bullhorn and invited Trump supporters below to join him in prayer," according to his defense. He says he'd "been looking for a way to lead the prayer for much of the day."
Struck told FBI investigators they stayed on the overlook for about an hour and a half, and left of their own accord after smelling pepper spray.
Griffin told the FBI agents that he hoped a transfer of power could happen "without a single shot being fired," but added there was "no option that's off the table for the sake of freedom."
On January 7, 2021, the day after the DC riot, Couy Griffin posted a video in Roanoke, Virginia, which he passed through during his road trip back to New Mexico.
Griffin is one of at least four New Mexicans swept up in a sprawling investigation of the Jan. 6 attack on the Capitol, described by the Justice Department as the largest in its history.
They are among more than 700 people arrested of the estimated 2,500 people who took part in the Jan. 6 attack. The four New Mexicans all were charged with knowingly entering or remaining in any restricted building or grounds without lawful authority, a federal misdemeanor. All were charged with at least one other federal misdemeanor.
New Mexicans arrested other than Griffin are Matthew Martin of Santa Fe and Shawn Witzemann of Farmington. The three have pleaded not guilty and remain free on their own recognizance.
Leonard Gruppo of Clovis pleaded guilty last year to a single misdemeanor charge and was sentenced to 24 months probation.
Both Griffin and Martin are scheduled in March for bench trials, meaning they will be tried by a federal judge and not a jury.
Both trials will be heard by Judge Trevor McFadden of the U.S. District Court for the District of Columbia.
Griffin is scheduled for trial on March 21, thus why he and big red are headed to DC per his tweet.  
Will Couy Griffin come back and be remorseful or more committed to his beliefs? Will Couy serve time or get additional time verses time served? What happens to big red? Bets are being made, over beers, all around the county. Stay tuned, this chapter of the Couy Griffin Saga is about to come to a close.