Dudley School Restoration Project Let's Learn & Preserve History Alamogordo
Image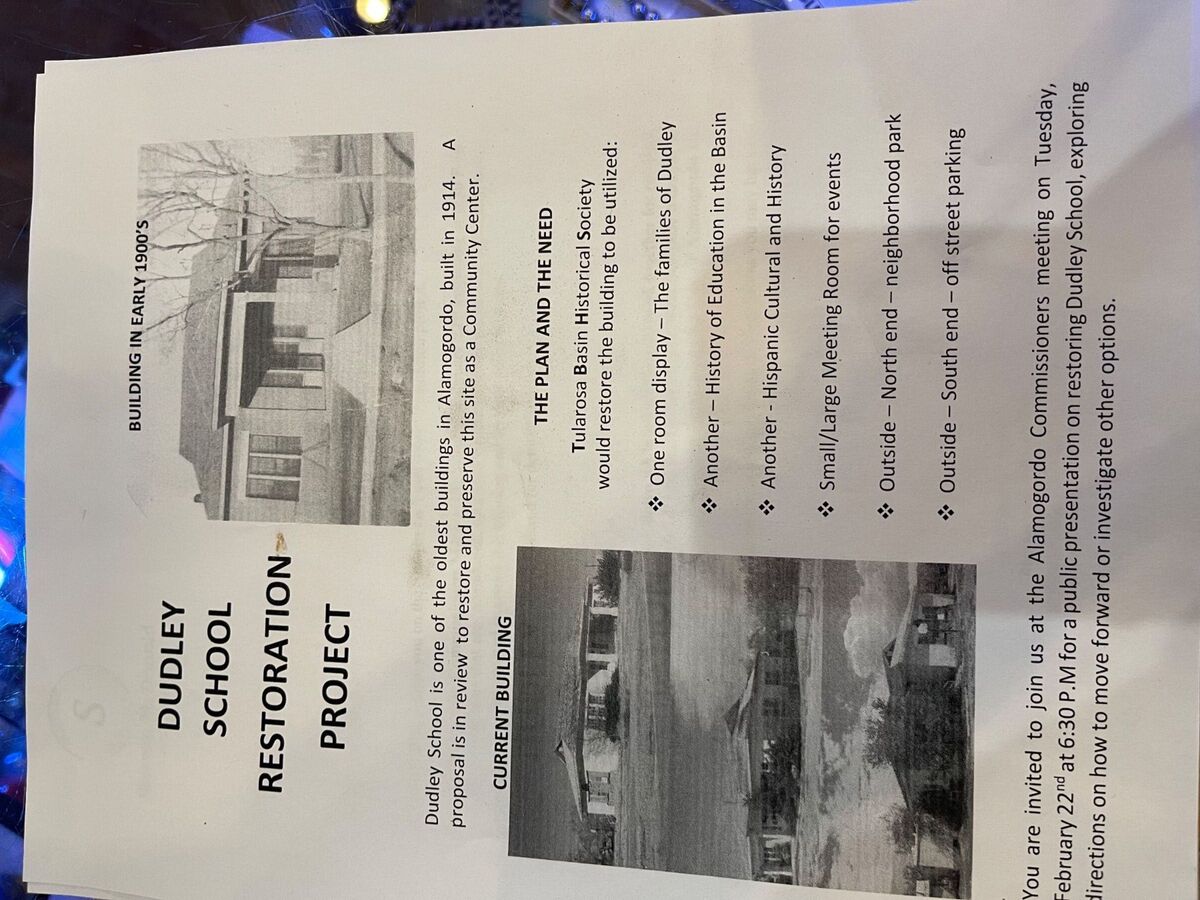 The Dudley School is one of the oldest buildings in Alamogordo built in 1914 and was the school for Hispanic children until Hispanic Integration into the schools in the late 1940s.
The Tularosa Basin Historic Society has proposed restoring  the building to showcase its history and utilizing it as a community center. 
Dudley School was built in 1914 and had four classrooms. Dudley School was set up as part of a segregation plan at the time and specialized in children that did not speak English being educated in a separate school facility. Hispanics could not go north of 10th Street or into the plaza at the time. The city of Alamogordo, New Mexico with its proximity to Texas was a racially divided city.
Alamogordo High School began an organized sports program in 1912 for Caucasian boys offering PE, Track & Field and Basketball and Football. The African American School was called the Delaware School or Corinth and the school that spoke Spanish only was the Dudley School. Athletes from those schools were segregated from the white schools of the time.
Beginning with the 1940's, a more progressive tone took hold and Alamogordo High School broke barriers first in transitioning Mexican students from the Dudley School.
Coach Rolla Buck will be long remembered not only for a record of winning teams; but for how he managed to overturn the long-standing discriminatory tradition of not allowing those with Spanish surnames to play competitive athletics, as well. In prior decades since the founding of the school system in 1916; those with Spanish surnames and those that predominantly spoke Spanish, were not invited nor allowed to come out for football or any interscholastic sport at Alamogordo High School. Coach Rolla Buck had "no use for and wouldn't tolerate discrimination", he actively recruited players regardless of ethnicity but had, "skills, heart or potential to play with excellence" on his teams.
In 1944, Leo J Aubel, graduated as the first Mexican Valedictorian and lettered Mexican Athlete at Alamogordo High School.
Aubel was born and raised in Alamogordo, New Mexico, where he was the valedictorian of his high school class. Later a graduate of the University of Nebraska, Rensselaer Polytechnic Institute, and New York Law School, his education was sometimes interrupted by his Naval service on the USS Allegheny and the USS Mellette. He was admitted to the New York Bar in 1956, after which he worked in-house at IBM, and was subsequently admitted to the Illinois Bar in 1963, and remained in private practice until his retirement in 2013, most recently with Wallenstein, Wagner, Hattis, Strampel & Aubel. He notably was also one of the founding members of the Mexican American Lawyers Association.
His brother Gilbert would ultimately be on the championship football team of 1950. Gilbert Aubel later would become a well- respected teacher and a principal recognized for bringing excellence to his students and a strong supporter of interscholastic athletics due to his positive experiences at Alamogordo High School.
Dudley School plays a very historical part of Alamogordo's history and as such should be restored. Please make your comments in support of restoration to members of the city commission at tomorrow's commission meeting.