Roadrunner Emporium Announces January 2022 Events & Class Schedule
Image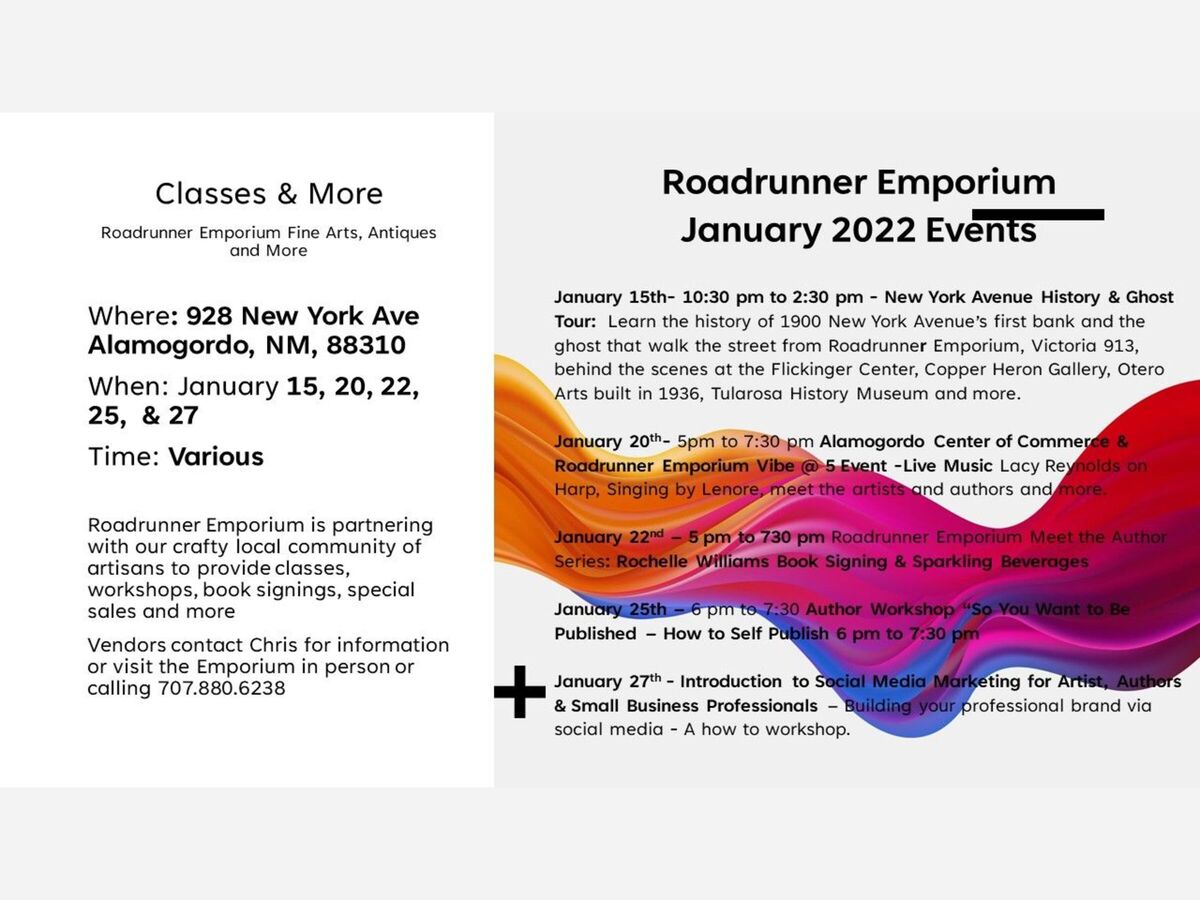 Roadrunner Emporium, 928 New York Avenue Alamogordo, New Mexico announces its January 2022 events and class schedule. From a history and ghost tour to live music by Lacy Reynolds & Lenore, a new book release by local author Rochelle Williams, and then educational workshops on getting a book published to how to market via social media and build an entrepreneurial brand; Roadrunner Emporium is hosting a series of cultural events in January sure to entertain or teach.
1-15-2022 10:30 am 
Roadrunner Emporium History Series Presents: The New York Avenue History & Ghost or Spirits Tour
Join us at Roadrunner Emporium at 10:30 am for a champaign toast and a discussion of the history of the safes from 1900 located at 928 New York Avenue, then on to Victoria 913 to discuss the Ghosts of New York Avenue then onward to the Flickinger Center for a behind the scenes tour and a sandwich and salad lunch at Patrons Hall, from there we stop by the Copper Heron Gallery, onward to Otero Arts Inc in the 1936 Womens Building and then end with a tour and discussion at the Tularosa Basin Museum. Fee: $20.00 covers lunch, beverage and museum entry fee
1-20-2022 5 pm
Alamogordo Center of Commerce & Roadrunner Emporium Presents January 2022 Vibe @ 5 Event -Live Music, Art and More
Join Roadrunner Emporium Fine Arts, Antiques and More - 928 New York Avenue, Alamogordo at 5pm as we celebrate the arts with live Harp Music downstairs by Lacy Reynolds, live jazz and the standards of the Great American Songbook singing by Lenore on our upper level, refreshments, meet the artists, yarn spinning demonstrations and more. Free to the public.
1-22-2022 4pm
 Roadrunner Emporium Author Series Showcases: Rochelle Williams Book Signing & Soothing Beverages
Join us at Roadrunner Emporium as we showcase Rochelle Williams who launches her new book at Otero Arts on 1-15-2022, and then on 1-22-2022 Roadrunner Emporium celebrates the launch of the new book by local author Rochelle Williams titled "Love and War" with a toast and book signing by our history 1900's safe. Free to stop by and meet the author, signed books for sale personalized by the author.
1-25-2021 6 pm
The Roadrunner Emporium Education & Lecture Series Presents: Let's Get You Published Writer Marketing & Go to Print Workshop
Are you an aspiring author who has created a book or story but don't know how to get it published?
Local author and artisan mentor Chris Edwards. instructs on the steps to self publishing, author marketing, author websites and how to go from idea to publication and sales without breaking the bank.
This class provides real information and discusses pro's and con's of self publishing, assisted publishing or paid publishing. With today's technologies anyone with editorial skills and a story to tell, poetry, fictional novel, or factual story can have a book in print and available locally and on the web via print on demand options. With just a little work it is affordable for anyone one to get published and let their story be marketed. Class Fee $15.00
1-27-2022 6 pm
The Roadrunner Emporium Education & Lecture Series Presents: Introduction to Social Media Marketing for Artist, Authors & Small Business Professionals
Are you an aspiring author, an undiscovered artist or a small business entrepreneur and need to learn how social media marketing applies to you? 
A multipronged approach to social media matter. This workshop details the importance of a social media presence to build your personal or business brand - blogs, guest writing, Facebook, Pinterest YouTube videos, Instagram, Vimeo Video and more. This is an introduction to social media marketing and the importance of a social presence to compete in today's small business marketplace. 
The entrepreneur will leave with a basic overview of each and a social media roadmap to begin to build your brand. Class Fee $20.00