AlamogordoTownNews.com Artisan Spotlight: Linda Swenson, Alamogordo, New Mexico
Image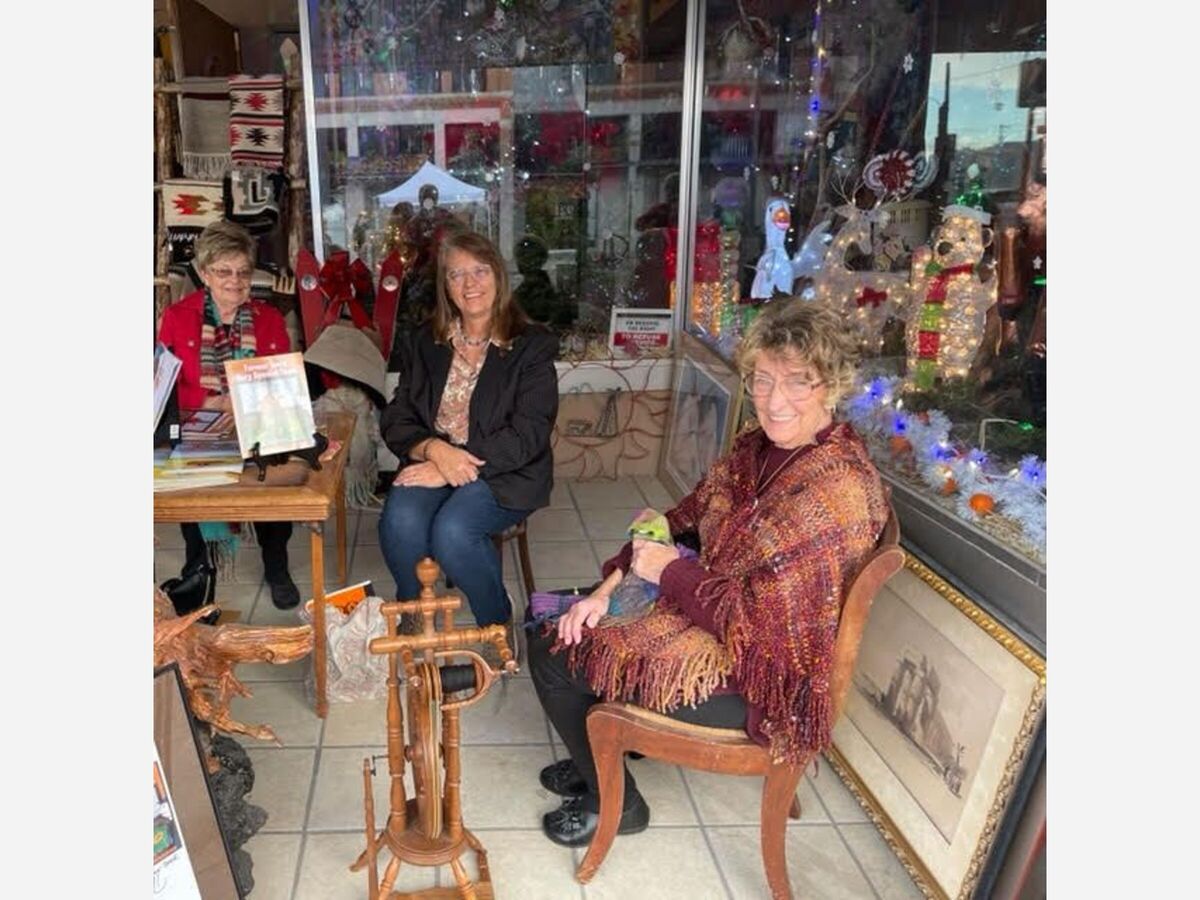 If one travels down New York Avenue, and visits the shops they will find a plethora of unique crafts from quilted items and crafts at Pins and Needles and Victoria 913, to antiques at Mia's Collectibles, local produce and more at the Local Bodega, fine dresses and formal apparel at Elite Memories Boutique; but it's Roadrunner Emporium, that showcases the high fashion creations and the spinning talents of Linda Swenson and her Cottage of Creative Clothing.
Mrs. Swenson is often seen in the portico or by the indoor safe at Roadrunner Emporium spinning and creating those finely spun designs that women travel the world over to find. Photos of her creations are found on the web and on the pages and videos from Roadrunner Emporium; phone calls have come from as far away as Paris, asking how they may procure one of these fine garments. They are a favorite of Houston Society Women and local women for everyday wear alike, due to their high quality with a touch of elegance. 
We caught up with Linda Swenson during one of her many spinning demonstrations at Roadrunner Emporium and asked her how she got into the creative process of high fashion? What follows are some excerpts from our conversations...
AlamogordoTownNews.com- Are you native to Alamogordo? 
Linda Swenson Response - "I was born and raised in Wisconsin and moved to New Mexico about 22 years ago for obvious reasons...to get out of the cold and the snow! The amazing vistas and warm weather are now my "new normal."

AlamogordoTownNews.com- How did you get into the arts of high fashion?
Linda Swenson Response - "My childhood dream was to become a fashion designer. Life doesn't always allow for the total realization of a dream but sends you down a slightly different path. I grew up with fabrics and fibers. I learned to sew and knit at a very early age and was drawn to spinning as an adult. I acquired my first spinning wheel in 1976 and have been designing, spinning and knitting ever since."
AlamogordoTownNews.com- What fibers are your specialties to work with?
Linda Swenson Response - "I spin all varieties of wool, exotics like llama, alpaca, yak and other organics like silk, bamboo and cotton. I'm currently experimenting with synthetic fibers blended with organic fibers. 
 AlamogordoTownNews.com- We see your fine works showcased at Roadrunner Emporium, so would you consider yourself a fashion designer, now?
Linda Swenson Response - "More recently, I have found that I am indeed, realizing my childhood dream of becoming a fashion designer. About 5 years ago, I had an opportunity to fill a clothing niche at a gallery on High Rolls. I began surfing the web for unusual fabrics that I could use to construct clothing.  I discovered pashmina shawls with exotic paisley patterns from China and India, some embroidered with stunning floral designs. Along with that I found cashmere scarves woven in Scotland in beautiful colors and patterns. Both of these discoveries are now crafted into a line of clothing that I make and market at Roadrunner Emporium in Alamogordo, and at Horse Feathers in Tularosa."
AlamogordoTownNews.com-What excites you about fashion?
Linda Swenson Response -"I just love to create and have designs floating in my head that I just love to create and share with the world. I love the creativity in fashion. My paisley shawls are made into flowing, eye catching ruanas and the cashmere scarves and embroidered shawls are constructed into what I call Hopi Coats. I also have a line of pashmina Ponchos and Chill Chasers that are made from huge plaid scarves. I continue to seek out unusual fabrics like silk saris from India and beyond. The finished designs for these beautiful fabrics constantly float in my head, but I can promise you, they will become "wearables" in the future."  
AlamogordoTownNews.com sent a few photos of Mrs. Swenson's creations to a connection we have at the San Francisco  Academy of Art University. The feedback we received was that her designs "were exquisite in their complexity in stitched detailing, the fabrics chosen were divine and the color combinations were spot on."  The next question was where are are finely crafted wearables sold?
Alamogordo and Southern New Mexico has an artistic treasure in Linda Swenson and of course in her finely crafted designs, they are true works of art. The wearer makes a statement of class and elegance wherever they are worn.  
Check Roadrunner Emporium's Facebook page for times when Mrs. Swenson is on site spinning.
If you are looking for that perfect Christmas present for a daughter, sister, mother or friend Linda Swenson's fine fashion designs are the perfect gift. Her design work is found at Roadrunner Emporium, 928 New York Avenue, Alamogordo, New Mexico 10 am to 8 pm nightly closed Sundays and also in Tularosa at Horse Feathers Gallery, 318 Granado St, Tularosa, NM 88352 Open daily 10 am to 5 pm.