Collectibles Report: BEATRICE WOOD: MEET THE POTTER WHO INSPIRED KATE WINSLET'S CHARACTER IN TITANIC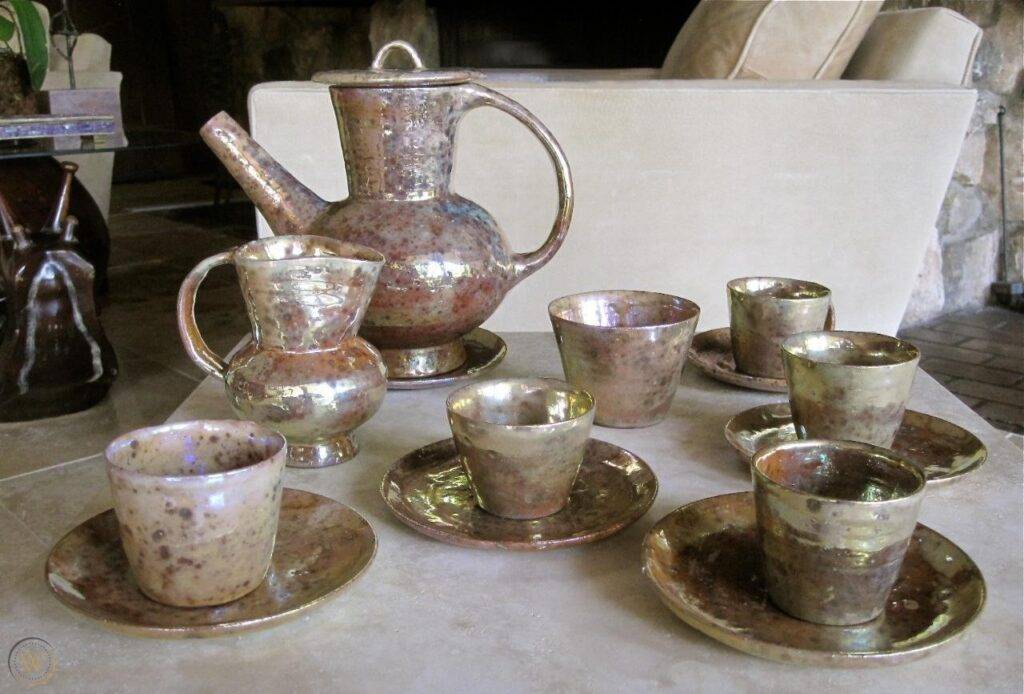 BEATRICE WOOD AS POTTER: ORIGINS
I like to imagine how legendary ceramicist Beatrice Wood felt when she purchased a lovely set of dessert plates but could not find their complementary teapot. I have been there. Have you? The feeling is similar to uncovering a Chanel tweed suit jacket circa 2006 but not its matching skirt. You know you can't leave the incredible object behind, so you take it with you, hoping that one day, somewhere, you'll find its missing partner. This moment for Beatrice Wood was the moment she began her path to becoming theBeatrice Wood—yes, the woman who inspired the character of Rose in the blockbuster hit film Titanic.
Wood had figured out a way of procuring the final piece to her serving-cake-with-tea puzzle; if she couldn't find the dessert set's missing teapot, well, she'd make it.
Why can't we all be so talented? Are you missing the twin to your Staffordshire Dalmatian pair? Simply pick up ceramics, make your own, and become one of the most prolific ceramicists of your day! We can't all do what Beatrice Wood did, and that's why, instead of trying, we collect the pieces that she was born to make.
IRIDESCENT-GLAZED VESSELS
Much of Wood's work reflects the opulence of her wealthy upbringing, with their iconic iridescent glazes shimmering like a diamond under a chandelier. Yet, strangely, these pieces are frequently accompanied by unconventional accents—misshapen blobs attached to her vases and figures, or double-handled bottles, somehow perfect in their denial of perfection. Perhaps this was how Wood felt about choosing the life of an artist over inheriting one of a socialite. Perhaps this was the draw she felt toward the movement rooted in whimsy and freedom that she would eventually become known as the "mama" of—Dada, which she became introduced to by none other than Marcel Duchamp.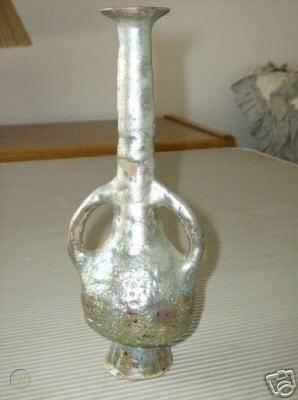 AN INSPIRATION—EVEN TO JAMES CAMERON
If an image of Rose DeWitt Bukater, Jack Dawson's soulmate in Titanic, comes to mind when reading about an affluent woman who left it all behind to follow life and love, it's for a good reason. Beatrice Wood left her mark (literally) on Titanic director James Cameron who became inspired by her life story while working on the film. (Think back to the movie and see if you can remember when the elderly Rose is sitting inside her home and working with ceramics! If you need a refresher, the film is currently streaming on Netflix.) My favorite similarity between Rose and Beatrice has to be their fondness of being barefoot. At the end of Titanic, Rose slips the "Heart of the Ocean"necklace into the ocean, barefoot. Beatrice is depicted barefoot in various portraits—either surrounded by her art or while creating it. This is how I (and how I assume, James Cameron) like to imagine Beatrice Wood: barefoot, sitting inside her Ojai studio, positioned perfectly to face the beauty of the tiny Ventura County, CA city where she lived.
When walking the river trails in Ojai, you're bound to come across a babbling brook whose bubbles glisten in the sun. Algae drips and pocks across rocks. Irregular stones become naturally placed upon one another. The earth takes the shape of the water's flow. In essence, these are the elements of Beatrice Wood's work, with some of her objects being perfect examples of earthenware.
Another word you'll find associated with Wood's pieces is unusual. Shapes will be described as pinched/folded, bulbous, ovoid, and gourd-like. Colors will range from cobalt to chrome to amber. Textures will be characterized using volcanic and luster glaze.
OTHER MEDIUMS: PAINTINGS, WRITING, ILLUSTRATIONS, FIGURINES, AND ORNAMENTALS
Wood's most recognizable categories are her lustrous service ware (including bowls, plates, cups, coffee pots, trivets, and 20-piece sets). However, she was also a writer, painter, illustrator, and creator of ornamental ceramics, including beads and figurines. Many of her drawings and figurines depict women or couples. It's no secret that Wood's own life and loves were, in a way, her muses. Among publishing The Blind Man and Rongwrong magazines with Henri-Pierre Roché and Edgard Varèse in 1917, Wood also released her autobiography, I Shock Myself, in 1985.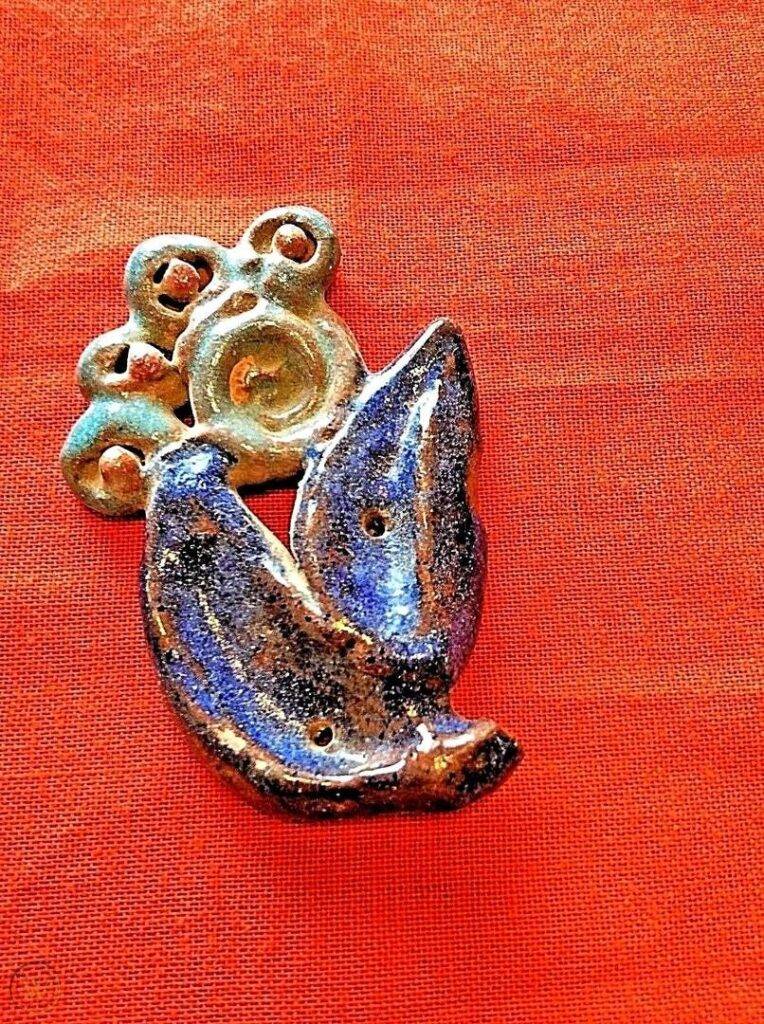 POTTER'S MARK
Think you've got a piece of Beatrice Wood pottery on your hands? Look for the following potter's marks: B, BEA, BEATO, Beatrice Wood, B/N. If the marks are there, you likely have an authentic Beatrice Potter piece.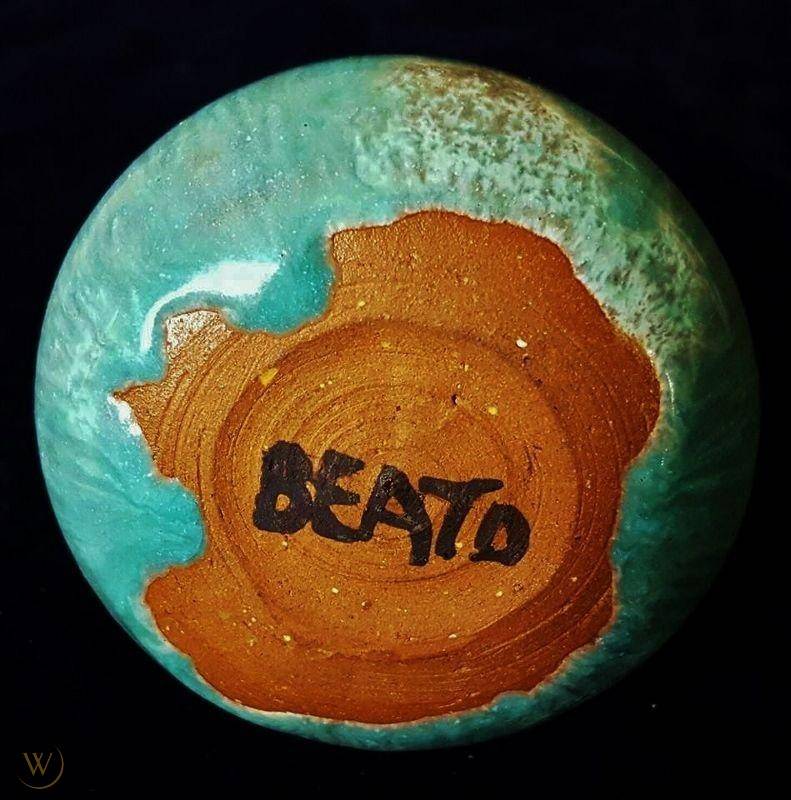 I like that James Cameron immortalized Beatrice Wood in one of the biggest movies of all time. But, although Wood's name may be uttered often to us collectors, I wonder if it's the same for the rest of the world. Is she as much a household name as the movie of which she's secretly a part? Generations of movie fans may forever Google whether or not Rose was a real person. That's when they will first discover Beatrice Wood.
Collectors and Titanic fans alike: Let's all embrace the Dada spirit on our bookshelves and try pairing a Wood vase next to an IKEA Lykta Table Lamp. What will they say?
Jackie Yaeger is a freelance writer and content creator. Her current work is centered around sustainable fashion and independent archiving. She lives both vegan and secondhand-only lifestyles and loves attending estate sales.
Reprinted with permission by: Jackie Yaeger & Worthpoint for education on collectibles collaborations with Roadrunner Emporium