Alamogordo Unemployment Rate 5.4% beats State 5.8%
Image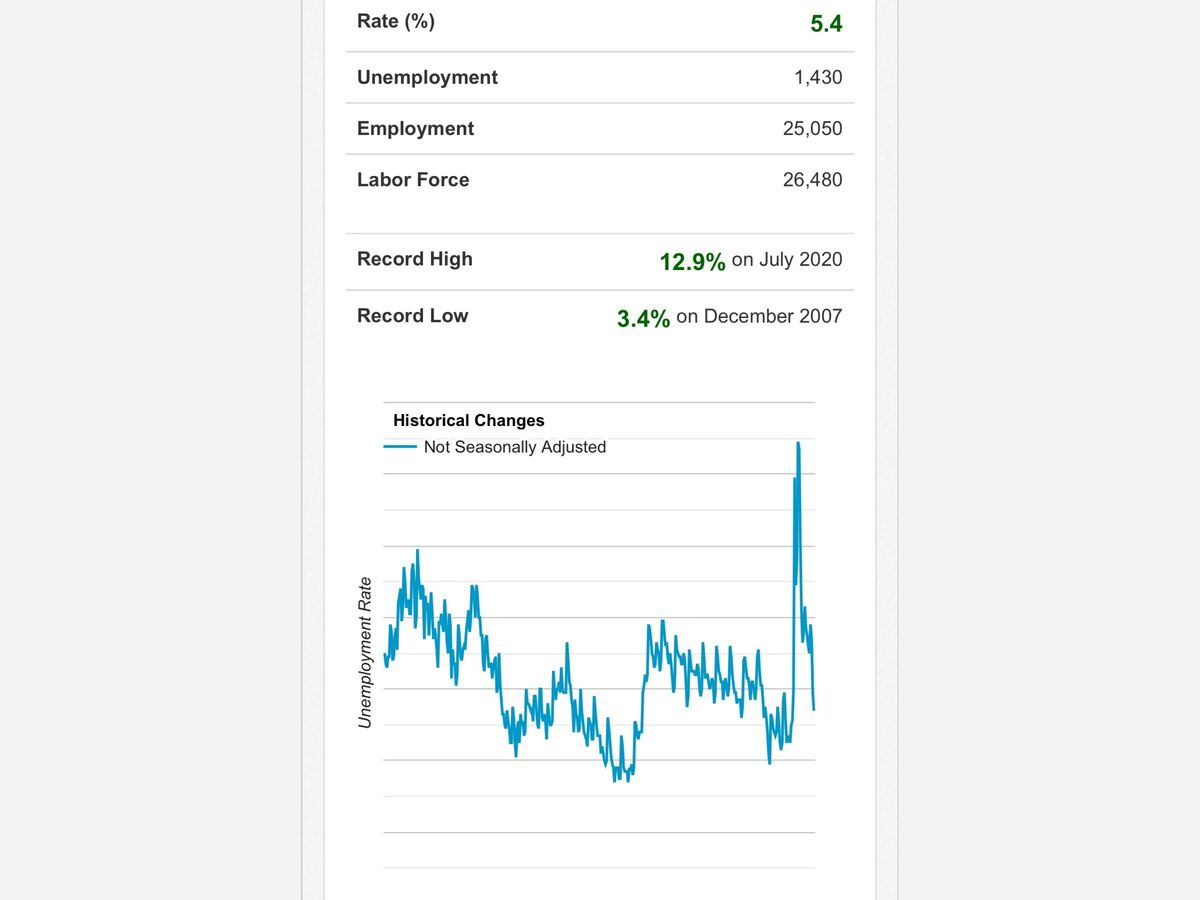 Several businesses have complained of late they can't find staff as people want to stay home rather than work but here are some interesting facts.
The unemployment rate in Otero County I'd 5.4% and 5.2% in Alamogordo proper. 
Before Covid-19 the Otero rate hovered at 5.1% and the state was at 4.2%. So since Covid-19 are people staying home and "living off the government?" The facts prove unemployment is about the same in Alamogordo with Biden as President as it was when Trump was president. What's that prove? That the presidency had little to no bearing on the local jobs market as long as the military remains in Otero county.
But why are fewer people nationwide returning to the jobs market?
About 5 million Americans have exited the labor force since the pandemic began. Goldman Sachs estimates that about 3.4 million are likely gone for good due to retirements, meaning that 1.7 million people are open to returning to work.
But Goldman said in a note on Nov. 11 that there is a "long-run risk" to labor force participation: a general distaste for work. The bank's economics team pointed to the reddit thread r/Antiwork, a social media community carrying the mantra "Unemployment for all, not just the rich!"
A common theme on r/Antiwork: younger workers sharing stories about being overworked and burnt out to the point of quitting
Data from the Bureau of Labor Statistics shows that workers have been moving in and out of jobs at record rates. In September, a record 4.4 million people quit their jobs. Many of them likely found new jobs. With an elevated 10.4 million job openings out there, finding new work has been relatively easier for most.
With the number of jobs out there it is a "workers market" meaning low paying, low benefit employers in Otero County and nationwide will struggle more so going forward to find workers. Is Covid and government policy the problem? No the problem is a shifting demographic trend to work and more hone based work opportunities are available at a higher salary than what many local services businesses can or will offer.
The pandemic created opportunities and prompted small businesses  to return to and expand categories that they largely abandoned. Testing and trialling has been the order of the day and niche marketers are capitalizing on new opportunities that have opened up. Labor strains hurt businesses but family owned businesses has a labor advantage when the family participates and works together. Many family run businesses locally are having one of their best years ever.
From restaurants to retail family run has advantages. The negative is long hours the positive is survival and prosperity while bigger businesses are struggling. 
New York Avenue sees a rebound just the quartet locals have witnessed aggressive growth and expanding offerings and hours by Roadrunner Emporium, a successful holiday ramping up by Victoria 913 and Mia's Collectibles, the opening of the new Copper Heron Gallery and MainStreet Entertainment and the December 1st planned opening of the Bodega on New York Avenue. What do each have in common? A commitment by family to put in the hard work for success.
While some blame Santa Fe, local and Federal government officials these small businesses have hunkered down, committed to the efforts to succeed, reimagined what success looks like and each are growing amongst a challenging and some would say confusing time in our regional and National history.