Collectibles: by Amy Bonesteel - CHARM BRACELETS: A WRIST FULL OF HISTORY
Image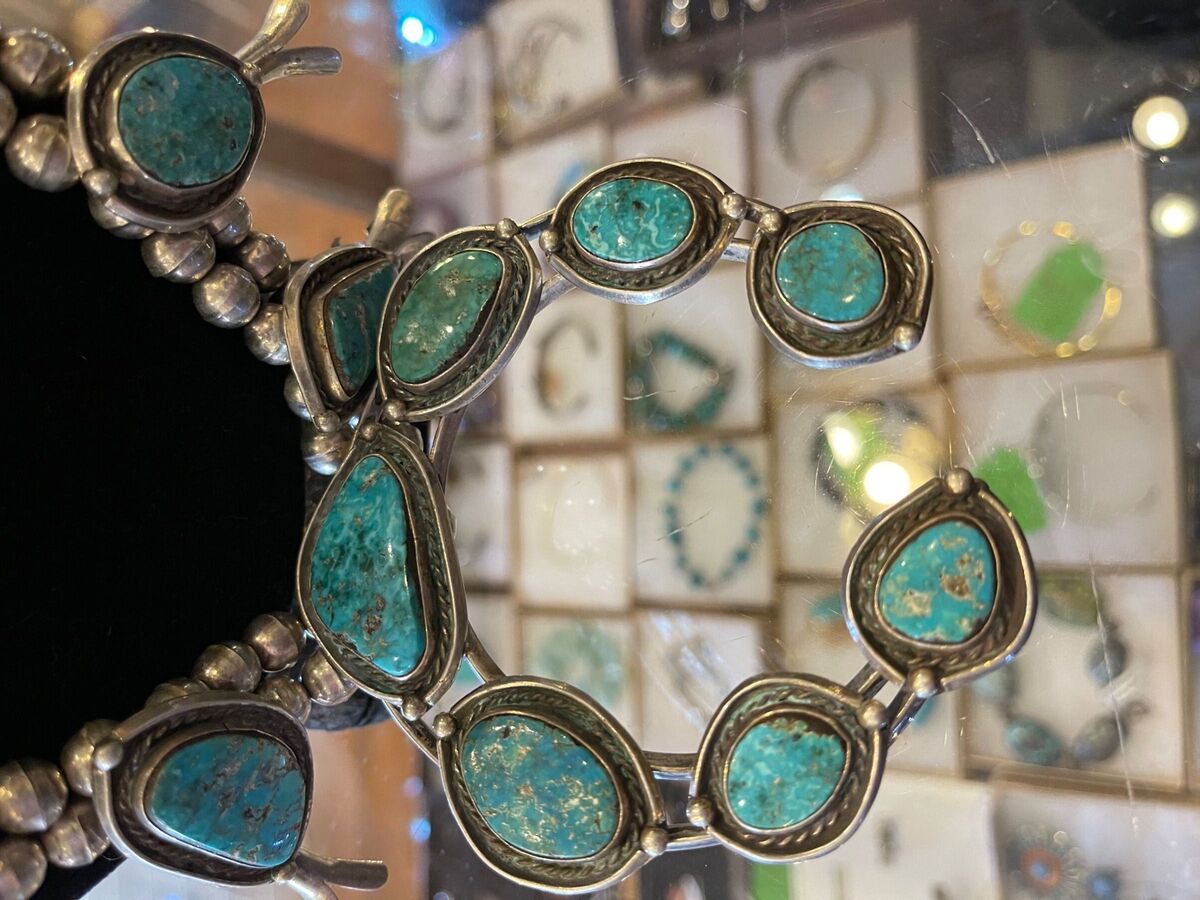 There was a time when almost every little girl wanted— or had—a charm bracelet. These iconic bracelets symbolized growing up with their lovingly curated collection of charms relating to an individual's life experiences. Luckily for jewelry aficionados and collectors, they are back in the spotlight as a new generation discovers their delights.
After the past year and a half spent keeping our physical distance from others, collectors are ready for items like charm bracelets that invite close inspection, storytelling, and personal connection. Imagine the tales to be told over each charm as the wearer recounts a grandmother or mother's life experience. Called an "oh-so-feminine autobiography on a chain" by jewelry designer Tracey Zabar, these powerful accessories bring generations together and record the happy details and accomplishments of women.
Historians and archeologists have found that people from ancient civilizations as far back as 600 to 400 B.C. used amulets or talismans as protective charms tied around their wrists. The instinct to keep symbols and tiny icons close seems a universal one— often these were religious in nature, such as tiny fish for early Christians or Jewish laws inscribed on small tablets.
Queen Victoria (1819-1901) can be credited with bringing the charm bracelet into popularity, as she was known not only to wear them but to hand-select charms and gift fellow royals and aristocrats charm bracelets. They became a symbol of wealth and status, with wearers attaining jeweled charms with exquisite details in order to replicate the Queen's style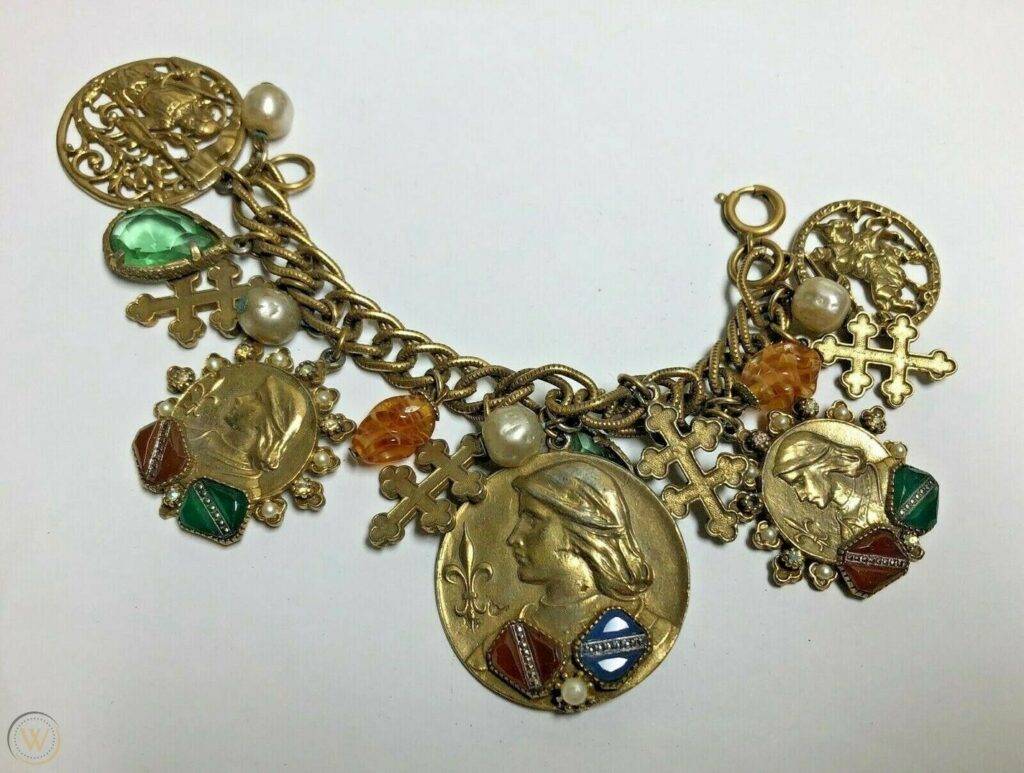 Charm bracelets became more than a status accessory in the United States, their popularity with women and young girls thriving even during the Great Depression. While the early part of the 1900s saw makers using luxury jewels and metals, by the 1940s, charm bracelets were also being made of lesser-priced materials and were accessible to more buyers. The economic hardships of the times did not stop manufacturers but caused them to adapt.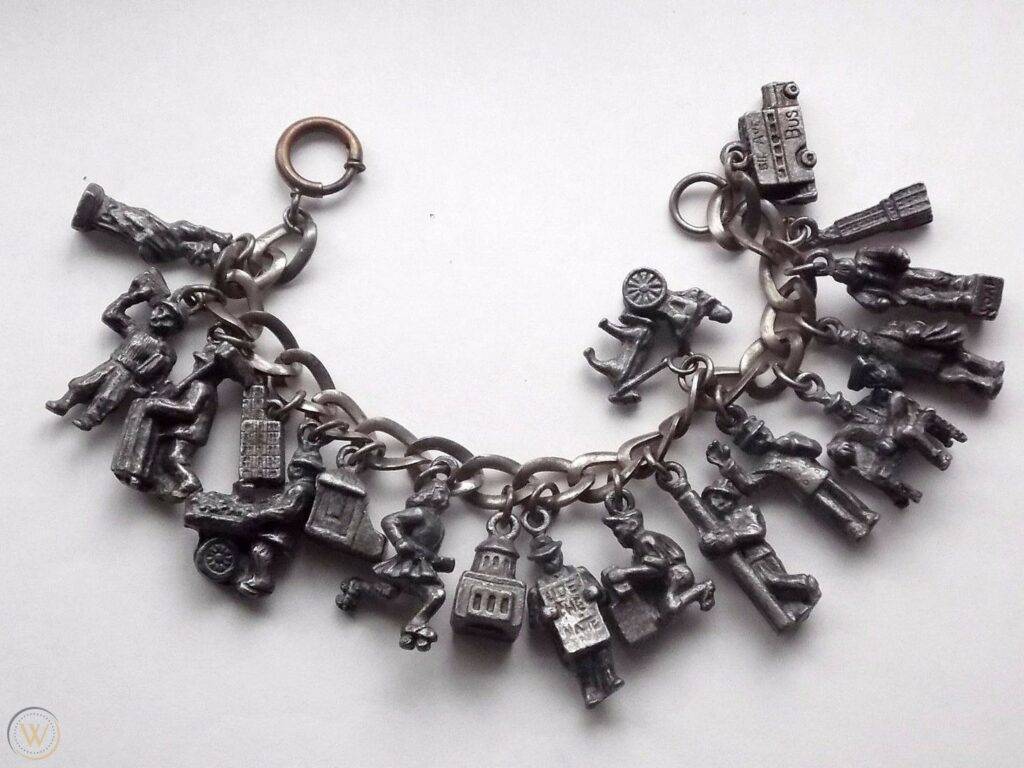 During World War II, charms were a relatively easy way for soldiers to send home a trinket to girlfriends, wives, and mothers. The charms were also very small and easy for soldiers to carry. Military symbols of patriotism and tiny metal replicas of battleships and aircraft were popular on charm bracelets at this time as well.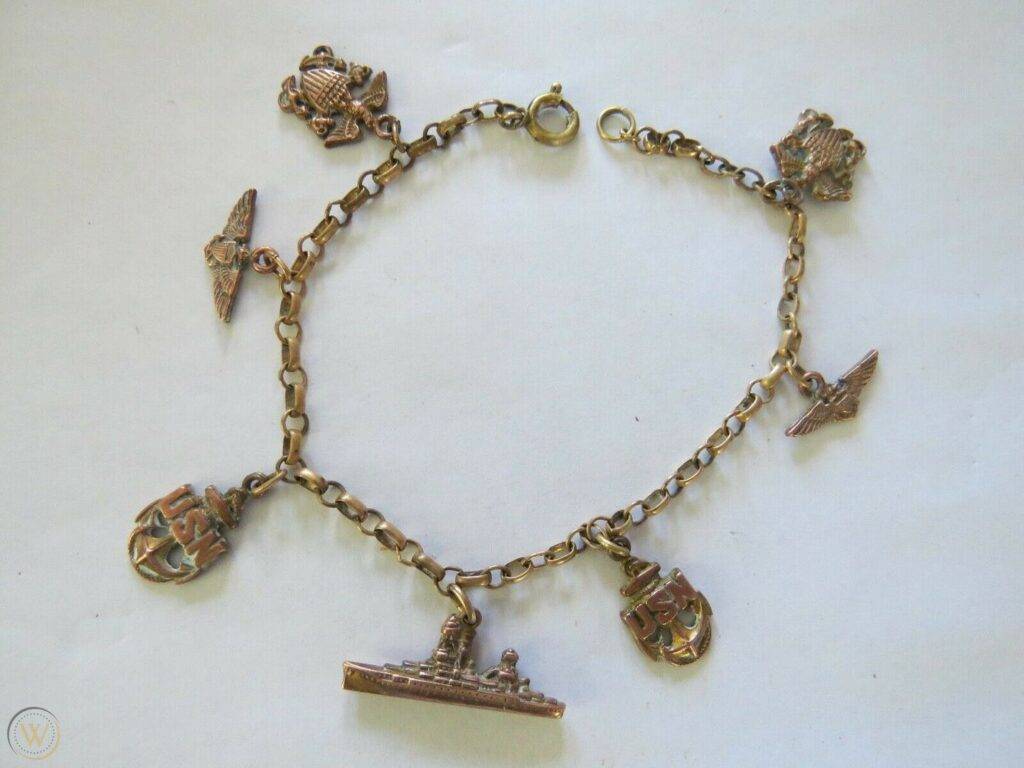 The 1950s and 1960s also saw many charms produced, with religious symbols, animals, social societies (fraternities and sororities at universities), and travel being popular charms.
A particularly fun relic of these times was the creation of colorful enamel and silver travel charms, still very collectible today. Makers like Wells, Inc. (a Massachusetts company operating from 1922-1978) produced these charms, and they were sold in travel locations and boutiques around the country. Adding to a charm collection became a part of the travel experience for women of all ages — adding collectability and the "fun of the hunt" to the trip. Again, the wrist became another version of a photo album, as the wearer could go through charms one by one and recount trips and experiences sparked by the symbol.
Also, in the United States, Tiffany's silver charm bracelets became wildly popular after the famed New York City jewelry company began making their own version of the British and European trend. A simple chain link with a distinctive heart tagged "Return to Tiffany's" was a sought-after staple for many young women, as the signature Tiffany's blue box holding them became iconic as well.
The '70s, '80s, and beyond saw new adaptations of the charm bracelet, including link bracelets that allowed the wearer to add special charms or emblems to personalize the piece. Notably, these did not dangle or "jangle," and the sleek interpretation may not carry the same amount of vintage bling historical pieces do. Pandora, in particular, has built a strong business on their modern charm bracelet format, the charms functioning as beads and making for an easy way to personalize a gift.
A trip through grandmother's jewelry box will more than likely turn up a charm bracelet, an age-old way for generations of women to tell their personal stories. As we reconnect in person with those around us, what better time to explore these tiny symbols that open the door to adventures, family lore, and love from the past?
Amy Bonesteel is a freelance news and features writer who has contributed to Atlanta Magazine, The N.Y. Times Magazine, Time, Atlanta Homes & Lifestyles, and many other publications. A graduate of East Carolina University, she also has a master's degree in English from Georgia State University in Atlanta, where she lives with her family.
Alamogordo's Main Street District Néw York Avenue is a showcase of local small businesses featuring artwork, decor, Antiques, jewelry, collectibles and more at anchor store and gallery Roadrunner Emporium, also featured is Victoria 913 and Mia's Collectibles. Each are daily from 10 am until.
Come join the history and shop-able treasures #AlamogordoMainStreet - New York Avenue.