I love to collect and decorate my home with stoneware crocks. I own several in varying shapes, sizes, and colors. Most of them are unmarked or only contain a single digit—signifying the maximum number of gallons it can hold. A few crocks include a stamped label advertising its original contents. Two of my advertising crocks are marked Kaukauna Klub. My curiosity led me to explore the product that originally came in these adorable vessels.
A Familiar Name
Barely into my research, I quickly realized why the name "Kaukauna" sounded familiar; it was the name of my favorite port wine cheese spread. Surprisingly, I never connected the name of the cheese spread—which I only consume during special occasions—with the name on my two crocks. This realization beckoned me to learn more about the company that launched this product.
It Started on a Family Farm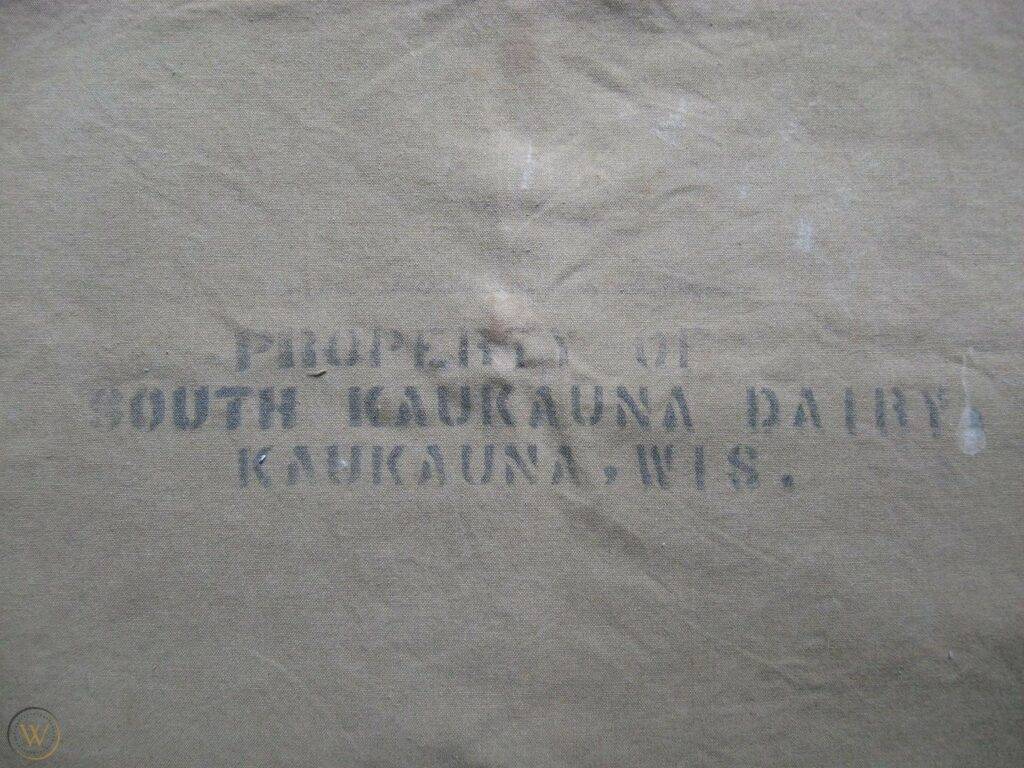 Born in the Rhine Province of Germany, Peter Joseph Hubert Fassbender immigrated with his mother and stepfather to the U.S. in 1856 and settled in Wisconsin. In 1862, Peter married and soon purchased farmland in Ellington, Wisconsin—where he and his wife eventually raised their nine children. Peter later invested in additional farmland and, in 1887, built a dairy factory on the property. In 1901, Peter sold his farm to his son Joseph and the dairy factory to his son Hubert, who started working there when he was 14 years old.
Hubert Fassbender soon turned the factory into a successful cheesemaking business. In 1918, he launched a distribution company in Kaukauna, Wisconsin, called South Kaukauna Dairy, referred to as Kaukauna Dairy Company. The company's most successful product, Kaukauna Cheese, also eventually became the company's official name. Known as cold-pack cheese, the spreadable cheese combines a blend of natural cheeses with other ingredients through a process without using heat.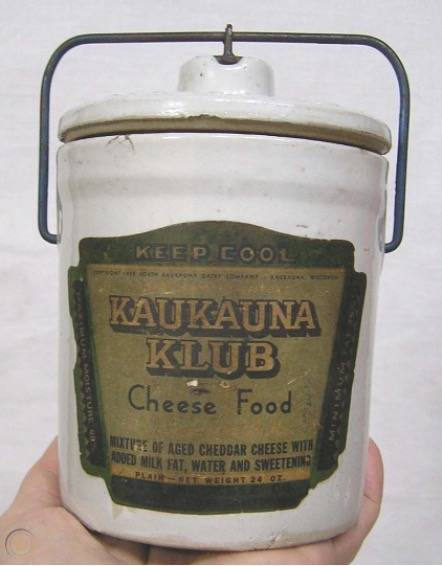 Initially given to tavern, club, and hotel patrons as an incentive to buy more beer—which Hubert's company also distributed—the spreadable cheese became more popular than the beer. Patrons soon referred to it as "club cheese," and the name stuck. As a result, in 1933, Hubert created Kaukauna Klub cheese (changing the "c" in club to a "k" to match the Kaukauna name).
In 1974, Kaukauna Cheese opened new facilities in Little Chute, Wisconsin, and expanded its product offering. Beginning in the 1970s, Kaukauna Cheese was sold to several parent companies. In 1996, it was purchased by Bel Cheese USA, Inc., the American subsidiary of Fromageries Bel, and a year later formed Bel/Kaukauna USA.
The Original Cheese Crock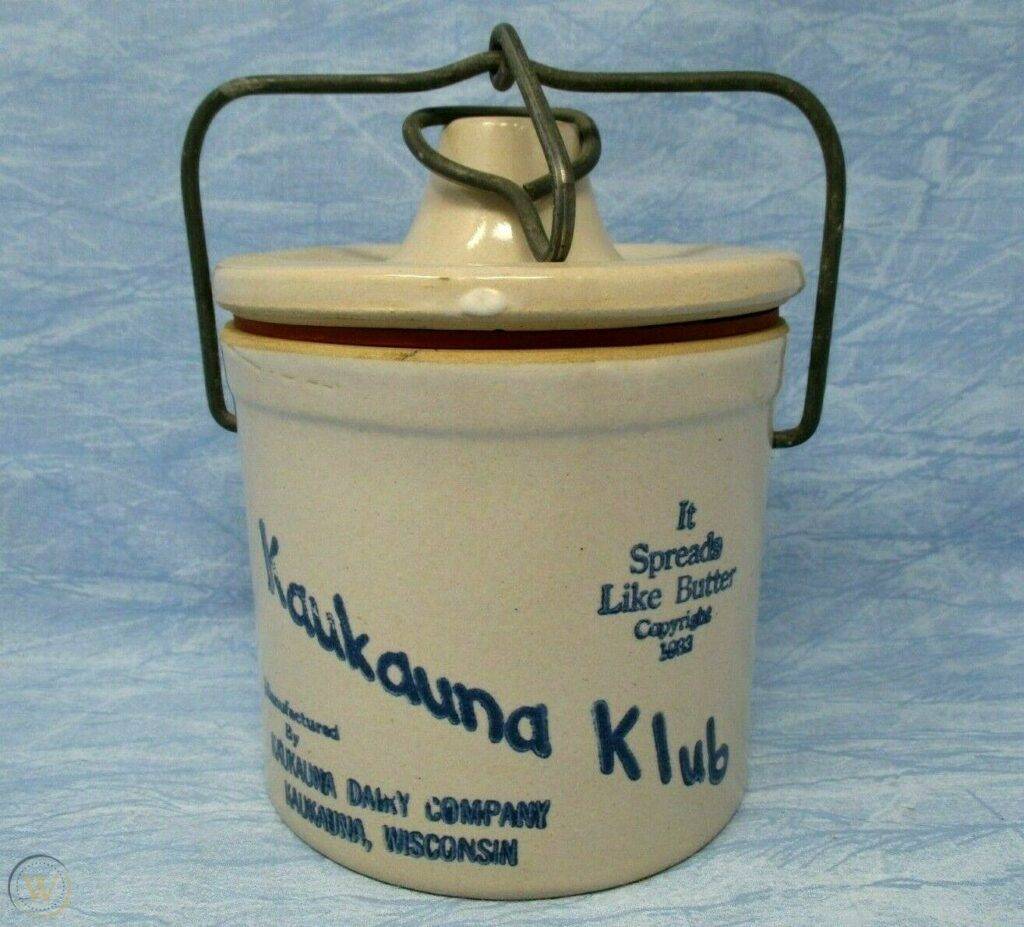 The company first sold their spreadable cheese in a gray stoneware crock. The crock contained a wire-bale closure and rubber gasket to seal the crock lid between uses. The cold-pack cheese advertised its spreadability with its slogan, "It spreads like butter," which was copyrighted in 1933.
Kaukauna Dairy Company made its spreadable cheese available in assorted sizes, ranging from a 48 ounce to a single-serving crock. Kaukauna Klub sold through retail channels and ultimately became a national brand and prototype for other cheesemakers who followed suit, also selling their product in a stoneware crock.
Crock Labels Throughout the Years
Kaukauna Dairy Company sold Kaukauna Klub in their stoneware crock for more than 20 years before slowly changing their packaging to plastic. Beginning in 1954, some crocks were sold with plastic lids. The cheese spread was eventually only sold in plastic containers but could be found in a crock through the 1980s.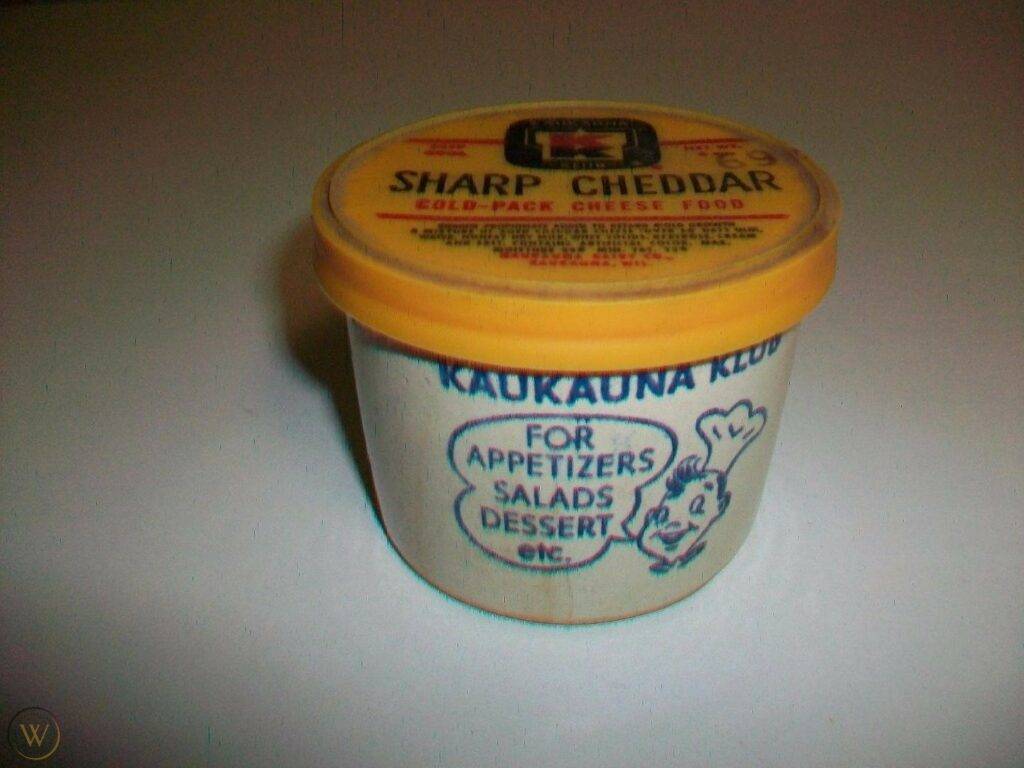 Throughout those years, the company sold Kaukauna Klub in various labeled crocks. The crocks usually included a paper label on one side and a stamped label on the other side. Although, early crocks only had the paper label, which tended to wear off over time.
When the product was first introduced in 1933, the stamped label on larger crocks included the brand and company name, as well as location and slogan "It spreads like butter" with copyright date. Smaller crocks included a stamped label with only the brand name, company name, and location.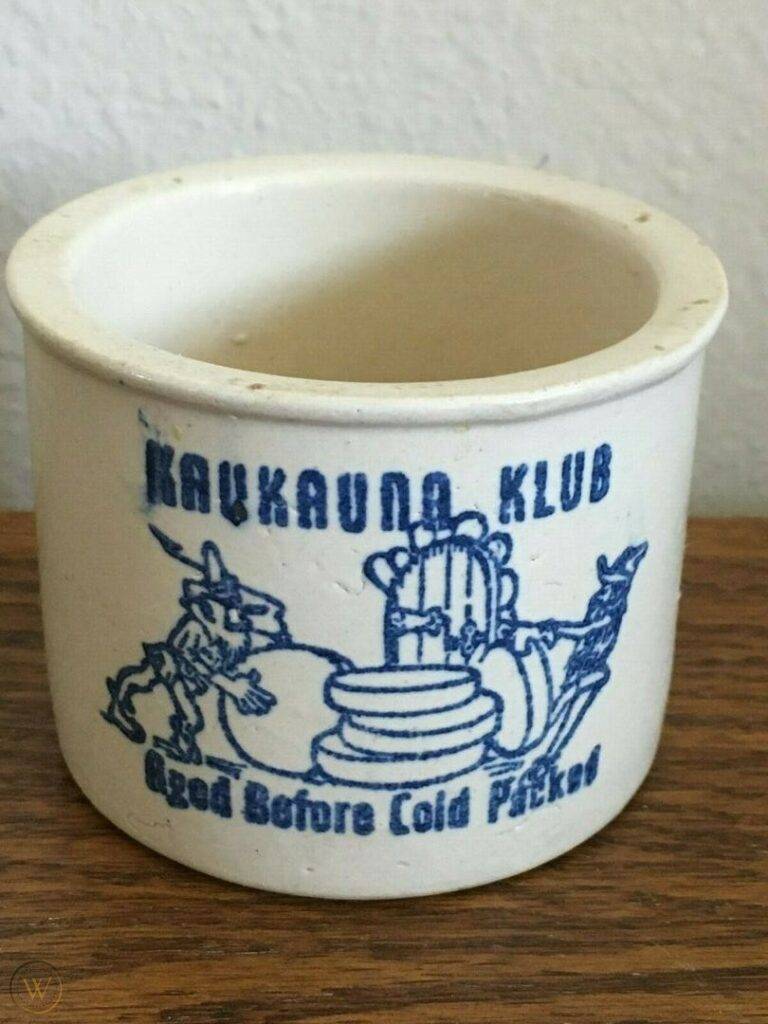 Another stamped label included a smiling chef with a speech balloon saying, "For appetizers, salads, dessert, etc." Later, the words "Original Kaukauna Klub, not cooked, never heated" were stamped on crocks, along with an outline of the famous wire-bale crock. An image of two medieval men rolling wheels of cheese with the slogan "Aged before cold packed" also appeared on crocks.
Additionally, Kaukauna Cheese created specialized labeling for holidays, events, partnerships, and more. In 1976, to celebrate the United States Bicentennial, the company created a limited-edition stamped label on their crocks with a "Spirit of 76" banner above a parade of American Revolution soldiers. Another bicentennial crock included a stamped label with an image of Independence Hall.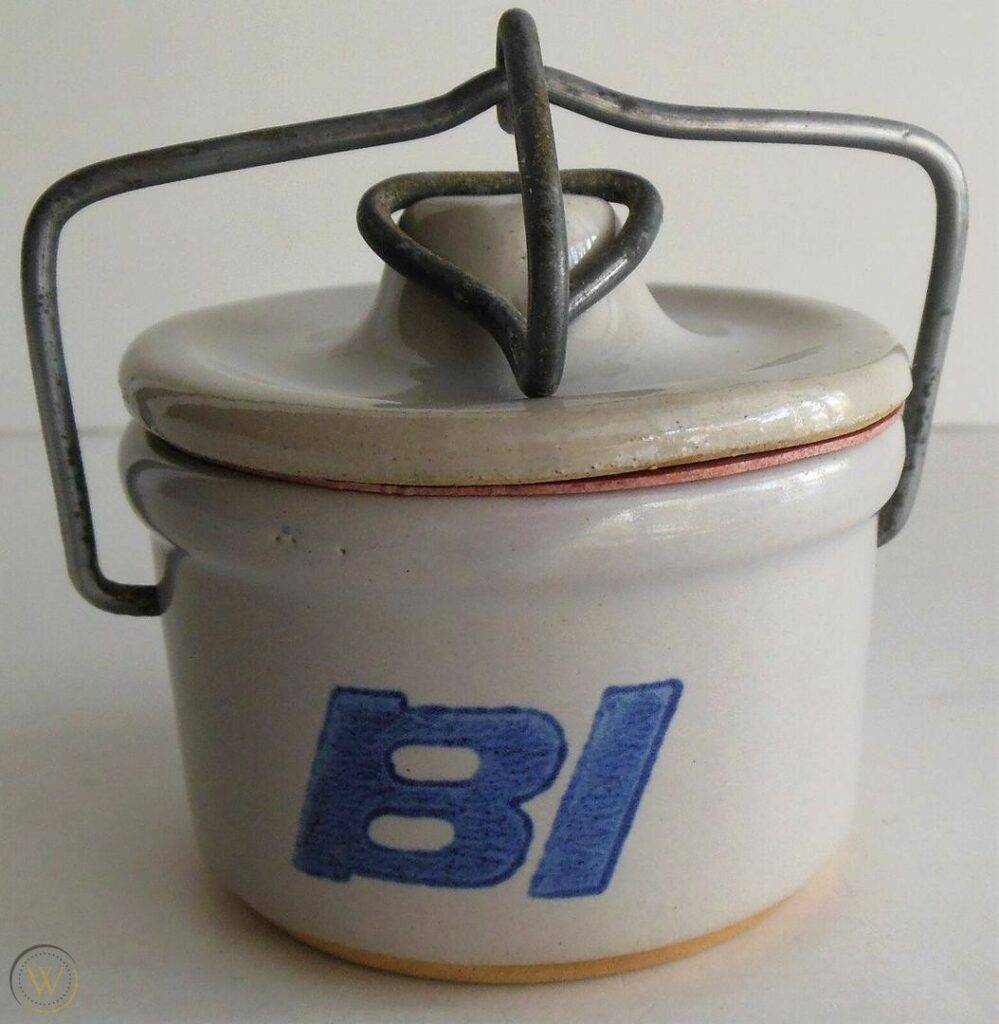 The company also created a specialized single-serving crock in partnership with the American airline Braniff International Airways, later called Braniff International. The cheese-filled crock was given to airline passengers along with crackers on shorter flights. The front of the crock has the Braniff International logo "BI" which the airline used from 1965 to 1989. The back of the crock contains the Kaukauna Klub name and logo.
The company also changed its iconic gray crock to a brown one in the 1970s when it was sold under parent company Multifoods Corporation, though some of its cold-pack cheese was still distributed in the gray crock. Fun fact, in Fassbender Park—located in Kaukauna, Wisconsin—there's a stone replica of the famous Kaukauna Klub crock.
The Iconic Crock
Kaukauna Cheese may no longer sell their famous, spreadable cheese in their iconic, stoneware crock but there are plenty available on the market today if you're interested in starting a new collection. You can easily find them at online sites for less than $20 apiece.

Guest Commentary: Karen Weiss is a freelance writer and enjoys decorating her home with vintage finds from her many collections. She also has an Etsy shop called SimplePatinaFinds.