"Exclusively Alamogordo" Artist Spotlight: Roadrunner Emporium's Linda Swenson & History of Hand Weaving
Image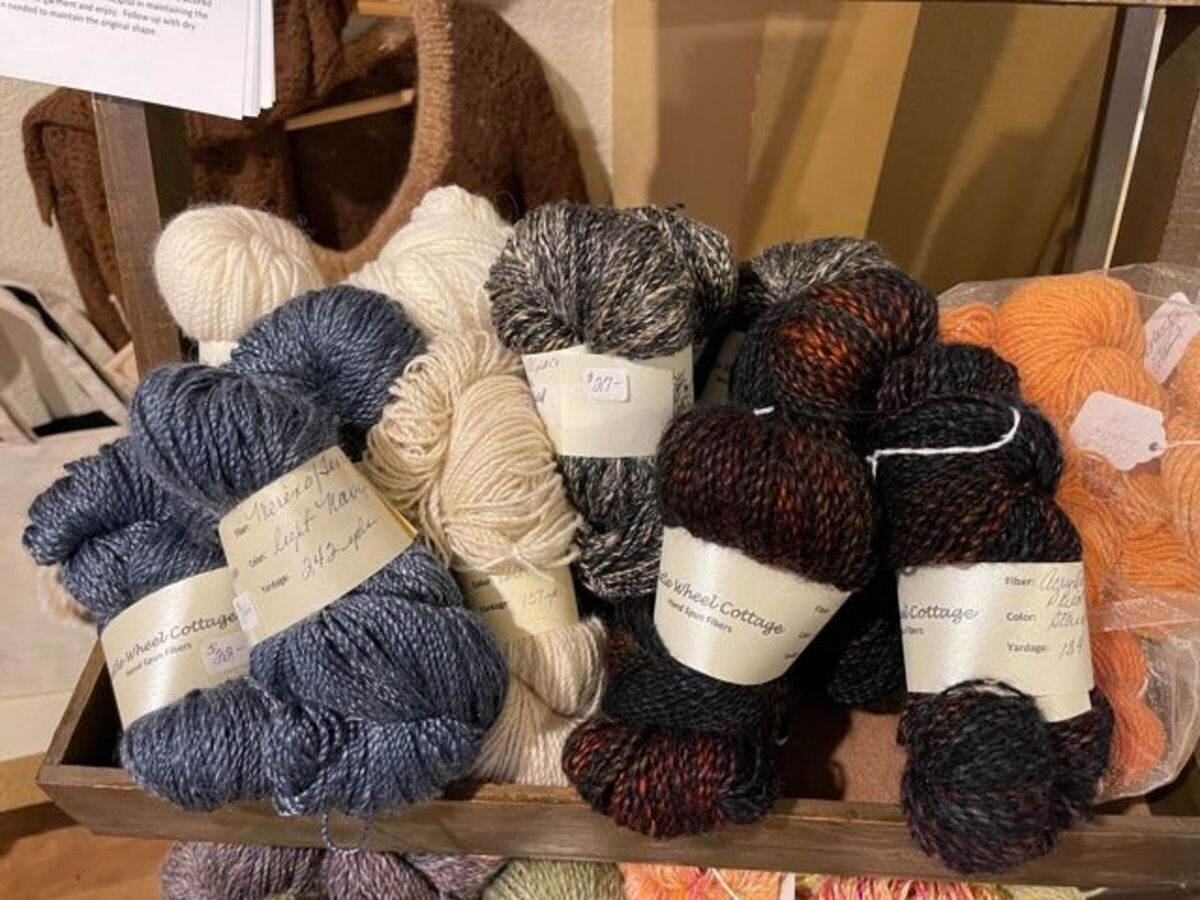 Spinning wheels and weaving in the Alamogordo area and New Mexico began with traditional Hispanic treadle looms that hark back to the Spanish colonists who introduced livestock and a new type of weaving to Native peoples more accustomed to using materials like yucca fibers. Those looms found at area museums represent more than 400 years of New Mexico weaving history, and that's only part of the story.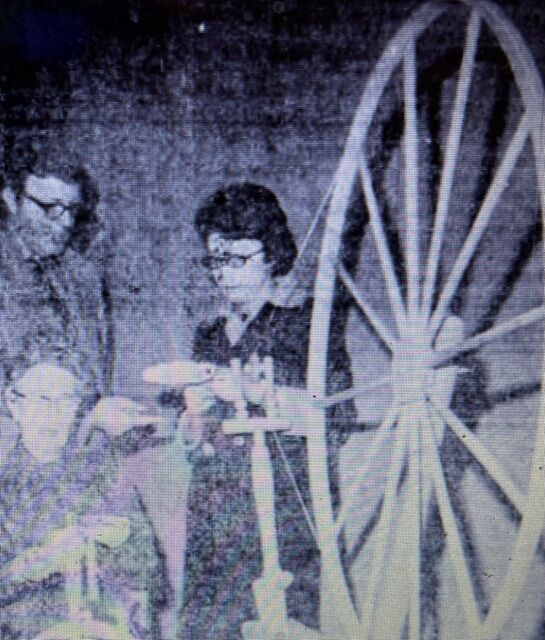 Numerous types of spinning wheels exist, including:
the great wheel also known as walking wheel or wool wheel for rapid long draw spinning of woolen-spun yarns;
the flax wheel, which is a double-drive wheel used with a distaff for spinning flax fibres for making linen;
saxony and upright wheels, all-purpose treadle driven wheels used to spin both woolen and worsted-spun yarns; and
the charkha, native to Asia.
Until the acceptance of rotor spinning wheel, all yarns were produced by aligning fibers through drawing techniques and then twisting the fiber together. With rotor spinning, the fibers in the roving are separated, thus opened, and then wrapped and twisted as the yarn is drawn out of the rotor cup.
Pictured is a Castle Wheel Spinning Wheel.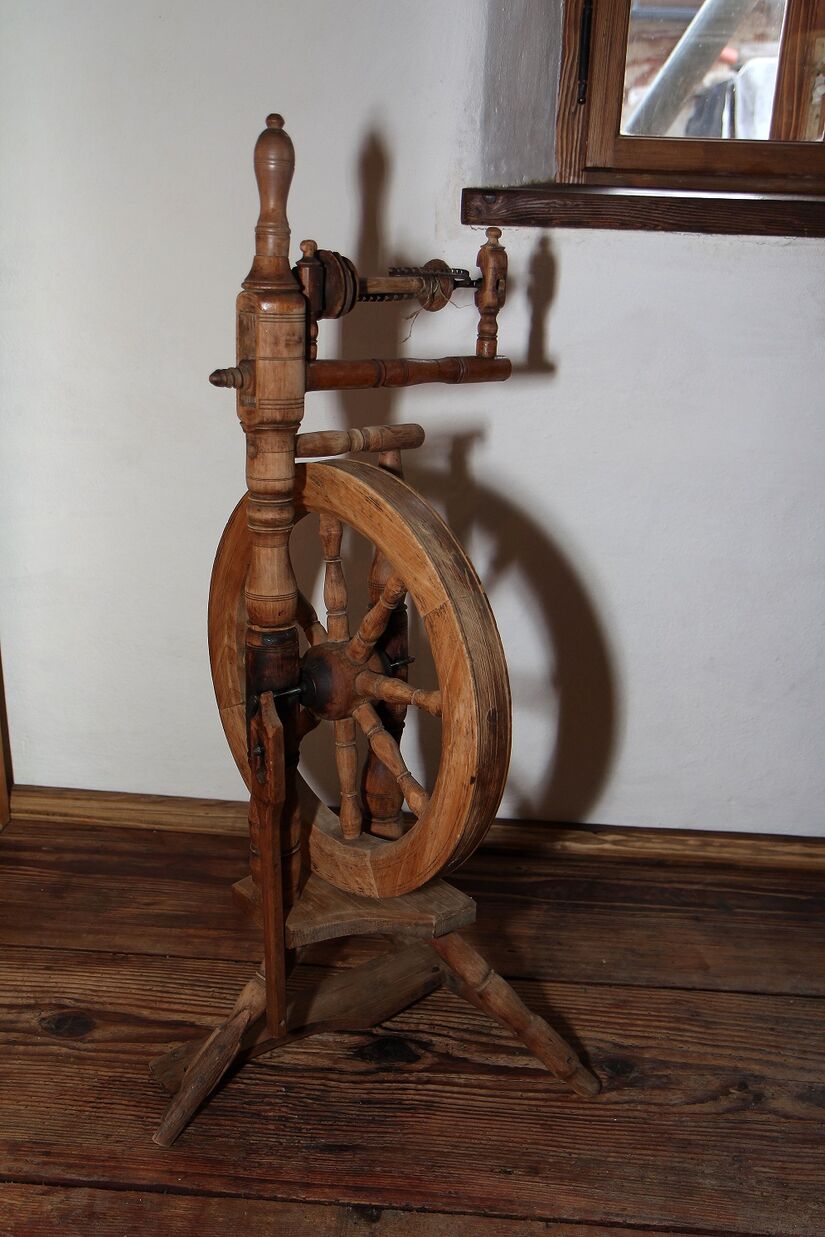 History of the Spinning Wheel and Weaving
The spinning wheel is an ancient invention used to transform various plant and animal fibers into thread or yarn, which are subsequently woven into cloth on a loom. No one knows for certain when the first spinning wheel was invented. Historians have come up with several theories. In "Ancient History of the Spinning Wheel," German author and science historian Franz Maria Feldhaus traces the origins of the spinning wheel back to ancient Egypt, however, other historical documentation suggests that it debuted in India between 500 and 1000 A.D., while other evidence cites China as the point of origin. For those who accept the latter theory, the belief is that the technology migrated from China to Iran, and then from Iran to India, and finally, from India to Europe during the late Middle Ages and early Renaissance.
Jumping 500 years spinning by hand was time-consuming and best suited to small-scale production, finding a way to mechanize the process was a natural progression. Although it would be some time before the technology reached Europe, by the 14th century, the Chinese had come up with water-powered spinning wheels. Around the year 1533, a spinning wheel featuring a stationary vertical rod and bobbin mechanism with the addition of a foot pedal debuted in the Saxony region of Germany. Foot power freed up the hands for spinning, making the process much faster. The flyer, which twisted the yarn as it was spun was another 16th-century advancement that increased the rate of yarn and thread production dramatically.
Jumping another 400 years the Spanish settlers who discovered New Mexico brought treadle looms. Since the days of Oliver Lee and the creation of Frenchy's cabin the European influence meshed with the Native American and Mexican culture and various forms of hand weaving continued.
In more modern times hand spun yarns are lost art as few yarn spinners have the patience nor the skills to spin by hand. Yes, a few such individuals do exist that remember the art and are passing it from one generation to another so that the artistry is not lost. One such individual is local to Alamogordo Linda Swenson and her works are showcased at Roadrunner Emporium, 928 New York Avenue, Alamogordo.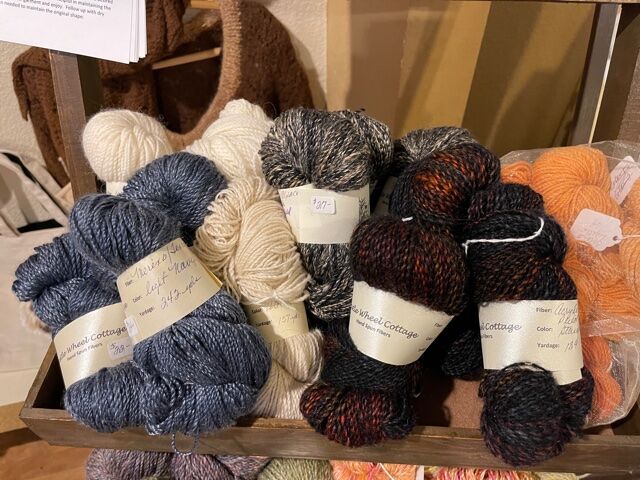 Sold in partnership with Roadrunner Emporium Ms. Swenson showcases and sells her works as balls of home spun yarns in a variety of colors and via her branding of The Cottage of Creative Clothing. Through it she sells custom designs: Ruanas, Hopi Coats, Chili Chasers & Ponchos as well as Hand Spun Knit Sweaters. Within her sales area is Castle Wheel Cottage Hand Spun Fibers.
Working with Hand Spun Yarn quirks…
Hand Spun Yarn is a bit different then mass-produced factory yarn. It requires special handling. Routinely these yarns are two ply and are twisted looser than commercial mass-produced yarns. They tend to be heavier in weight than commercial yarns of the same gage. With that in mind, it is advisable to knit or crochet a sample using the needle or hook side recommended in the pattern and then judge for oneself if they want to move up or down in the needle/hook size to obtain the desired effect of the finished garment. One may have to adjust the number of stitches up or down as well.
Hand spun yarns are often dyed to the desirable color after spinning. This often times results in variances in the color density from one place to another in the skein. This is not a flaw it is considered a beauty spot and typical of garments crafted from home spun yarns. Also, of note is there are no "dye lots" when hand dying yarns. Each lot is unique, and each skein may vary slightly. This variation is what makes garments made of home spun yarns highly sought after and of character making each totally unique.
When one has completed their piece made of home spun yarns it is advisable to soak it gently in warm water using a mild soap. Be careful not to agitate the knit item in the water. Agitation will cause felting and could ruin the garment. Rinse well, carefully squeeze out the water and wrap in a terry towel to remove excess water and let air dry. A light steaming is also helpful in maintaining the desired size. Follow-up with dry cleaning when needed to maintain original size and shape. And enjoy.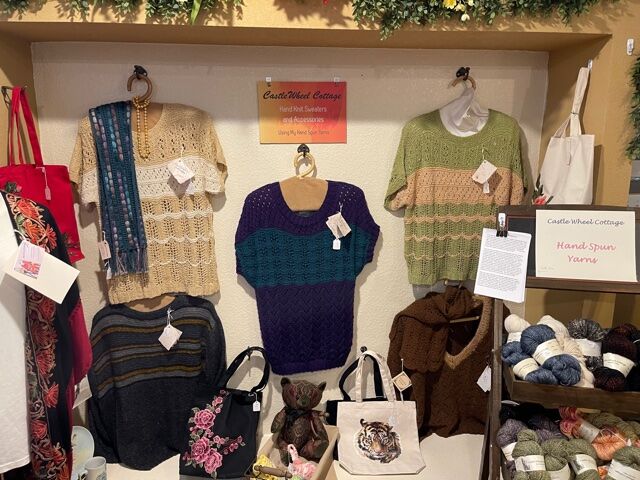 Linda Swenson provides the visitor to Roadrunner Emporium a unique offering from value priced hand-woven pin cushions and hand-woven bookmarks to exotic Ruanas, Hopi Coats and more made by hand with the finest in craftsmanship.
Stay up to date online on soon to be offered classes, workshops lectures, poetry performance art and more beginning in September.
Drop by Roadrunner Emporium Fine Arts Gallery, Antiques and More, 928 New York Avenue to see the offerings from Linda Swenson and those of the other 42 artists, photographers, jewelers, antiquities and collectibles dealers and craftsperson's showcasing their items in our collective.