Alamogordo Town News Congressional Report Card: 5 Unique Votes, How did they vote?
Image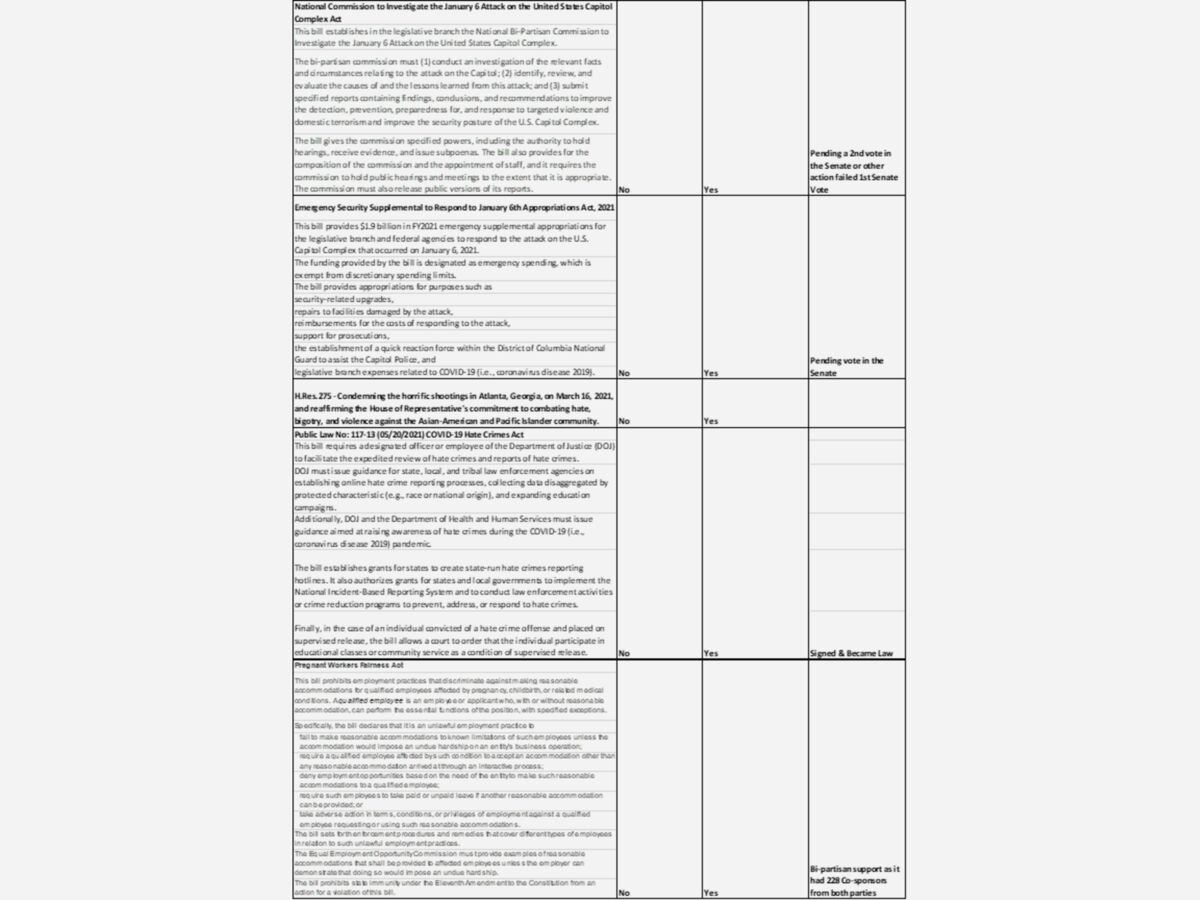 The campaign to fill the New Mexico congressional seat vacated by Secretary of the Interior Deb Haaland entered its final days and the Democratic candidate Melanie Stansbury financially outraised her leading opponent by more than twice over. That investment into her campaign by her supporters paid off with an overwhelming victory on Tuesday night.
PACs contributed a combined total of nearly $232,000, around 17 percent of her total fundraising. Elect Democratic Women, a PAC founded by Democratic women in the House, was among Stansbury's donors, giving $15,000 since she launched her primary campaign for the seat earlier this year.
The district, which encompasses part of Albuquerque, was solidly Republican "for decades," before Heinrich swung the seat from red to blue in 2008. Stansbury won the district by 26% of the vote outpacing Biden's 23% win in the now solidly Democratic district.
Now that the election is over New Mexico now has three representatives seated in congress two Democrats from the North and Republican Yvette Herrell in the South.
For most major votes, the first 6 months of this congressional session, New Mexico has had only two-house votes, given that the seat of Deb Haaland has been vacant. So how have the two legislatures that have attended to votes so far voted on major legislation that impacts New Mexico constituents? 
Let's look at the voting record on 5 recent votes on major legislation specific to the safety of the capital, investigating the events of January 6th, condemning of a shooting in Atlanta, Hate Crimes Against Asians and Protections of Pregnant Women in the workplace. Of those 5 pieces of legislation Representative Yvette Herrell voted against all 5. Representative Teresa Leger Fernandez votes yes in favor of each of the 5 legislative initiatives. The pregnancy protection act was a bi-partisan proposal with 228 co-sponsors both Republican and Democratic…
| | | | |
| --- | --- | --- | --- |
| Legislation | Yvettte Herrell -R | Teresa Leger Fernandez - D | Status |
National Commission to Investigate the January 6 Attack on the United States Capitol Complex Act
No
Yes
Pending a 2nd vote in the Senate or other action failed 1st Senate Vote
This bill establishes in the legislative branch the National Bi-Partisan Commission to Investigate the January 6 Attack on the United States Capitol Complex.
The bi-partisan commission must (1) conduct an investigation of the relevant facts and circumstances relating to the attack on the Capitol; (2) identify, review, and evaluate the causes of and the lessons learned from this attack; and (3) submit specified reports containing findings, conclusions, and recommendations to improve the detection, prevention, preparedness for, and response to targeted violence and domestic terrorism and improve the security posture of the U.S. Capitol Complex.
The bill gives the commission specified powers, including the authority to hold hearings, receive evidence, and issue subpoenas. The bill also provides for the composition of the commission and the appointment of staff, and it requires the commission to hold public hearings and meetings to the extent that it is appropriate. The commission must also release public versions of its reports.
Emergency Security Supplemental to Respond to January 6th Appropriations Act, 2021
No
Yes
Pending vote in the Senate
This bill provides $1.9 billion in FY2021 emergency supplemental appropriations for the legislative branch and federal agencies to respond to the attack on the U.S. Capitol Complex that occurred on January 6, 2021.
The funding provided by the bill is designated as emergency spending, which is exempt from discretionary spending limits.
The bill provides appropriations for purposes such as
security-related upgrades,
repairs to facilities damaged by the attack,
reimbursements for the costs of responding to the attack,
support for prosecutions,
the establishment of a quick reaction force within the District of Columbia National Guard to assist the Capitol Police, and
legislative branch expenses related to COVID-19 (i.e., coronavirus disease 2019).
H.Res.275 - Condemning the horrific shootings in Atlanta, Georgia, on March 16, 2021, and reaffirming the House of Representative's commitment to combating hate, bigotry, and violence against the Asian-American and Pacific Islander community.
No
Yes
Public Law No: 117-13 (05/20/2021) COVID-19 Hate Crimes Act
No
Yes
This bill requires a designated officer or employee of the Department of Justice (DOJ) to facilitate the expedited review of hate crimes and reports of hate crimes.
DOJ must issue guidance for state, local, and tribal law enforcement agencies on establishing online hate crime reporting processes, collecting data disaggregated by protected characteristic (e.g., race or national origin), and expanding education campaigns.
Additionally, DOJ and the Department of Health and Human Services must issue guidance aimed at raising awareness of hate crimes during the COVID-19 (i.e., coronavirus disease 2019) pandemic.
The bill establishes grants for states to create state-run hate crimes reporting hotlines. It also authorizes grants for states and local governments to implement the National Incident-Based Reporting System and to conduct law enforcement activities or crime reduction programs to prevent, address, or respond to hate crimes.
Finally, in the case of an individual convicted of a hate crime offense and placed on supervised release, the bill allows a court to order that the individual participate in educational classes or community service as a condition of supervised release.
Signed & Became Law
Pregnant Workers Fairness Act
No
Yes
Bi-partisan support as it had 228 Co-sponsors from both parties
This bill prohibits employment practices that discriminate against making reasonable accommodations for qualified employees affected by pregnancy, childbirth, or related medical conditions. A qualified employee is an employee or applicant who, with or without reasonable accommodation, can perform the essential functions of the position, with specified exceptions.
Specifically, the bill declares that it is an unlawful employment practice to
fail to make reasonable accommodations to known limitations of such employees unless the accommodation would impose an undue hardship on an entity's business operation;
require a qualified employee affected by such condition to accept an accommodation other than any reasonable accommodation arrived at through an interactive process;
deny employment opportunities based on the need of the entity to make such reasonable accommodations to a qualified employee;
require such employees to take paid or unpaid leave if another reasonable accommodation can be provided; or
take adverse action in terms, conditions, or privileges of employment against a qualified employee requesting or using such reasonable accommodations.
The bill sets forth enforcement procedures and remedies that cover different types of employees in relation to such unlawful employment practices.
The Equal Employment Opportunity Commission must provide examples of reasonable accommodations that shall be provided to affected employees unless the employer can demonstrate that doing so would impose an undue hardship.
The bill prohibits state immunity under the Eleventh Amendment to the Constitution from an action for a violation of this bill.
So what do we conclude from the votes above. That is up to the voter to decide. The positive point is both congressional leaders are in their districts and are hearing from constituents.  Both have voted for every roll call except for one out of 159 votes cast so far. Thus they are positively there on location for the votes. Rather one agrees or disagrees with the votes taken it is important that constituents call their congress people and email via official channels so your opinion goes into the "official record." Remember comments on social media may not be construed as official record. If you want your voices heard call and email each representative your thoughts and opinions.
https://herrell.house.gov/contact