Image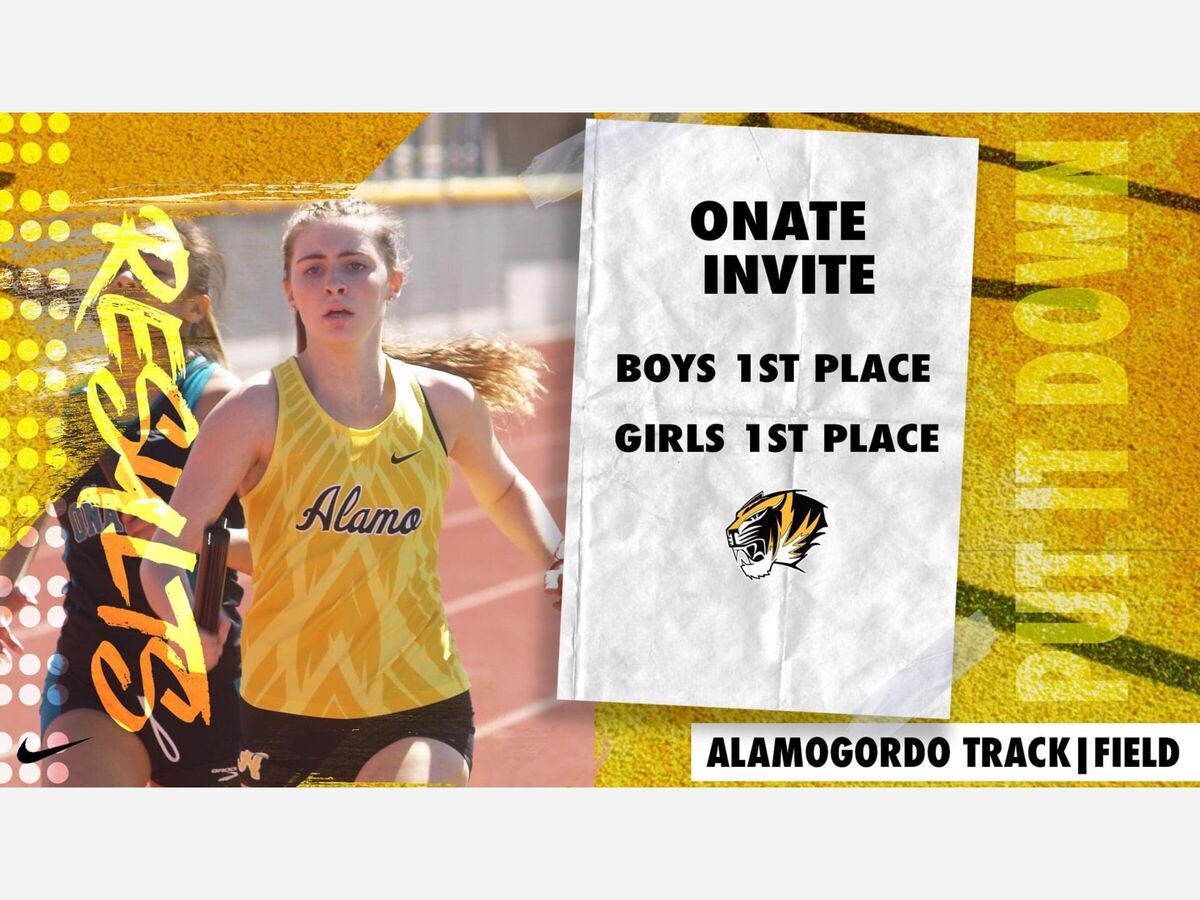 Baseball
The  Alamogordo Tigers Baseball Team split their double header with Silver - losing Game 1, 8-7 in extra innings.
The Tigers won Game 2, 6-3 after 5 innings. The 2nd game was called early due to not being able to shut off sprinkler system.
The Tigers are now 1-3 in Baseball and will play at Roswell on May 3rd.
Alamogordo Track and Field
Track and Field - Alamogordo Boys and Girls both win Onate Invitational. Alamogordo Boys 1st place with a score of  151, Onate  was 2nd Place, Centennial was 3rd.
Girls Alamogordo was 1st place with 194 points, Onate 2nd place and Centennial 3rd place. 
Full Results - https://nm.milesplit.com/meets/422206-onate-invitational-2021/results/736335/raw#.YIOJDpBKiMo
Provisional State Qualifiers - Only Top 16 results at the end of the season will qualify for state
Girls
100m - Yvonne Stinson (12.49)
200m - Yvonne Stinson (27.00), Gracie Walker (27.38)
1600m - Ellary Battle (5:38.13)
High Jump - Yvonne Stinson (4-06), Evelyn Castillo (4-06)
Pole Vault - Eva Gerou (7-06)
Discus - Macy Marquez (111-05)
Javelin - Sierra Lessentine (100-07.50), Ariana Torres (98-00)
Boys
3200M - Celso Garcia (10:20.42)
300 Hurdles - Gabe Kotter (40.50)
Discus - Kaden LoCoco (137-03)
Girls Softball
 Alamogordo softball girls  swept Hobbs, winning Game 1, 5-2 and Game 2, 8-5.
Softball  Game 1 Stats
Sydney Lessentine CG, 10K, 4H, 2R
Carleigh Carroll 3-3, 2 RBI, 2B, BB
Pita Barbosa 3-3, 2 RBI, R
Kassidy Feagan 1-3, RBI
Kaylee Rankin 2-2, 2 R
Kendal Lunar 1-3, R, BB
Alexis Rodriguez 1-3, R
Miranda Schlupp SB
Ashley Evans SB, Sac Bunt
The Lady Tigers are now 3-2 and they will host Silver next Friday.
Game 2 Stats
Kendal Lunar 2-4, HR, 2B, 3 RBI, 2R
Alexis Rodriguez 2-4, HR, 2 RBI, R
Carleigh Carroll 1-3, RBI, R, BB
Sydney Lessentine 1-3, 2B, RBI, 2R
Pita Barbosa 1-2
Kassidy Feagan 0-3, R
Rainn Daily 0-3, R
Sydney Lessentine CG, 9K, 5R, 7H