Lady of the Mountain Run Fun Had by All Ages
Image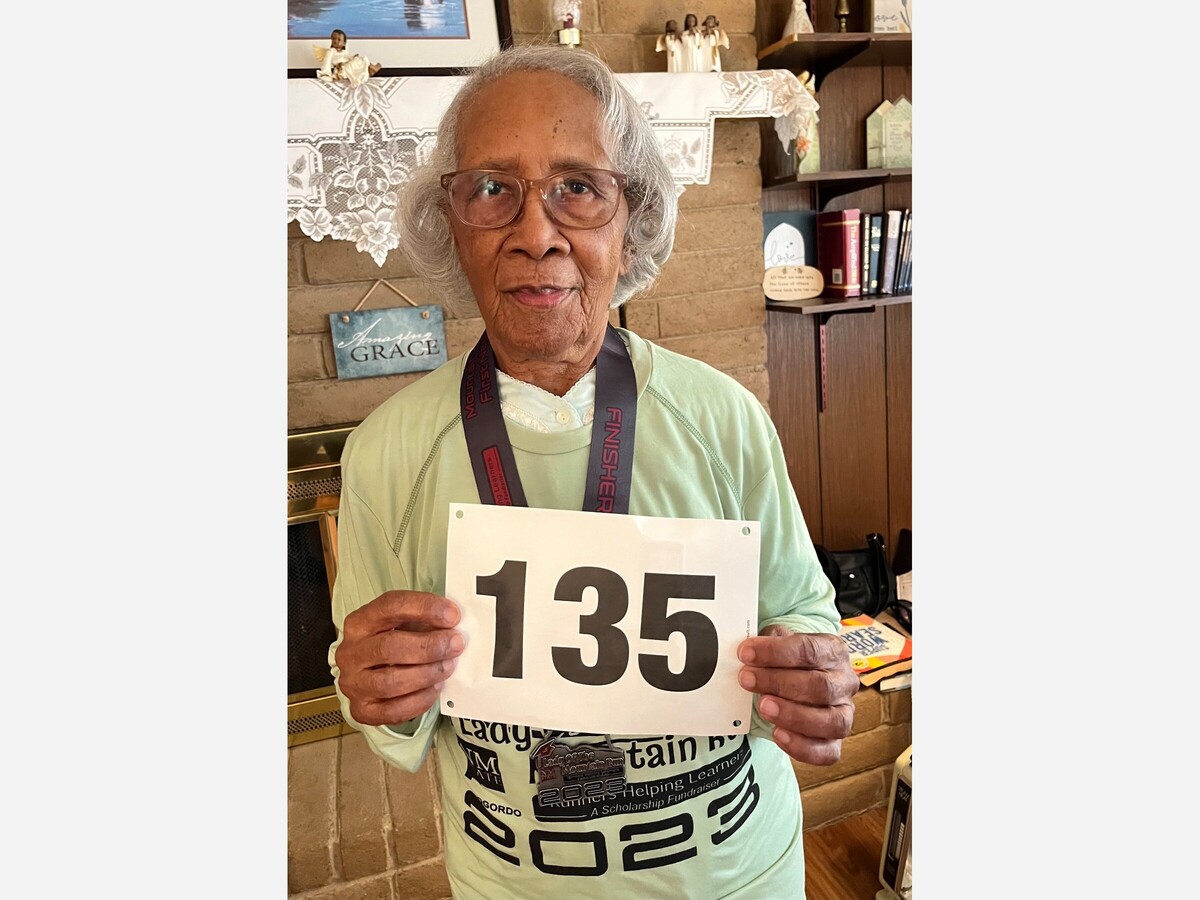 Saturday morning in Alamogordo was unusually warm and clear, a perfect day for a community run. The Lady of the Mountain Run was a showcase of diversity as a fundraiser for scholarship funds for New Mexico State University Alamogordo. The race included a 1 mile walk and run, a 5k, a half marathon and a virtual run. There were also bike participants and four legged furry friends that joined the festivities. 
Rather they were running and walking for health, fun or the cause fun was had by all. 
The oldest race participant was 97 yrs, Mrs Mildred Gordon & her proxy runner & mother in the one mile with her  photo beginning our news article.  The oldest 1/2 marathon finisher was Robert "Bob" Wilkins, 82 yrs crossing the finish line along with Race course coordinator Melissa Quattlebaum Race director Rachel Hightower who made sure the event was a success. 
Notable among the 239 participants were 
Larry Beck retired NMSU history professor. Omar Enriquez 17 yrs old Alamogordo High School cross country runner just back from the state championships came and with an entourage of a cheer squad for the 1/2 Marathon. Omar was the overall 2023 LOTMR 1st place overall & 1/2 winner. He is an accomplished athlete and academic, a Senior at Alamogordo High School with a 4.1 GPA, going on to do Aeronautical Science at Embry-Riddle Aeronautical University Prescott Campus. Omar recognized and thanked his coaches and family for supporting his running career; Ms Scott, Mr Scott Drake & Mr Giggler, his Dad Martin and his family. Hs sent out a special recognition to his Grandfather who is battling stage 4 cancer & watched today's run on screen. Pam Gallien speech therapist & co-owner Gallien Therapy in bib# 348 was another notable participant. 
Alamogordo City Commisioner Elect  Warren L Robinson was on-hand to offer encouragement and congratulations to the   10k, 70 plus winner Carol Davenport from Santa Fe.
 Volunteer were from all around such as NMSU Alamogordo Student Councilman Plummer who helped  set up the 10k turnaround water station and pit stop, at south end of scenic; from Holloman Air Force Base some of Sergeant Frasier's staff helped as traffic control volunteers.  Other volunteer teams included NMSU-Alamogordo Dept of Health & friends water table station and the Overstreet TKD & friends water table station.
Mr Quattlebaum on the race lead bike, pedals & banked hard to stay ahead of 1/2 marathon race winner Omar Enriquez as he leaves Scenic to enter the Tays road to the finish line. 
The organizers and photographer Tanja Banks thanks everyone that participated with a total of around 239 people from Santa Fe to Alamogordo joining the fun. 
Results of all winners and other details will be updated on the run website in the next few days. To learn more visit https://ladyofthemountainrun.com/
Check out the many photos below in the photo gallery to see candids from the event…
More News from Alamogordo