Sports Roundup and a Look Back 30 Years Ago at Alamogordo High School
Image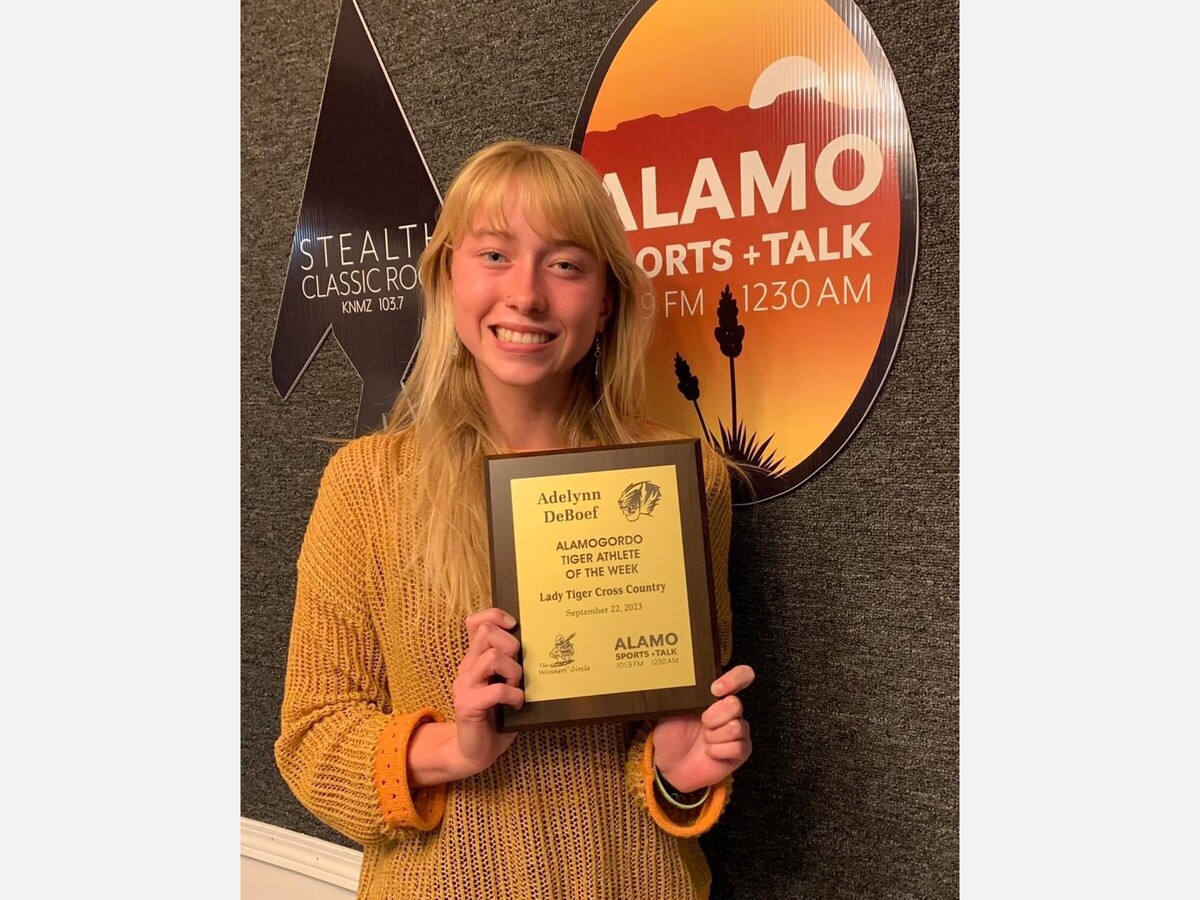 Alamogordo Sports 101.9 FM 1230 AM Alamogordo High School Tiger Athlete of the week for the week of 9-22-23 was awarded to Adelynn DeBoef of the Lady Tiger Cross Country Team. The Tiger Athlete of the Week is sponsored by The Winners' Circle Check out her interview here on 101.9 FM at https://youtu.be/UvVBRXra0Mg?si=c3Hji83tkX6ik8ft
In weekend High School sports action…
Football Football Pojoaque Valley defeated Cloudcroft 50 to 0. The Bears record drops to 0 wins and 5 losses. They next play at Organ Mountain Junior Varsity on Thursday.
Football Escalante defeated Mescalero Apache 47 to 12. The Chiefs drop their record to 2 wins and 3 losses. They next host Hozho Academy on Friday.
Football Tularosa High School defeated Ruidoso 50 to 0. The Wildcats improved their record to 3 wins and 2 losses, they  play at Escalante next Friday.
In Girls Volleyball Tularosa defeated Jal in straight sets (25-8, 25-13, 25-10). The Lady Cats improved their record to 5 wins and 3 losses. They next host Silver on Tuesday.
High school sports is a tough and tumble competition but through the competition student competitors respect one another. When one team suffers pain or a loss other team suffer. We join the sports community and like to extend our condolences to the Bynum family, friends of Amaryon and everyone in the Knight and Tiger Basketball families. We join the Organ Mountain family and extend our condolences for their loss.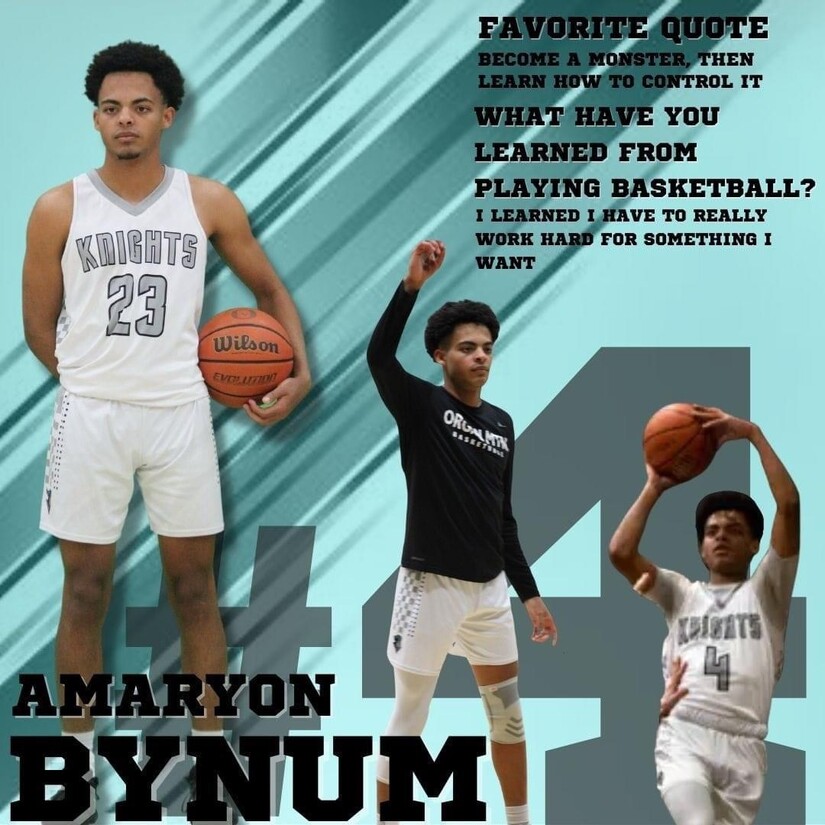 A look back 30 years ago at Alamogordo High School sports history.  1993 was the year that Lawrence Johnson was named as the assistant Athletic Director for Alamogordo Public Schools. The next year he was named athletic director. 
Lawrence Johnson Bio:
Lawrence Johnson attended Alamogordo High School during a turbulent period in Black history as a senior in 1967/68 he witnessed the continued presence of American troops increasing further in a war that was dividing America with a total of 475,000 individuals serving in Vietnam that year. By 1967 it was becoming more apparent, the racial and economic divide, as to who was being sent to fight the war in Vietnam, being disproportionately people of color and whites of lower economic levels of American society. Thus, a privileged class did not serve, and that fact was not lost on college campuses across America. Peace rallies were multiplying as the number of protesters against the war increased at a fever pitch even locally in Alamogordo.
The Boxer Muhammad Ali was stripped of his boxing world championship for refusing to be inducted into the US Army.
During the summer of 1967, cities throughout America exploded in rioting and looting; the worst being in Detroit on July 23rd where 7000 National Guards were bought in to restore law and order on the streets.
The arguments in the Loving v. Virginia case were argued at the US Supreme Court, during April of that year. The case centered on Mildred Jeter and Richard Loving, an interracial couple from Virginia that got married in Washington D.C. in the late 1950s. When they went back to Virginia, they were charged with breaking the state's law which banned interracial marriage and were jailed. The Loving's sued the state of Virginia and argued that the ban violated the Fourteenth Amendment and was unconstitutional. In June of 1967, the Supreme Court ruled in a 6-3 decision that state bans on interracial marriage were unconstitutional and that they were solely based on racial discrimination. The decision made interracial marriage legal throughout the United States.
Larwrence Johnson was a student during a period of unrest and social change. That social change was happening before his very eyes in Alamogordo. Though the high school was integrated in 1950 under Coach Rolla Buck, racism still existed and was felt on occasion and certainly witnessed.
In Alamogordo, New Mexico; Coach Bob Sepulveda along with several other coaches were shifted during the 1967/68 school year in a realignment that would eventually make Alamogordo sports history for its longer-term impact on the school. Head Coach Joe Giddens reshuffled his deck with his football assistants; Arnell Bazemore, Curtis West, and J.D. Covington. Coach Bob Sepulveda was moved up from the junior high to the high school to lead the JV Football team and track assisted by Kyle Bearden. Assigned to the Sophomore coaching Darrel Bode and Bud Harrison. Joe Dominguez continued at Central with Ray McDowell handling similar duties at Chaparral.
Larwence Johnson witnessed Hispanic students "swatted"
for speaking Spanish - this policy was changed by 1970. He was coached by an interracial couple – Coach Bob Sepulveda, his Track and Field Coach was of Hispanic origin and was considered a "person of color" who was married to an Irish wife, English teacher and Coach- Marilyn Sepulveda. Per the diaries of Mrs. Sepulveda of which she wrote extensively of the period of the late 60s and early 70s, "there were several occasions of which the ladies at the beauty shop asked me who's brown baby I was babysitting. I stewed, I should not have but I could not help myself and I exploded on more than one occasion that the brown baby of which these women were referring was my baby – Rene Sepulveda and my son and that of Coach Sepulveda and what the hell does skin color have to do with anything. On more than one occasion I exploded at the beauty salon when confronted by racism and comments of bigotry against my son and the many children of color. These ladies should have been ashamed of their comments, and I let them know it on a number of occasions"
(One wonders what Mrs Sepulveda would think of the controversies surrounding Alamogordo Schools today and the politics of race and gender being played out via lawsuits against the school system?)
Coach's Bob and Marilyn Sepulveda would be lifelong friends and allies to Lawrence Johnson and his family and helped ensure he received a proper education, was challenged, and recognized for his accomplishments. They assisted in him gaining scholarships which ultimately led him back to Alamogordo and to lead the Athletic Department.
Johnson went to college at Western New Mexico University in Silver City on a scholarship where he earned his bachelor's in 1972 and master's degree in 1975.
In 1982, Johnson began working at Alamogordo High School as a track and boys basketball coach, which he did for five years after prior experience as the JV Basketball Coach and Coach at the Middle High. He aided Coach Sepulveda from the beginning of his tenure with the Alamogordo school systems with track and field and with JV Football. Coach's Bob and Marilyn Sepulveda were close friends and allies to Coach Johnson when he came back to Alamogordo to teach and coach. Few Black men came back to Alamogordo, and fewer joined the visible professional ranks of the local school system. Coach Johnson was a rare breed and a great example and mentor to many students at Alamogordo High.
Coach Johnson also served as a guidance counselor for six years. Johnson became the assistant athletic director at AHS in 1993, the following year he became the athletic director. Johnson served as athletic director at AHS for 21 years, the longest tenured Athletic director in the school's history and the first African American man to ascend to that level of leadership in the Alamogordo School System.
He served on the New Mexico High School Coaches Association Board of Directors. In addition, Johnson was a member of the New Mexico Athletic Directors Association and was a recognized leader and example across the state of New Mexico. He served on the (NMADA) board for 20 years. From 1998 to 1999, he was president of NMADA.
In 2017, Johnson was honored with the Distinguished Service award from the National Interscholastic Athletic Administrators Association (NIAAA). He was one of 11 educators nationwide to receive the award and the only Athletic Administrator from Alamogordo to ever win this award.
"I graduated from high school here in Alamogordo in 1968 and went off to college, I came back in 1972 and I got a job," Johnson said in a 2014 Daily News article about his retirement. "I started teaching physical education and social studies at the middle school and I just continued from there. I really enjoyed teaching the kids, I also enjoyed coaching. I started the learning process at that time and I really enjoyed myself."
Former NFL Eagles draft pick and Alamogordo High School alumni, Ed McDonald led a group to include Supervisor Sharon McDonald, Treyon Johnson, and others to persuade the school board to name the Alamogordo High School Tiger Pit after Coach Lawrence E Johnson after his death.
Coach Johnson broke the barriers in Black leadership within the Alamogordo School System and set the standard in his years of service with integrity, honesty, and leadership.
Coach Johnson was best known for his saying; "It's a great day in Tiger Country."
The Alamogordo School Board members unanimously approved the renaming of the Tiger Pit sports complex at Alamogordo High School to honor Lawrence E. Johnson for his many years of contribution to the community and the thousands of students and athletes he positively affected as a mentor and role model.
Mr. Johnson's nickname was "Slick "and he was famous with his student athletes for his "sunglasses and his big smile".
As the public enters the Tiger Basketball Pit, they will notice it named in his honor.
Author Chris Edwards - Sources: Coach Bob Sepulveda: The Early Days Publisher 2nd Life Media, New Mexico Athletic Association, Diaries of Marilyn Sepulveda, Alamogordo Town News, New Mexico Coaches Association Archives.

More News from Alamogordo