Otero County Commission Proposes 2nd Amendment Affirming Resolution
Image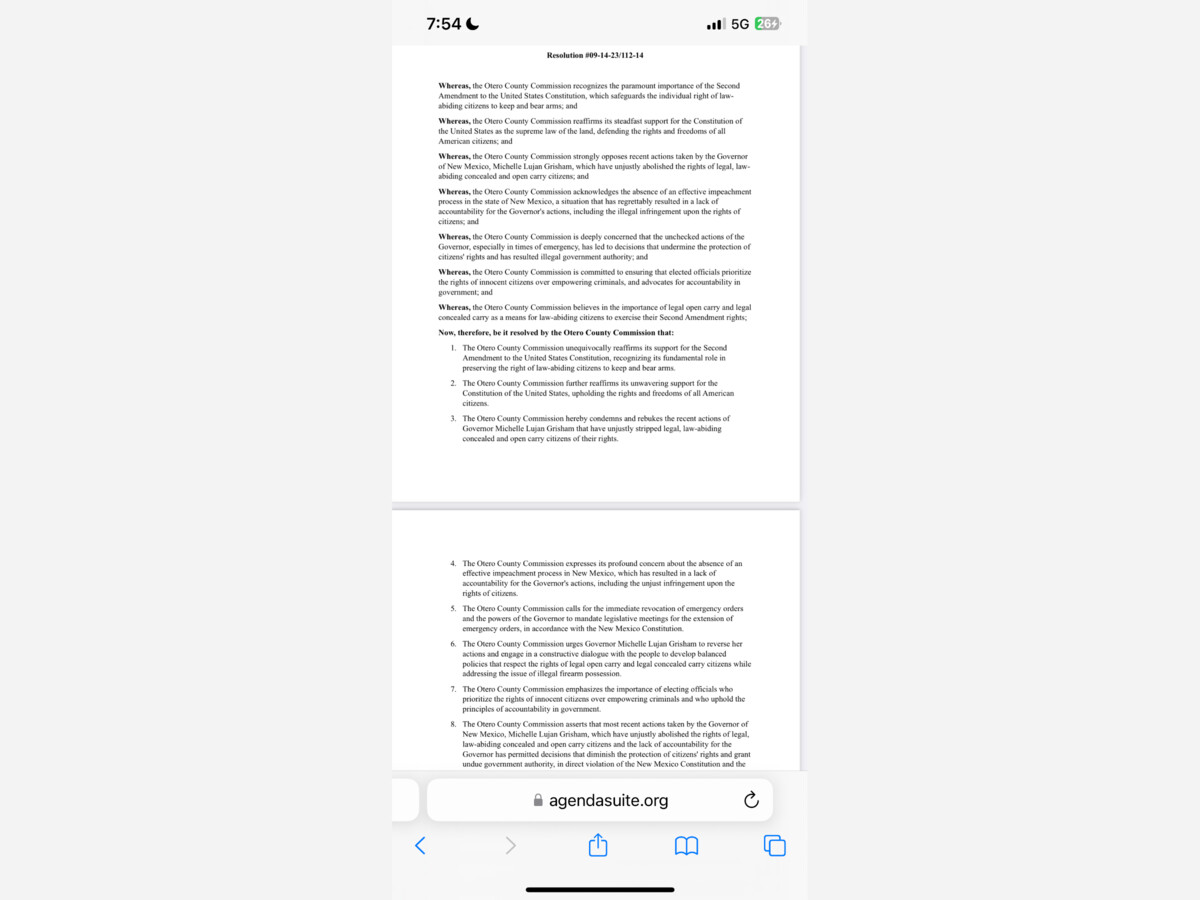 The Otero County Commission will meet Thursday in special session at 5 pm to discuss the actions of New Mexico Governor Michelle Lejune Grisham relating to her signed emergency order banning both open and concealed firearms in Albuquerque and surrounding Bernalillo County for 30 days, on Friday, setting off a stream of backlash and legal challenges.
The Republican Party of Otero County held a 2nd Amendment rally on Monday 9-11-23 which resulted in about 25 people in attendance to include the Mayor of Alamogordo, Susan Payne, County leaders and others speaking in what became more of a meeting format to discuss their concerns and dissent with the Governor's actions.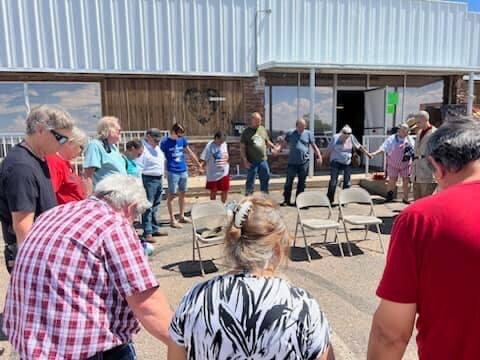 The announcement prompted a string of lawsuits and ignited opposition from Democrats and Republicans alike.
Bernalillo County Sheriff John Allen, a Democrat, said Monday he would not enforce the ban, which he called "unconstitutional."
"This order will not do anything to curb gun violence other than punish law-abiding citizens from their constitutional right to self-defense," Allen said at a news conference.
"It's unconstitutional. So there's no way we could enforce that order," he added.
Otero County Sheriff, David Black issued a letter and formal letter of protest condemning the Governor's actions….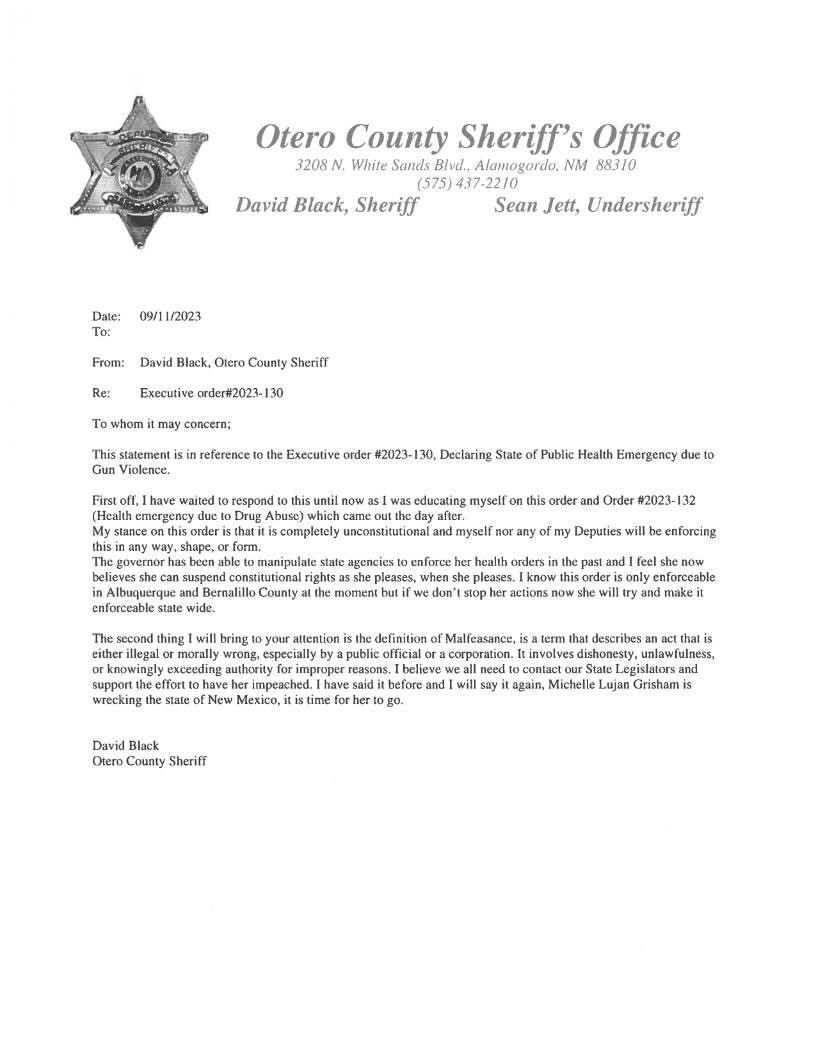 In addition Sheriff Black was interviewed for about 6 minutes on KRAZY KALHRadio.org and further discussed his concerns and that of a variety of Sheriff's Offices with the Governor's actions…
Sheriff Black Interview Link Click to Hear.
Other Sheriff's Departments issued a variety of statements…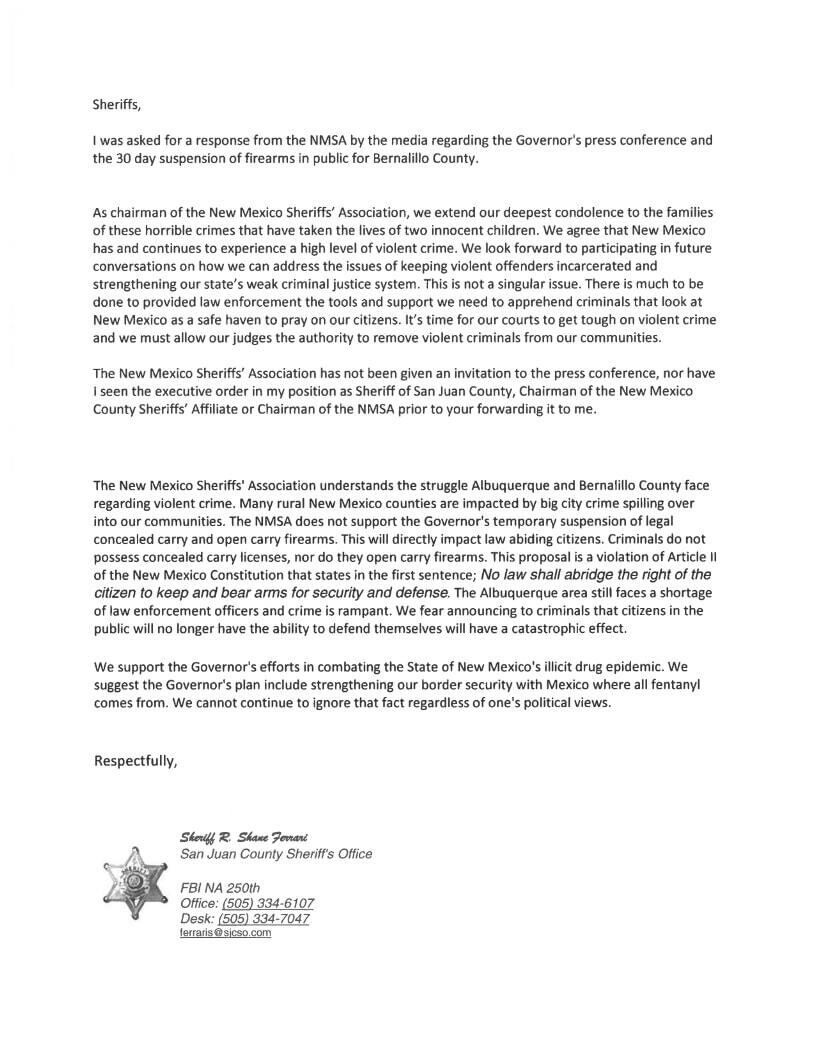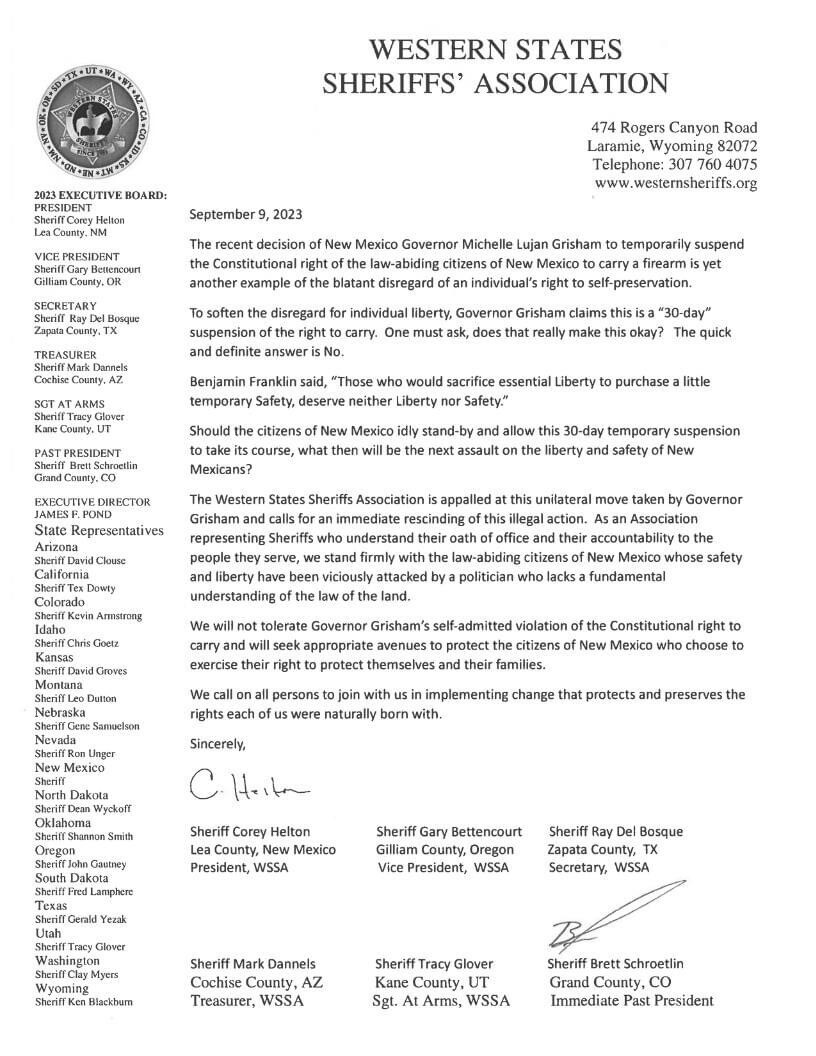 "I don't need a lecture on constitutionality from Sheriff Allen: what I need is action," Lujan Grisham said in a statement in response to a request for comment from NBC News. 
"We've passed common-sense gun legislation, including red flag laws, domestic violence protections, a ban on straw purchases, and safe storage laws; dedicated hundreds of millions of dollars to a fund specifically to help law enforcement hire and retain officers; increased penalties for violent offenders and provided massive support to intervention programs," she added. "We've given you the tools, Sheriff Allen — now stop being squeamish about using them. I will not back down from doing what's right and I will always put the safety of the people of New Mexico first."
New Mexico was listed in 2021 among the top three states with the highest firearm mortality rates, according to data from the Centers for Disease Control and Prevention. The state that year had a firearm-related death rate of 27.8 deaths per 100,000 people, following Louisiana's 29.1 and Mississippi's 33.9.
Otero County Commissioner Amy Barella spoke with AlamogordoTownNews.com's radio commentator Anthony Lucero on Krazy KALHRadio.org about the Otero County Commission meeting scheduled for Thursday at 5pm 
The resolution that will be discussed Thursday night says that Otero County strongly supports the 2nd Amendment. A controversial clause in the resolution is a line referencing a lack of accountability and the impeachment process…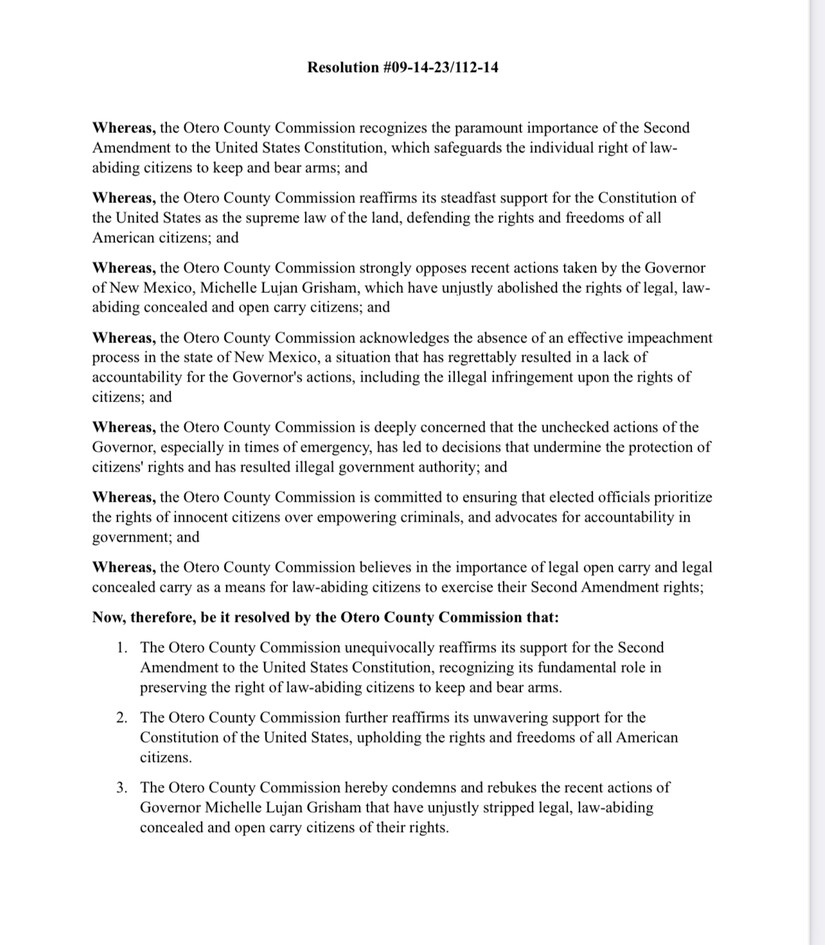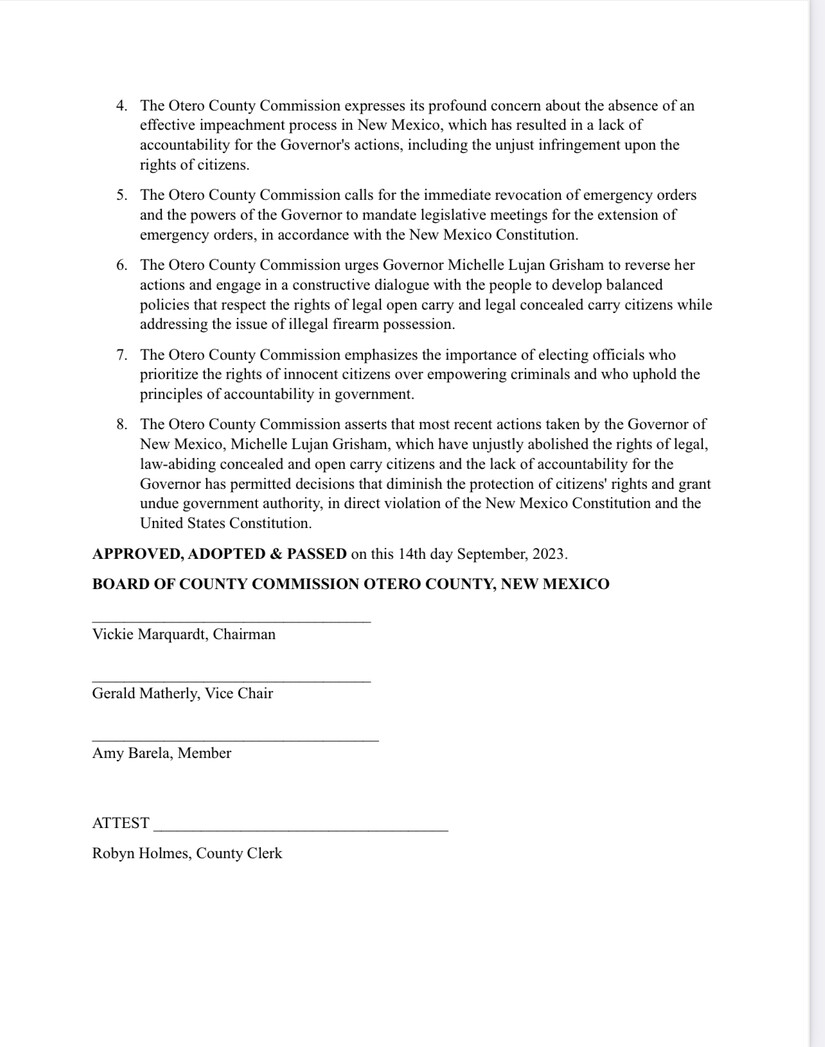 An overwhelming majority of individuals in Otero County on both sides of the isle support the resolution that have seen it however a few locals have suggested the resolution would be more appropriate and impactful: without referencing impeachment as that one line disenfranchises some locals making the resolution partisan in tone thus not as credible as a united voice from Otero County. "  
A Independent who asked for their name to not be used in the interview stated; "I agree with the intent of the resolution to affirm 2nd Amendment rights, however the line referencing impeachment crosses a line of partisan politics and no longer speaks for the citizens of Otero County but of the RPOC agenda. Removed that line and you have support from the community as a whole."

The Democratic Party of Otero County is dead and dissolved per a DPNM statement last week "pending ongoing investigations" thus no statement could be made from the local party concerning the outrage. The highest ranking Democrat in Otero County, State Representative District 53 Willie Madrid who represents Chaparral in Otero County and Lincoln County signed a statement condemning the Governors actions. The statement was issued by him and 5 other representatives…
The Republican Party of New Mexico announced a Lawsuit Against Governor and New Mexico Secretary of Health. Per a press release: " RPNM Chairman and former Congressman Steve Pearce issued the following statement:

"The Governor and the Secretary of Health's egregious overstepping of New Mexicans' rights may be the worst we have seen in the nation. Our lawsuit will challenge the Governor and the Secretary of Health's authority to supersede our federal and state constitutions with the stroke of a pen.
America is watching this case unfold in New Mexico. We must set a precedent for the rest of the nation that politicians and unelected officials do not have the right to declare an emergency anytime they want to override your constitutional rights.
The Governor made her stance clear when she said, "no constitutional right, in my view, including my oath, is intended to be absolute." Michelle Lujan Grisham must be held accountable for her unlawful stunt. This must never happen again in our state or the rest of the nation. We want New Mexicans to know the Governor was wrong, and you have rights."

Our litigation is in addition to the New Mexico House and Senate Republican's lawsuit and several other independent entities filing lawsuits regarding this order."
Governor Grisham seems defiant and undeterred in her commitment to raise the heat onto the issue of gun violence.  "When we're afraid to be in crowds, to take our kids to school — when our very right to exist is threatened by the prospect of violence at every turn — something is wrong," she said in a statement. "I'm not going to stop fighting for public safety until everyone is safe. Period."
More News from Alamogordo