RPOC 2nd Amendment Rally In Alamogordo 9-11-23
Image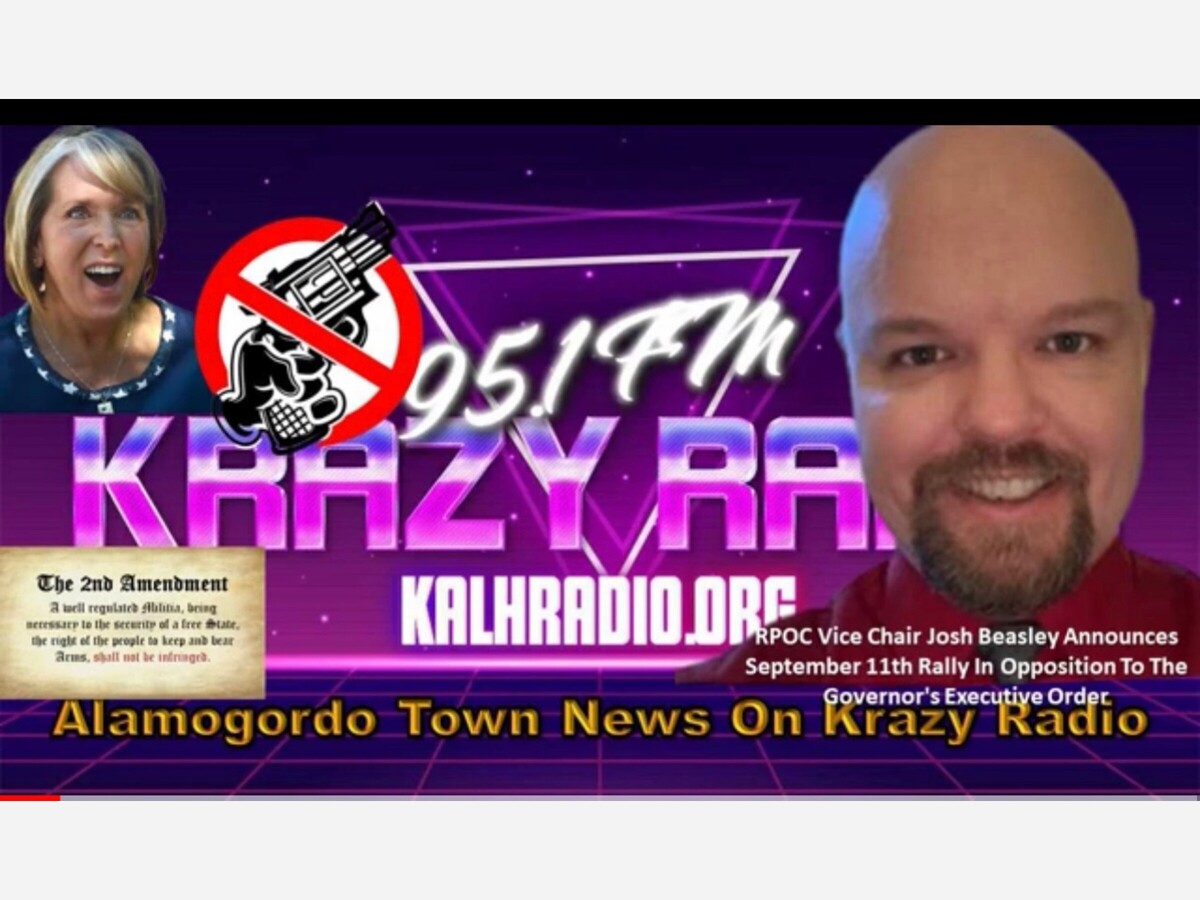 A protest is planned by the Republican Party of Otero County in a statement on KRAZY KALHRadio.org by Vice-Chair Joshua Beasley he explains the reason for the protest and details for the planned 9-11-23 event…https://youtu.be/hlKxlEL69hs?si=Oh0y7GTU9Jkmz_KI
The protest in Otero County is in response to New Mexico Governor Michelle Lujan Grisham's signed emergency health order from Friday that will bar firearms from being carried in public in Albuquerque for the next 30 days. 
New Mexico Gov. Michelle Lujan Grisham signed an executive order saying gun violence in the state "constitutes a statewide public health emergency of unknown duration."
Grisham said she was compelled to act due to a series of shootings in the city, including one that killed an 11-year-old boy outside a baseball game this week and a group of targeted shootings against Muslim men last month.
The order issued on Sept. 8 encourages local mayors and sheriff's offices to ask for "an emergency proclamation and implementation of temporary additional restrictions" under the state Riot Control Act.
"To my fellow citizens: get loud. Step up. Demand change: from your neighbors, from your friends, from your communities, from your elected leaders," Lujan Grisham said in a news release. "Enough is enough."
This state law gives the governor numerous emergency powers, including the ability to outlaw the possession of firearms or any other deadly weapon outside someone's home or business, except for police.
There were at least 2,090 shootings in New Mexico between 2014 and 2022, killing 1,323 people and injuring 1,280, according data collected from media, police, and other sources by the nonprofit Gun Violence Archive.
The governor's order also invokes the Public Health Emergency Response Actand the All Hazard Emergency Management Act. It directs the state departments of health, homeland security and public safety to coordinate with her office "to provide an effective and coordinated response."
The order sets aside $750,000 for the state agencies "to avoid and minimize economic or physical harm and to protect the public health, safety and welfare."
According to the governor's office, since June 2022 Lujan Grisham sent four letters to U.S. Attorney General Merrick Garland asking the federal government to send police to New Mexico "to assist in stemming the tide of violent crime."
"Allocating additional federal resources to New Mexico would not only benefit our State but also the region and the entire country, cutting off vast criminal networks at their source," Lujan Grisham wrote in the most recent letter to Garland and the White House on Thursday.
AlamogordoTownNews.com has reached out to the State Democratic Party for comment since the Democratic Party of Otero County was "dissolved" per a state executive. As of press time we have not received a response.
The State Republican Party of New Mexico issued the following statement forwarded to us from Amy Barela concerning the Governor's announcement:
RPNM Statement on Governor's Unconstitutional Firearm Order
"Albuquerque, September 8th—Today, Governor Michelle Lujan Grisham signed an executive order to ban open and concealed carry of firearms in Albuquerque and Bernalillo Counties as part of her declared public health emergency for gun violence in New Mexico.
According to the Governor, she will reevaluate and renew her public health order every 30 days. The order is for all of New Mexico, but only Albuquerque currently meets the requirements of 1,000 violent crimes per 100,000 people and more than 90 firearm-related emergency department visits for the ban to apply.
The Governor's order violates gun rights within the New Mexico Constitution and the Concealed Handgun Carry Act of 2003, which guarantees the concealed handgun rights of New Mexicans who qualify for and obtain a permit.
The Governor admitted she knew her order is unconstitutional, stating she wasn't sure she would win a legal challenge against it.
"She knew her order was illegal but did it anyway, just like the lawbreakers in our state. Criminals won't be affected by more laws since they don't follow our laws now nor are they held responsible for breaking any of them," said Republican Party of New Mexico Chairman Steve Pearce.
"This order removes protection from law-abiding New Mexican gun owners, leaving them and their families vulnerable in a city with the highest violent crime. How does that make sense?
Dangerous criminals won't be affected by the Governor's order and will continue to prey on vulnerable targets. Those who will be affected are the many responsible, gun-carrying women and mothers who will be left defenseless and unable to protect themselves and their children.
The Governor has let violent criminals out of prison. She weakened our police. She and the Democratic legislature allowed softer penalties for violent crime while stopping tough crime bills from passing. We have an open border where fentanyl and deadly drugs pour onto our streets and a mental health crisis exacerbated by the Governor's lockdowns.
This violent crime crisis is most prominent in blue cities nationwide, like Albuquerque, directly resulting from weak Democratic policy. Instead of reversing her failed approach, the Governor strips the rights of responsible gun-owning New Mexicans.
Her order puts citizens in a dangerous situation and is outright illegal. We expect to see the Governor's order challenged and defeated in court."
The Alamogordo protest planned on White Sands Blvd Monday 9-11-23 at noon is organized by RPOC in support of 2nd Amendment rights. This is one of several planned demonstrations across the state that has also included calls for recall of the governor. 
The public is encouraged to peacefully assemble.
This tenuous issue can get heated with emotional debate. Calm, civilized dialogue and calm heads are encouraged to ensure public safety during this protest.
More News from Alamogordo