Otero County Registered 54 Candidates for the November Election Complete list and Commentary
Image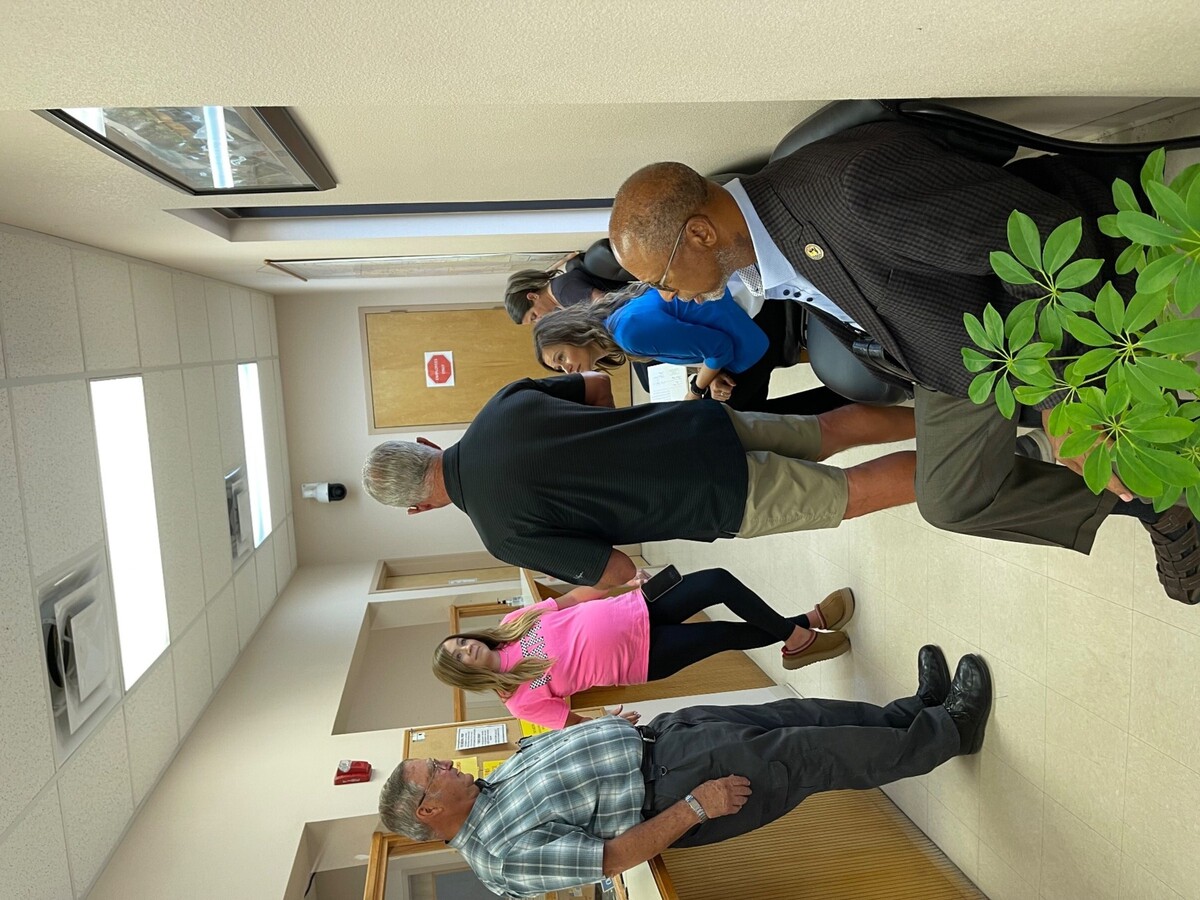 Tuesday August 29th, 2023 was a day full of political dialog, debate and intrigue in Otero County, New Mexico. In a day that the headlines should be boasting of who are the candiates that registered in Otero County are a mixture of headlines. Stories leading the day include Otero County Commission voted a tax increase upon the citizens with commissioner Amy Barela suggesting "take it to the voters." The tax increase passed the commission vote 2 to 1 and will not go to the voters. 
Then midway through the day comes the revelation that the state Democratic Party of New Mexico has suspended the Otero County Chapter or Democrats of Otero County from engaging in any meetings, events, or political activities as a party. The state has suspended the operations of the county Democratic party until further notice pending the results of ongoing investigation and as a result of inner party hostilities, liable and harassment of fellow party members. 
And finally, the Secretary of State office, and the Otero County Clerks office has released the list of candidates for the local upcoming November elections. The list below is the list of all candidates that are registered to run for office. The deadline to file was 5 p.m. on 8-29-23
We dropped by the Otero County Clerks office this morning and witnessed several candidates registering and turning in the required paperwork.
We received calls from several candidates expressing their excitement about the upcoming election and issuing statements.  
Reverend Warren L Robinson candidate for Alamogordo City Commission District 3,  showed up to the Otero County Clerks office around 9:15. He was dressed for the part with a huge smile. He walked into the lobby shaking hands, smiling and wishing all candidates, Godspeed, and the best of luck. He stated that he is looking "forward to a positive campaign." As, is his nature, he intends "to run a clean upbeat campaign" and he explained that his multiple decades of community service, speaks to his passion for Alamogordo.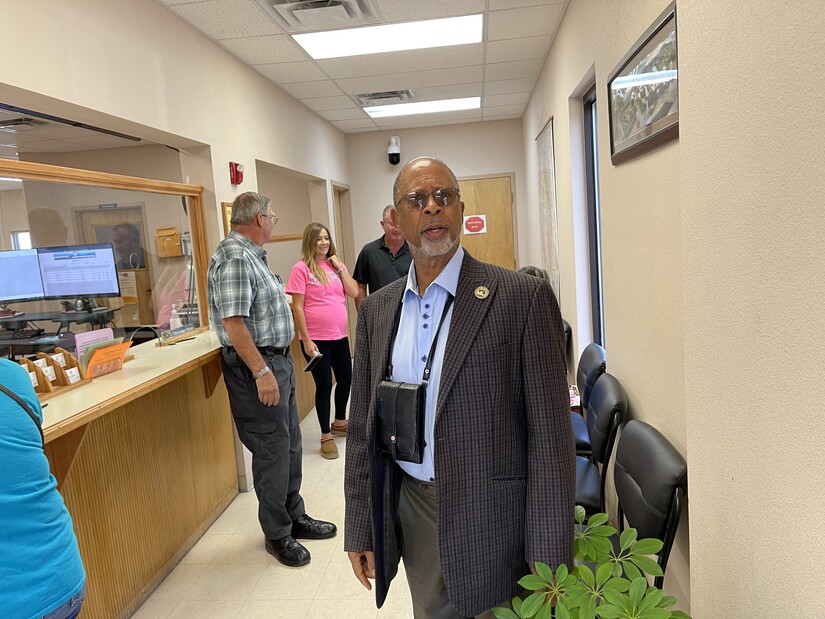 Incumbent City of Alamogordo Commissioner, Sharon McDonald was onsite bright and early. Also wearing her traditional huge smile and in her soft spoken tone, she expressed what a pleasure it has been to represent and work daily in her district. She expressed her desire to continue to move projects she has been passionate about within her district forward. She is proud of the investment during her tenure in Chihuahuita (a neighborhood neglected for decades.) Her goal is to "see the completion of the Dudley School redevelopment though," as well as "new sidewalks and curb cuts that are being installed in the  Chihuahuita" after decades of neglect.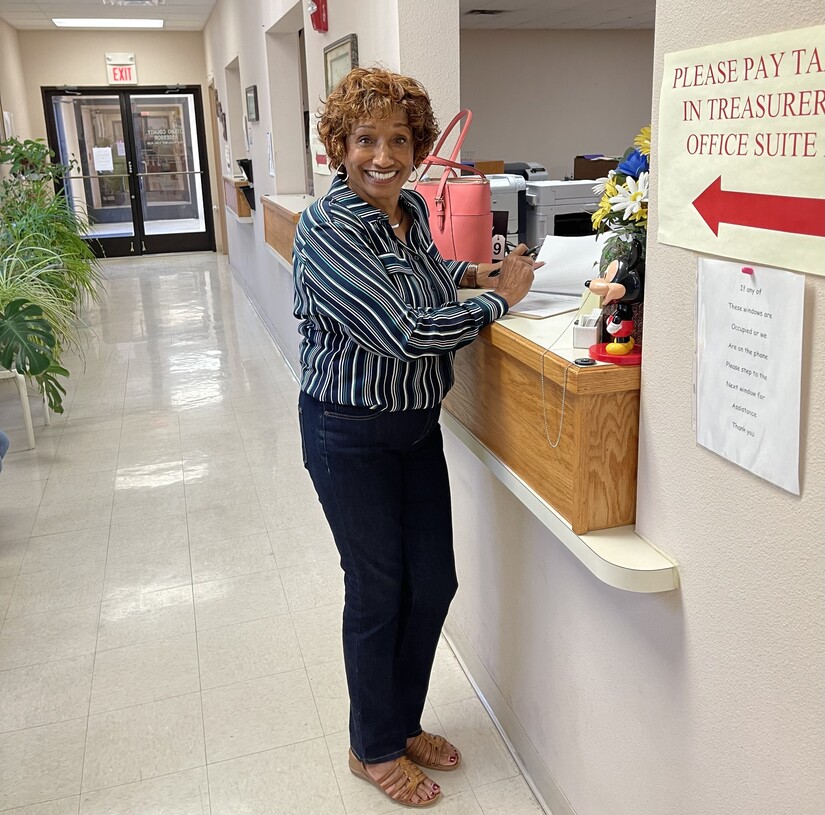 Incumbent School Board Member, Amanda Jewell who represents District 3 registered for the election. She is running for election this cycle because the seat she represents was vacated and thus she was appointed. She as served for one year. She has years of volunteer and community board experience of which she says provides her the experience and unique perspective to move projects forward. One project she is championing is the Career and Technical Education Program, she says she would like to see "the building trades program brought back, we use to have it in the past, there are hurdles to over come, but I am working with the district on ways to development mentor programs, because college is not for everyone and getting students career ready is a priority." She concluded she believes "every vote counts" and hopes for a large turnout for this election in November.  Comments from Ms. Jewell can be heard on KALHradio.org news with Anthony Lucero streaming at https://station.voscast.com/5b01bba90dce3 or via the podcast at https://youtu.be/TQ-I6sDYnMM?si=lHueqBimX_AkHgWR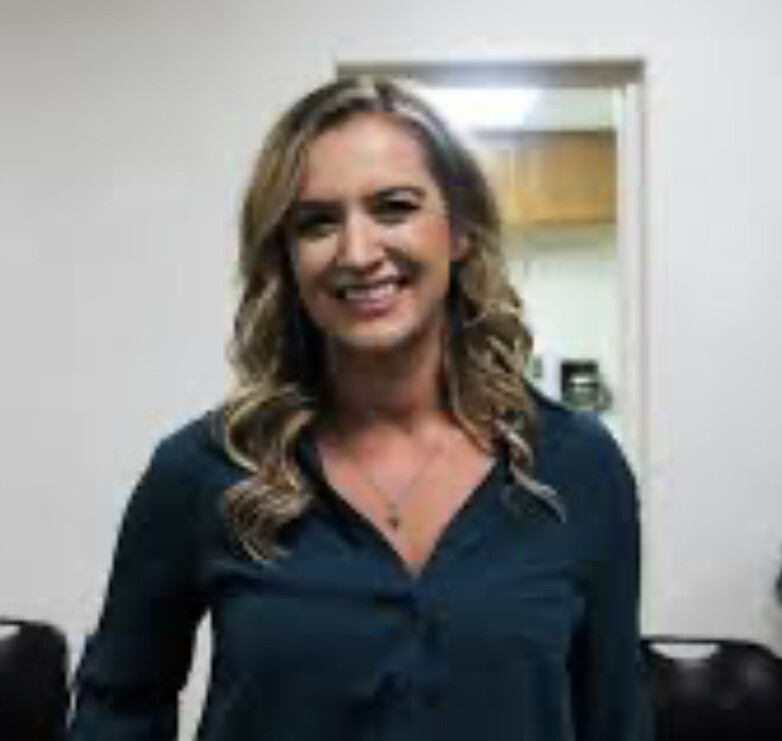 During the upcoming weeks AlamogordoTownNews.com and KALHradio.org will be providing an opportunity for the various candidates to express their viewpoints. As is typical we have a series of questions we will present to each candidate to respond to and seek their input on issues facing their districts or communities. 
The race for mayor in Tularosa will be an interesting race. There are already rumors of dirty games being played by the incumbent and staff of the village. Candidates seeking to replace Mayor Margaret Trujillo are John Gregory Green and Debrah Lynn Cooksey. 
The race for mayor of Cloudcroft is sure to be interesting and entertaining with six candidates registered to include Richard Welch, Inn Owner, Gail McCoy, Vincent Turner, Gerald Wiley, James Maynard, and Pavla Trubac.
Alamogordo District 1 is unopposed with Nick Paul registered. He will remain unopposed unless a write in candidate registers which is still allowed under state law. 
The Alamogordo District 6 Commissioner office also looks like it will be filled with a newcomer. Incumbent Dusty Wright is not listed on the Secretary of State site as being registered to run for re-election. Mark W Tapley is registered and would become the next District 6 Commissioner if, Wright is indeed not running, and no write in candidates seek the position. 
What will be a very interesting race is the Alamogordo District 3 Commission race between the controversial extremist, Karl Melton, who was appointed to the position, running against the, seasoned former Republican Airport Manager, James Talbert, and a community moral leader and Gerald Champion and Alamogordo Police Department Chaplain, Reverend Warren L Robinson. 
The election season 2023 in Alamogordo is now legally kicked off. A complete list of candidates that registered to run is below...
Contest
District
Filing County
First Name
Middle Name
Last Name
Mayor
TULAROSA CITY DISTRICT 8
Otero
JOHN
GREGORY
GREENE
Mayor
TULAROSA CITY DISTRICT 8
Otero
MARGARET
TRUJILLO
Mayor
TULAROSA CITY DISTRICT 8
Otero
DEBORAH
LYNN
COOKSEY
Mayor
CLOUDCROFT CITY DISTRICT 9
Otero
RICHARD
IVAN
WELCH
Mayor
CLOUDCROFT CITY DISTRICT 9
Otero
GAIL
K
MCCOY
Mayor
CLOUDCROFT CITY DISTRICT 9
Otero
VINCENT
C
TURNER
Mayor
CLOUDCROFT CITY DISTRICT 9
Otero
GERALD
DUSTIN
WILEY
Mayor
CLOUDCROFT CITY DISTRICT 9
Otero
JAMES
R
MAYNARD
Mayor
CLOUDCROFT CITY DISTRICT 9
Otero
PAVLA
TRUBAC
Councilor Districted
ALAMOGORDO CITY DISTRICT 1
Otero
NICHOLAS
ALLAN
PAUL
Councilor Districted
ALAMOGORDO CITY DISTRICT 3
Otero
WARREN
L
ROBINSON
Councilor Districted
ALAMOGORDO CITY DISTRICT 3
Otero
JAMES
D
TALBERT
Councilor Districted
ALAMOGORDO CITY DISTRICT 3
Otero
KARL
PAUL
MELTON
Councilor Districted
ALAMOGORDO CITY DISTRICT 5
Otero
SHARON
A
MCDONALD
Councilor Districted
ALAMOGORDO CITY DISTRICT 5
Otero
ALFONSO AL
C
HERNANDEZ
Councilor Districted
ALAMOGORDO CITY DISTRICT 6
Otero
MARK
WAYNE
TAPLEY
Councilor At Large
TULAROSA CITY DISTRICT 8
Otero
STEPHANIE
L
DUBOIS
Councilor At Large
TULAROSA CITY DISTRICT 8
Otero
ANTONIA
MONICA
VOORBACH MOHEIT
Councilor At Large
TULAROSA CITY DISTRICT 8
Otero
ALI HUSAIN
KARIM
KASSAM
Councilor At Large
TULAROSA CITY DISTRICT 8
Otero
MARK
R
GARWOOD
Councilor At Large
TULAROSA CITY DISTRICT 8
Otero
MANUEL
A
BRUSUELAS
Councilor At Large
CLOUDCROFT CITY DISTRICT 9
Otero
TIMOTHY
EDWARD
KING
Councilor At Large
CLOUDCROFT CITY DISTRICT 9
Otero
MATTHEW
BRIAN
LOCKNER
Councilor At Large
CLOUDCROFT CITY DISTRICT 9
Otero
TABITHA
RENEE
FOSTER
Municipal Judge
TULAROSA CITY DISTRICT 8
Otero
AVIANA
MARIE
GARCIA
Municipal Judge
TULAROSA CITY DISTRICT 8
Otero
LARRY
F
BERRY
Municipal Judge
TULAROSA CITY DISTRICT 8
Otero
CHRISTOPHER
W
RUPP
School Board Member Districted
ALAMOGORDO SCHOOL BOARD 1
Otero
JUDY
V.
RABON
School Board Member Districted
ALAMOGORDO SCHOOL BOARD 1
Otero
CRAIG
A
DANEKAS
School Board Member Districted
ALAMOGORDO SCHOOL BOARD 3
Otero
MARIANNE
MARIE
JACKSON
School Board Member Districted
ALAMOGORDO SCHOOL BOARD 3
Otero
AMANDA
GWYNN
JEWELL
School Board Member Districted
ALAMOGORDO SCHOOL BOARD 3
Otero
SHANNAN
TROY
WRIGHT
School Board Member Districted
ALAMOGORDO SCHOOL BOARD 4
Otero
CAROL
LOUISE
TEWELEIT
School Board Member Districted
ALAMOGORDO SCHOOL BOARD 4
Otero
BRANDY
J
MURPHY
School Board Member Districted
ALAMOGORDO SCHOOL BOARD 4
Otero
JOSIAH
STEPHEN
VESEY
School Board Member At Large
TULAROSA SCHOOL BOARD DISTRICT
Otero
ERICA
L
WALTERS
School Board Member At Large
TULAROSA SCHOOL BOARD DISTRICT
Otero
GILBERT
D
GASTON
School Board Member At Large
TULAROSA SCHOOL BOARD DISTRICT
Otero
JULIE
AMBER
KAYDAHZINNE
School Board Member At Large
TULAROSA SCHOOL BOARD DISTRICT
Otero
FRANCISCO
JOSE
GOMEZ
School Board Member At Large
TULAROSA SCHOOL BOARD DISTRICT
Otero
JOHN
GREGORY
GREENE
School Board Member At Large
TULAROSA SCHOOL BOARD DISTRICT
Otero
TYSON
R
SATATHITE
School Board Member At Large
TULAROSA SCHOOL BOARD DISTRICT
Otero
DANNY
RAY
SMOLIK
School Board Member At Large
TULAROSA SCHOOL BOARD DISTRICT
Otero
FERNANDO
LEAL, JR
School Board Member At Large
TULAROSA SCHOOL BOARD DISTRICT
Otero
MEGAN
G
CAIRNS
School Board Member At Large
CLOUDCROFT SCHOOL BOARD DIST
Otero
MEREDITH
ANN
SHEPHERD
School Board Member At Large
CLOUDCROFT SCHOOL BOARD DIST
Otero
CASSANDRA
GAIL
SAFFLE
School Board Member At Large
CLOUDCROFT SCHOOL BOARD DIST
Otero
DANNY
L
WARD
School Board Member At Large
CLOUDCROFT SCHOOL BOARD DIST
Otero
JEFFREY
GRANT
EIGENMANN
School Board Member At Large
CLOUDCROFT SCHOOL BOARD DIST
Otero
DANIEL
R
HUGHES
Soil & Water Supervisor (Landowner)
OTERO SOIL & WATER CONSERVATION BOARD
Otero
ROBERT
STANLEY
NICHOLS
Soil & Water Supervisor (Landowner)
OTERO SOIL & WATER CONSERVATION BOARD
Otero
CLIFTON
D
VARBEL
Soil & Water Supervisor (Landowner)
OTERO SOIL & WATER CONSERVATION BOARD
Otero
JEFFREY
G.
RABON
Water and Sanitation Director At Large
TIMBERON WATER & SANITATION BOARD
Otero
PAUL
DAVID
HAGEMANN
Water and Sanitation Director At Large
TIMBERON WATER & SANITATION BOARD
Otero
MARK
R
HARDING
Water and Sanitation Director At Large
TIMBERON WATER & SANITATION BOARD
Otero
JESS
RADLE
More News from Alamogordo